Undressed Podcast: Late-Night Texts and What to Do When She Never Pays
We've got champagne problems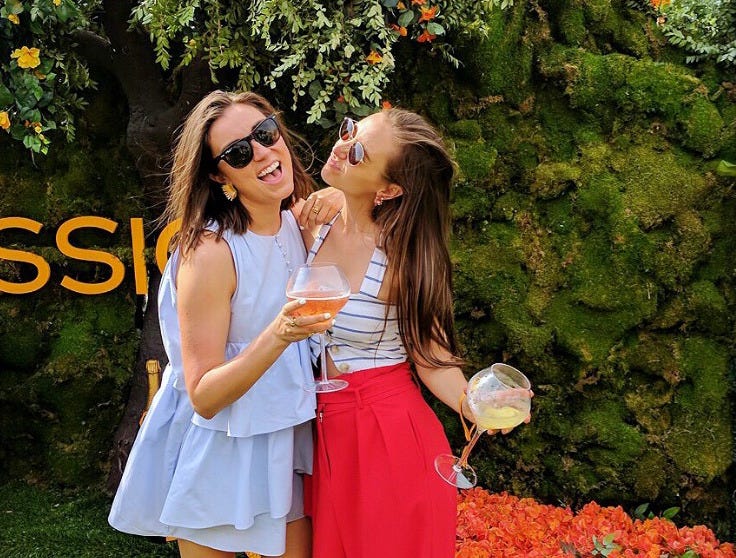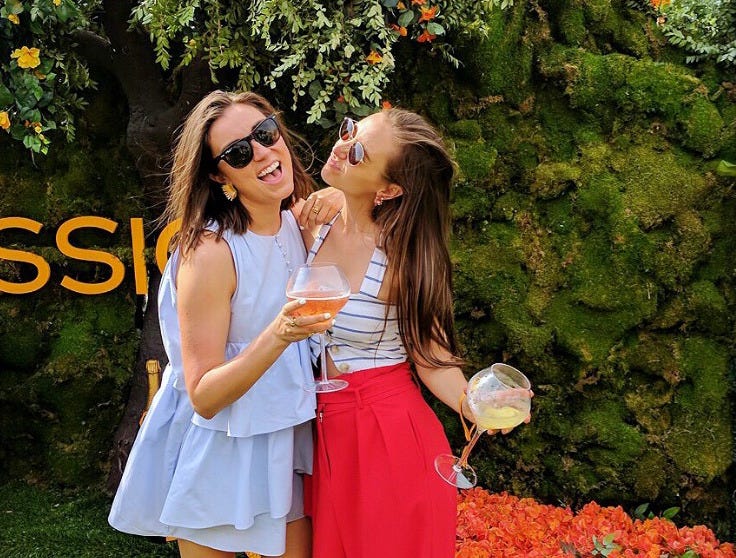 Dearest listeners and readers, we had quite the weekend. Listen to the latest podcast for champagne-fueled shenanigans and wisdom for listeners with money woes.
Listen to the podcast below, or on iTunes, Pocket Casts, Overcast, Stitcher, or wherever* you get your podcasts:
*Still no Spotify! Yes, we're still working on it
Averting Fancy Outfit Disaster
Megan brought me, her professional plus one, to the 11th annual Veuve Clicquot Polo Classic. But before we could board the ferry and spend the day swilling champagne and hob-knobbing with the likes of Penelope Cruz and Sienna Miller—we had to figure out what to wear.
Naturally, this boiled down to a panicked, last-minute shopping trip the night before to find Megan a new lewk, as well as a panicked, last-minute trip through my closet to find one for me, too. Somehow though, we managed to pull together a "Destiny's Childing" set of outfits (aka, coordinating but not matching) in shades of red, white and blue.
The day was wonderful—we guzzled champagne and bubbly rosé, saw a few horses, and caught up with tons of friends. But, as you might guess, we were slightly… over-served (see how I put that in the passive voice so it wasn't our fault that we just drank too much?). This led our fearless leader Megan to fearlessly send a rather epic drunk text… But I won't spoil it for you here. You've gotta listen!
Song of Summer 2018 Update
Once I got my giggles out over Megan's amazing messages, we took yet another stab at our ongoing conversation about the Song of Summer. And you guys… What if there is no song of summer?!
We're holding out that Ariana Grande's forthcoming album might have some bangers, but "Nice For What" isn't going to cut it, and we are stressin'.
When should a woman pay for a date
From there we launch into a rather delicate question from a reader, asking how his buddy should handle a money situation with a girl he's been dating for four months—who hasn't offered to pay for or split the cost of any dates. Hoo boy, the intersection of money and love certainly can get messy, right?
Not but a few weeks ago, I had a guy announce that he was "relieved" that I offered to buy a round of drinks, and had been waiting to see if I would. That's fine, of course, but I wished he had just let me do it, rather than announce that he was judging me—even if it was positively—for doing it.
We cover a lot of ground in discussing this issue, but the TL;DR is that when uncomfortable issues come up—you have to talk about them. We've got a few clever ways for this guy to broach the subject with his girl… But more importantly we want you guys to weigh in below about how you've handled money talks with your lady friends.
Hot takes
Don't get burned… It's time for hot takes hotter than the stupid hot plate I've been using for seven weeks because my landlord has yet to fix the gas stove in my apartment.
I kick things off with an announcement: The color red is gendered. It's highly, highly trendy right now for women, and translates an image of power, sex appeal and confidence for us. But for dudes? It's brash, garish and well, just not that stylish. Megan is stunned that I came up with this clearly very astute and profound hot take just moments before we started recording, but I thrive under pressure, people.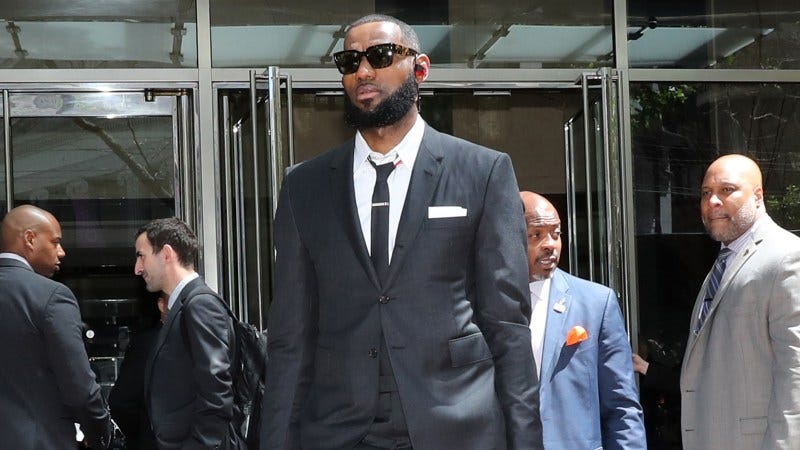 Megan's hot take is that she is out and proud stanning for LeBron's Thom Browne shorts suit. It seems that whether his team wins or loses may determine how history judges this "lewk" but Megan is in either way. I am too, honestly, because I don't give a lick who wins out in this tired rivalry this year, but I deeply appreciate that such a gigantic man is making a shorts suit look… Normal? Almost? But I won't stop asking what's in his briefcase. (Megan thinks it's a singular banana, by the way.)
Champagne? I can't remember this part…
TELL US:
HOW HAVE YOU NAVIGATED DIFFICULT MONEY CONVERSATIONS WITH YOUR SIGNIFICANT OTHER?

Taylor Davies splits her time between NYC and Sun Valley. She loves writing about menswear, overpriced martinis in dimly lit hotel bars, and cross-country skiing. Not necessarily in that order.