What This Banker and Father of Four Wears to Work
Real Life Style: Dressing for Respect in the Midwest

Presented by Mizzen+Main
This former football player has found the sweet spot between professionalism and comfort
***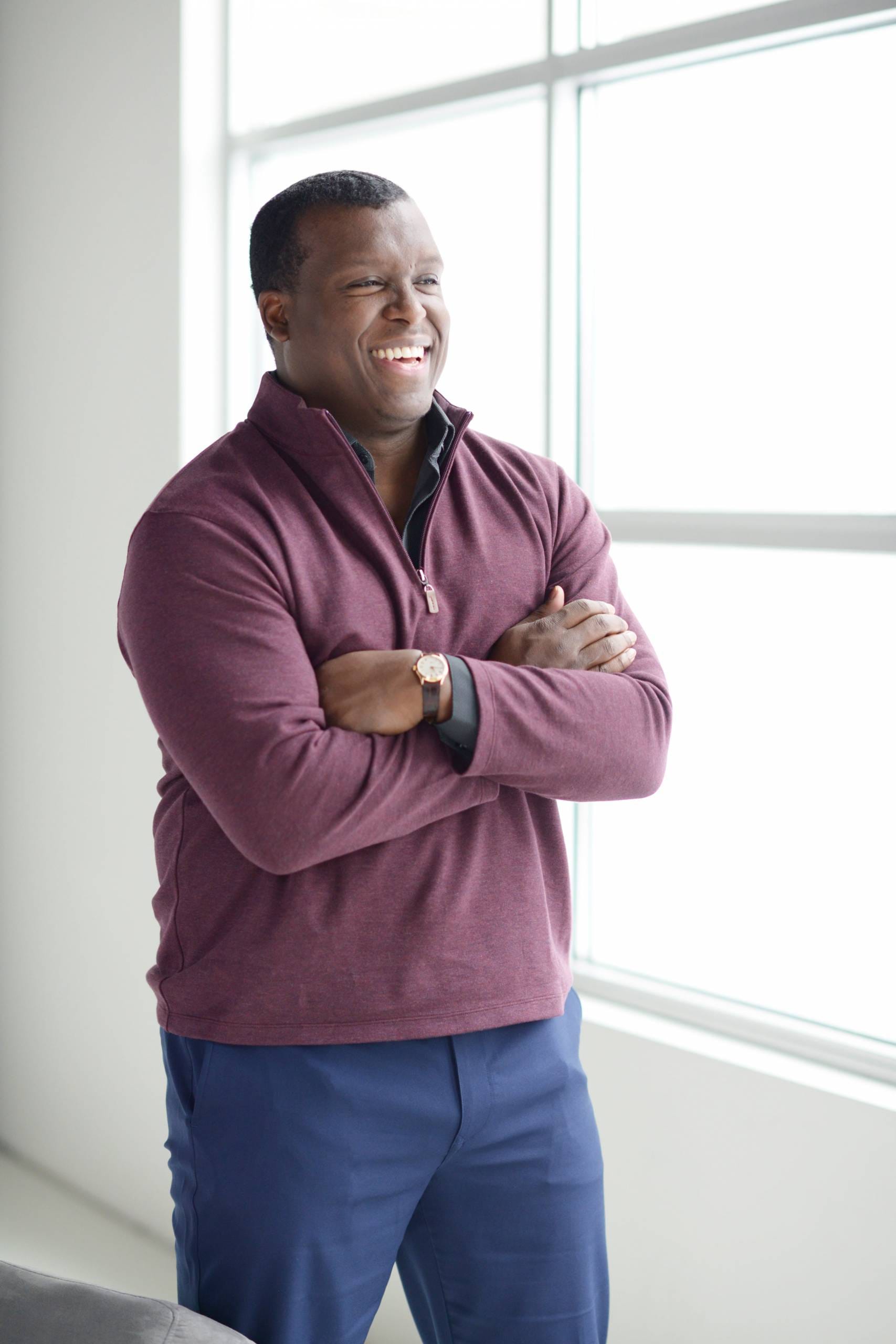 I first met Jeff Mack in high school. I was a lowly freshman, while he was a junior and popular athlete who would go on to play football for the University of Wisconsin-Madison. He was also dating my sister's best friend (a senior! oooh..), and back then I felt very cool when he'd say hi to me in the halls.
Cut to ::inaudible:: amount of years later, and Jeff and Tiffany are married—yep, marrying your high school sweetheart is really a thing!— and living in Madison, raising four very sweet girls.
My sister and Tiff are still best friends, so I often get to see Jeff on my trips back to Madison. We'll catch up on life over too many fashioned's at our old downtown haunts, and talk UW's chances of a Big Ten championship.
It's been interesting to see his transition into "adult" style, since he was constantly in sweats (sorry, athleisure) for most of high school and college.
So when Mizzen+Main came knocking, looking for real guys to try their new chinos that come in both a trim and an athletic fit, Jeff immediately sprang to mind.
Below, a conversation with the dad, husband, banker, real estate entrepreneur, and more*
*seriously, he's really busy!
On dressing for success, his style advice for black men, and why personal style is important:
I feel like you've always had a sense of style. You've also always seemed to me like a confident person. What role do clothes play in your confidence?
I'm comfortable in who I am, and that allows me to wear what I want to wear without worrying about how people may perceive me. Because I believe in who I am, and that I'm putting myself …hmm, wow, that's a good question.
You were expecting me to come out with, 'Plaids or stripes?'
Yes! So, I think it's an understanding of who you are. It starts before you leave the house. Everything you want to be and everything you're trying to reach. The first step is internal. Making sure you believe in you first. That you dress for success.
And then you get to a point where success…is comfort. That's my space. That's where I try to be at. Success is trying to look as good as you can – I have a face for radio (ed. note: So modest! He's very handsome!) and dressing for success means feeling comfortable in my own skin and feeling comfortable in my own clothing.
There's a portion now, too, that's about representing what I want to represent. My clothing style now is tied to me and to the people who I value, and tied to representation.
I wear a lot of Off-White, because of [its designer] Virgil Abloh, who went to University of Wisconsin-Madison. Being a black man in fashion; that's not common. I wear a lot of Virgil. I wear Marathon Clothing, from Nipsey Hussle. And then I wear my real estate company's gear. And I wear Patagonia. I'm a big fan because of what they represent, and what they're all about. 
That's something I hear from a lot of guys. They dress in a way that's about perception. You've always had an extra spotlight on you..as a football player, as a black man. Is that something you've always been aware of?
Absolutely, and I'm going to butcher it, but dress for who you want to become, not who you are.
When I was younger, I think you saw different versions of what that meant. I dressed in a lot of Nautica, because I thought that was upscale and cool. But I always wanted to do something different than what everyone else was doing. Because they were doing Tommy Hilfiger. So Nautica was like that, but I was able to separate myself in some regard.
You could have blended in. What made you say, I want to do this in my own way?
I've got this very long answer, which is, I grew up around a lot of guys who were super attractive, and I didn't look at myself like I was attractive. So I had to figure out another way to become a person that women and girls would like. So I knew that what I might have was a little bit of a gift of gab, I thought I was a good person. I was smart. But back in the day, 'smart' didn't work for the girls that I liked. It was, who was cool, who had a car.
So I don't know if that's what spurred…if everyone's wearing Hilfiger, I'm going to wear Nautica…but I felt like it resonated more with me that I was setting myself apart. Why I was wearing something a little different.
I'm still like that today. I still have a Blackberry, and I do it because 1) I don't want to be a part of social media and also, 2) It's about being cool but cool on your own terms.
I always found it to be cool to be a little different.
As an athlete, you had more leeway than most people for wearing sweats. You were rocking athleisure before it was a thing. How bumpy of a landing was it when you graduated and had to start wearing 'grown up clothes'?
My wife would tell you that I haven't really started wearing grown up clothes yet.
My dad worked for the bus company, and he always had to wear a suit and tie. But when he came home, he'd be in sweats and dad pants and dad shirts. He dressed ONLY for comfort. Corduroys in the winter…long johns, all that stuff. I'd be like, 'Dad this is crazy. You look wild.'
And now, I think I'm the same. I now do that. I'll dress appropriately for work—on board days, I'll wear a suit and tie—otherwise it's business casual.
But when I get out of work? I have every type of jogger. It's, you know, a fashionable jogger, but yeah. I am a jogger aficionado.
Do you feel resentful of having to dress differently at work than you do at home?
No, I believe in positioning and putting yourself in the best light in front of your co-workers and clients. It's like, I like to curse, but I don't think I need to curse in front of my clients to show who I am or get across what I'm trying to get across. It's a simple way to speak, but to show you have a large vocabulary and can speak on topics they need help on, you speak in a way that exudes confidence. You know what I mean?
I mean, I get it, if you're always in front of your computer, that's fine. My job has always been customer and client-facing, so it's always about trying to put your best foot forward.
So, I value putting on clothes to represent who you should be in front of your clients. And I don't think that's wearing sweats or t-shirts in front of your clients during work hours. I don't care who you are.
Is it also that the idea of being the one to change the culture of what's "appropriate" business attire is like Sisyphus pushing the boulder up the hill? Sort of a futile effort?
For me, there's a hierarchy of culture fixes that need to be worked on before you get to clothing. Having more representation, that's way more important. Once I can help address that, then sure, let's get to clothing.
It's a 'choose your battle' situation. I don't care how comfortable I am; when I get married, I'm gonna wear a tuxedo.
There's a reason why, when you play basketball, you wear a tank top and shorts. It's going to be hot, you're going to be running up and down the court. Yeah, you could play basketball in a button-up and jeans, but it's going to be restricting. You're not going to play as well. The other players on the court won't take you seriously.
It's a stretch on the analogy side, but if I got married in a tank top and shorts, it's not showing how important that day is. So for work, if you're trying to win over a client, saying that 'Hey, I want to show you guys matter enough that I'm going to put effort in,' it matters.
And I'll tell you, you meet with some people and they're older? It definitely matters.
There's physical comfort in what you wear, and then there's social comfort in being "dressed for the room" as it were.
Being in banking, as a black man, a part of me said I have to dress for success. Sadly enough, when you don't see a lot of yourself, you feel like you have to be 'the one' and that means you have to show everyone else that 'we are just as intelligent, just as responsible and respectful.'
I say this a lot when I talk to kids. Sometimes standing out really forces you to stand out.
You won't be mad that you're a better version of yourself. Having to stand out, having to work harder, stay up later, to get to the point that you've gotten to. Looking back, it's made you a better person. No one will look back and wish they were half as good as they are now. It doesn't happen.
What advice do you have for guys shopping off the rack to be a challenge?" There's a lot of guys who opt out of fashion completely.
Trying to find things that fit you is huge. But also finding a tailor might be the key to your success. Find someone who tailors things the way you want them to look.
And keep it simple. I'm pretty basic in my stuff. The craziest thing I've done is put some black and brown together. That wasn't cool back in the day.
Last question! Did your style change more after football, or after kids?
[laughs] After kids. I got the cute girl, I'm good.
IN HIS OWN WORDS
My style in three words or less:
Understated swag
First fashion memory
My first football jersey. My favorite color is black, and we were the Southside Raiders. There was just something cool about these jerseys. Cool, and mean, and dark. They just exuded scariness. I always thought that was super fly.
That's my first memory. If you say, "Jeff, clothing, go." I'll be like "our home jerseys." They were black and grey. Grey letter, grey numbers. Black jerseys. That's what I think.
A man's personal style is important because…
It gives you a sense of confidence, which gives you the ability to be at your best.
SHOP THE OUTFIT
Jeff is wearing…
the all-new Mizzen+Main Baron performance chinos in navy
Mizzen+Main Rivington pullover in merlot
Mizzen+Main Leeward gray diamond geo print shirt
***

Photos by Marla Bergh