What a Woman Wants: Courtney Cox of NESN
On pro athlete style and sporty first dates
Last summer, I got an email in my inbox from Courtney Cox.
No, not that one.
This Courtney Cox, a reporter for New England Sports Network, or NESN, asked if I would comment on the Summer Olympics' opening ceremony fashion for an upcoming piece. Would I! (I would). We chatted about the highs of Canada's Roots athleisure looks and the lows of Croatia's Big Boy Burger looks. The conversation struck up a Twitter friendship, and yes, I'd even call her…a Friend. C'mon, you knew it was going there.
Below, find out what a woman wants, from Courtney Cox of NESN: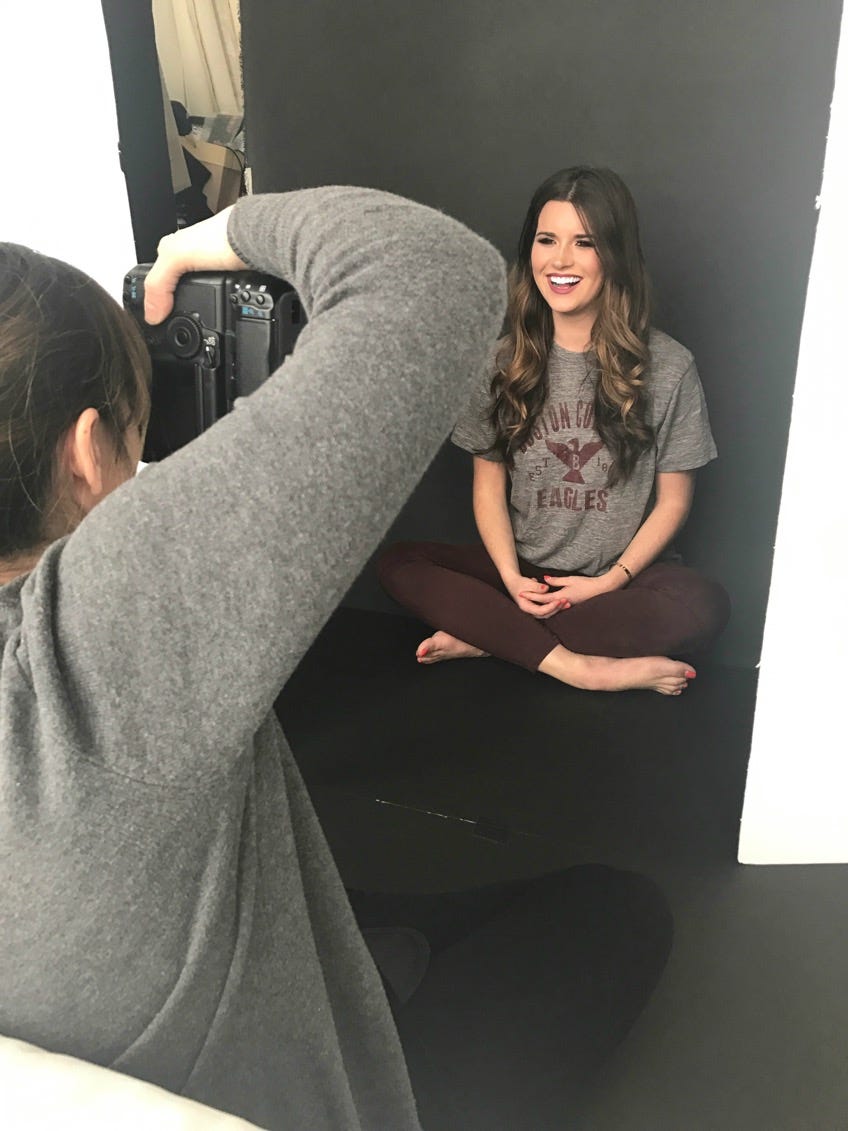 You're a host and reporter for NESN, which covers the Red Sox, Bruins, Celtics, Patriots, and LFC. Whose team is the most stylish, in your opinion? 
The Bruins. Lots of slim-cut suits and skinny ties, you can tell a lot of the guys know what they're doing. When those guys walk into the Garden, they look so sleek and put together.
You share a name with a very famous "friend." Ever use it to your advantage getting a dinner reservation, an airline upgrade, etc?
Haha! I've never used it for that but I've also never been asked a follow up question when I've given my name for a reservation now that you mention it. When I was in first grade I broke my wrist and none of the nurses showed up for the surgery…they thought it was a prank!
Have you ever had a guy try to win you over by impressing you with his sports knowledge? How did that turn out?
That's the hardest part about dating when I'm 25 and have the job that I do. Some guys think when we're on a date that it's an easy ice breaker, but usually it's a turn-off. Talking about sports a little bit is nice, but who wants to spend a whole first date talking about work? I don't want to be getting quizzed on stats over a glass of wine.
What's the best sporting event to take a first date?
It depends on how well you know the person. If it's a friend that's turning into something more, go to a baseball game. It's quiet enough to have a conversation…and the food…THE FOOD!
But baseball games as first dates are terrifying to me. Nine innings with someone you don't know and are trying to figure out if you like them? Terrifying.
What do you first notice about a guy's look?
How put together he looks. Whether you're in a suit, a casual jean and shirt or just coming from the gym, I love when you can tell that someone put some effort in.
What's the most stylish thing a guy can do?
The ultimate key is confidence, not cocky but confident. With the "swipe right" mentality we have in the dating world it's very attractive to have a guy approach you when you're out. I know it's easier said than done, but you miss 100% of the shots you don't take!
I also love a guy in a slim-fit suit as well as someone who has incredible "comfort" wear. Lululemon does wonders for the male population.
What about the least stylish? 
Overdoing it. Whether it's mistaking cockiness for confidence, or an outfit being so over the top that it costs more than your rent, there's a fine line.
Oh, and there's a new thing called ghosting that's pretty unattractive, too.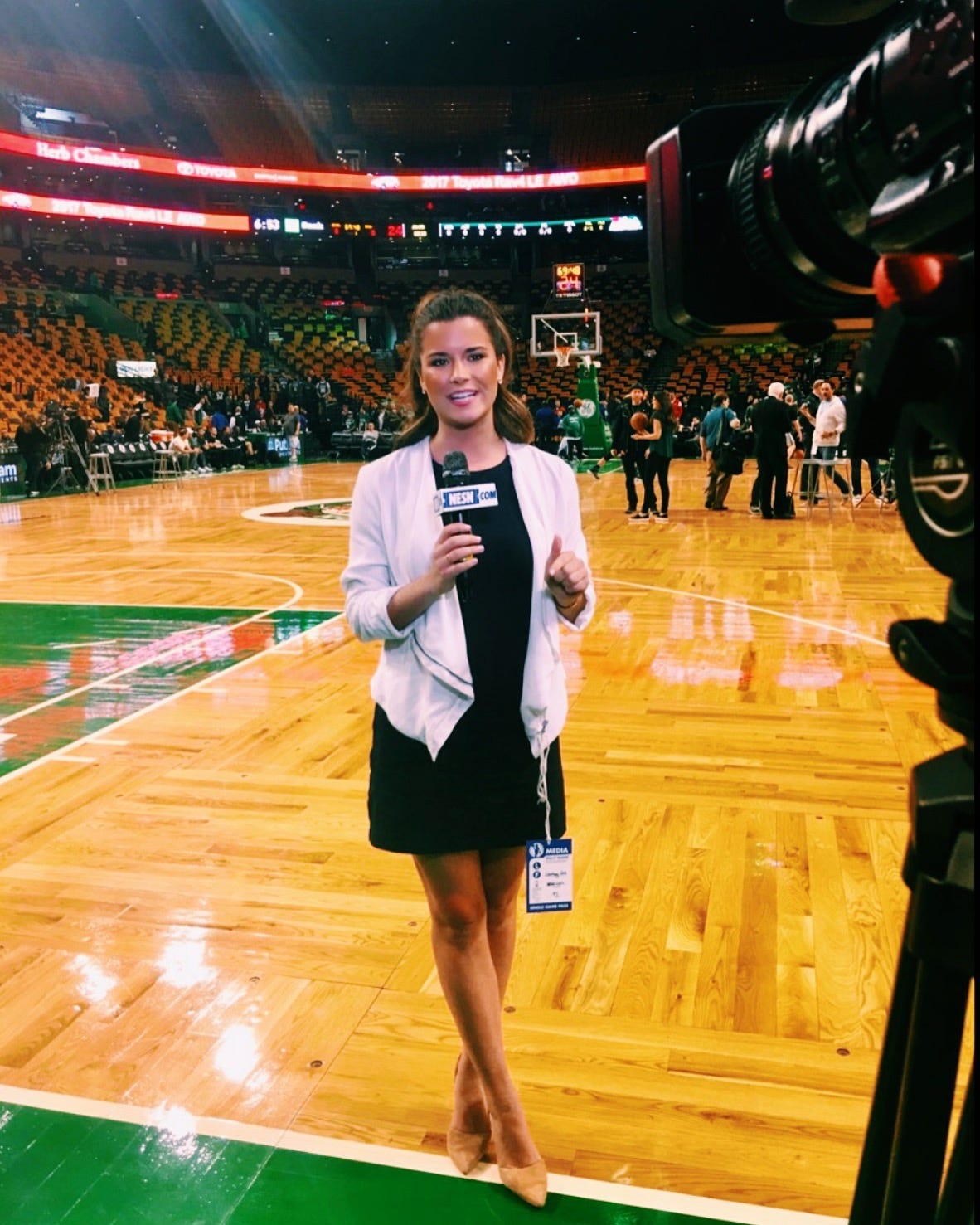 We had a bunch of athletes in our recent SG Madness, but ultimately none made it to the final four. Who is the most stylish athlete—in any sport—today?
Henrik Lundqvist on the Rangers looks like a walking GQ cover. His style is impeccable. His teammate, Kevin Hayes is a friend from college and honestly his look has gone 0-100 since he graduated. Guess there's something in the Rangers water?
I also have to give a shoutout to the 2017 NCAA Champion, head coach for the UNC Tar Heels, Roy Williams. The guy has timeless style.
You have 100 words to defend Tom Brady's sense of style to me. Go.
I had a feeling this question was coming. Look, Tom Brady kills the game on and off the field. In my opinion, he's the greatest quarterback of all time (homer, I know). People make fun of him for wearing Uggs, but if you're going to tell me that you haven't put a pair of those on your feet and thought "Wow this is what heaven must feel like," you're lying to me, and to yourself.
Also, I love a good peacoat and TB12 really wears them nicely.
Is he the most flashy? Absolutely not. But in a league full of guys who have a more colorful and flashy closet than I do, sometimes it's nice to go with an understated look at the podium.
What do guys stress about, appearance-wise, that they really don't need to? 
I've been asked more times than I can count from guy friends about facial hair: Should I keep it? Should I shave it? Is it too much?
Unless you're going from completely baby-faced to a full beard, us ladies don't really notice too much about it.
What's one thing you wish guys understood about women? 
That it really doesn't take much to make us happy. Show us that you care, call us once in awhile, tell us we look pretty, and don't lie. My friends and I laugh about it all the time…it's so easy, and yet!
What are the essentials in a sport's fan's wardrobe?
Hats are key. They're understated and timeless and go with anything. I do think a jersey on a female fan looks better than on a male fan, but that's a personal opinion. A comfortable long sleeve, quarter zip or jacket with a logo will do just fine, guys. When it comes to fan gear, less is honestly more.
What's a good sporty first date activity?
If it's winter, ice skating! There's nothing more romantic than having someone have to hold your hand while you get your sea legs (ed. note: or is it ice legs?).
And I've never been asked to, but I think it would be fun to go out on the water in the summer in a boat or canoe. I also love mini golf for a first date but save 18 holes of real golf for later.
For a guy looking to impress you, what's a can't-miss date outfit? 
I'm pretty preppy. A button down, quarter zip sweater, fitted jeans or navy chinos… Fun socks are always a good conversation starter, and I'm a big shoe person so depending on how casual the date is I love a sleek new pair of converse or a dress shoe. Dirty sneakers are a big pet peeve. Love a guy in a watch.
Quick Hits
Grooming product you've stolen from a boyfriend
Deodorant.. I love Old Spice FIJI.
Beauty product you've had a boyfriend steal from you?
Face Moisturizer. Guys never know what to use when they're sunburnt and peeling…
Favorite men's cologne
Axe (ed. note: We like new Axe You body spray), but, keep it to one or two spritz.
Best sports video game of all time
Mario Kart. OK so Obviously I'm not a "gamer" but come on… it will never get old.
Call or text?
Call
Chandler or Joey?
Well I have to say Chandler!
Spirit Animal
Sloth. I'm obsessed.
Go-­to road trip snack
Popcorn
First celebrity crush
Aaron Carter (still have his signed poster somewhere).
Athleisure to the office, a do or don't?
Depends where you work!  But if your bosses allow it, definitely.
TELL ME:
WHAT'S THE BEST SPORTY DATE YOU'VE BEEN ON?