What A Woman Wants: The Women of Sky Ting Yoga
These yogis share their favorite moves and style tips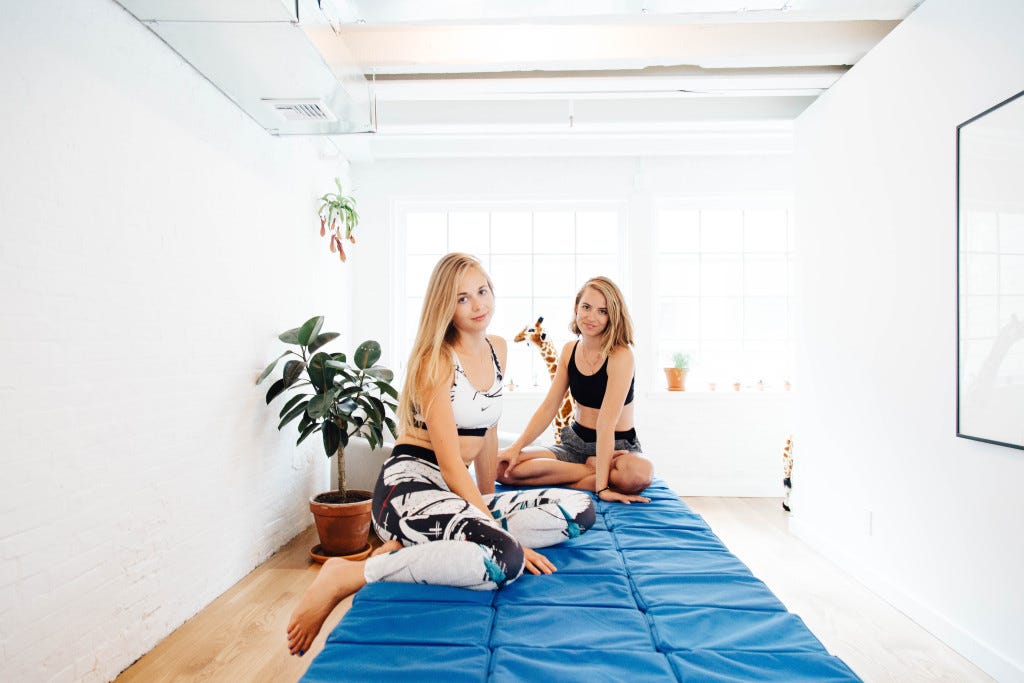 Want a powerful yoga class led by a soothing instructor to a playlist of Tom Petty, Drake and Hamilton? Sky Ting has you covered.
Nestled in New York City's Chinatown neighborhood, the sun-drenched, whitewashed Sky Ting Yoga studio has become the hot spot fitness oasis for yogis and novices alike. Chloe Kernaghan and Krissy Jones opened their doors to cater to those who prefer a welcoming place to unwind – chanting not required.
Lucky for us, this impressive duo swung by to chat about their favorite yoga poses, yoga as a date activity, and the grooming products they steal from their guys.
Read on as Chloe and Krissy of Sky Ting Yoga share what a woman wants: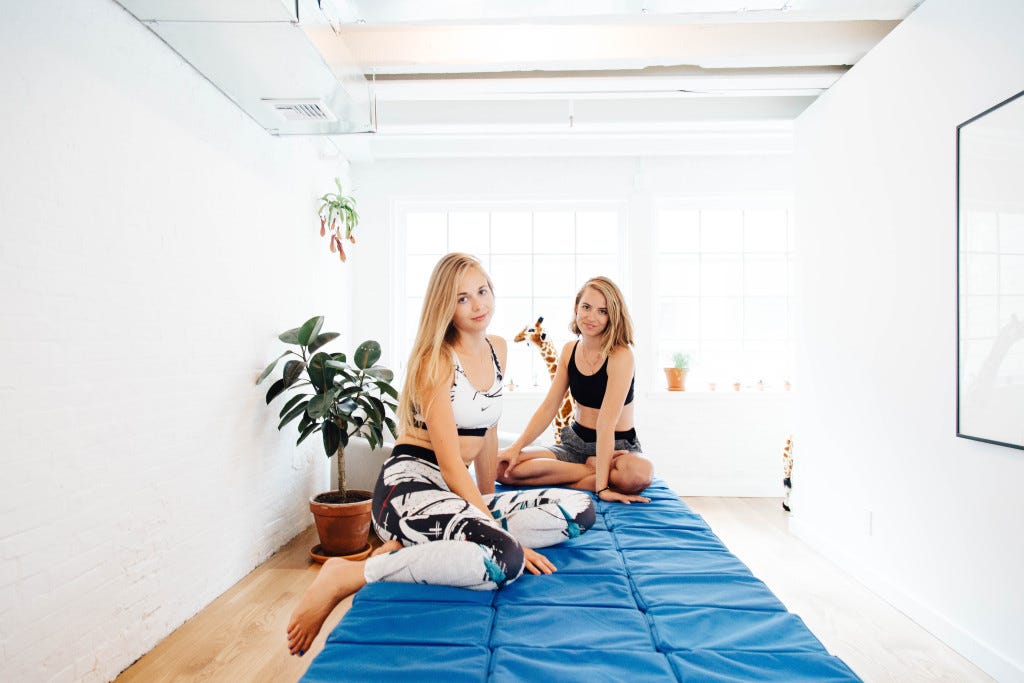 Images by Vanessa Granda
You met as teachers at another yoga studio here in NYC. What made you decide to branch off and start Sky Ting?
Sky Ting happened very quickly. We found an incredible space in a neighborhood we loved (Chinatown!), and hit the ground running. We had dreamed of a beautiful space to teach our own material, and Sky Ting fell into our laps. The rest is history.
Classes at Sky Ting feel more modern…less "precious" than those at other more traditional studios – from the 90s hip hop on the stereo to the 7-foot giraffe in the corner. Who is Sky Ting for?
Yes, definitely less "precious" than other studios. That's our vibe, we don't take ourselves too seriously, though all the teachers on the schedule know their shit and are die-hard yoga lovers. We do yoga for well-being and radiance, we're not interested in turning students into yoga soldiers. Sky Ting is for people who are interested in a connection – to themselves, to each other, to the community, to the universe! And for people who just want to have fun and move energy around.
What would you say to a guy who's nervous about trying yoga, because he thinks he's not flexible enough / will look stupid / might topple over in headstand?
GET OVER IT and come to class! The hardest part of life is "getting over it," so that's step one. Once you're in class, the fear goes away. And in the end, everyone is just worried about themselves in class– no one is watching your headstand (besides, hopefully the teacher).
Is going to a yoga class a good date activity?
Maybe not a first date, just because there might be pressure to perform in the class really well, not to mention the sweat factor. I think its great once your comfortable with a girl, and will definitely will get you some bonus points.
What's your take on the trend of couples snapping their joint yoga poses for social media?
Depends on the photo, but yeah, could be cool if it's a fun/funny picture! I wouldn't make it a habit though.
What's the most stylish thing a guy can do?
To be stylish is to be comfortable with yourself and your personal style/uniform, but also be risky and push the boundaries on the stuff you wear, the activities you participate in, and what you say. It's cool when guys try something new, even though they may not be good at it at first (cough, yoga). We're also fans of mystery– leaving something to be desired. Don't put it all out there at once, gentlemen.
What about the least stylish? 
The least stylish thing is being too much. Or when you're trying too hard. Too much of anything is not stylish.
For a lot of guys, dating a yoga instructor falls somewhere between kindergarten teacher and bikini model on the "dream girlfriend" spectrum. How would a guy impress you?
Yoga is obviously a huge part of our lives, so you need to be able to relate at least a little and be able to speak our language. Coming to class is cool. But also having your own life and your own thing. Our dream boy goes to yoga class once or twice a week, and does his own thing the rest of the time. It's nice to feel supported and independent from your guy at the same time.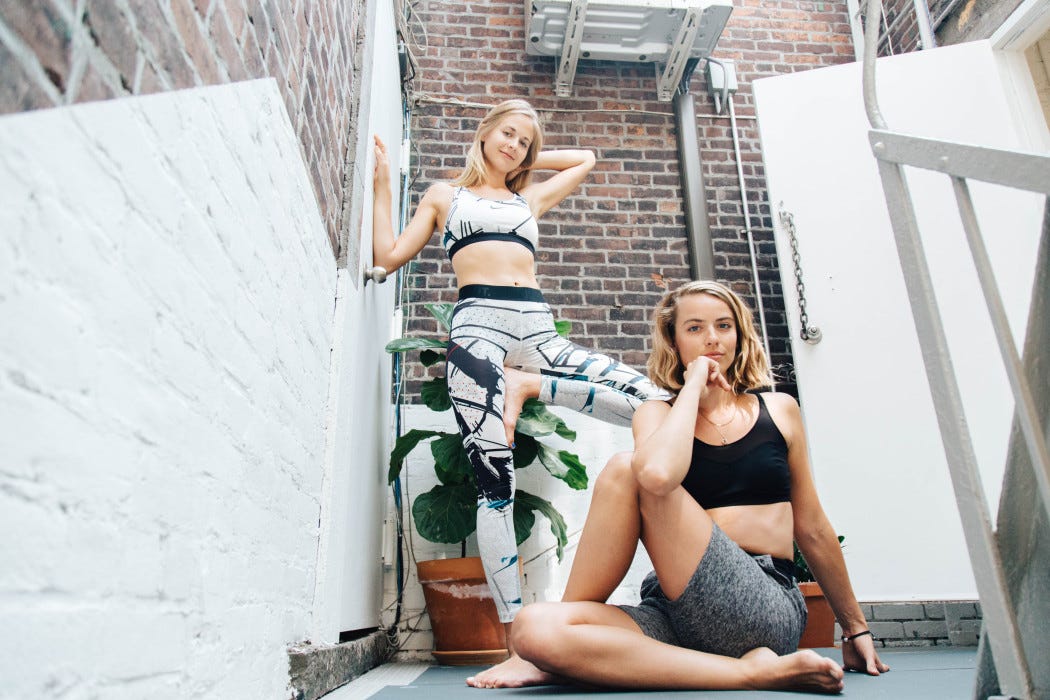 QUICK HITS
Favorite yoga pose to do?
KJ: Shoulder stand, pigeon, wheel, plough, down dog!
CK: Cow face, pigeon, ankle to knee, rounded plough, half moon.
Favorite yoga pose to say?
Song currently on repeat in the studio?
KJ: Played Post Malone's "White Iverson" too many times in class, can never listen to it again. Need a new one. Send me yours!
CK: "Cheap Words" by Bart Davenport.
Wearing athleisure to the office, a do or don't?
KJ: I don't think I'm the right person to ask, what's office life?
CK: If your office allows it, take advantage!
Grooming product you've stolen from a boyfriend?
KJ: I don't think there's enough room in this section to list them all. But my favorite is Aqua di Parma deodorant.
CK: My boyfriend has been using Das Boom soap "Detroit" scent, which I'm really into.
Beauty product you've had a boyfriend steal from you?
KJ: Hairbrush, toothbrush (yuck!), hair ties
CK: My Davines shampoo! Though he doesn't understand portion control…
Call or text?
KJ: Call your girlfriends, text the boys.
CK: Text until you have to call. I only call my parents and Krissy.
Spirit Animal?
Krissy: Stevie Nicks
Chloe: Spring Buck
Go-­to road healthy snack?
KJ: Anything from DIMES deli.
CK: Seasonal fruits!
First celebrity crush?
KJ: Leo DiCaprio
CK: same… LEO 4 LIFE. xxx
TELL US:
WOULD YOU TAKE A DATE TO A YOGA CLASS?
Want more style and relationship tips from the female POV? Sign up for our newsletter!