31 Men's Business Casual Outfits for Work
A month's worth of office OOTD's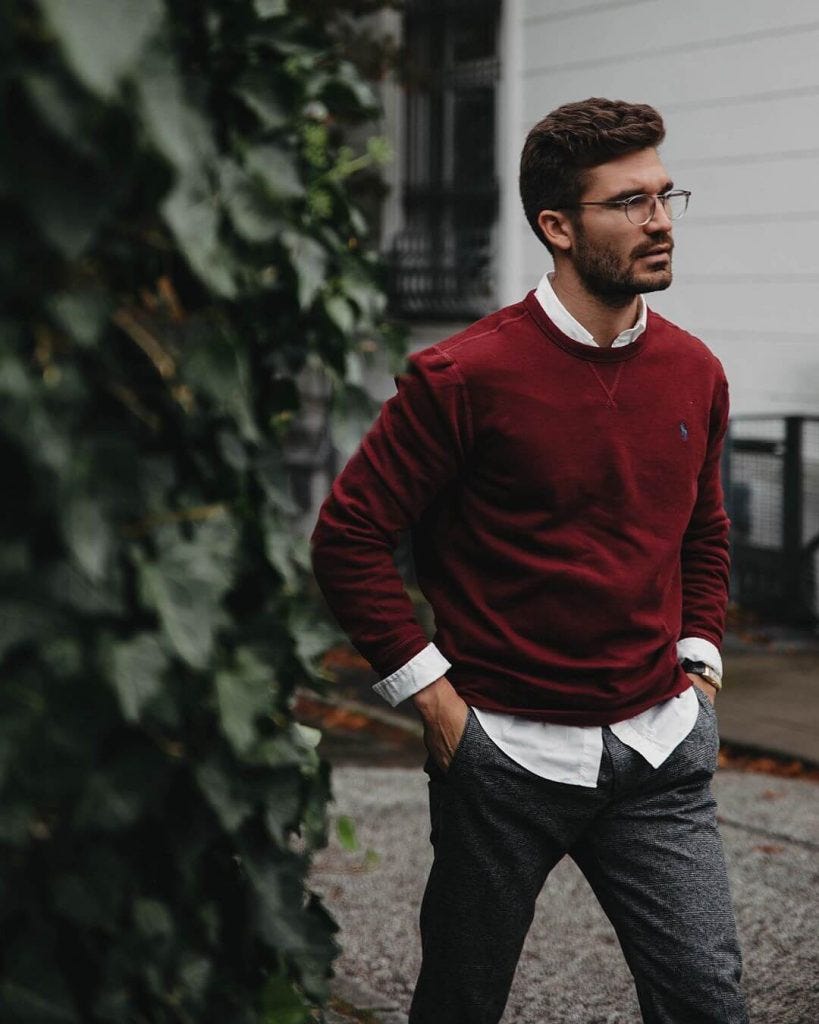 Presented by Mizzen+Main
Like meal prep for your wardrobe
***
So you're on board with fewer days where you fall back on wearing denim. Now, you're looking for jeans-free outfit inspiration. Team SG's got you covered! Below, check out a month's worth of jeans-free outfit ideas, and how to replicate the looks yourself with some stylish Mizzen+Main performance menswear.
31 business casual outfit ideas for work:
Day 1: WEAR COLORFUL SNEAKERS, GREEN PANTS, & A LIGHT JACKET
SG Says: Temperatures can heat up in January, so having a lighter jacket to pair over a solid tee and some green pants will help to warm up your outfit as well. The vibrant sneakers are just icing on top of an already great cake.
DAY 2: WEAR A BRIGHT TURTLENECK, A CHUNKY SHEARLING TOPCOAT & DRESS PANTS
SG Says: If you still won't listen to us about turtlenecks, take a page from musical phenom Mark Ronson! Then, find the brightest turtleneck you can, and wear it underneath a rugged topcoat. A nice pair of dress slacks makes the whole look more office-friendly.
Day 3: WEAR A WIDE-BRIM HAT, A CHORE JACKET, BROWN PANTS & HIKING BOOTS
SG Says: Nestled in front of a luscious mountain scape, NBA baller Kevin Love is very much channeling his inner Red Dead Redemption here, but it's a vibe that translates just as well to the city too. Toss on a wide-brim hat, some darker chinos, a good chore jacket, and some hiking boots to add some yee to your haw.
DAY 4: WEAR A TIE-DYE HOODIE, PINSTRIPE PANTS & AND A COACH'S JACKET
SG Says: LeBron James is a King both on and off the court, so supercharge your off-duty look with a bit of pattern-mismatch. The key here is to go with a simple pinstripe pattern on the bottom to contrast the tie-dye on top. The coach's jacket helps to further blend the mix of high and low style together into something unique.
Day 5: WEAR A SUIT & TIE
SG Says: Borrow from Queer Eye's Antoni playbook and loosen the tie up a bit to give your suit and dress shirt a more laid-back vibe.
Day 6: WEAR A UTILITY JACKET & OLIVE CHINOS
SG Says: Add some military notes to your look by slipping on a utility jacket. It not only looks good, but it has enough pockets on it that you'll be more than ready to carry anything and everything you may need.
DAY 7: A BURGUNDY JACKET, A STRIPED SHIRT & CHINOS
SG Says: By wearing a striped shirt and chinos like Vampire Weekend frontman Ezra Koenig, you can channel some preppier tones that starting to creep back into style. Sure, the striped socks are slightly mismatched, but we like it. You could also go with a white pair that pops nicely next to a fresh pair of sneakers.
DAY 8: WEAR A BRIGHT JACKET, WHITE SHIRT & DARK PANTS
SG Says: The jacket, t-shirt, and dark pants combination has been a well-worn option for a good reason: it's comfortable and suave without having to put in a lot of effort. The key is to go with outerwear that's an interesting color while playing down other parts of the outfit. It's a surefire combo you'll return to time and time again.
Day 9: WEAR A PATTERNED SHIRT & LIGHT CHINOS
SG Says: While it might be tough for you to bring the wine to work, a nice patterned shirt is a timeless—and work-appropriate—essential that can translate from the boardroom to the bar in a snap. Sadly, the Italian countryside doesn't come included.
Day 10: WEAR TWO JACKETS, A FISHERMAN'S SWEATER & CHINOS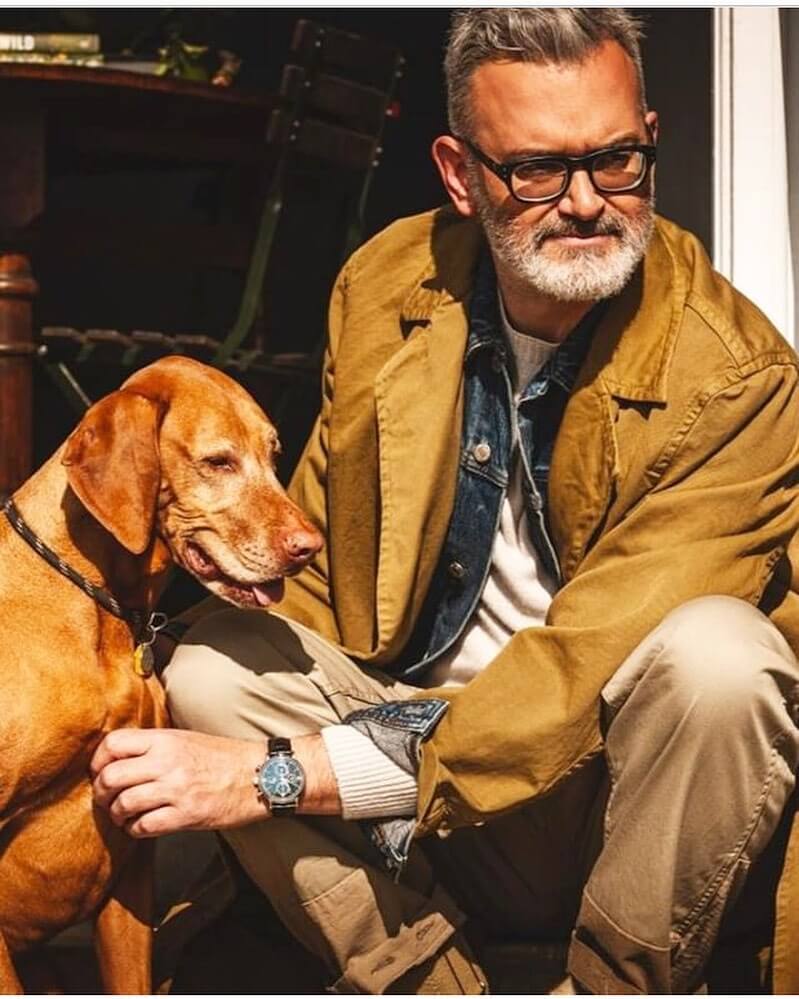 SG Says: Winter weather can be brutal, but layering is both a stylish and practical way of dealing with the elements. Try a chunky fisherman's sweater under a jean jacket under a sport coat (yes, really), then add chinos for a handsome and sophisticated tonal look.
Day 11: WEAR A PLAID TOPCOAT, A WARM SCARF & DRESS PANTS
SG Says: You might not be able to clock enough hours in the gym to get as swole as Killmonger, but you can draw from his outfit on colder days. A hefty topcoat makes all the difference in winter weather. Adding a solid color set of dress pants or tailored chinos makes the effect even more refined.
Day 12: WEAR A DARK TEE, GREEN PANTS & A CRISP DENIM SHIRT
SG Says: This look from Henry Golding is a great outfit for a weekend trip to grab a coffee or get groceries from the store. But don't keep it to just Saturday and Sunday! The denim shirt over a sleek black tee helps to elevate things to a casual office-worthy outfit.
Day 13: WEAR A TRENCH COAT
SG Says: Do your best Bogart impression by slipping on a trench coat (this one's extra cool thanks to that pattern) the next time inclement weather comes calling.
A creme sweater helps to balance the boldness of the pattern, while the richness of the coffee-esque pants helps to tie everything else together.
Day 14: WEAR A GRAPHIC & DARK GREY PANTS
SG Says: Not all graphics are created equal, so when looking for one of your own, think about having one clean image to draw people's attention to. Toning down other parts of the look allows that graphic to be the main focus.
Day 15: WEAR A SPORT COAT, STRIPE SHIRT, CARDIGAN & CHINOS
SG Says: Green sport coats aren't just for golfers at Augusta National, especially if they're in a lighter color. The purple stripes underneath might be a little much for you, but don't be afraid to add some color with your dress shirts to bring a l'il more excitement to your outfit.
Day 16: WEAR WHITE AFTER LABOR DAY
SG Says: Dress shirt + sweater + sport coat + vest = a layered look you'll 100% LOVE.
Day 17: WEAR FULL WINTER WINTER WHITES & A GOOD DOWN JACKET
SG Says: True story: the best time to wear all-white is all the time—not just in the summer! Think "winter whites" in sturdy fabrics for a cool (but still warm!) outfit.
Day 18: PLAY THE BLUES IN NAVY CHINOS, POWDER BLUE OXFORD & A DENIM JACKET
SG Says: Putting away your denim for #NoJeansJanuary doesn't apply to a jean jacket, especially one that helps to add a nice texture and further reinforces the tonal look that's present throughout. Become a blues brother and fully commit to that navy hue.
Day 19: WEAR NO-HASSLE TASSELS, A SUBTLE STRIPE SHIRT & DARK DRESS PANTS
SG Says: Those looking for a bit of a European-style outfit should slip on a striped shirt that doesn't draw too much attention to itself, a nice pair of chinos, and a statement set of suede tassel loafers. Although we highly recommend you cover your ankles with some socks so you don't catch a cold. It is January, after all!
Day 20: WEAR A SWEATSHIRT, A WHITE DRESS SHIRT & GREY TROUSERS
SG Says: The foundation of this outfit—the dress shirt and pants— fall right within your office's dress code, while the crewneck sweatshirt and the white sneakers help make it less stuffy. And yes, you can leave your shirt untucked to really drive home just how chill you are.
Day 21: WEAR A STATEMENT DOUBLE BREASTED TOPCOAT
SG Says: A double-breasted topcoat is already a statement piece, no doubt about it. Be sure to tone down the other aspects of your look so you don't take away from the outer boldness you're displaying.
Day 22: WEAR A RED JACKET AND BLACK CHINOS
SG Says: A fire-engine red jacket like Oliver Cheshire goes great with dark chinos – sort of like a post-Christmas Santa racking up vacation days in Aspen.
Day 23: WEAR A SALMON-COLORED BLAZER, A WHITE DRESS SHIRT & LIGHT GRAY PANTS
SG Says: Once the weather starts heating up, why not change things up with a salmon-colored sport coat? Yes, you can pull it off. We promise.
Day 24: WEAR A BRIGHT DOWN JACKET & PLAID PANTS
SG Says: Love him or hate him, Russell Westbrook knows how to make a style statement. You might want to leave the school bus-yellow puffer jacket at home, but you can absolutely pull off patterned pants at work.
Day 25: WEAR A TURTLENECK & SHIRT JACKET
SG Says: Give in to your inner Brando and layer a hefty shirt jacket over a turtleneck for an effortlessly cool look in 2020. Structured chinos add elegance and sophistication.
Day 26: WEAR A FLORAL SHIRT, A TOPCOAT & GREEN CARGO PANTS
SG Says: Cargo pants ground a playful, patterned shirt for an office look that's interesting but not too "out there."
Day 27: WEAR A COLORFUL SUEDE JACKET & A TROPICAL SHIRT
SG Says: Not all of us can get away at winter to a tropical isle, but you can feel like you're on vacation by slipping a Hawaiian-style shirt underneath a supple suede jacket.
Day 28: CHANNEL THE DESERT WITH A FULL BROWN ENSEMBLE
SG Says: When it comes to wearing an outfit that's all one color of the rainbow, be sure to mix things up with slightly different shades of the same color for an overall effect that's anything but boring.
Day 29: WEAR A NAVY OXFORD CLOTH BUTTON UP, TRENCH & GREY CHINOS
SG Says: Sometimes less is more. This minimalist chinos outfit looks really polished and clean because it sticks to the basics: a stellar fit and a tried-and-true combination of shades.
Day 30: WEAR AN AQUA JACKET, A WHITE TEE, PINSTRIPES & CONVERSE
SG Says: Between the pinstripe pants and high-top sneakers, this outfit gives off a "punk rock at Carnegie Hall" vibe. Oh, and that aqua suede trucker jacket?! Yes. Please.
Day 31: WEAR A BRIGHT BOMBER JACKET WITH BLACK PANTS
SG Says: Don't overthink your next office outfit. Here, a bomber jacket in a bright color helps make a black t-shirt and pants look pop.
***
Want more 2020 outfits for men?