5 Days, 5 Ways: The Coach Jacket
The opportunity to rock your team colors with wild abandon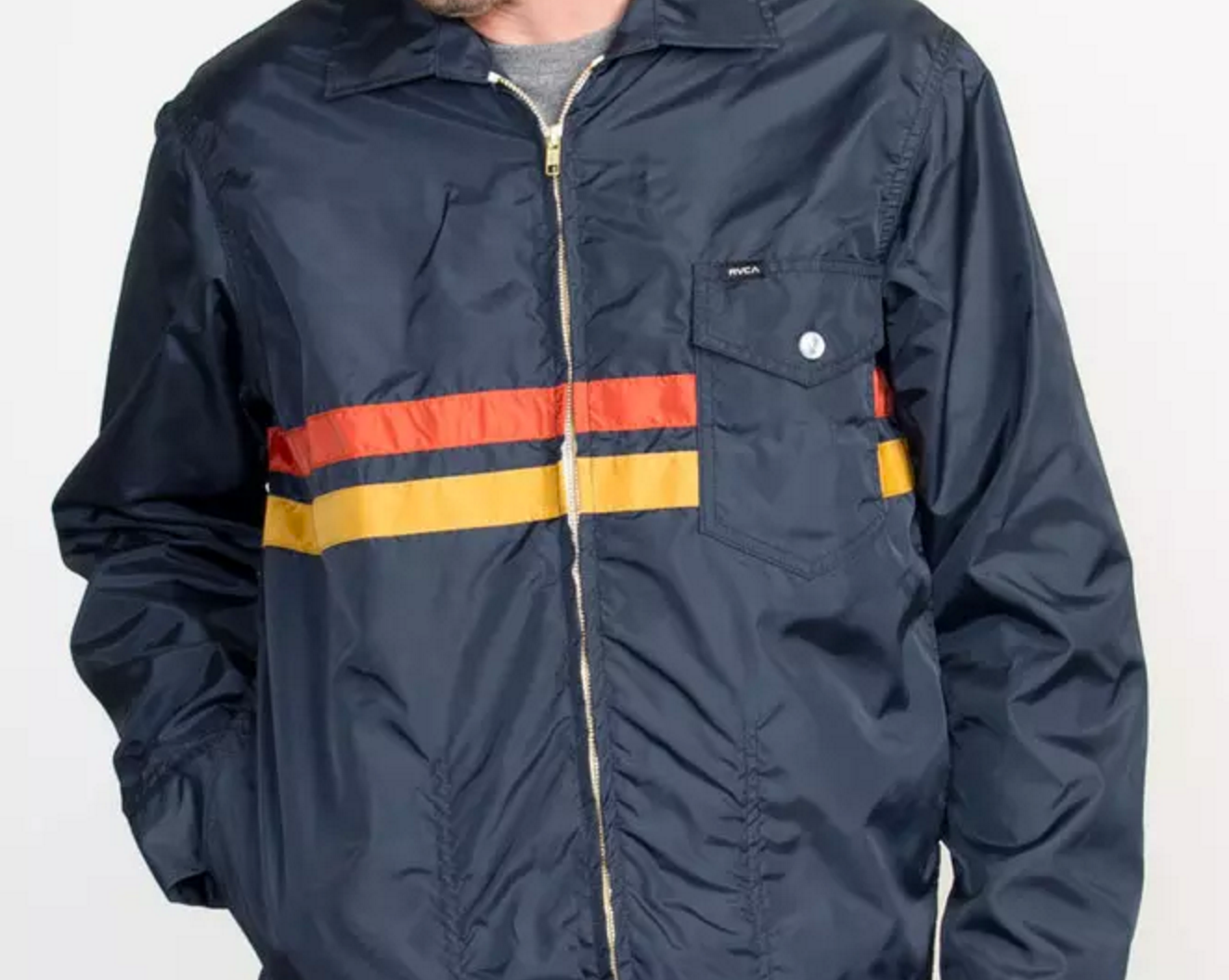 "I'd have to say April 25th. It's not too hot, not too cold, all you need is a light jacket."
Famously spoken by Cheryl Fraiser in Miss Congeniality, a light jacket is all you need on a day like today. While I'm certain that each and every one of you has your fair share of bombers (I've now accumulated 3 myself) a coach jacket is a great layering alternative that still captures that sportswear-inspired vibe. It's shirt-like structure makes it feel put-together, but the windbreaker fabric and zip-front keep things casual. While you may have looked to your coach for game plays, it's might be worth it to check his closet for style advice as well. Team logos, stripes, and school colors are all highly encouraged.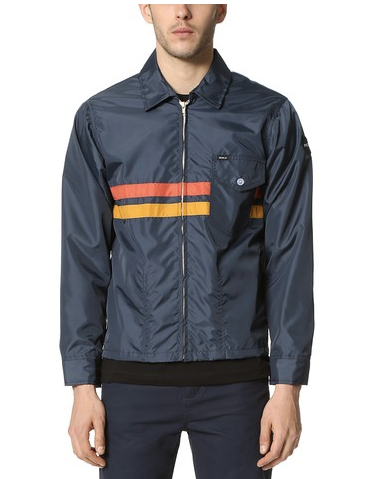 The coach jacket is the perfect layer to add to your spring wardrobe.
MONDAY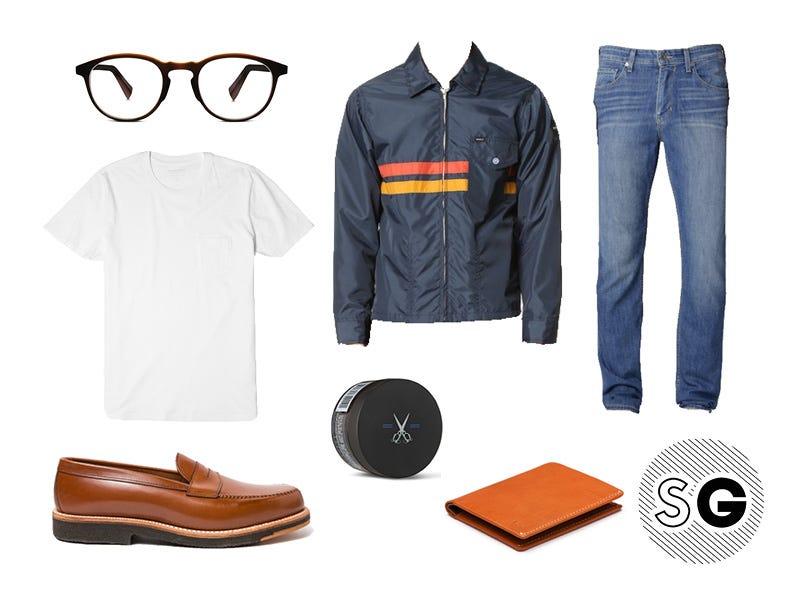 Tee: Everlane, $15 |Jeans: Paige, $199  | Penny Loafers: Alden, $558
Glasses: Warby Parker, $95 | Wallet: Bellroy, $86 | Hair Wax: Blind Barber, $18
Wear it well: Cuff the jeans and style your hair up in a quiff – a 50's revival is in order.
TUESDAY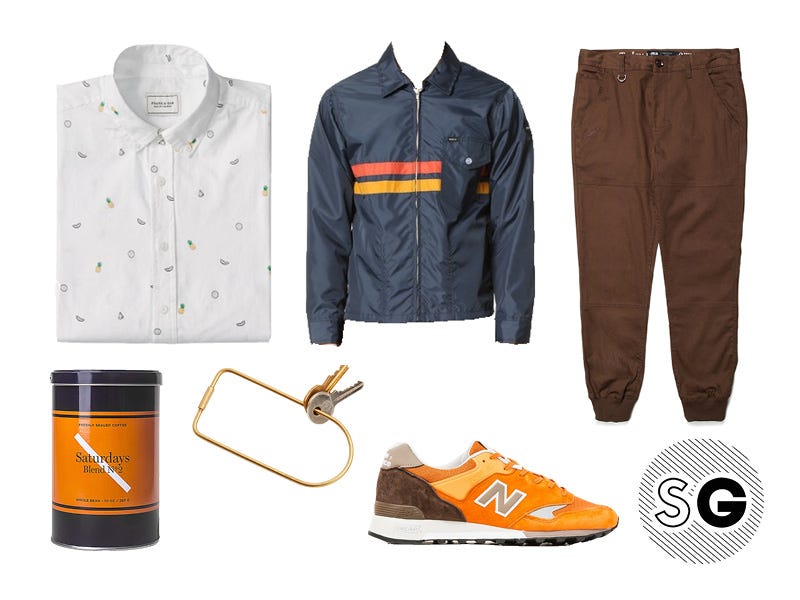 Shirt: Frank & Oak, $56 | Joggers: Publish, $90 | Sneakers: New Balance, $180  
Coffee: Saturdays NYC x La Colombe, $13.50 | Key Ring: Areaware, $16
Wear it well: Skip the socks for your next (c0ffee) run.
 WEDNESDAY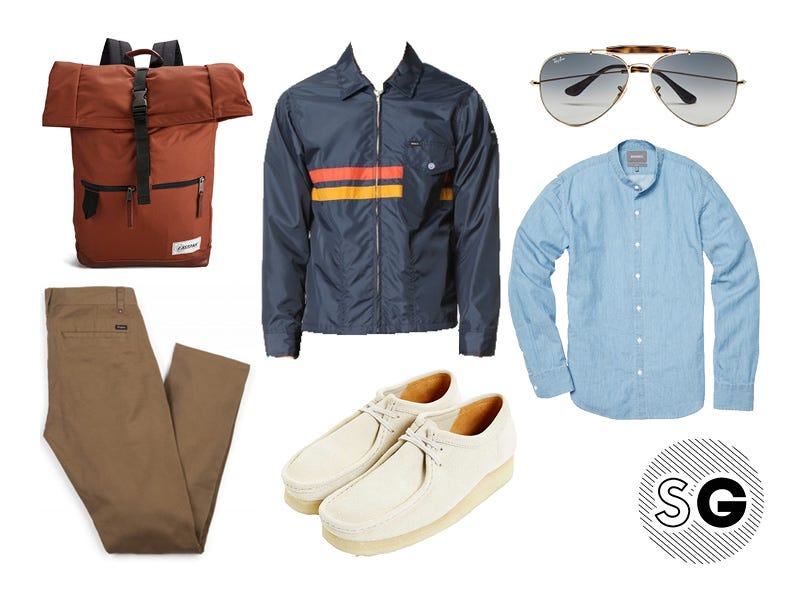 Shirt: Bonobos, $98 |Chinos: Brixton, $59 | Shoes:  Clarks, $135
Belt: J.Crew, $29.50 | Sunglasses: Ray-ban, $200 | Backpack: Eastpak, $102
Wear it well: Bring your coach jacket to work for a happy-hour worthy outfit.
THURSDAY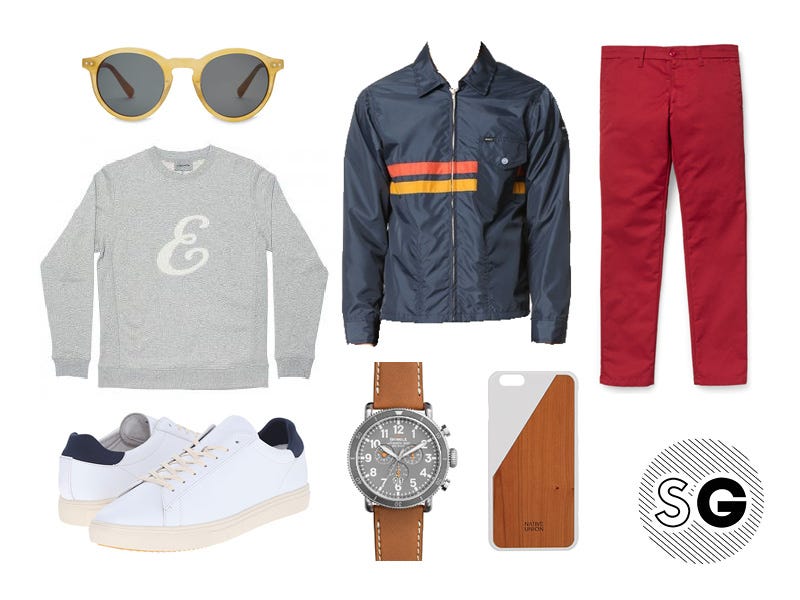 Sweatshirt: Etiquette, $170 |Pants: Carhartt WIP, $128 |  Sneakers: Clae, $130
Sunglasses: Whistles, $120 | Watch: Shinola, $875 | Phone Case: Native Union, $40
Wear it well: Keep your accessories neutral and clean so your jacket (or these pants!)  can do the talking.
FRIDAY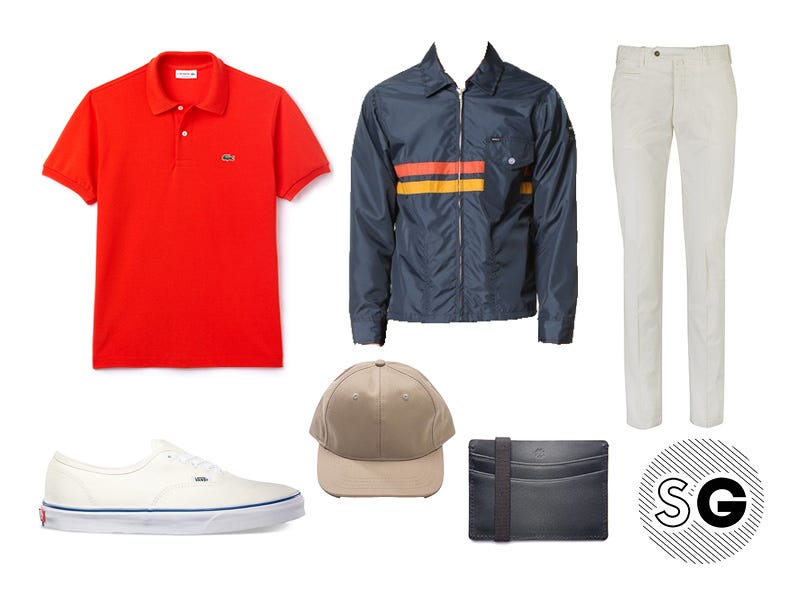 Polo: Lacoste, $90 | Trousers: Suit Supply, $149 | Sneakers: Vans, $45
Cap: Portland Dry Goods, $75 | Wallet: Hook & Albert, $55
Wear it well: Layer on the style from all generations – grandpa's pants, dad's polo, bro's kicks – for a look that transcends  "classic."

Like a phoenix rising from the ashes, Gabi Meyers went from Team SG's first-ever intern to a trusted fashion editor and stylist. She currently lives in Chicago with a very cute dog.