5 Days, 5 Ways: The Suede Jacket
A light jacket MVP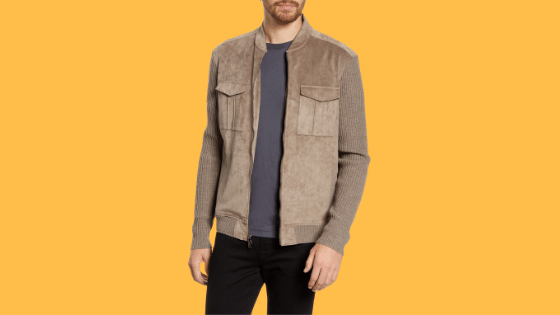 A suede jacket just might crack my top five all-time favorite lightweight coats. That's a big deal, I know! Just consider it: this coat is versatile, luxe-looking, and warm enough to help you shed your winter parka at least a few weeks early.

What kind of suede jacket should I buy?
The great thing about suede jackets is they come in so many styles. You'll find a few of Team SG's currently available favorites at the bottom of this post. They range from shirt jackets (aka, shackets) to moto jackets to trucker jackets. Really, it's up to you what kind of style makes you feel most confident.
Suede just has a completely different look and feel than a style in a more standard fabric – even if it is the exact same cut. For example, I live in my denim jacket six months out of the year, and sometimes take it for granted. But a similar trucker jacket style rendered in suede? Oooh, feels like a special occasion!
Does my suede jacket have to be real suede?
No! Suede leather is made primarily from the underside skin of lamb, goat, calf and deer. If you feel more comfortable, from an ethical standpoint, going faux, that's great. If it's more a matter of budget that keeps you from buying the real thing, that works, too.
Just be sure to invest in a quality garment that fits in a way that allows you to wear a layer or two underneath, but isn't so baggy you'll be swimming in it.
A suede jacket in a bright shade feels especially fresh for spring.
Below, how to wear a suede jacket five ways:

MONDAY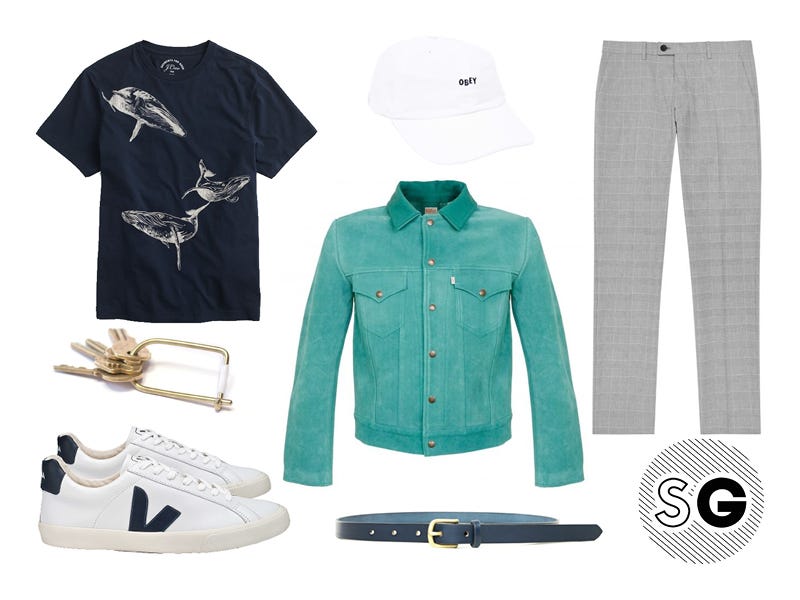 sneakers: Veja, $109 | belt: Maximum Henry, $114
Wear it well: Dress down patterned trousers with a graphic tee and clean white sneaks.
TUESDAY
loafers: Alden for J.Crew, $567 | watch: Larsson & Jennings, $245
Wear it well: Bring your suede jacket to battle the chilly AC at work with a sport shirt and a pair of chinos.
WEDNESDAY
chinos: NN07, $149 | espadrilles: Soludos, $48 (similar)
Wear it well: Wear your suede jacket in the warmer weather with light weight linen pants and espadrilles, a casual shoe that's so much more fun than a sneaker (though you should have those, too!).
THURSDAY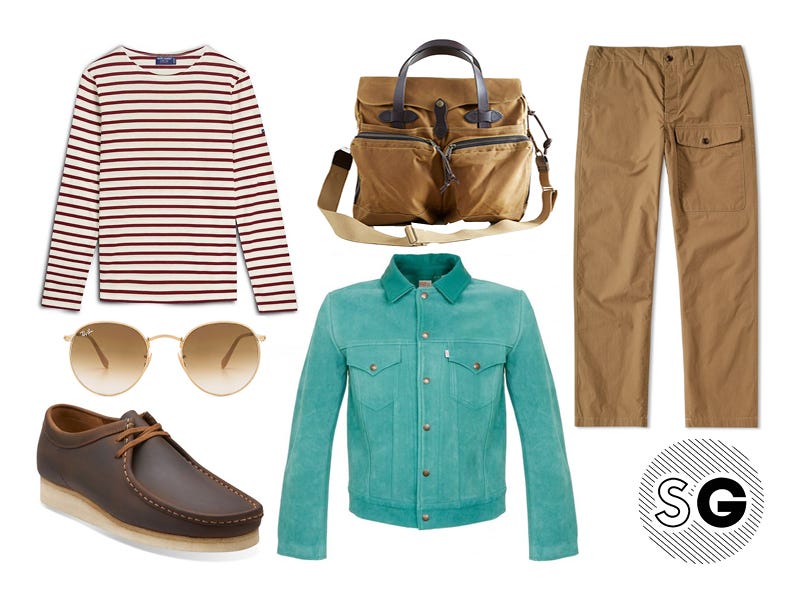 striped shirt: Saint James, $99 | shoes: Clarks, $105 | sunglasses: Ray-Ban, $154 | bag: Filson, $395
Wear it well: Pack your suede jacket as your travel layer on your next trip – with a breton shirt it's just enough to keep you warm on the plane without weighing you down.
FRIDAY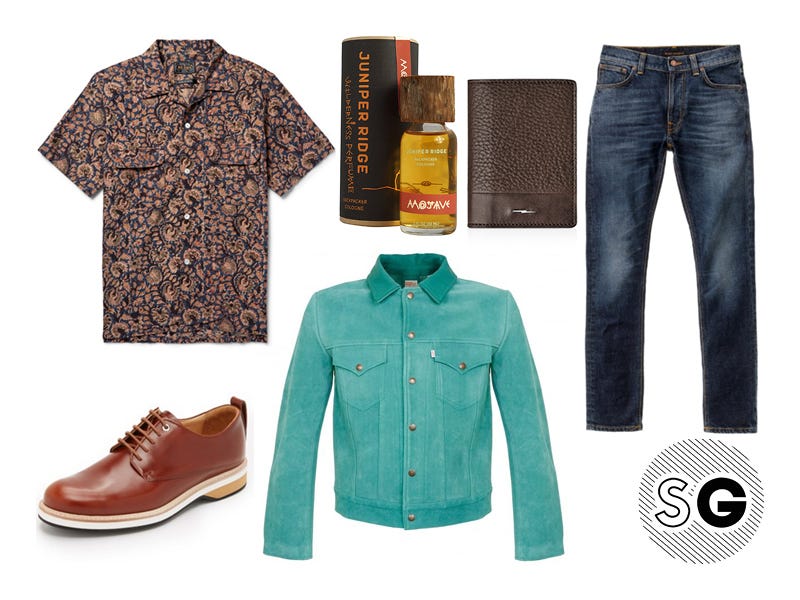 denim: Nudie Jeans, $200 | card case: Shinola, $150
Wear it well: Layer your suede jacket out for the night with a playful patterned short sleeve shirt and jeans – keep that evening breeze at bay!

Shop #SGapproved Suede Jackets
There is literally a suede jacket for every guy – see Team SG's favorite picks below. Note that if you're opting for real suede, you will be shelling out some hard earned cash. Even the Gap style below clocks in at nearly five hundred bucks.
But! This is the kind of coat you'll have forever, so think of it as an investment piece. I find breaking down cost per wear helps me see these big ticket items in a more manageable way for my clothes budget, too.
Gap western suede jacket, $498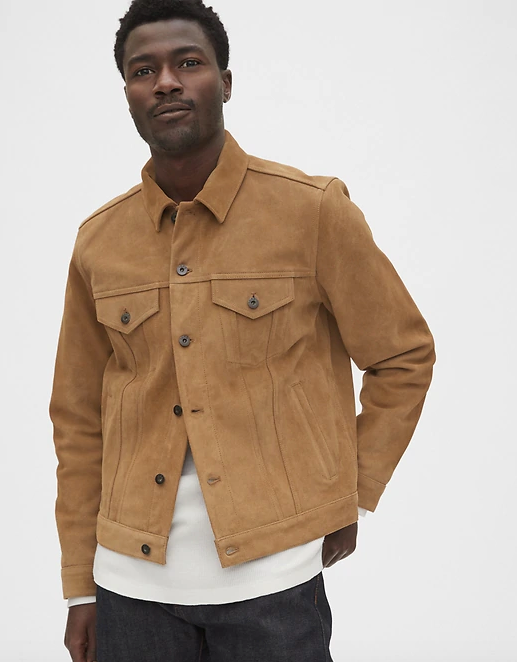 Deadwood Rover moto suede jacket, $420
John Varvatos faux suede mixed media jacket, $698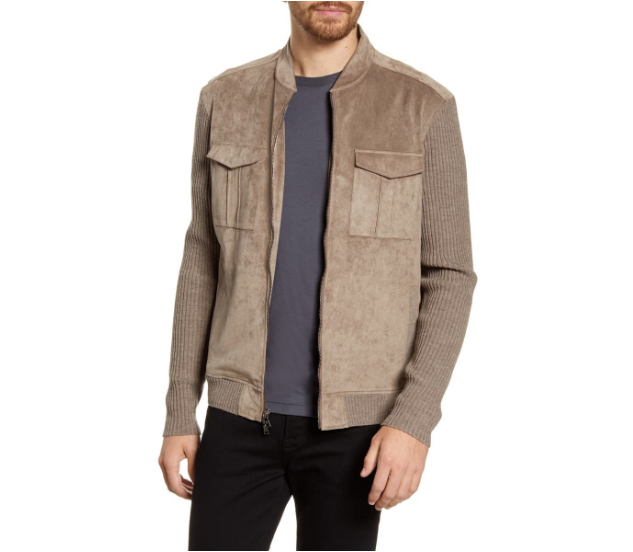 Frame Denim Shearling Collar Suede Trucker Jacket, $1,095
Brunello Cucinelli suede jacket, $5,995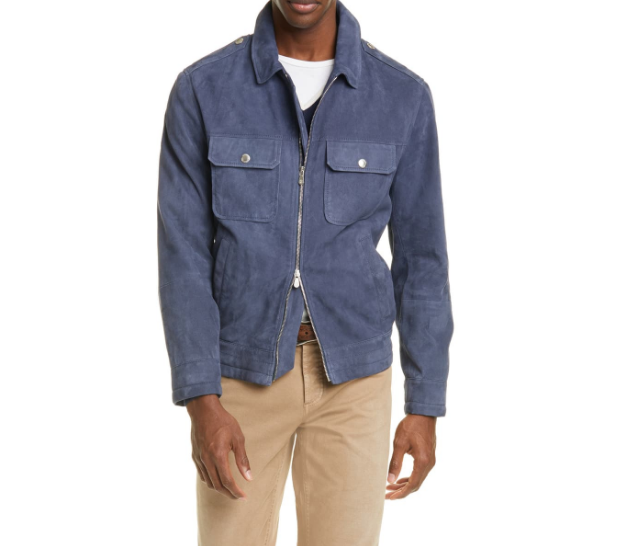 SG Says: Okay, yes this jacket is dumb expensive, but it's also SO beautiful! What was I supposed to do, just let you go on living your life not knowing it existed? I have to know, so you do too!
***
Want more ideas on new ways to wear your favorite pieces?
See five ways to wear a breton shirt, colorful chinos, and brown derby shoes.

Like a phoenix rising from the ashes, Gabi Meyers went from Team SG's first-ever intern to a trusted fashion editor and stylist. She currently lives in Chicago with a very cute dog.