Real Guy Style: Valet's Cory Ohlendorf
LA Style in Tokyo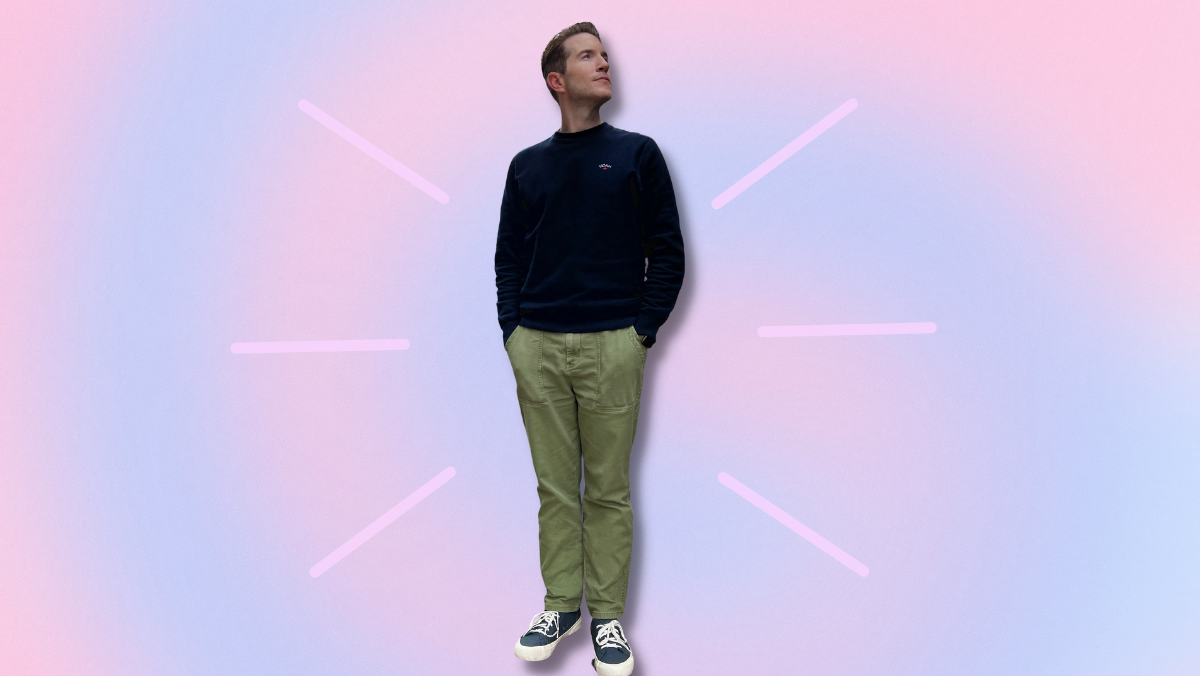 As the founder and editorial director of Valet, Cory Ohlendorf is a force to be reckoned with in the world of menswear. He's also an extremely nice guy who I've enjoyed infrequently emailing with forever.
So when he told me he was relocating from Los Angeles to Tokyo, I knew I had to get him to agree to take part in SG's ongoing "Real Guy Style series. Ohlendorf has made a name for himself as a tastemaker and authority on all things men's fashion and lifestyle, and I was curious how such a big move would affect his day-to-day wardrobe.
With his keen eye for detail and deep appreciation for well-made, well-tailored clothing, you'll see for yourself why he's become a go-to source for advice on how guys can look and feel their best.
Below, a week in the wardrobe of the stylish Tokyo transplant:
Monday
My style is pretty classic and clean. There's a little all-American prep and some workwear in there as well. It hasn't really changed much over the last decade, but while you think you could have items forever, the silhouette seems to shift every few years.
I've worn many iterations of this look—a denim jacket and some chinos—but in 2023, I want the vintage trucker to be a little bit oversized.
The chinos are now a wider leg (the Los Angeles brand Mother makes a killer pair) and instead of a clean cuff, they're just cut off and left raw.
Tokyo is a city—like New York but unlike Los Angeles—where you need a bag to carry around all the stuff you're going to have for the day.
I wasn't used to that, but I've adapted quickly and now appreciate having my essentials at the ready.
This rugged suede tote from WP Standard is my go-to bag now.
It's roomy and looks good with pretty much anything I wear, and it's actually waterproof so I don't have to worry about rain or random spills.
Shop the outfit:
trucker jacket: Levi's (custom embroidered at the Haus of Strauss in Los Angeles)
'Commando' twill pants: Mother
cotton sweater: Meriggi
Roughout suede tote: WP Standard
Wayfarer sunglasses: Ray-Ban
loafers: G.H. Bass
Tuesday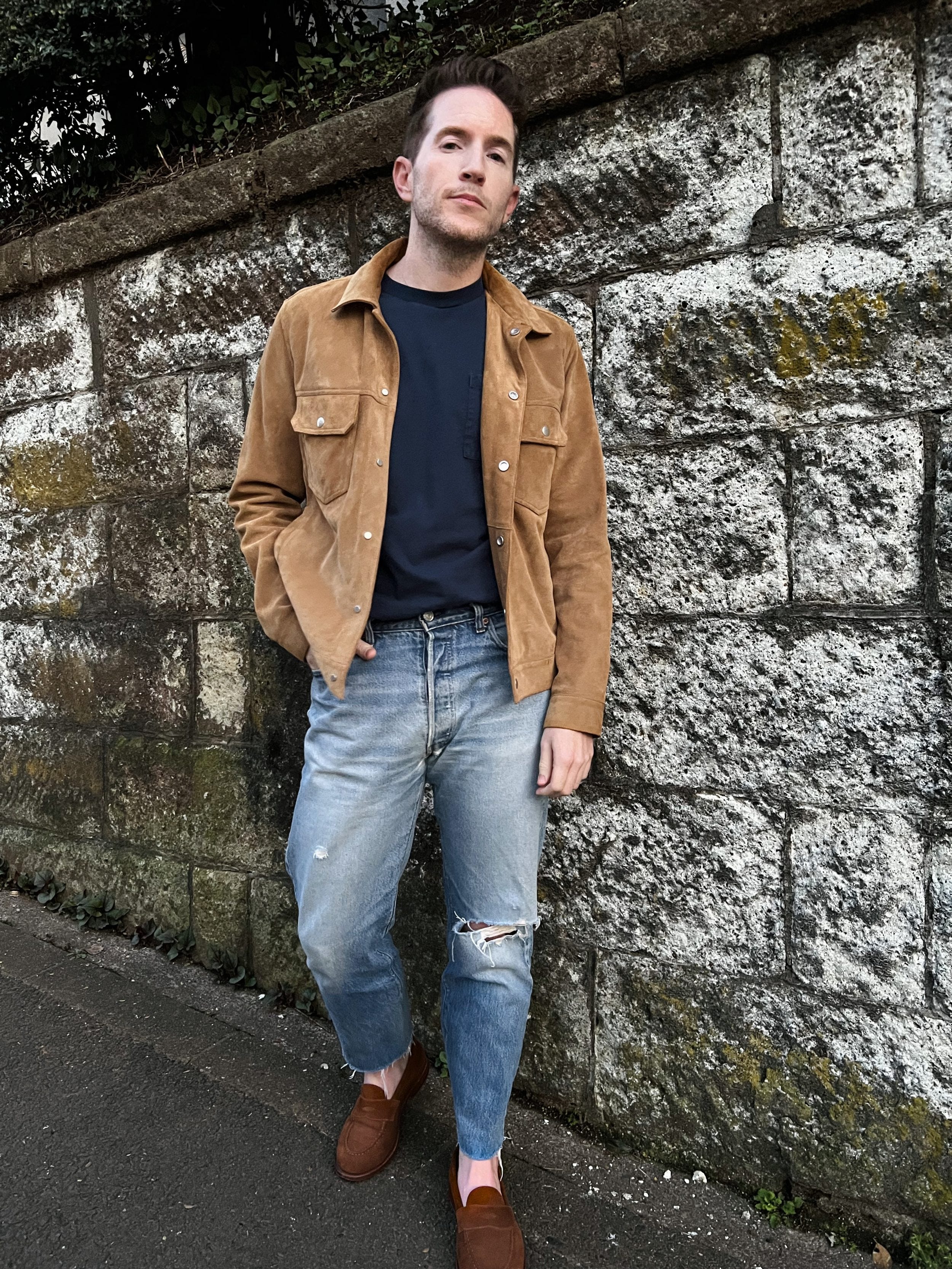 Finished with work and heading out to dinner with my partner Jeremy, followed by a few drinks at a speakeasy that a local turned me onto—Tokyo has an amazing cocktail scene.
That's what I love about a nice suede jacket and a pair of loafers. They take something that could look pretty lazy—the plain crewneck tee and worn-in vintage jeans I wore working from home all day—and suddenly turn them into something really cool and almost polished.
RELATED: The Best Men's Pocket Tees
I want to look sharp but not too precious. That's why I like vintage pieces and stuff that's washed and worn. I like my things to have a little history and to feel soft and lived in.
Shop the outfit:
Wednesday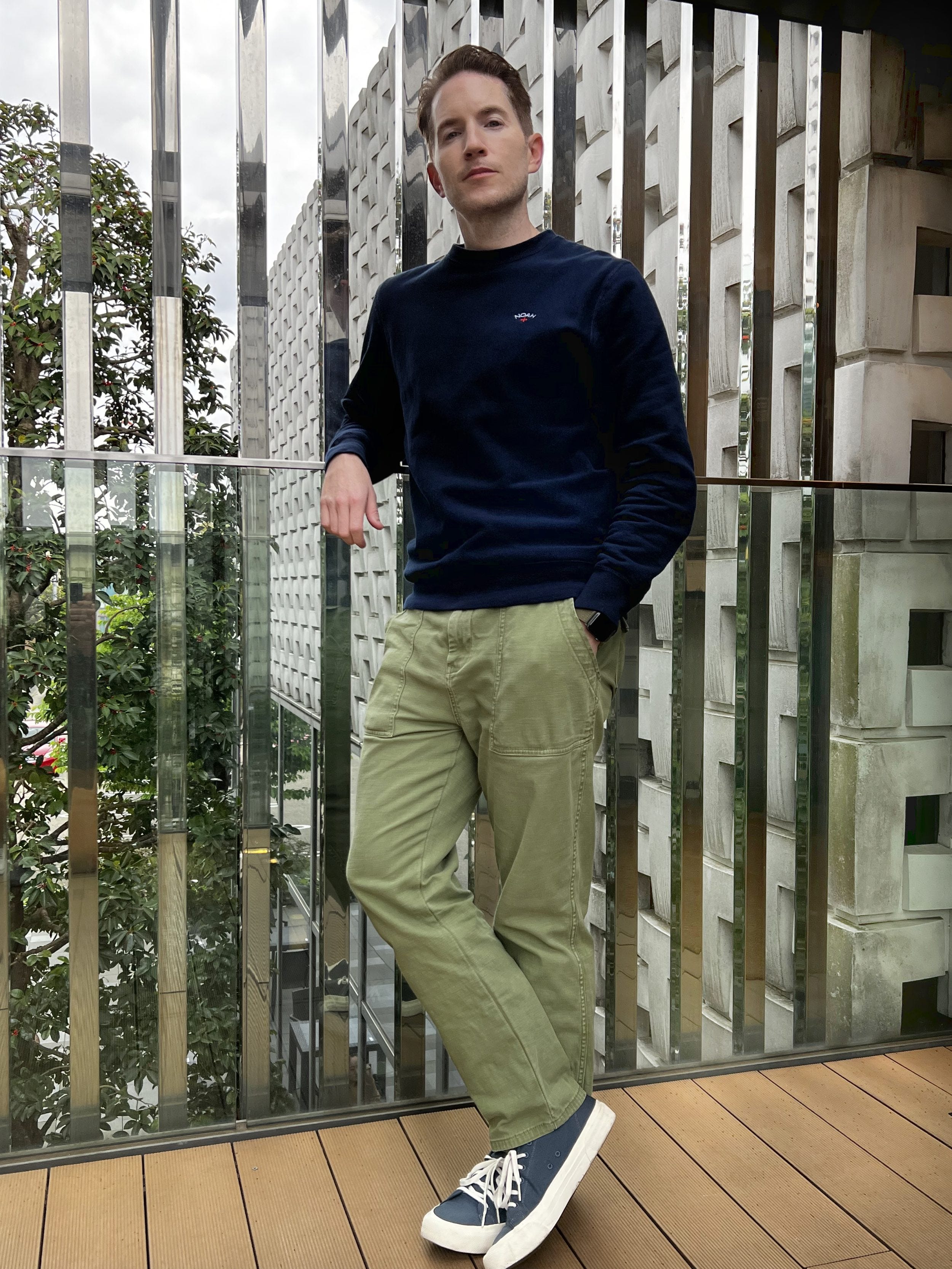 Got a chance today to hit up my favorite bookstore in Tokyo (the best bookstore in the whole world, actually), Tsutaya in Daikanyama.
The weather's been unpredictable and it was a little chilly, so I threw on the only sweatshirt I brought to Japan. There's something about the way Noah's sweatshirts fit and feel. They're just so damn good.
The same goes for these military-style fatigue pants by Flint and Tinder. I wear them all the time.
I'm realizing half-way through documenting these outfits that I really do have a style signature.
Almost everything I wear is shades of blue or olive drab, and a whole lot of denim. That's not a bad thing. In fact, it's something that I'm always advocating to our readers.
Find what works for you and what you feel good in, and then buy the best of those things.
You don't need a lot of clothes—you need quality pieces that will last and look handsome.
Moving across the world helped solidify this. I couldn't bring all those clothes you keep in your closet but never wear. Only the greatest hits came with me.
And those are the beloved vintage pieces, the custom items and tried-and-true favorites I wear over and over again. Plus, it gives me an excuse to do some shopping here.
Shop the outfit:
Thursday
Had a meeting at our co-working space, which means shopping detours along the way.
Wanted something relaxed and comfortable, but still put-together. These are some of my favorite pants from Norse Projects. They fit and feel like Dickies, but have a more polished vibe. I've worn and washed them countless times, traveled with them a ton, but they still look great.
The sweater is from Beams, a Japanese brand, but I actually bought it from MR PORTER while living in California. So now it's like I brought it home.
Why don't more loafers have a gum sole? These are from Marc Nolan and I think they're especially great for warmer weather. I'm definitely a guy who values comfort, so I don't mess with uncomfortable shoes that leave your feet all blistered. These slip-on and are as cushy as a pair of Vans, but look a whole lot more put-together. Plus, they're really affordable.
Shop the outfit:
Friday
Friday morning coffee run to my neighborhood shop, Omnibus. In true Japanese fashion, they take their coffee seriously and make an absolutely perfect latte. In terms of personal style, mine hasn't changed much (yet) since being in Tokyo, but I've definitely embraced their appreciation of doing things the right way.
The first fashion purchase I made here was a pair of Japanese-made Converse.
I'd heard that they were made the old fashioned way, more like the Chucks from the '60s/'70s, with unwaxed laces and a slightly more narrow toe box. I tried them on and really loved the look and feel.
I also picked up this denim shirt from a shop here called Ships, but the t-shirt is an old favorite from Buck Mason.
The wide, pleated chinos are from Gap, which I found online when the J.Crew giant chinos first sold out. I went looking for an alternative and scored these for like twenty-five bucks and everyone's always asking me where they're from.
Don't sleep on those Gap discount codes.
Shop the outfit:
***
Check out every Real Guy Style feature here.