A Love Letter to the Desert Boot
This goes out to a classic beauty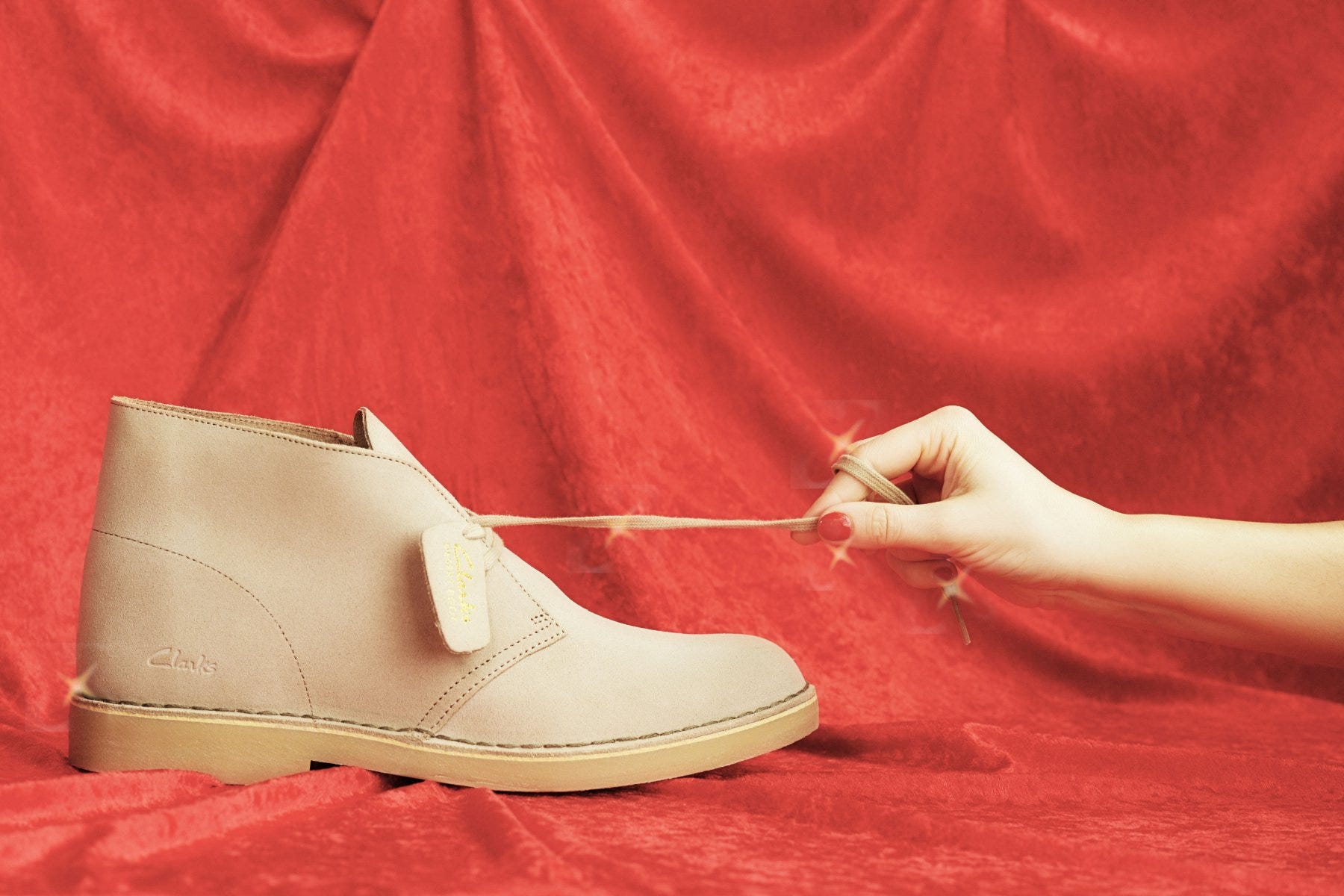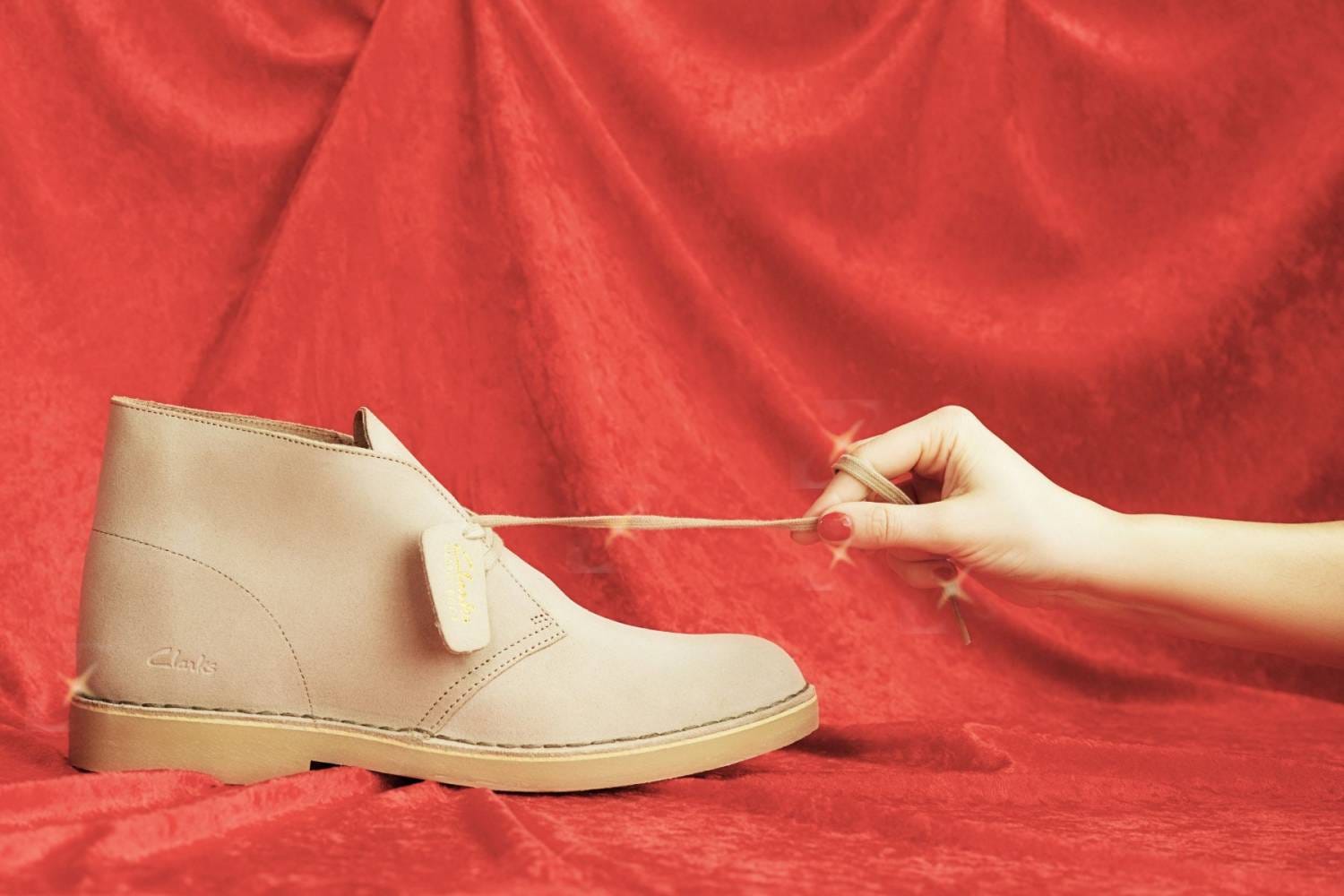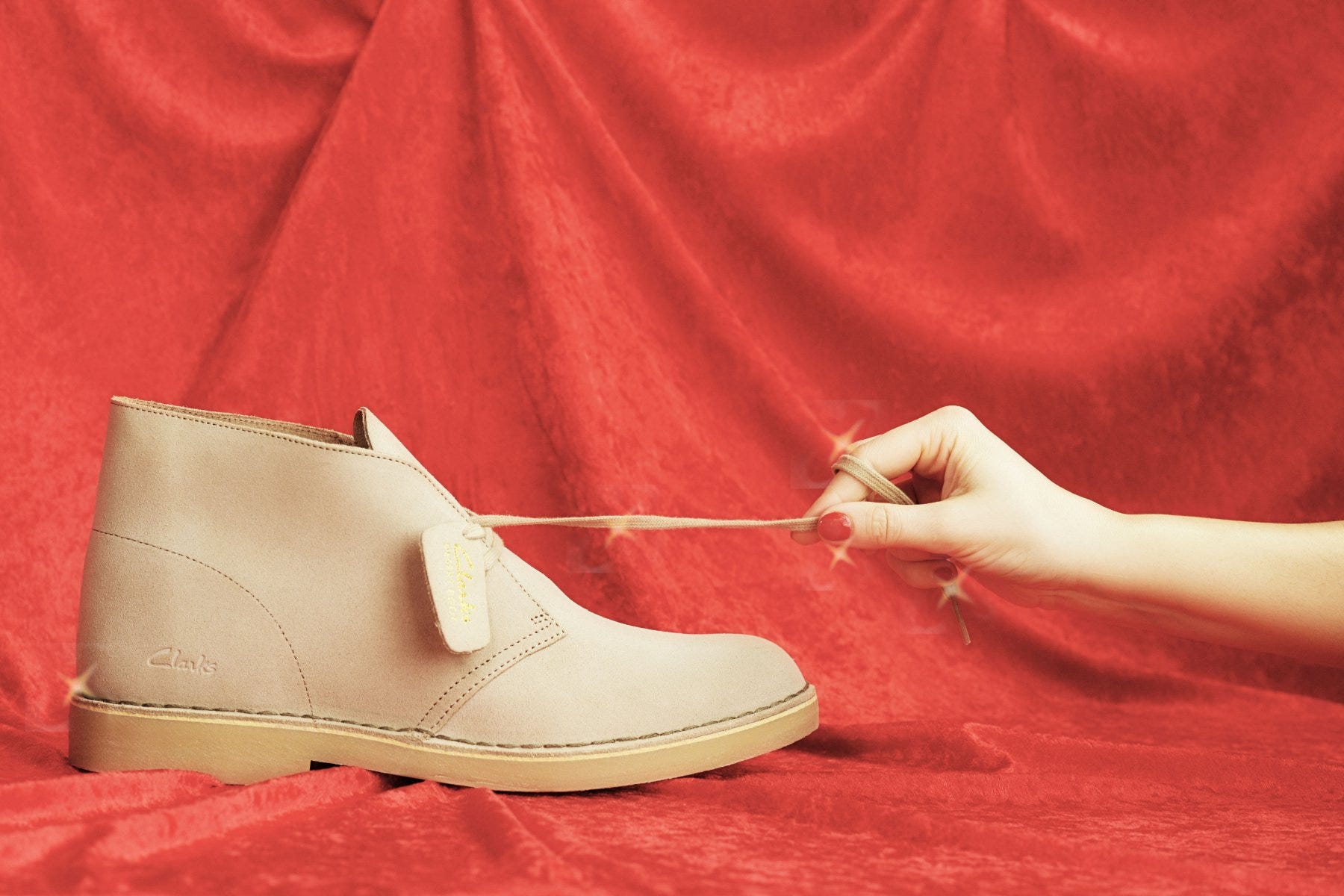 Presented in collaboration with Clarks
Close your eyes. I want you to conjure up the perfect, easy Sunday outfit. Maybe it's a nice dark wash jean and a crewneck sweater. Or a slim chino and turtleneck that makes you look like a dashing superhero in disguise.
Your plans? Nothing crazy. Maybe a walk and some errands. And then later, dinner at your favorite neighborhood restaurant (this is all in your imagination, remember…not reality).
You feel comfortable and look stylish, but not like you're trying too hard.
Now, what do you have on your feet?
Chances are it's a boot, right? Something durable yet refined. Fashionable but not trendy.
Now, I'm not psychic but I'd guess it was a desert boot that crossed your mind. The classic flat ankle boot that's been a staple in men's wardrobes for decades.
And what I can tell you is that if I were your dinner date (which would mean you are Sheldon Whitehouse), I would certainly approve of your footwear.
Me and most women, I'd bet.
For that perfectly universal style, we have one brand to thank: Clarks.
The origins of the Clarks Desert Boot
While the Clarks brand is almost 200 years old, the desert boot only dates back to the 1950's.
Nathan Clark, great grandson of the company founder, spotted a hybrid shoe/boot on soldiers from the British army in World War II and brought the style home to the family business.
For generations, the desert boot has enjoyed icon status among footwear staples. Classics like the penny loafer, the monk strap, and the brogue.
Easily worn with both tailored and more deconstructed looks, the desert boot has been adapted by dozens of other designers since Clarks popularized the style.
But make no mistake—the Clarks brand desert boot remains the epitome.
And now the timeless staple is getting an upgrade in the form of the Desert Boot 2.
Don't worry, the new boot retains all the original charm.
Stylistically, the boot remains virtually unchanged—hard to improve on perfection, right?
The improvements instead come in the wearability of the shoe.
Clarks has long been revered as expert shoemakers crafting footwear that straddle style with comfort. With the Desert Boot 2, they've added a comfort footbed that's more flexible than the OG's.
Perfect for WFH life.
The brand's dedication to sustainability features in the production and construction of the new style, too.
Since its inception, Clarks has dedicated itself to high quality materials. These days, the company works hard to ensure the leather they source is produced ethically, and they've begun making some styles using recycled materials.
The Desert Boot 2 comes in five colors. White leather, beeswax leather (a deep brown), sand suede, dark brown suede, and black suede.
A different boot for your every mood! And dress code. And occasion.
Looking for inspo on desert boot outfits to wear?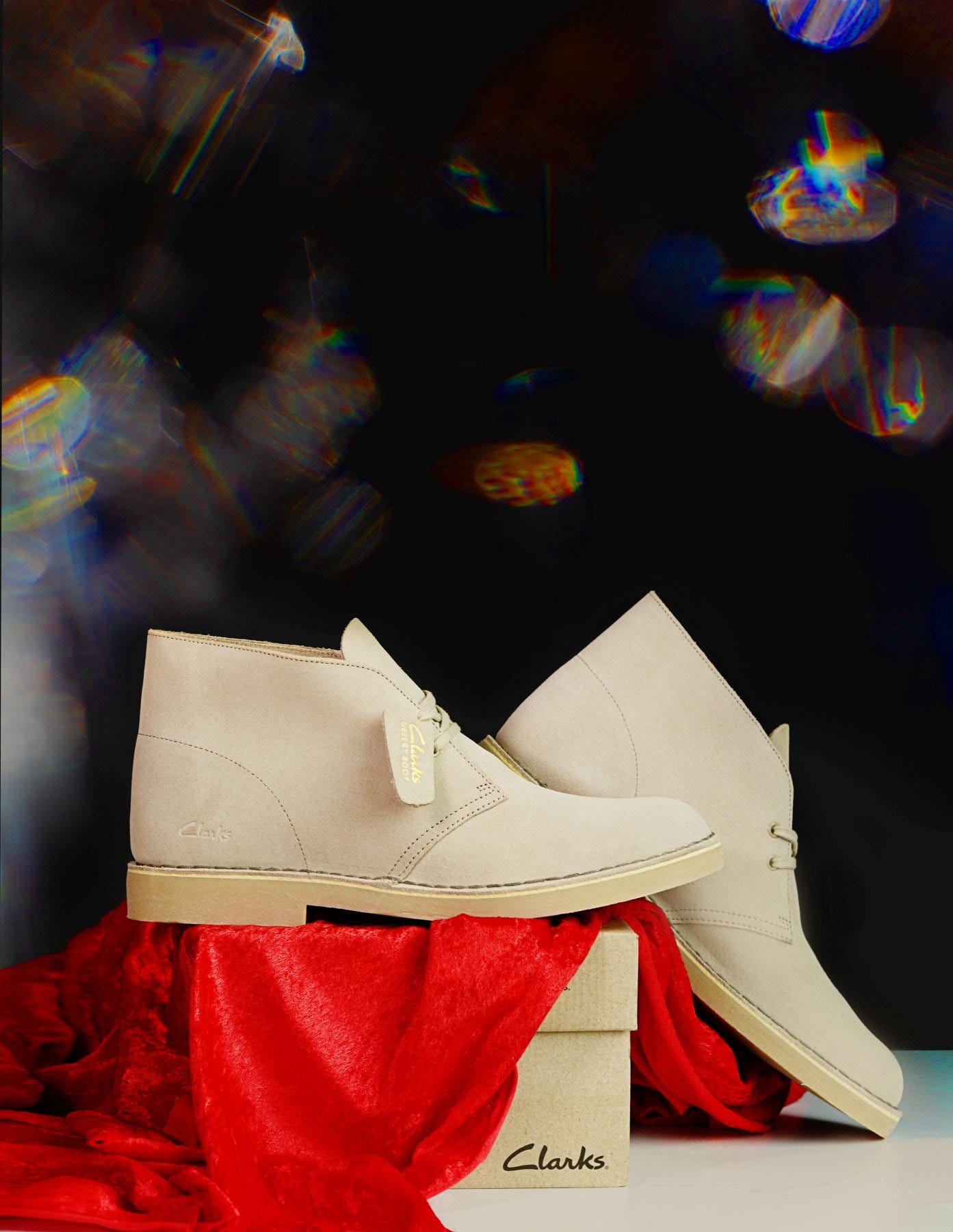 You're in luck. One of the many benefits to investing in iconic wardrobe essentials is there's plenty of outfit inspo out there already.
Just google Steve McQueen and "desert boot."
Seriously! I'll wait.
You'll find countless photos of the actor looking effortlessly cool (and mouthwateringly hot, but that's another story) in an easy sweater, trousers, and desert boot combo.
Now, you might not be as cool as McQueen—if I'm being honest, chances are you probably aren't, just statistically speaking. And that's ok! All the more reason to emulate him, right?
Because if the clothes make the man, the Desert Boot 2 brings you one step closer to McQueen's unattainable and enduring chill.
One noteworthy style choice McQueen makes involves his sock choice: he does not play things safe!
In some shots, his ankles are dressed in bright white mid-weight cotton socks; others a stripe or dark solid. I say, lean into this aesthetic in 2021.
***
Now, if McQueen's styling doesn't get your gears turning—first, you should get that checked—but second, never fear because I'm here.
The cardinal rules of desert boot outfits:
1. Keep your trousers slim. Not tight—slim.
And stick to a quarter or no-break. The casual ease of the desert boot lends itself well to a cuffed chino or jean.
The white leather and sand suede pair great with lighter chinos or a lighter wash denim for a relaxed warm weather look.

Throw on a blue linen shirt or a neutral long sleeve tee to keep consistent with the pulled together but not overly styled look of the desert boot.
The darker colors like the beeswax leather and the dark brown suede can be dressed up more easily with summer weight trousers in warmer weather or dark denim in winter.
If I were dressing you (you should be so lucky), I'd pair the dark brown suede with a navy chino, a deep camel sweater with a heavy wool overcoat.
2. Sorry, no suits.
As a bit of a men's style purist, I wouldn't recommend pairing your desert boot with a suit, but with jeans and a sport coat? Yes, for sure. Ditto a trouser without a jacket.


One step down from a full suit, that's where you want to be when dressing up your desert boot.
3. Keep things easy-breezy up top.
Your shirt options are essentially endless, but I'd keep it easy.
Stay away from anything too starched or crisp-looking and opt instead for relaxed button downs, sweaters, and midweight or chunky knit turtlenecks.


You can have some fun here! Think texture – it will nicely complement the earthiness of the desert boot.
Flannel, corduroy, suedes and broken in leather. For sport coats and trousers lean more textured wool, less worsted.
Remember, the desert boot is a classic for a reason.
You don't attain wardrobe mainstay status by being fickle when it comes to what goes with what. The desert boot's comfort, durability, and quality is matched by its versatility.
Meaning? If you have your eye on a pair, chances are you already have plenty in your closet that will work with them.

Your turn! Show us how you wear the iconic desert boot by sharing a selfie on Instagram and tagging @styleGF.
***
Thanks for supporting the brands like Clarks that help make Style Girlfriend possible!
photography: Marla Bergh