#GiftInColor: Holiday Gift Ideas in Shades of Green
Fool-proof Picks in Brilliant Emerald and Classic Olive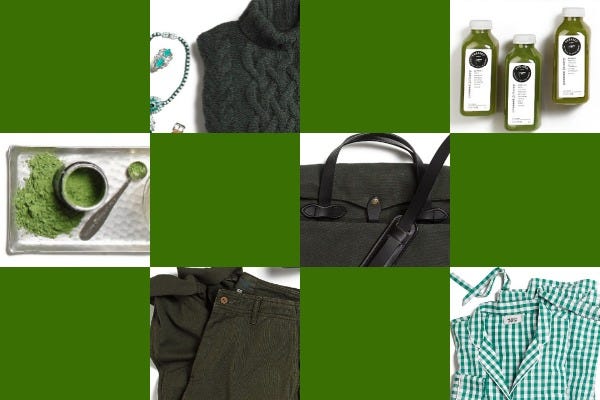 For this season's gift guide series on Style Girlfriend—we're calling it #giftincolor—we found more than 100 amazing holiday gift ideas for both guys and ladies. We're launching a new one each Tuesday, and you can check out our red and orange/yellow guides, too.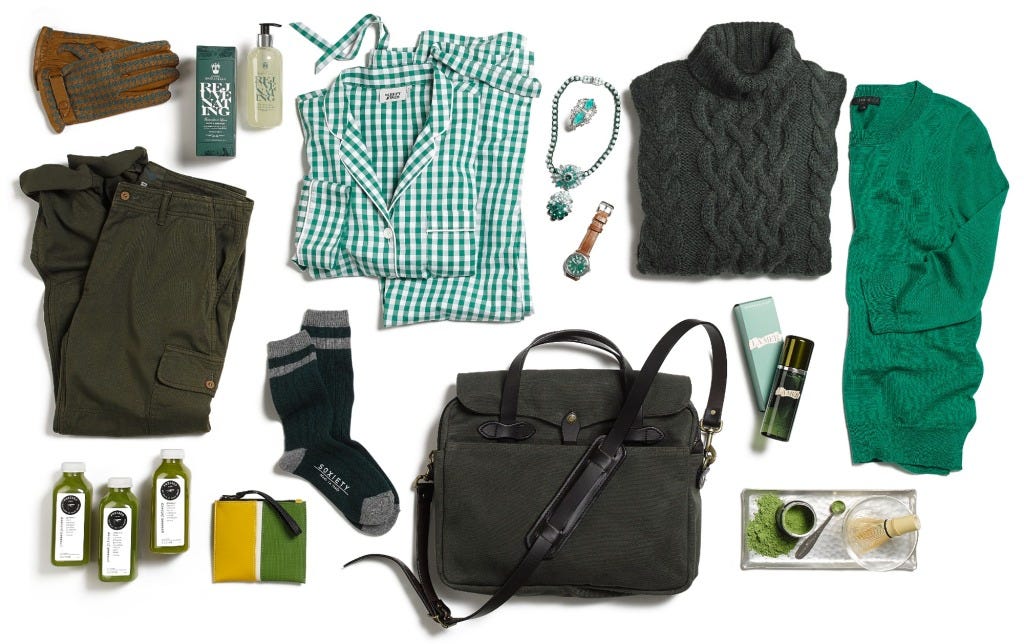 Gloves, Orley | shower gel, Marianella | pajamas, Sleepy Jones | necklace, Rue Gembon | bracelet, Lulu Frost | watch, Shinola 
sweater, Bonobos | sweater, J. Crew | lifting contour serum, La Mer | Matcha green tea set, Panatea | twill briefcase, Filson 
socks, Michael Bastian x Soxiety | pouch, Go Fish | green juices, Pressed Juicery | pants, Vera Largo
Ah, green. The color of festive wreaths on front doors, Will Ferrel's costume in Elf, emeralds… and super healthy juices, too. This week's guide tows the line between glamorous-meets-indulgent and cool-meets-practical gifts. Whether you're shopping for a woman with exquisite taste or a man whose taste could use a little influence—today's gift ideas have got your fix.
We're of the mind that just about any guy on your list will love and wear this classic Filson briefcase, while La Mer's grooming products and Marianella's shower gel may suit the more discerning gentlemen (and gentlewoman!) on your list.
But remember: no matter where your gift-giving budget falls this year, it's easy to find an emerald-hued accessory that will sparkle all the same. We love the affordable price and major impact of Rue Gembon's statement necklace, while Shinola's Runwell watch with a bottle green face is a present to be treasured for a lifetime.
Tell me:
Can you remember the best holiday gift you ever received?
By Taylor Davies. Taylor is a fashion and menswear editor in New York City and occasional contributor to Style Girlfriend. She lives for croissants and swears by an Old Fashioned. You can find her blogging here and 'gramming here.
Check out the whole #GiftInColor series for even more ideas:
Holiday Gift Guide in shades of Red
Holiday Gift Guide in shades of Orange and Yellow
+++
Oh, and another great gift? Time. No, not more time to shop (though I certainly could use it), I'm talking a timepiece. It's practical and thoughtful – plus, whenever the recipient checks their watch they'll think of you! Guys, find out how to pick a watch she'll go wild for on Men's Health —and any gals out there listening: Head on over to Women's Health for your own set of deets! Give 'em a read (and find out about the pretty sweet Kenneth Cole Watches campaign that could land you at the NYC Jingle Ball later this year).
Taylor Davies splits her time between NYC and Sun Valley. She loves writing about menswear, overpriced martinis in dimly lit hotel bars, and cross-country skiing. Not necessarily in that order.