Holiday Gift Guide: Best Self Care Gifts for Him
Get your calm on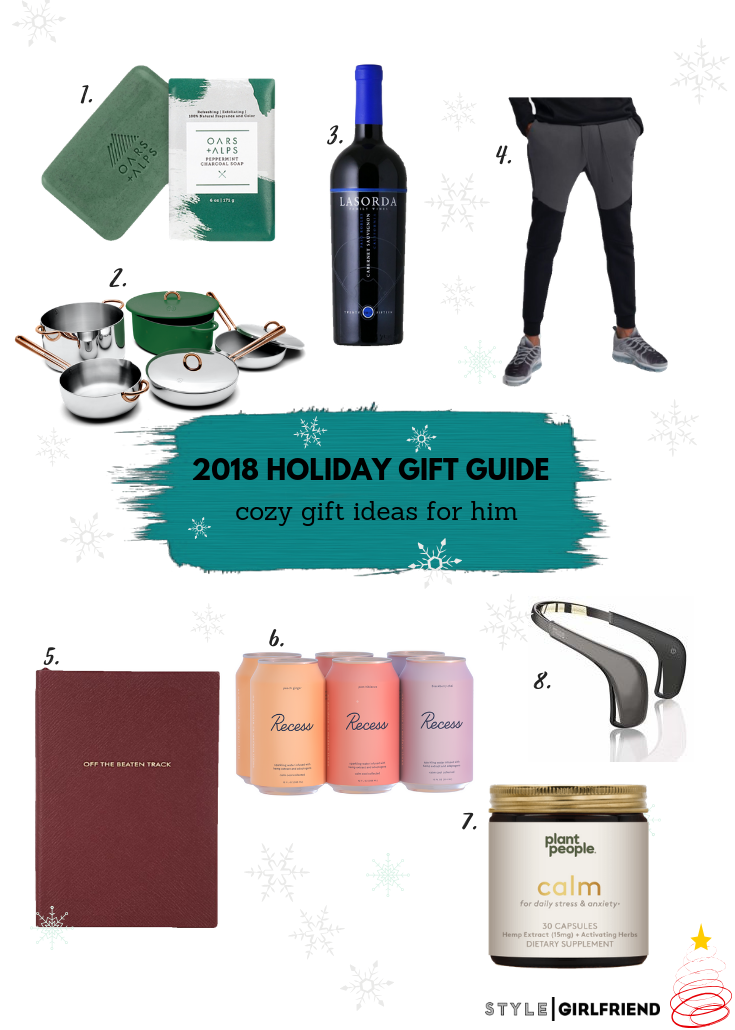 If you haven't noticed, we're real big into self care here at SG HQ this year. Now look. We're realistic. No amount of meditating, journaling, or CBD lattes can totally bring us back from the brink of everything going on, but god damn if we're not going to try. So, what are the best self care gifts to give and get this season? Read on.
In the event that you, too, could use a heavy dose of chill this holiday season, we've got the gifts to ask for (or simply give yourself) below.
SHOP THE BEST SELF CARE GIFTS FOR HIM
1. Oars and Alps peppermint soap, $25 — So refreshing, so soothing, so…much easier than trying to convince a soap guy to be a body wash guy.
2. Great Jones cook set, $395 — Give me a podcast and a Blue Apron meal to cook, and I am happy as a Le Cordon Bleu-schooled clam. This new DTC cookware brand has the most lovely-looking pots and pans that I know would take my kitchen game (and yours) up a level.
3. Smythson journal, $138 — There's power in journaling. Oprah keeps a "gratitude journal," in which she writes down moments from her day for which she's grateful. And because she's Oprah, I'm guessing she goes through at least one journal per day. At over a hundred bucks, you might want to keep your thoughts note-taking more topline. Or, check out a few ::ahem:: more affordable journal options here, here and here.
4. Nike joggers, $100 — If there was any doubt, joggers are here to stay. This style from Nike is one of my favorites. The material is hefty but moves with you, while the ankle cuts off at just the right height (not too high on the leg, not so low it bunches).
5. Recess drinks ($30 for a 6-pack sampler) — This CBD-infused soft drink is just the right amount of refreshing after a long day when you want to decompress but don't necessarily want to do it with booze.
7. Lasorda Wine, $24 — Did you know baseball legend Tommy Lasorda launched a wine? I didn't either! Did you know the cab is pretty good? Now you do!
8. Muse 2, $249 — If you've been thinking about meditation but found it wasn't competitive enough, this device is for you. The Muse 2 gamifies the meditation process by translating your mental activity into the guiding sounds of weather (i.e., busy mind? Stormy weather. Calm mind? Peaceful weather) to help you find focused calm.
I run Style Girlfriend, helping guys develop and grow their personal style, all from a friendly and supportive female perspective.