The Scent Test: PHLUR Fragrance
Put down the department store paper strips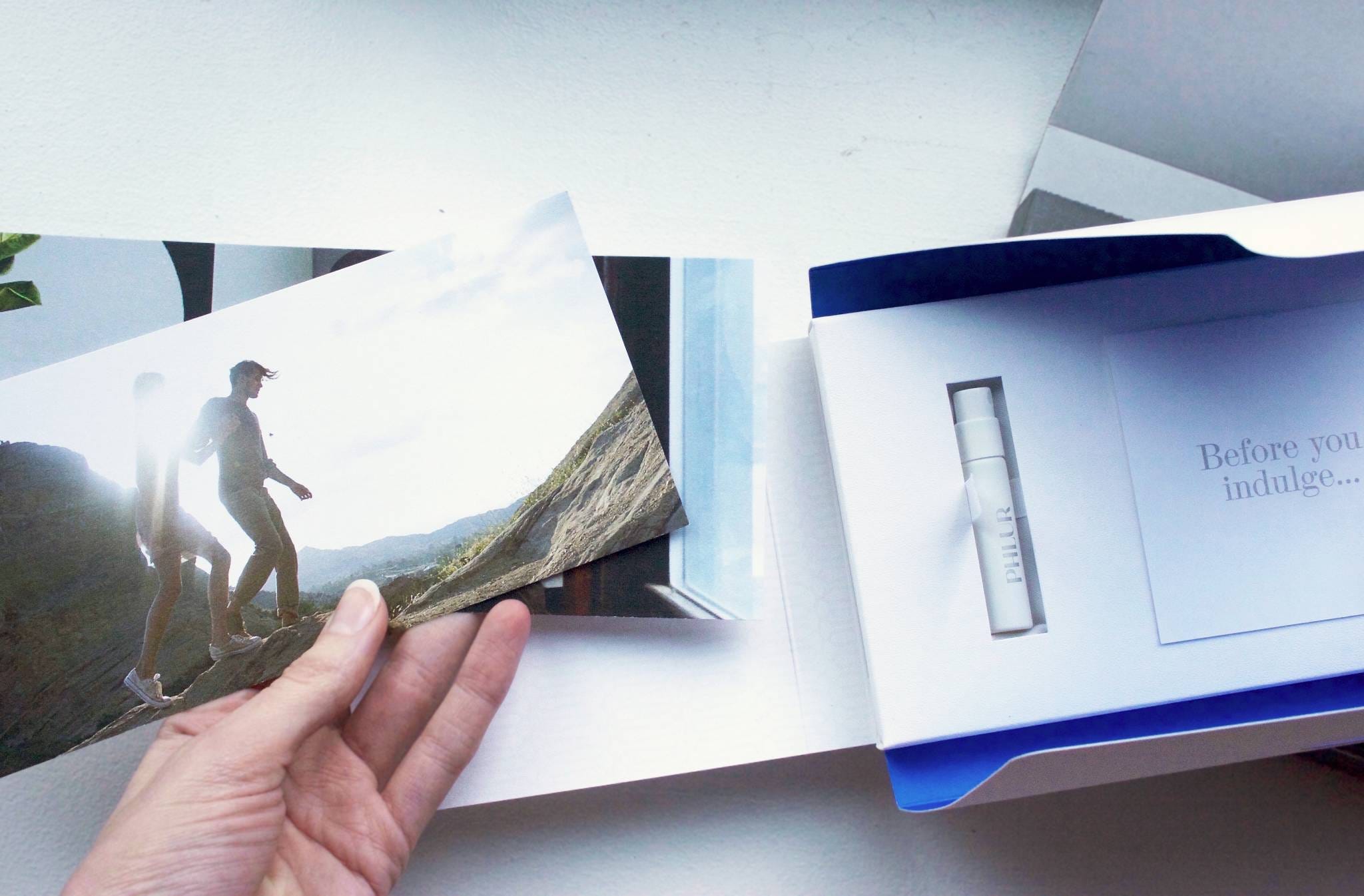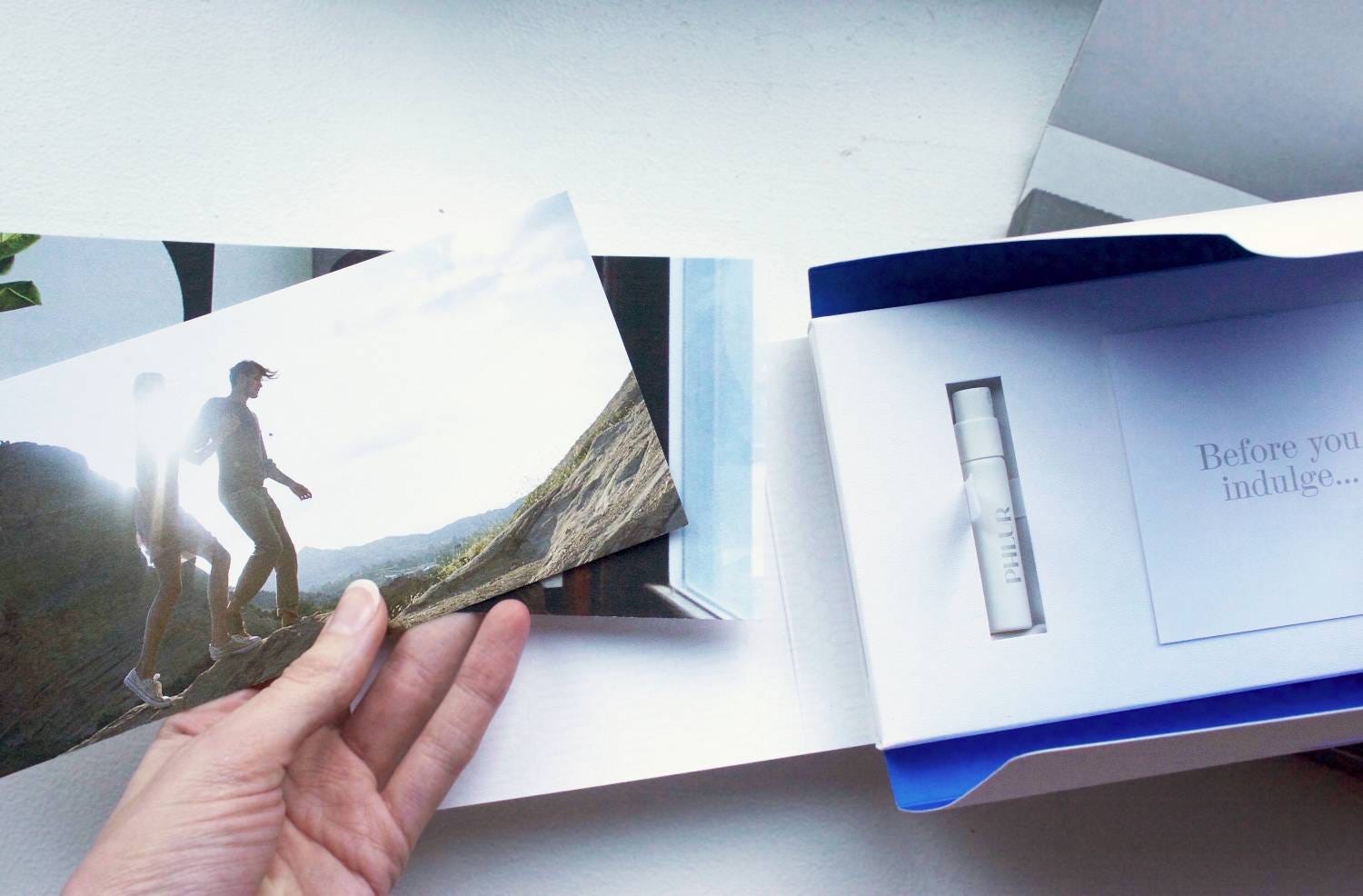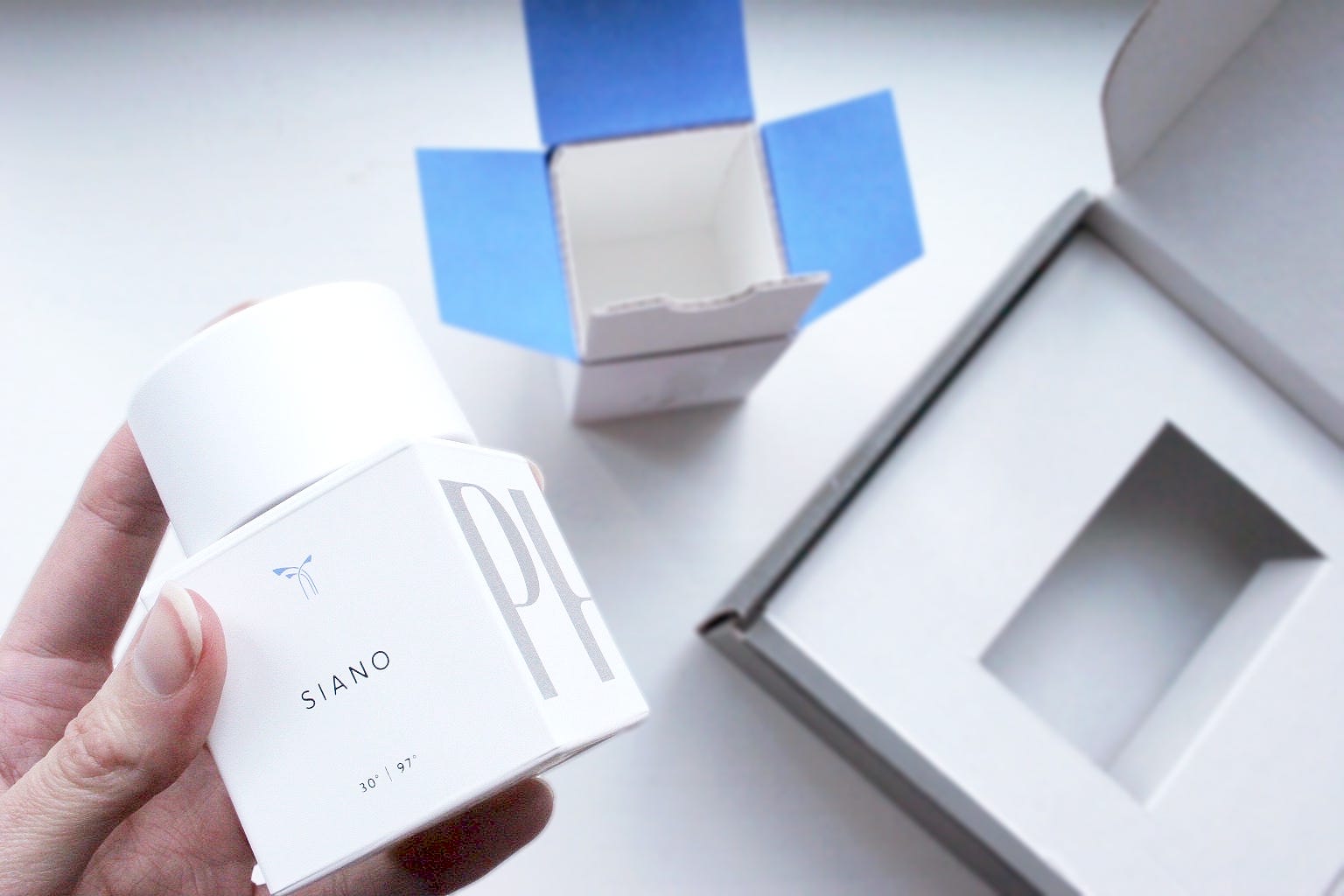 As a New Yorker, I get a lot of things delivered: groceries, dry cleaning, and all the drugstore odds and ends I'm too embarrassed to buy in person. But I never thought shopping for fragrance was something I could do from the comfort of my couch. After all, picking a scent is such a personal choice. Not only do we each have our own preferences, but our unique body chemistry can make a scent smell vastly different on me than it would on the person shopping next to me.
Which is why I'd pretty much resigned myself to the fact that finding a new fragrance meant hours in the department store alternating between spritzing and smelling those flimsy little paper strips, and burying my nose in a beaker of coffee beans to try and reset my olfactory system so I could start all over with another bottle of generically sexy, celebrity-endorsed fragrance. Sounds like a good use of my time, right? NO! 
Turns out, I wasn't alone in my fragrance frustration, and now, there's a better way. With PHLUR, founder Eric Korman tackled this shopping painpoint by redefining the way we try and buy unisex fragrance. Believing that the best way to choose a fragrance is to experience it in your real life, he created PHLUR to make it easy to do just that.
On the site, shopping for a new scent is simple, with sample-sized bottles (each containing enough product to last about a week) from their curated offerings available to test at home, so you can experience how the scent smells on YOU – not on a paper strip at the mall. Only after you've put your chosen scents through their paces do you make your final decision and commit to a full-sized bottle of your favorite formula.
Try before you buy? Yes please. I clicked over the PHLUR site (in my sweats, yay!) to give it a shot. Oh, the things we do for you, dear readers.
Read on to find out how it went:
Ordering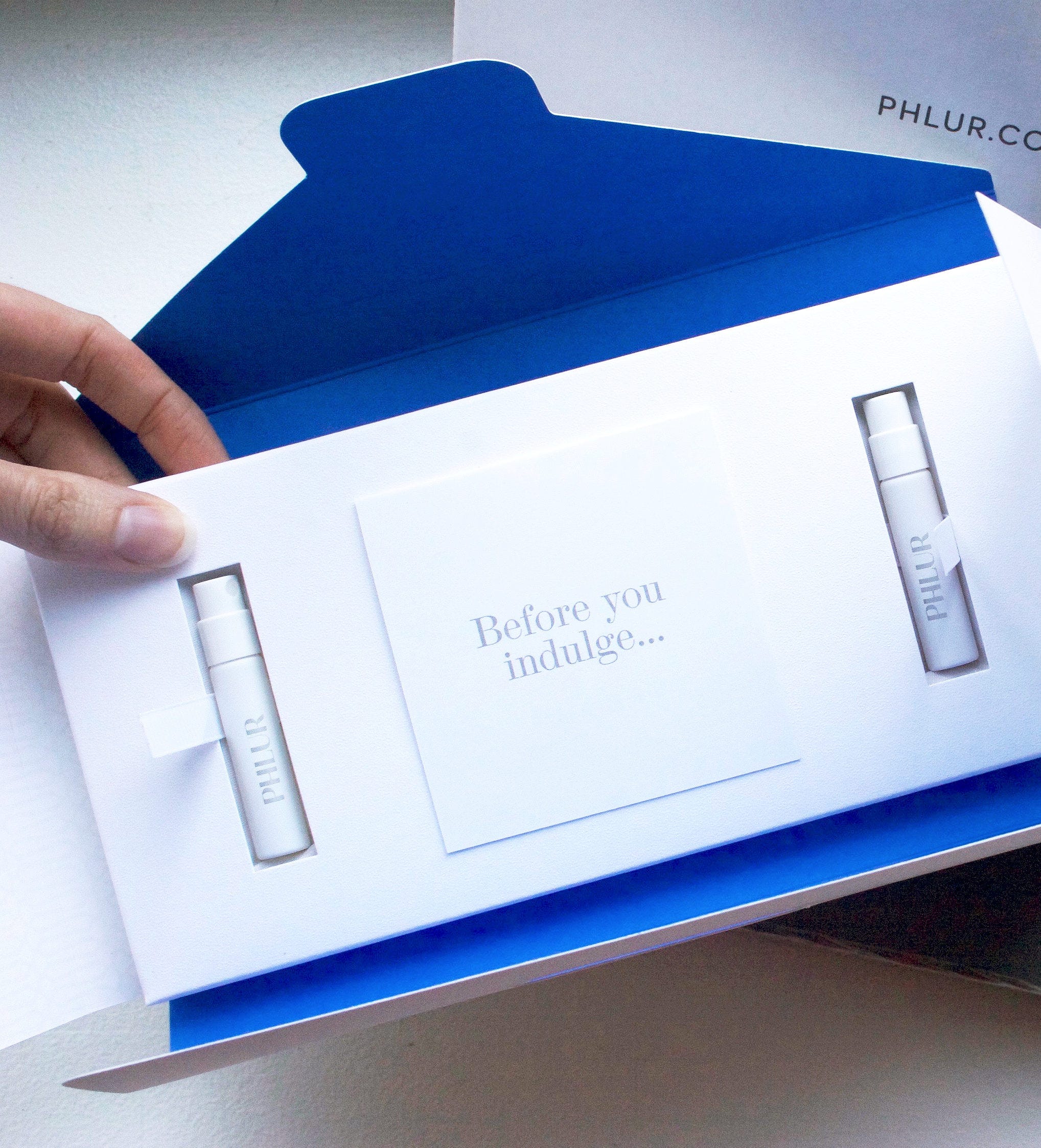 PHLUR is tailor-made for someone like me because it's easy and design-driven. Here's how it works: You choose two mini bottles of fragrance to try for the rock-bottom price of ten bucks, a price that's then applied to a later, full-size purchase. Score.
But, you may be wondering, how the heck does PHLUR expect you to pick which scents you want to test without actually smelling them? By linking them to another sense: sight. Korman puts it like this, "Sight took dominance over scent a long time ago. So, PHLUR uses our visual senses to place scents in context. The imagery represents how the scent feels and how it will make you feel. So, if you like what you see, you'll like the scent."
PHLUR's site is designed to tell you a story about each fragrance…in photos. Meaning? You simply choose the batch of images that you're drawn to and you've found your scent. Easy!
The site itself is sleek and beautiful and the "visual profiles" as they're called, were perfect for an Instagram addict like me. Each fragrance is gender neutral so there was nothing that wouldn't work for me (or you, dear reader), and getting to look at pretty photos instead of wading through lots of explanatory text about notes and oils (which is how fragrance is traditionally sold online and…snore) was a joy.
Frankly, there wasn't a profile I didn't like so I spent several minutes hemming and hawing while having an existential crisis about who I am as a person – A forest? A sunset? – until I finally stopped overthinking it and decided on my two scents: Olmsted & Vaux, which was represented by lots of photos of nature and trees, and Moab, with its desert-y romantic vibe.
Perfect Packaging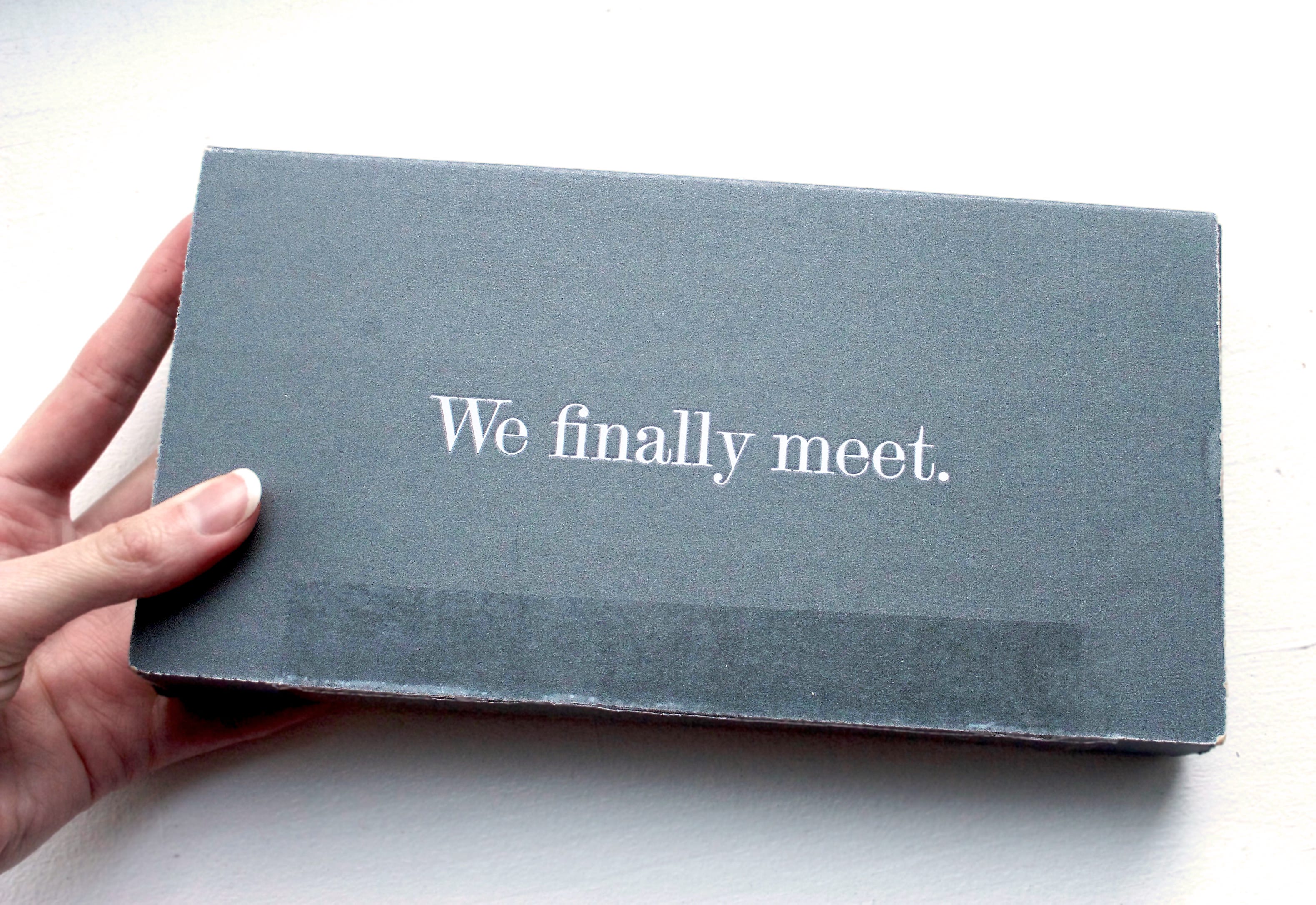 My mini bottles arrived on a Friday afternoon in a sleek, grey box printed with the words, "We finally meet." Indeed, PHLUR, where have you been all my life? 
I rushed upstairs, opened the box, unfolded the inner envelope, which was lined with a pop of bright blue, and found my sleek little samples tucked securely in their perfectly-sized compartments. A card nestled between them reminded me that "Scent takes time to unfold," and "All that matters is what you like." 
Very helpful advice, as my first instinct was to grab both bottles and start spritzing away. Slow your roll, Jen. Also in my envelope were two cards – one for each scent – with info on how the scent would change as I wear it. Interesting. I'd honestly never thought about a fragrance for much longer than the five seconds it takes to spritz it on. PHLUR really wants to educate, and I'm into that. Hey, the more you know, right?
Trial
I had plans that night to go to a friend's "Goodbye New York" party at a trendy, boutique hotel (she's moving to Chicago, sob), the perfect opportunity to give one of these new babies a go. I decided to start with Olmsted & Vaux which promised to emit a "bright, clean confidence" five minutes after spraying and, after an hour, mellow to "a sillage of relaxed class." My middle name is relaxed class so yes, let's do this. I spray each wrist and my collarbone, just like the card instructs and it does indeed smell clean and fresh – like the fancy soap my mom only put out when guests were coming over. I like it. Okay, off to a good start. I head out.
Was I a hit at the party?  Sure. I circulated like a champ; I chatted with strangers and enjoyed it.  Was it all Olmsted & Vaux? Probably not, but it sure didn't hurt, and it may have even given me a little more –ahem – bright, clean confidence than I otherwise would have had at a somewhat overwhelming social function.
Every so often I'd get a hit of a fresh, clean smell and then realize it was me! I smelled like a summer night and it just felt right. And, six hours in, just as the card promised, I could still smell hints of citrus and shiso but "only for those lucky enough to get close." As I was hugging my friend goodbye at the end of the night, I could tell she thought I smelled delicious but I didn't mention my experiment.  I let her leave for Chicago thinking I just naturally emit a hint of ginger.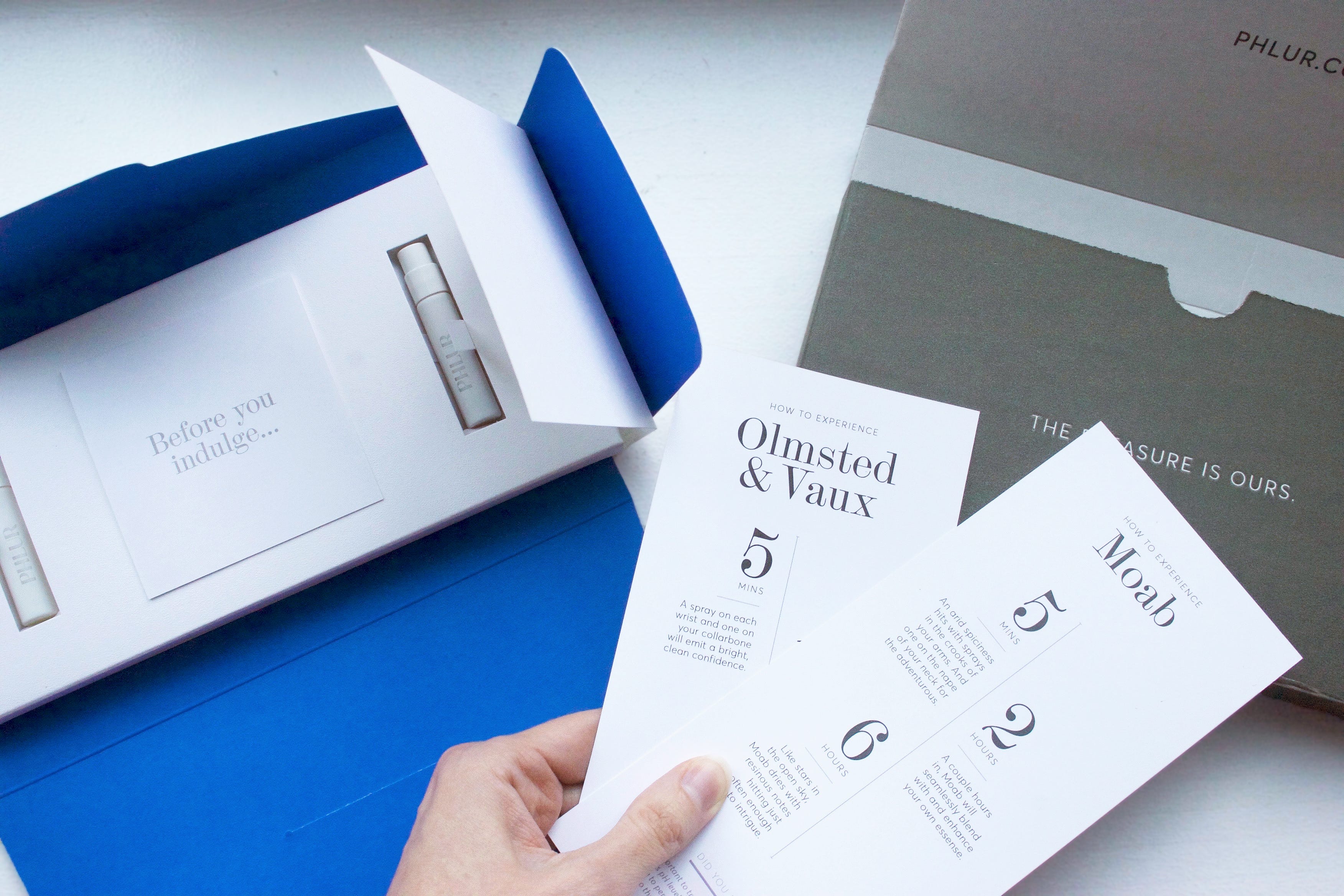 I woke up the next day excited to try my next scent: Moab. I had errands to run during the day and dinner plans that night at a hip, new Brooklyn pizza joint; Moab's description as an "unexpected dry heat that melts into a balanced finish," seemed especially appropriate for eating wood-fired pizza sprinkled with artisanal mozzarella. I have to admit, I'm a little uncomfortable wearing scent during the day – it's always felt a little fancy for me, but I took a walk on the wild side, spritzed a tiny bit on my wrist and headed out.
Moab was spicy and a little too intense at first, but the card promised me that it would soon seamlessly blend with and enhance my own essence. Do I want my own essence enhanced?  I'm not sure.
I went about my day with exactly zero comments from the clerk at CVS or the overly-smiley guy ringing up my groceries at Trader Joe's (I don't know what I was expecting here; New Yorkers ignore everything, they certainly weren't going to notice and comment on my new fragrance choice), but every now and then, I'd smell my own wrist and get a nice lift. And as I sweatily schlepped myself home from my errands, it was certainly nice to get a whiff of something pleasant wafting around me instead of the hot NYC street garbage smell that I've become accustomed to.
Finally, it was time to get ready for my night out, and I decided to really go whole hog and follow the card's directions "for the adventurous" to spray on my neck, not just my wrists.
My Uber driver was also feeling adventurous as he nearly killed us both while crossing the Williamsburg Bridge, but I made it to Greenpoint in one piece. Like every hip Brooklyn restaurant that doesn't take reservations, there was a 45-minute wait, so my boyfriend and I strolled over to the –ahem– scenic East River.
As I forced my boyfriend to take a few selfies with me with the Manhattan skyline in the background, he leaned in and said, "Hey, you smell good."  SCORE!  My first actual out-loud (and possibly non-imagined) comment of the experiment. Moab delivered some of that intrigue I was promised. I topped off the night with great pizza and wine, so let's call this outing a big win all around.
Final results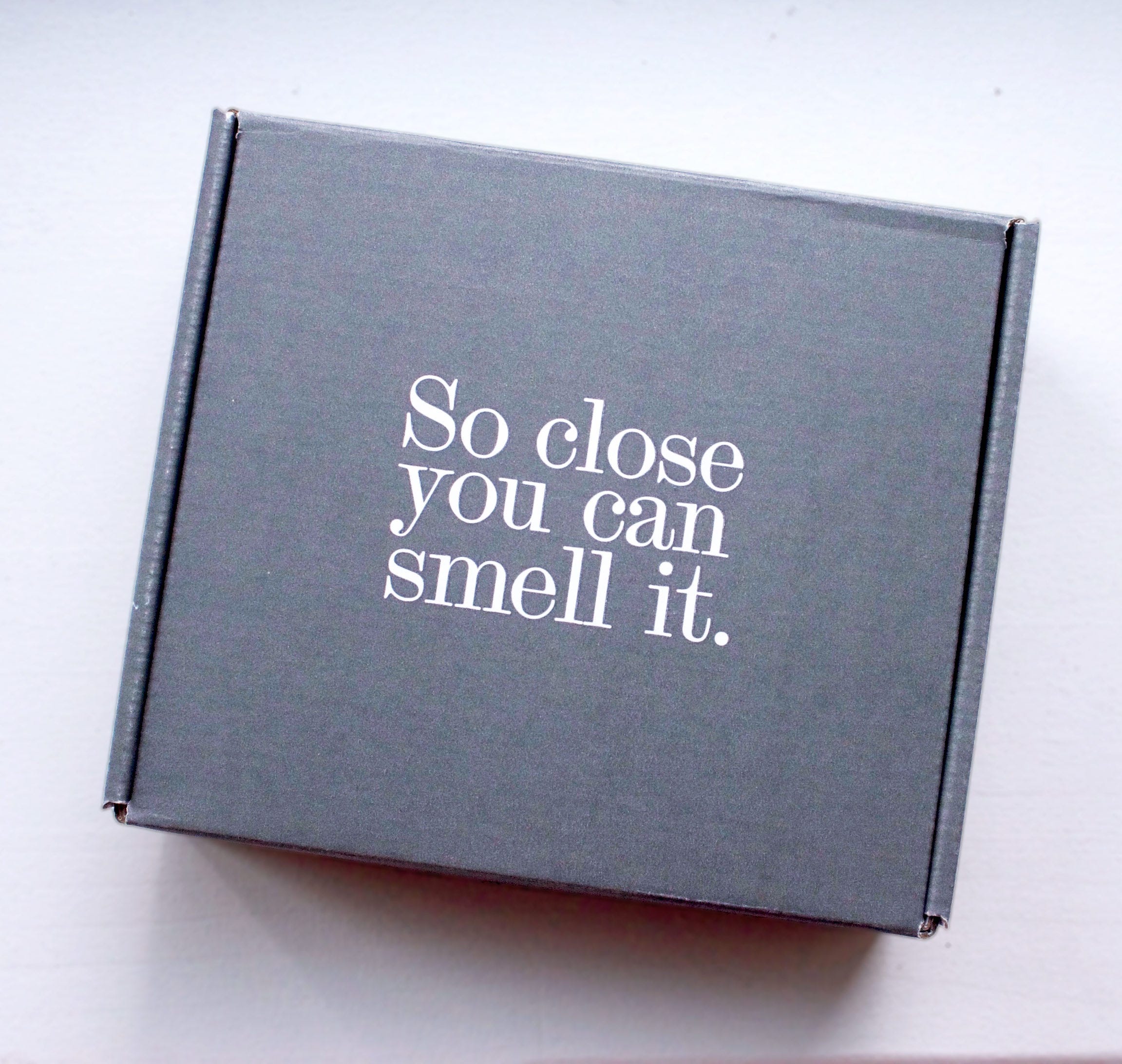 Surprise! Even for normally-indecisive me, my choice was clear: I decided to order a full
size bottle of clean, nature-inspired Olmsted & Vaux. While I liked getting a little spicy with Moab, the O&V just felt more "me." Everywhere I wore it, no matter what I was doing, it made me feel like a woman with her act together. You know, the kind who saunters onto the plane 30 seconds before they close the doors, cool as a cucumber. The woman who purrs pleasantries like, "Take care, you," and "The pleasure is all mine."  Sure, spritzing on a scent won't automatically make me less anxious or short-tempered, but catching a whiff of what I now associate with springtime trees blowing in the wind might just be the extra oomph I need to keep it together on a more regular basis.
My full-sized 1.7ounce bottle arrived in another perfect grey box with "So close you can smell it," teasingly printed on the top. The bottle itself is satisfyingly hefty, square, white ceramic. It's opaque, I learned, because minimizing exposure to light helps keep the liquid inside from spoiling. Most other fragrances packaged in clear glass need to include preservatives – PHLUR isn't (so it doesn't). And that $10 spent on my samples being applied to the price of my full-sized bottle made me love it even more.
So, should you try PHLUR? If you're looking for an easy and fun way to shop for quality fragrance from your couch, test it out on your actual body instead of a swatch of paper, all without wasting time or money? Then yes, for sure. Currently, the site boasts six scent options and is planning to roll out more soon, so head over and get busy visualizing the well-fragranced person you can be.
***

Still feeling overwhelmed? SG can help
If you're ready to upgrade more than just your grooming game but dread the thought of shopping for new clothes…consider having Team SG shop for you! We're obviously biased, but clients tell us that the online shopping lists we curate just for them are total game changers.
Let us rescue you from shopping fatigue and sartorial apathy. We can promise the kind of personal attention and care that will make you feel like the best version of the awesome guy you already are! Ready to seriously improve your closet and your confidence? Give us a shout.
> Follow Style Girlfriend on Pinterest for all our best tips and tricks!