LISTEN: New Podcast "Certified G.O.A.T."
On Serena, Ariana, and the emotional labor we ask of women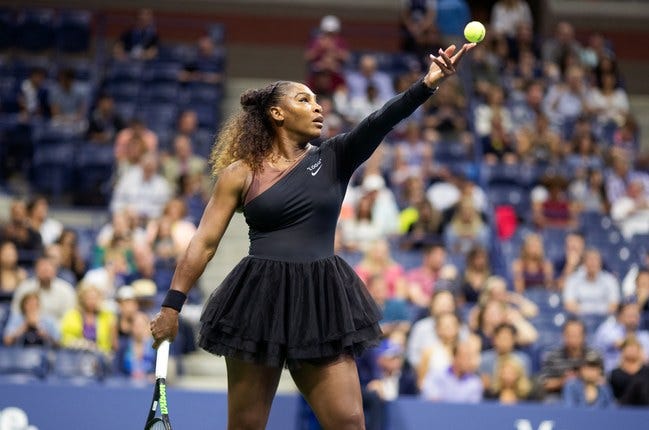 Listen to the latest episode of Undressed from Style Girlfriend. In this episode, my pal Alisa Richter stopped by to discuss Fashion Week (it's back! again!), the emotional labor we ask of Serena Williams and Ariana Grande, and ask "But is it ART?" about a new Instagram thirst trap in NYC.
Listen to the new podcast here:
You can also listen to Undressed on Apple Podcasts, Spotify, Stitcher, and more
Can AI tell if your style is unique?
First up, we talked about a New Balance campaign for Fashion Week here in New York where a camera hooked up to an algorithm is supposed to identify who is really, objectively unique, and then…New Balance gives them shoes? It's weird. 
Also weird? This art exhibit
Simon Huck who works in public relations and is sometimes on Keeping Up With the Kardashians launched an exhibition called A. Human—also here in New York, also for Fashion Week. It's being billed as a "futuristic fashion brand," but you don't buy anything (apart from a $40 admission fee…yikes). It's very strange. Here's some pictures from it.
Like I said, weird.
"Man, I was upset about so much stuff this weekend!"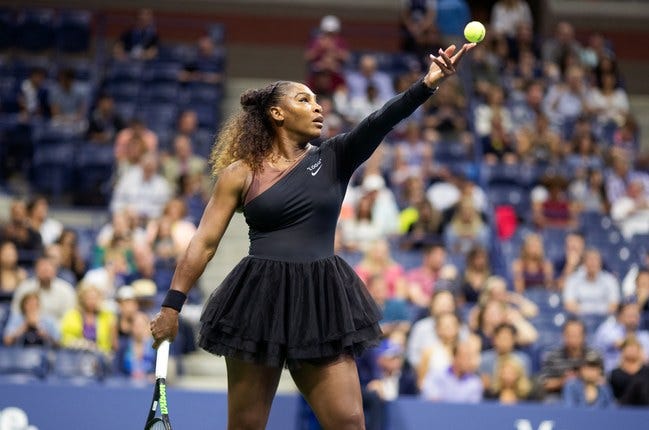 We also discussed the $17,000 fine slapped on Serena Williams this weekend for code violations during the U.S. Open final, decisions made by a ref that she called unfair in no uncertain terms. Headlines veered from the sexist to the outright misogynist, calling her pushback on the umpire a "meltdown."
It's worth noting that women are historically not allowed our anger in public spaces, and that's especially true of women of color. 
So how do we uncover the tendency—unconscious or otherwise—that so many men (and other women!) have towards punishing women who express their anger? Or maybe just express themselves period? Dunno, but let's talk about it!
"Keep Ariana's name out of your mouth"
On Friday afternoon, TMZ broke the news that 26-year old rapper Mac Miller died of an apparent overdose after years of openly struggling with addiction.
As Cosmo pointed out, in the original blog post, the outlet noted that "Miller has had trouble recently with substance abuse…in the wake of his breakup with Ariana Grande."They later amended it to read, "Miller has battled substance abuse issues for years … something that came up again in the wake of his breakup with Ariana Grande." which is…better, but it's still notable that in the immediate aftermath of all this, Grande had to disable comments on her Instagram because people were harassing her and blaming her for her ex-boyfriend's death.
So, why do so many people think it's the job of any woman or partner to endure or "fix" a toxic person and relationship? It's especially garbage when we tell men with who break up with women who are experiencing issues with mental health or addiction that they "dodged a bullet."
Hot Take
Jameela Jamil is delightful.
The Good Place's Jameela Jamil went on Channel 4's Ways to Change the World podcast and talked about the art of selling self-consciousness and why she believes the Kardashians (them again!) are "double agents for the patriarchy." She's lovely. It's worth a listen.
…
As always, if you enjoyed this podcast, please rate and review Undressed on Apple Podcasts, and subscribe wherever it is you may listen. And if you really enjoyed this podcast, please support the show to help us keep it ad-free! Just click on the purple "Support this podcast" button riiiiiight here.
TELL ME:
WHAT'S YOUR FAVORITE MAC MILLER SONG? 
Oh, and don't worry. Serena's fine.
View this post on Instagram