How to Take Care of: Your Leather Jacket
Caring for your leather coat right now means you can keep it forever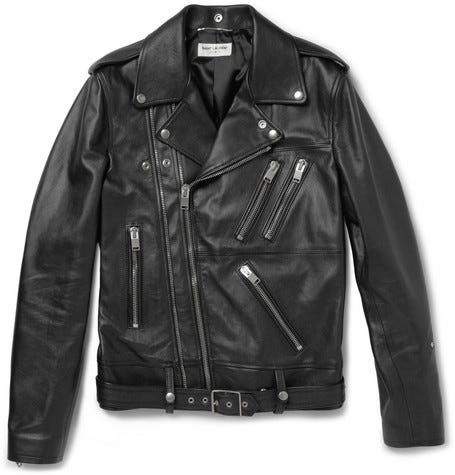 I have very few regrets in life.
I'd much rather learn from a mistake than wonder, what if… Which is why it hurts so much to tell you that I once let the perfect leather jacket get away, and I think about it every day (okay, not every day, but pretty close). It was a beautiful black Belstaff for J.Crew motorcycle number on clearance…but only online. I was too nervous to pull the trigger on a final sale item without making sure I could get my arms through it without ripping it apart, Tommy Boy-style. I still don't have a leather jacket – it's a big investment, and I'm not totally in a position to be making big investment purchases right now – but I know when I do finally make the leather leap, I'll care for that jacket properly.
After all, 
I'll want to keep it around for awhile.
Leather is one of the hardest wearing materials out there – durable as outerwear and looks better with age…when it's taken care of, that is. Caring for your leather jacket is actually quite simple.Here some easy ways to ensure your leather jacket has a long, healthy life.
CLEANING
The most efficient way to clean leather is with a leather-cleaning product (I know, surprising). Start off by wiping your jacket down with a damp cloth to clean off any obvious dirt and grime. Then apply the leather cleaner using a soft washcloth or a sponge. Be careful to rub the product completely in so it does not leave stains. In terms of how much to use: with most leather cleaning products, less is more.
When: Spot clean your leather jacket as needed, or at least twice a year.
CONDITIONING
Just like it's important to moisturize your face to keep it nice and touchable, you'll want to moisturize your leather jacket to keep it soft as a baby's butt. After cleaning your jacket, apply a thin coat of leather conditioner, gently rubbing it into the material with a rag to prevent cracking.
When: Condition your leather jacket after each time you clean it, or after it gets wet.
DRYING
I have definitely gotten caught in some rain (and, ugh, snow) storms with my Nike Destroyer jacket, which has leather sleeves, and – honestly – I'm never all that worried. Hey, if it works for the cows, I think. But the issue with leather getting wet isn't the water involved, it's that the material's natural oils rise to the surface, and if they wash away or evaporate, the leather can become brittle and dry. If you get caught in the rain or have something spilled on your jacket, let it air dry at room temperature and follow the conditioning step above. Put the jacket on every few hours while it's drying and move around in it – that way, it won't get that stiff, brittle feeling.
Til it's totally dry, don't stuff it back in the coat closet either, as leather is very susceptible to mildew, and once mildew sets in, it's hard to get out. Not cool.
When: When you get wet, duh.
A CAVEAT
Different leather jackets are made of different grains and finishes that each call for their own specific care. Look at the tag on the jacket to determine the type of leather your coat is made of and check if the manufacturer recommends specific cleaning instructions.
Tell me:
Do you have any "one that got away" stories when it comes to clothes?
Like this post? Don't miss another one! Subscribe via my RSS feed.