How to Wear Amber: The Guy's Guide to Wearing More Color
Stay golden, boys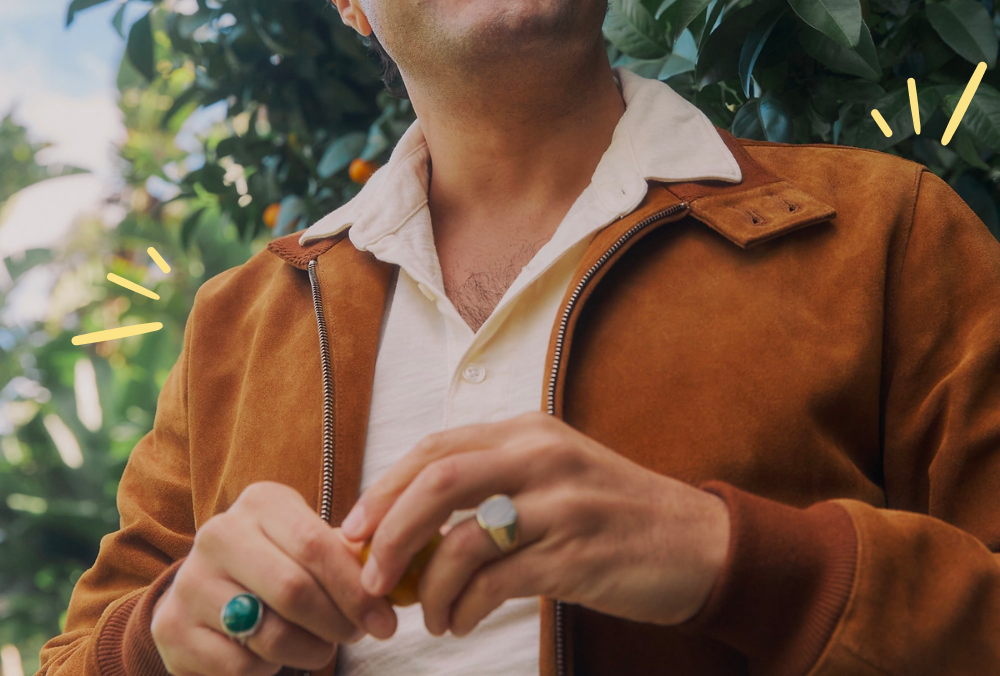 Spring has sprung, flowers are in bloom, and colors are popping. Prime your closet for more color with this series of guides for spring shades. SG HQ is breaking down how to wear amber and more bright hues with easy color combinations and outfit ideas.
---
See how to wear bluebird blue, lavender, army green, salmon, slate, blood orange, sharkskin, gold, teal, khaki, merlot, red, evergreen, white, cobalt blue, mint green, orange sorbet, yellow and navy.
---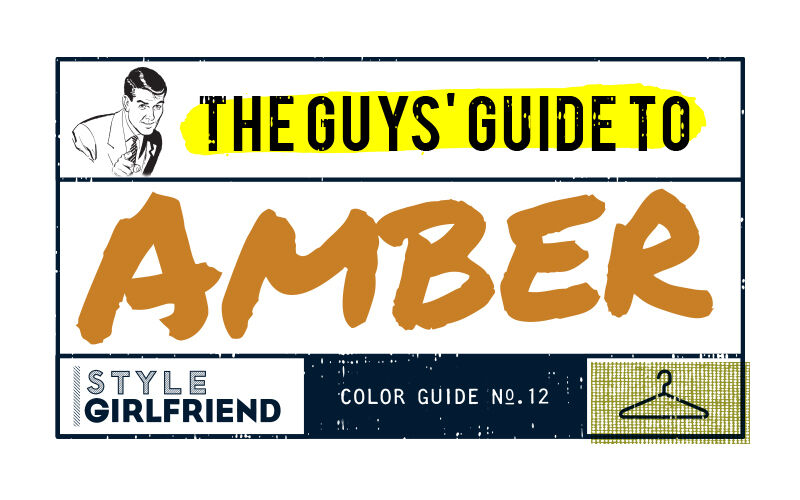 What color is amber, anyway?
You know that golden brown tan that all the lifeguards in '80s teen movies manage to achieve?
That's amber. The perfect midpoint between gold and orange, amber is a super gorgeous color to work into your wardrobe in a variety of ways. Especially since now we know how dangerous a suntan truly is…
Named after the fossilized resin that often contains prehistoric bugs, this tone should be considered a go-to for outfit accents.
Think: prints, suit jacket linings, ties, pocket squares, watch faces…the works, really. We also like it as a cold weather layer. Nothing better than an amber sweater underneath a denim jacket, or a honey-hued henley peeking out from a navy shawl-collar cardigan.
Ooh, we're getting excited just thinking about all the opportunities to wear amber!
Below, learn how to wear amber in more outfits: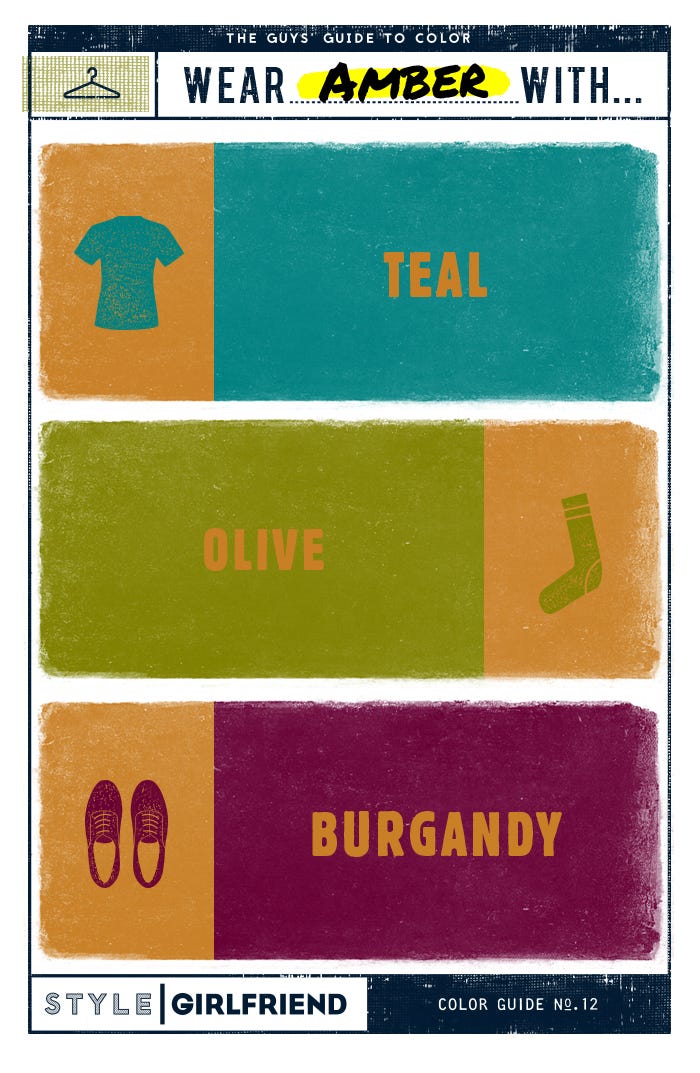 What colors go with amber
What color goes with amber? Well, you've got a few options, actually! Amber goes great with teal, olive, and burgundy (among others). That means, you can wear amber as the only bright color in an outfit otherwise anchored by neutral green. Or you can turn things up by combining this golden color with deep burgundy or bright teal. If you want to keep things more monochrome, amber also goes well with browns for an overall earthy vibe.
During cooler months, feel free to make this warm caramel hue a wardrobe staple with sweaters, pants, cotton-canvas button ups and beyond. When temps start to climb, work it in with shorts and tees as well as accent items like lightweight coats, belts, shoes, and prints (aztec, stripes, plaids …go wild!).
How to wear amber
Don't be afraid to wear amber either in your accessories, or as the standout item in your wardrobe. The perfect amber outfit might be a pair of shorts in the shade with a teal tee. Or an amber tee under an olive bomber and low profile canvas tennis shoes. Or an amber tie set with a midnight navy suit. Really it just depends on your color threshold.
wear amber at the office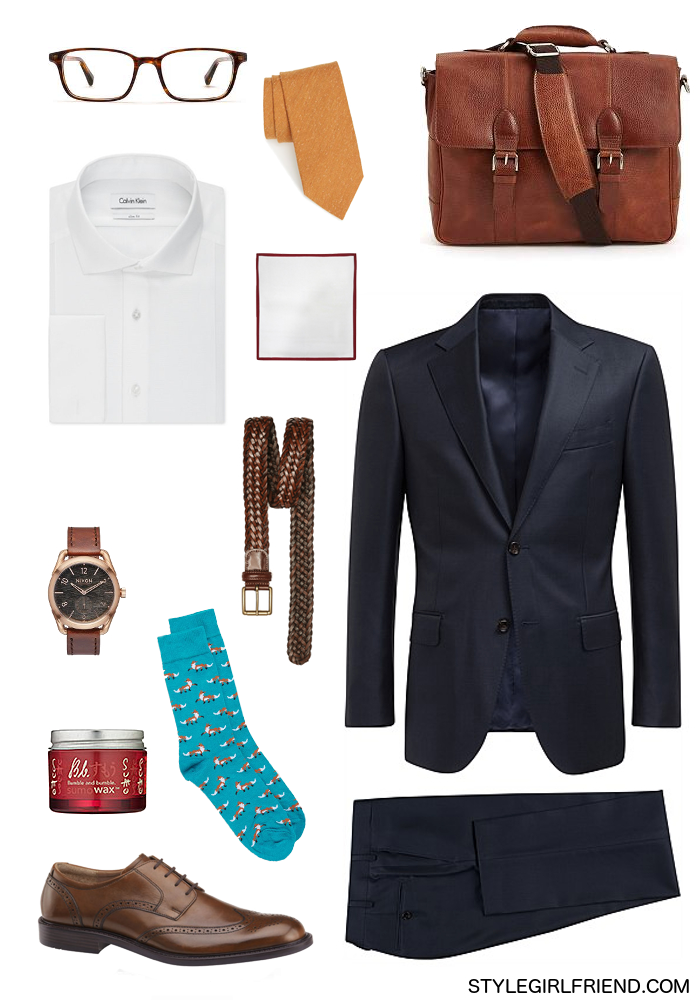 SG Says: If you want to take amber with you to work, pair a textured amber tie with a spankin' white dress shirt and navy suit. Finish things off with brown leather dress shoes.
Extra points for a pocket square that incorporates an amber and burgundy print! Those shades always look great together.
---
> How to shop for your first custom suit
---
wear amber on the weekend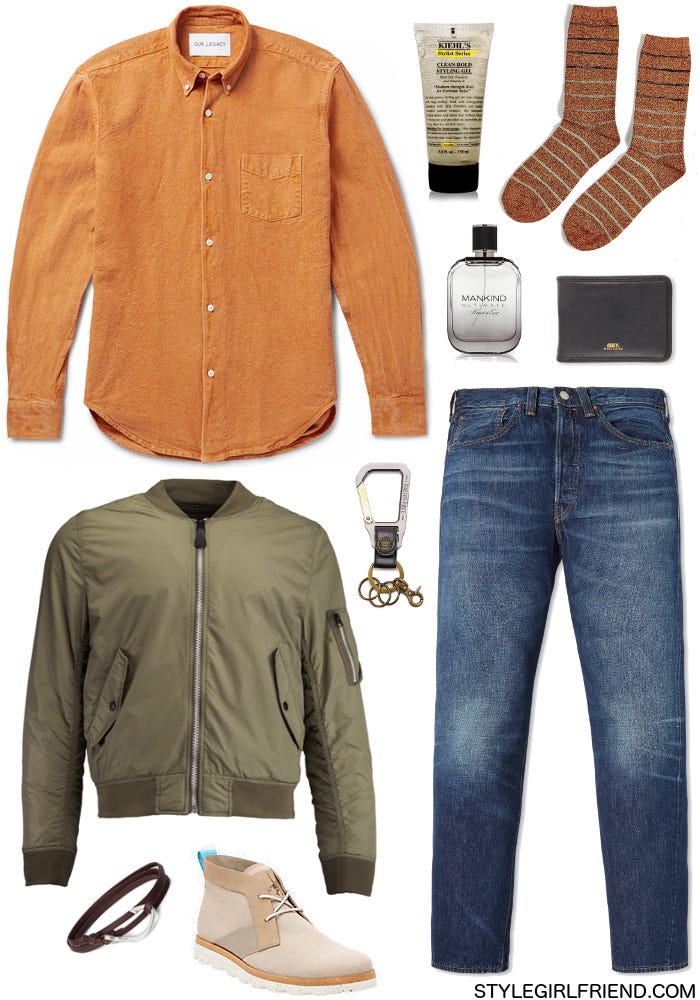 SG Says: Dress your amber down under an olive green bomber jacket. Paired with dark rinse denim jeans and a stylish hiking boot, you'll be ready for anything the weekend can throw at you. Even if the only place you're hiking to is lunch and then a trip to Target.
***
Ready to add some amber to your wardrobe rotation?
If we've convinced you it's time to level up your color game, but you dread the thought of shopping for new clothes…why not let Team SG shop for you?

Let us rescue you from shopping fatigue and sartorial apathy. With our online personal shopping service, we can promise the kind of dedicated attention that will make you feel like the best, most stylish version of the awesome guy you already are!
We'll also help you figure out how to wear your new sweaters (and whatever else you need) with the things you already own. If you're ready for a shopping plan that'll save you time, energy, and your sanity, give us a shout.