The Guy's Guide to Shopping for a Custom Suit
How to tackle made-to-measure suiting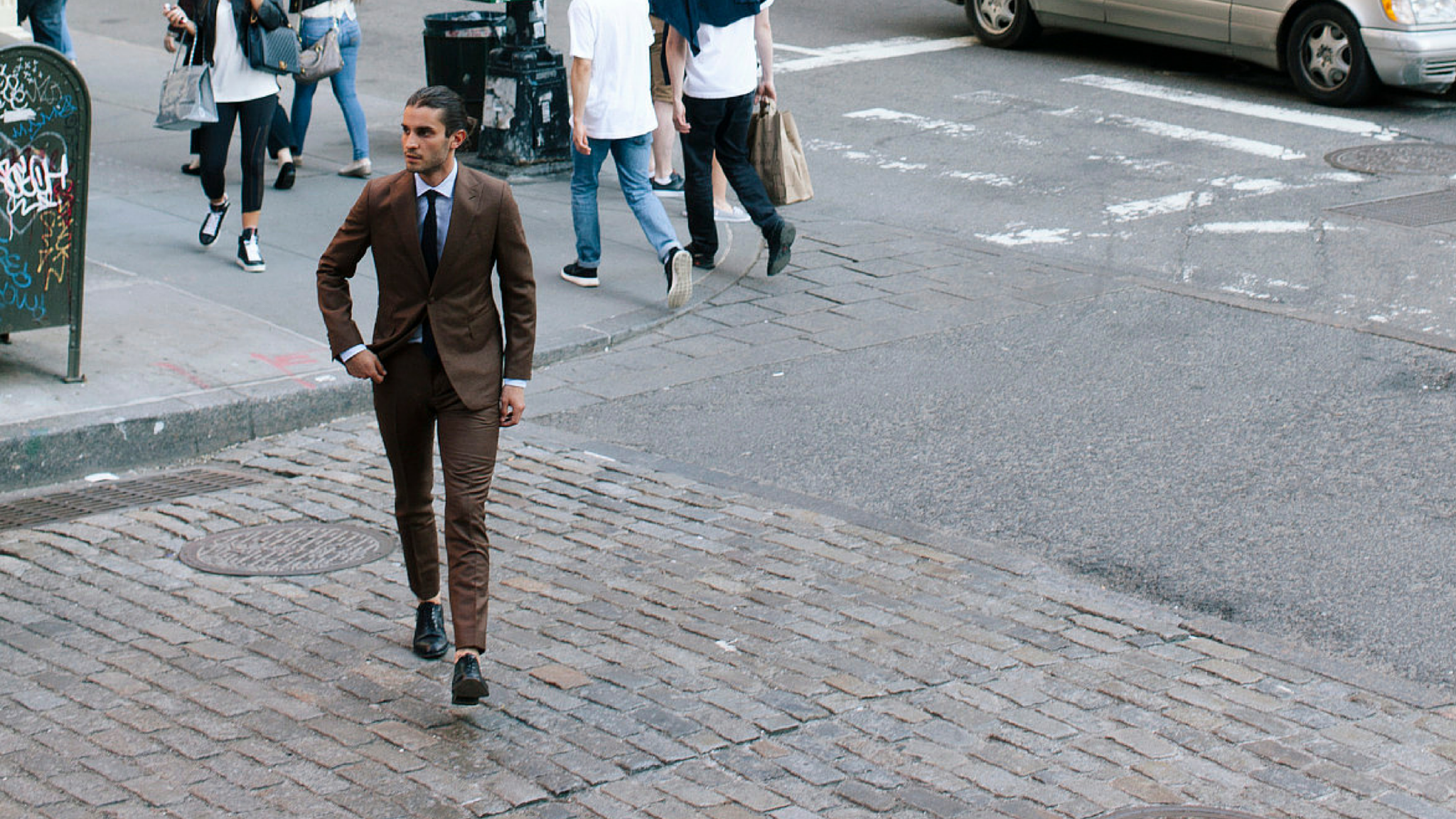 Suit shopping is often one of men's biggest style challenges. Going off the rack is budget-friendly but can be hard to find a perfect fit. And once you've taken your pick to a tailor, the alterations needed often blow your wardrobe budget altogether. It's why many guys turn to shopping for a custom suit wardrobe instead.
In recent years, more and more affordable options are popping up, with companies like Indochino, J.Hilburn, and Alton Lane offering made-to-measure suits at a fraction of what it used to cost to get a suit made just for you. Even if you suit up only a couple times a year, it's worth investing in a suit..and yourself.
8 things to remember when shopping for a custom suit:
1. Do your research!
When shopping for a custom suit, finding a maker who has good reviews is important. Another thing to look for is a company that will reimburse you for some or all alteration costs is key (many do up to a certain amount).
It's quite likely that a few adjustments will have to be made to the suit once you receive it, some of which might be costly. For example, if the shoulders and/or the body needs to be taken it, it will be more expensive than if the sleeves, waist or pant hem need to be adjusted.
2. Wear snug-fitting clothing to your appointment.
For measurements as accurate as possible, tight fitting clothing is key. If you have things in your pockets, remove them before the measuring tape comes out.
It seems simple, but with our phones practically fused to our bodies this day, it's a good reminder!
2. Skip the functioning button hole option on the sleeves.
Even though functioning button holes scream style, it's not wise to have your first MTM suit created with them. Why? Because it is a very costly alteration, and with your first custom suit, you'll still probably need some tweaks to get everything just right.
Lengthening or shortening sleeves on non-functioning button sleeves is quite quick and inexpensive to have done. So save this feature for your second MTM suit (making sure whoever created your first one accounts for the alterations in the second one). Once your measurements are locked in, you can customize to your heart's desire.
3. It's better to be too big than too small.
If you're measuring yourself (with the help of a friend, of course) when shopping for a custom suit online, ensure the tape measure is not held too closely to the body.
If you're in between numbers, round up rather than down. Remember: It is always easier to take things in than to let things out.
4. Go for a versatile, season-agnostic style.
Shopping for a custom suit can be exhilarating; it can also feel exhausting. You'll be presented with a seemingly endless supply of swatches to choose from! That's…a lot.
If it's your first suit, keep things simple.You are going to want to wear this bad boy as much as possible, so choose a fabric and color that are classic and versatile. We'd recommend navy blue or charcoal grey in a medium weight fabric.
5. Understand construction styles.
Probably the most misunderstood aspect of buying a suit for a consumer is the construction.
Why does one suit cost $200 vs another that is $2000.  Part of that price is fabric quality and is easy to pick out just by feeling it and having a basic understanding of the fabric grade.
Most of the time when you're having your suit made, you'll have the option of having it canvassed or fused. The main difference here is going to be how long the suit lasts and how it lays on your body. Although more expensive, a canvassed suit is going to lay nicer on your body, allow for more movement, and will last longer as the fabrics are not fused (glued) together, and are less likely to deteriorate with dry cleaning or bubble when wet.
The more difficult and important part to buying a suit is the actual construction. A lot of you have probably heard about a full canvased, half canvas, and fused suits, but what does that really mean and what are you paying for?
Full Canvas
A full canvas suit is how suits were made in the past, with a horsehair canvas underneath the wool shell of the suit. As you can see from the image above, the canvas runs from the shoulder to the end of the jacket. Over time as you wear the suit the canvas forms to your body, which creates a more uniform and free moving fit. When you buy a bespoke suit with this the fit even better over time even as your body may change.
The main reason you don't see this type of work on all suits is cost. The amount of detailed stitch work that is required to sew the canvas to the shell is extensive and takes a lot of skill. These suits are only assigned to master tailors that have had years to perfect the skill.  As you can see from the image above there are multiple parts that all must come together in harmony to create a great suit.  Overall, a full canvas jacket should be an investment piece that you plan to wear for a long time. Stay away from trendy patterns, and stick with the classics. Tailors working in made to measure or bespoke will recommend this option, as the quality and construction will last you for a lifetime if cared for properly.
Half Canvas
The next level down, quality-wise, is the half canvased suit. It gives the structural benefit of a full canvas but cuts down on the cost to you usually by around $200.  The construction allows the suit to drape naturally over your chest without seeming stiff which is what happens with a fused suit. At Evolution of Style, I typically recommend a half canvas suit to my clients because you get the quality workmanship of a head tailor, but it won't break your bank account.  These jackets also last longer and you avoid any bubbling issues that come up over time with fused jackets as the glue breaks down.
Fused suit
Even if you don't know it, you're probably most familiar with fused jackets. That's because this is what you typically find with an off the rack suit. What this means is that a fusable lining is glued to the shell of the suit. This does a good job of keeping the cost down, but the jacket will appear stiff and will not adjust to your body over time.
Fusing methods and materials have improved greatly over time, but the glue will still break down with wear and dry cleaning. One way to offset the fused look is to go with heavier weight wool, such as a tweed or an English wool. These heavier wools will drape better over your body and give more of a structured look. For a primer in wool types, read this.
7. Keep track of all adjustments made to the suit.
If you intend on shopping for a custom suit again and again, it is wise to make note of anything you changed on the first so that your second has a higher chance of coming back perfect!
8. Manage your expectations.
For the most part, shopping for a custom suit means you know it's going to fit you better than an off-the-rack-suit. It was made just for you, after all! That said, you should expect to have to have minor alterations made. That doesn't mean the maker f*cked up.
Simple pant or sleeve length adjustments are common, and if the suit company's idea of 'slim fit' does not align with yours, you may have to have the pants tapered.
***
Ready to turn up the style on your suiting?
If you're ready to go shopping for a custom suit of your own, but you dread the thought of, y'know, actually shopping for it…why not let Team SG shop for you?
Let us rescue you from shopping fatigue and sartorial apathy. With our online personal shopping service, we can promise the kind of dedicated attention that will make you feel like the best, most stylish version of the awesome guy you already are! We'll also help you figure out how to wear your new clothes with the things you already own.
If you're ready for a shopping plan that'll save you time, energy, and your sanity, give us a shout.
***
Want more ideas to conquer your closet? Read how to rock a turtleneck with a suit and all the ways to wear denim jacket.