10 Topcoats to Make Winter a Little More Bearable
A *chef's kiss* for this perfect outerwear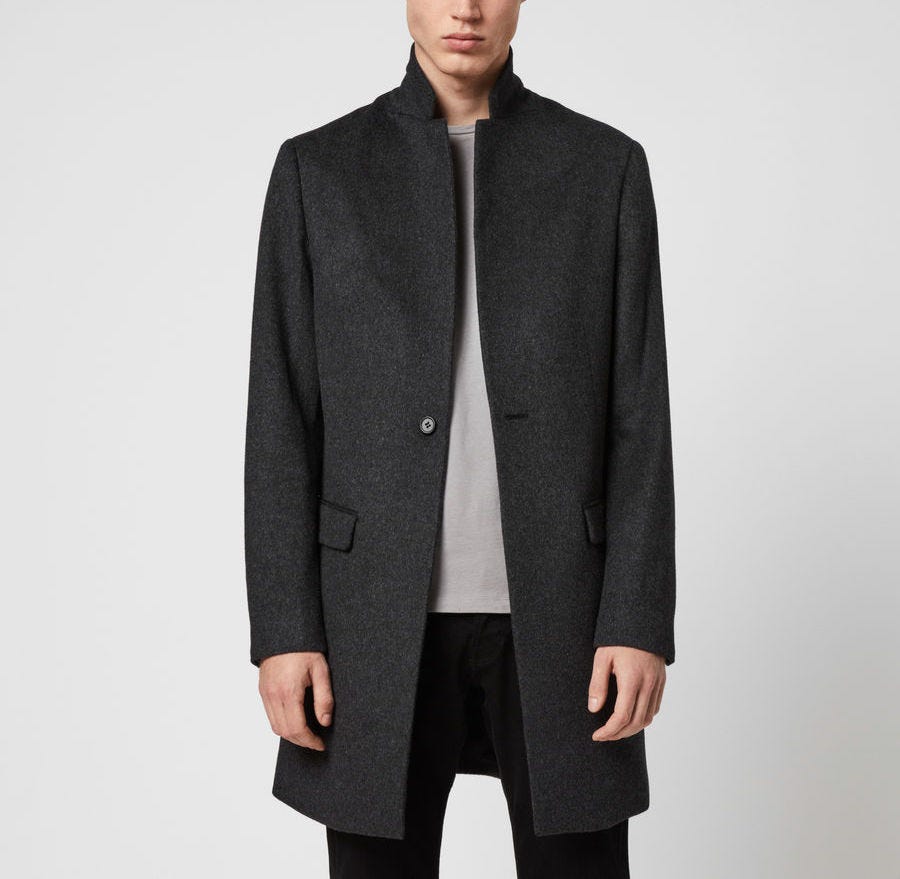 A topcoat might as well be hanging in Clark Kent's phone booth superhero changing station.
The right one transforms any mundane outfit into a sharp and stylish capital-L lewk. Not that you're wearing mundane outfits, but you catch our drift. And it's equal opportunity improvement! You could be dashing off to the deli for more orange juice on a Saturday morning in sweats and the t-shirt you slept in, or headed to the office in a suit. Under a topcoat, both look great.
The good news is there's so many great places to buy smart, stylish outerwear these days…some more unexpected than others. Whether you stick to neutrals, or break out of the pack with somethin' a little more interesting is up to you.
Below, our top 10 picks for stylish topcoats:
SG Says: This picture doesn't do it justice, but the wool twill of this jacket feels real nice, and lends a polished finish that's at once cozy and sharp.
SG Says: If you invest in one new jacket this season, make it a classic topcoat in a timeless camel color, made of wool cashmere like this Todd Snyder number if you can swing it.
This one's got traditional bespoke styling, like a three-button closure, notch lapel, and welt and flap pockets.
SG Says: Do not sleep on adding an interestingly textured topcoat to your arsenal once you've got your neutrals covered. This navy, checked style from Topman (available at Nordstrom) is SO sharp. Cool, yet classic.
Think: trendy enough to be remembered, yet timeless enough to wear seasons from now.
SG Says: The single button closure on this AllSaints jacket feels very futuristic and modern, even while the rest of the streamlined tailoring is totally classic.
SG Says: Grown-up sophistication and structure from the moose logo-loving retailer?
Believe it.
A&F may still make the hoodies you knew and loved growing up. But they've grown up, too. Stop by the next time you're in the mall and prepare to be surprised (except for the smell. It still smells like that).
SG Says: If you're looking for something more affordable, check out Target's Goodfellow & Co. line.
The brand is great about inclusive sizing (the picture above is a model in an extended sizing style), and the quality's surprisingly decent for a topcoat clocking in under a hundred bucks.
SG Says: This Ludlow double-breasted topcoat in wool-cashmere from J.Crew is the bee's knees. It looks cool, and it'll keep you nice and warm.
You'll look like the youngest provost in the university's history entertaining at a college football game.
SG Says: Okay, yes, this is expensive…like, really really expensive, but look at it! It's made from wool and alpaca fur!
Alpaca fur!
And that collar?! Hello. So unexpected. The whole thing reads subtle, even though you'll be a total standout when you wear it.
SG Says: Sometimes basic black is the way to go.
SG Says: Couldn't you see John Legend wearing this double-breasted topcoat, in a hearty marled bouclé? That man seems to live in stylish topcoats, and honestly, we're here for it.
We love the texture, and the smart, removable quilted liner for extra warmth all winter long.
>> Check out roundups of our favorite fall jackets, sweaters, and shearling coats

Stylish topcoats? Check.
The rest of your winter wardrobe? We can help there, too.
Let Team SG put together a customized shopping plan, just for you. > (opens in a new tab)">Learn more here >>