What He Wore: Barron Cuadro of Effortless Gent
The gent behind Effortless Gent shows us his style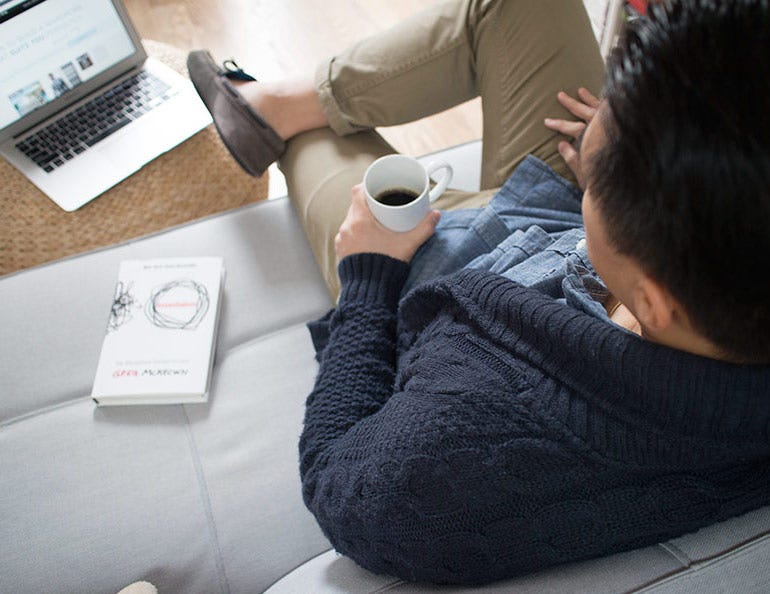 While it can be fun looking to celebs for sartorial inspiration, it's often more useful to simply look around you. Think: stylish friends, co-workers, even strangers on the street. That's why we like to document the personal style of our own well­­-dressed pals right here on SG. Real guys we know with killer style.
Barron Cuadro is the "gent" behind Effortless Gent, one of my favorite menswear sites on the web, and a good pal. He's got readers' backs with practical advice and affordable suggestions for guys looking to up their style game. He also recently moved from San Francisco to New York City. Wondering how that coastal transition affected his wardrobe, I asked him to track his outfits for the week.
Below, five days in the wardrobe of men's style blogger Barron Cuadro of Effortless Gent:
Monday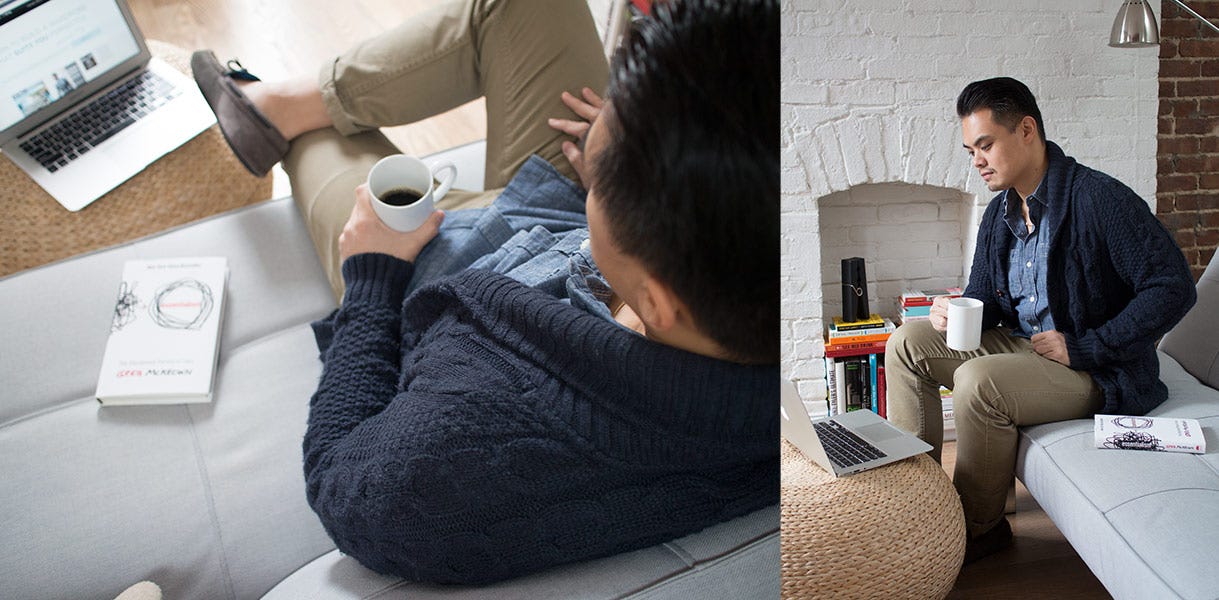 shirt: Old Navy | cardigan: H&M  | pants: Dockers
"I'm working from home most days, so usually you'd find me in a pair of chinos or denim, a sport shirt, and a cardigan. Not groundbreaking by any means, but comfy, and I can easily throw on a jacket and some boots if I had to run a few errands or grab lunch with a friend."
Tuesday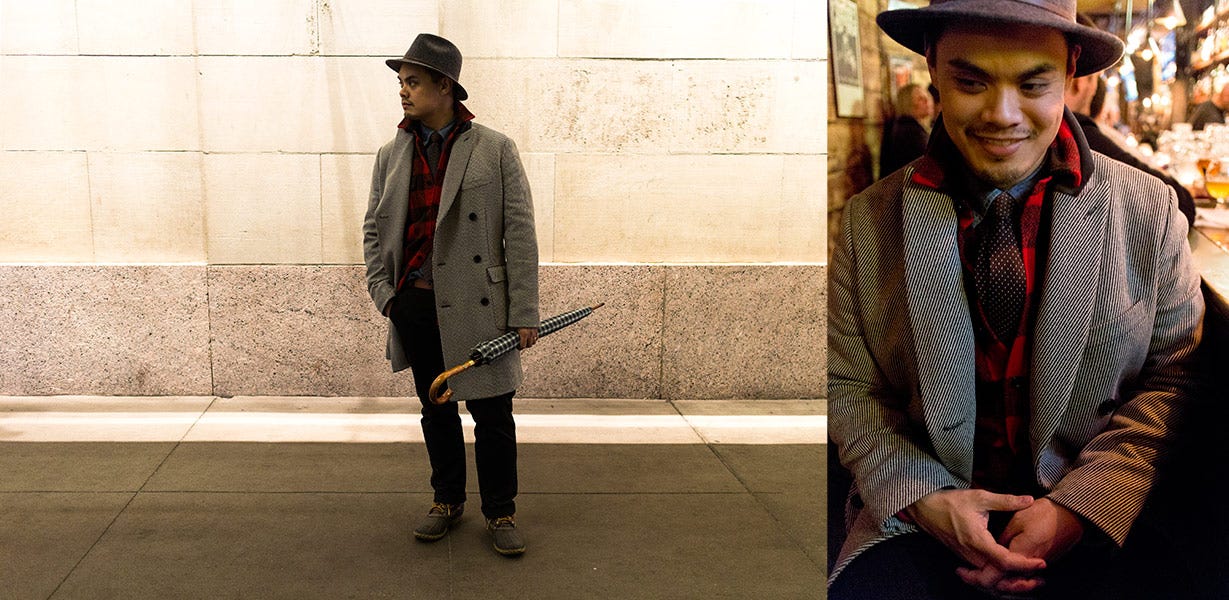 hat: Yellow 108 | shirt: Old Navy | shirt jacket: J.Crew | pants: Dockers
boots: LL Bean | tie: vintage | topcoat: Bonobos
"My wife, Kate, and I had plans to grab dinner and drinks. The weather was a bit rainy and cold, but not freezing, so I opted for lots of layers in case I became hot and needed to shed a few."
Wednesday
shirt: J.Crew | sweatshirt: J.Crew Factory | peacoat: J.Crew
pants: Dockers | boots: Red Wing | sunglasses: Topman
"Sunny winter days in NYC are deceiving. You think it'll be warm, but the wind chill is ridiculous. Today, luckily, the winds were surprisingly calm. Most days, you can find us walking Central Park since it's so close to home. I guess I had a sailor vibe going on today, with the stripes, beanie, and pea coat. Also feeling slightly rebellious, because I was enjoying a cigar inside the park, which is technically not allowed. "
Thursday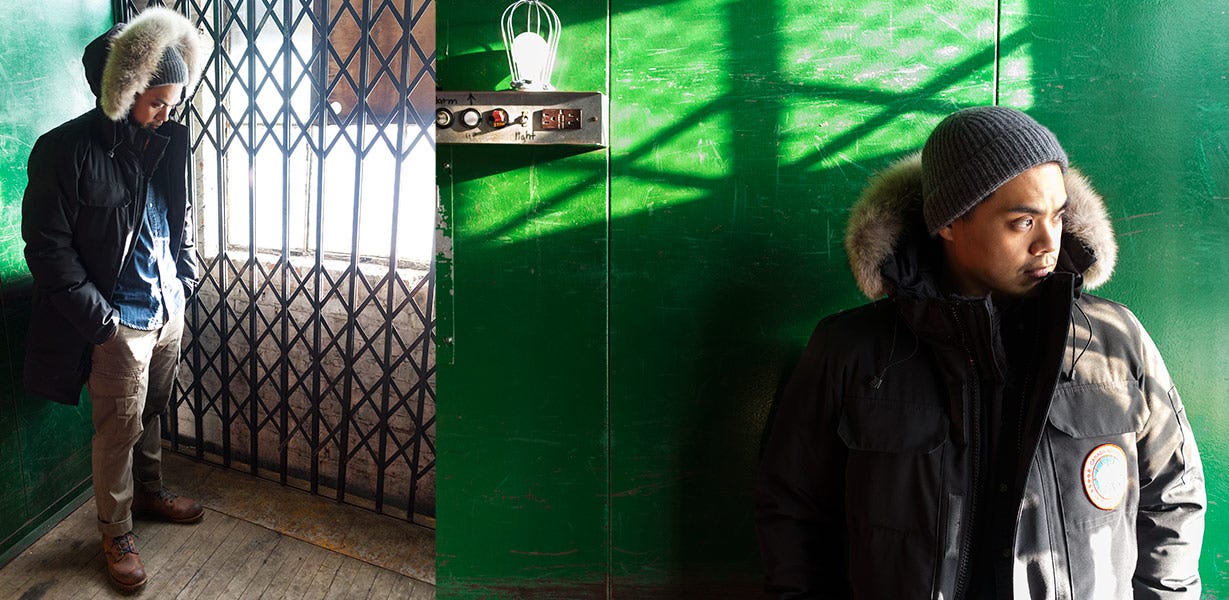 shirt: J.Crew | pants: J.Crew | boots: Red Wing | parka: Canada Goose
"Visiting a clothing factory in Brooklyn with Kate. The building interiors are old and worn, and the elevators, far from modern. The light and texture in this one happened to be awesome. Also, it was freezing, so I had to wear the parka today. The great thing about the parka is that you don't need too many layers because it's so warm."
Friday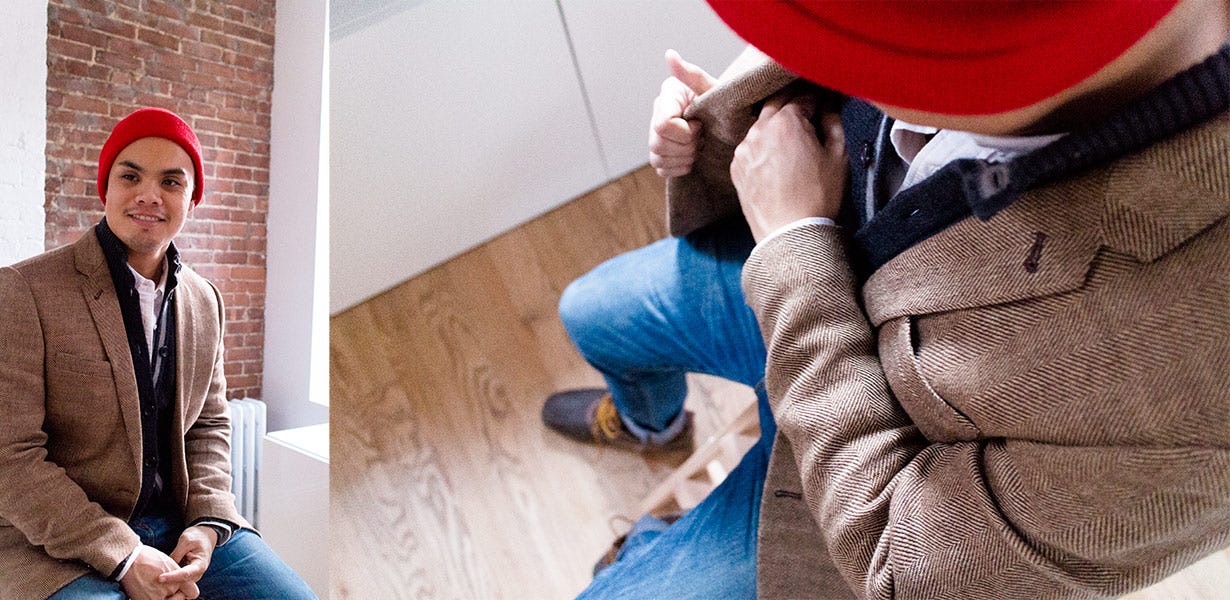 beanie: American Apparel | shirt: Uniqlo | cardigan: Banana Republic | sport coat: J. Crew
jeans: Levi's 508 | boots: LL Bean
"Calling it quits early today and heading out to see friends. I love this sport coat; it's linen, so not exactly winter appropriate, but incredibly comfortable and perfect for being indoors. Will probably have to throw on the parka or topcoat before heading out."
***
Want some help with your wardrobe?
Let us rescue you from shopping fatigue and sartorial apathy. With SG's online personal shopping service, you can expect the kind of dedicated attention that will make you feel like the best, most stylish version of the awesome guy you already are! We'll also help you figure out how to wear your new clothes with the things you already own.

Ready to seriously improve your closet and your confidence? Give us a shout.
***
Originally published March 2015. Want more Real Guy Style on SG? Let us know! And check out other features here, here and here!