A Week of Style from a Men's Fashion Industry Expert
This insider knows how to dress to impress
While it can be fun looking to celebs for sartorial inspiration, it's often more useful to simply look around you–to stylish friends, co-workers, even strangers on the street. That's why we like to document the personal style of our own well­­-dressed pals right here on SG. Real guys we know with killer style.
CB works in the men's fashion industry and has mastered the art of dressing in stylish-yet-effortless outfit combinations. Naturally, I had to ask him for his secrets. So he documented what he wore every day for a week.
Below, five outfits from a men's fashion industry insider, along with his smart styling tips:
Monday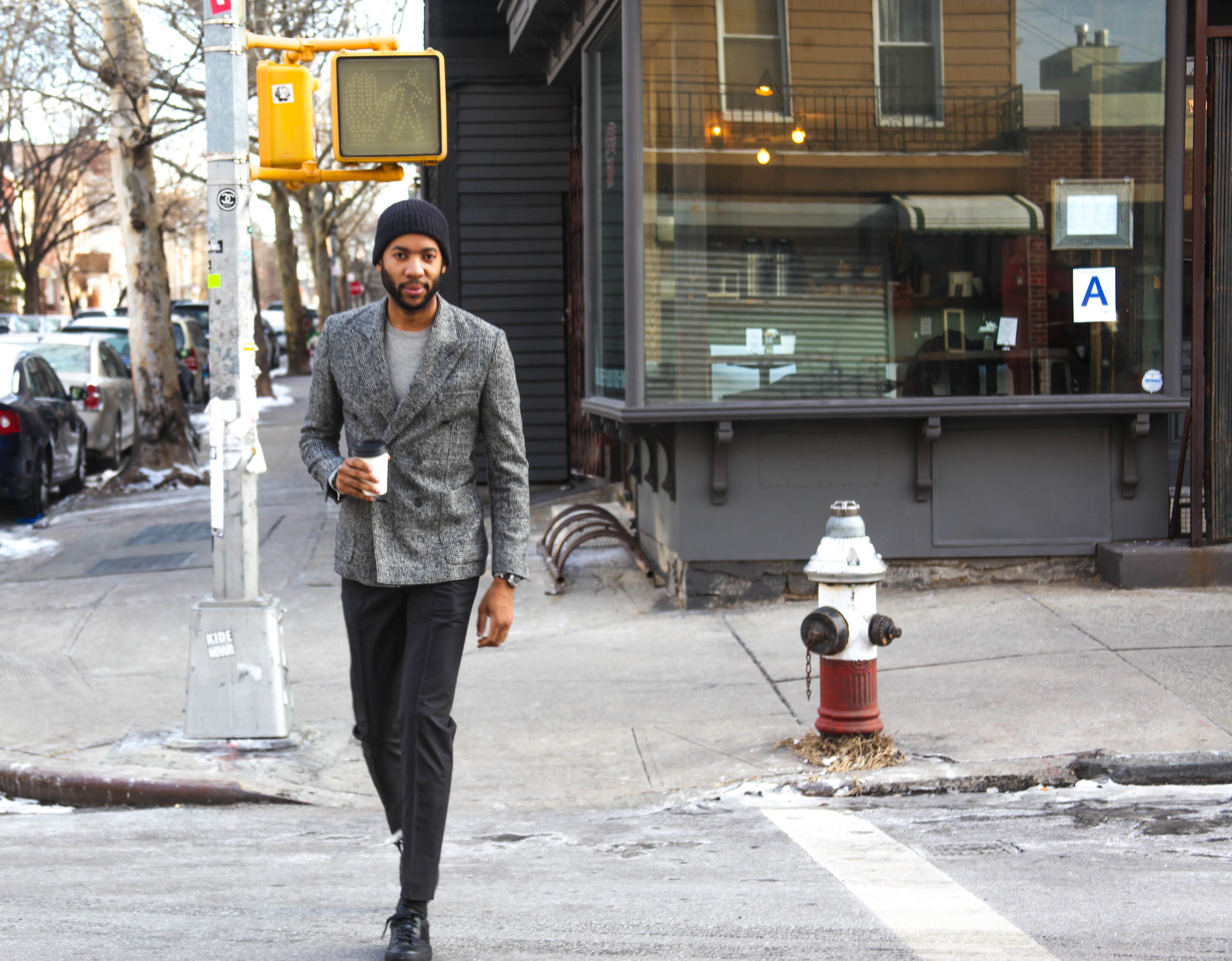 blazer: Ami | sweater: Uniqlo | pants: Ovadia & Sons | sneakers: Greats
CB on how to dress like you work in the men's fashion industry:
"A lot of guys are scared off by double breasted jackets because the perceived lack of versatility. It's definitely more of a statement piece than a single breasted jacket, but a well tailored double breasted blazer can dress down just as well as it dresses up. This DB from Ami is one of my favorite pieces because it's perfectly slim and goes with so much of my wardrobe. The secret is a nice soft shoulder. A rigid padded shoulder doesn't jive with casual looks."
Tuesday
topcoat | shirt: Proper Cloth | white jeans (self cut hem) | Chelsea boots
"No white after Labor Day" is the dumbest rule in the sartorial rule book.
The rule should be 'Don't dress like it's summer time when it's winter time.' I wear my white jeans year round. The key to post-Labor Day looks is to surround white with other fall pieces/colors. The cool thing about white: EVERYTHING GOES WITH IT. No need to stress. White jeans will make your favorite flannel look WAY cooler than dark denim."
Shop white jeans
Wednesday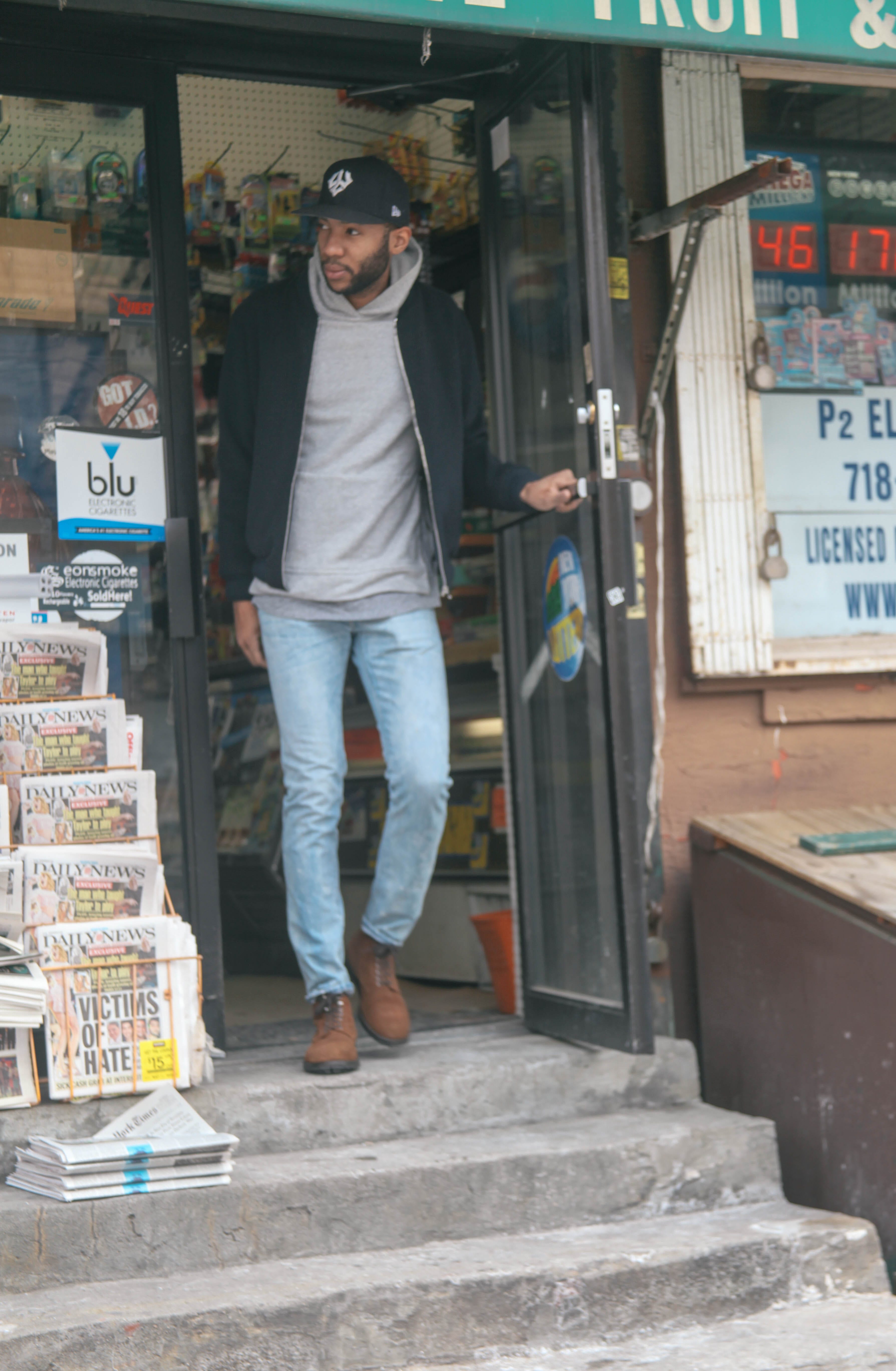 jacket: Melinda Gloss (similar) | light-wash jeans |lace-up boots | hat: New Era x Washington and Lee University (Go Generals!)
"On down days, I long for that comfort I had in high school of rocking my varsity jacket with a hoody and jeans. When you're almost 30, a high school varsity jacket says 'petulant child' more than 'contributing member of society.'
I grabbed this wool blend bomber jacket this fall and it's been my go-to 'cozy yet sophisticated' jacket.
I also think Megan said bombers were a must have coat for fall somewhere?" (editor's note: yep!)
Thursday
denim jacket | t-shirt: Visvim | hat: Stoffa | glasses: Warby Parker
"The denim trucker jacket is the sweater you forget about during the winter. While it may not be as warm as chunkier knits, it does help out on those days in the winter where it's in the mid-30s. They are especially good when you work at an environment that's stupid warm during the colder months…"
Shop denim jackets
Friday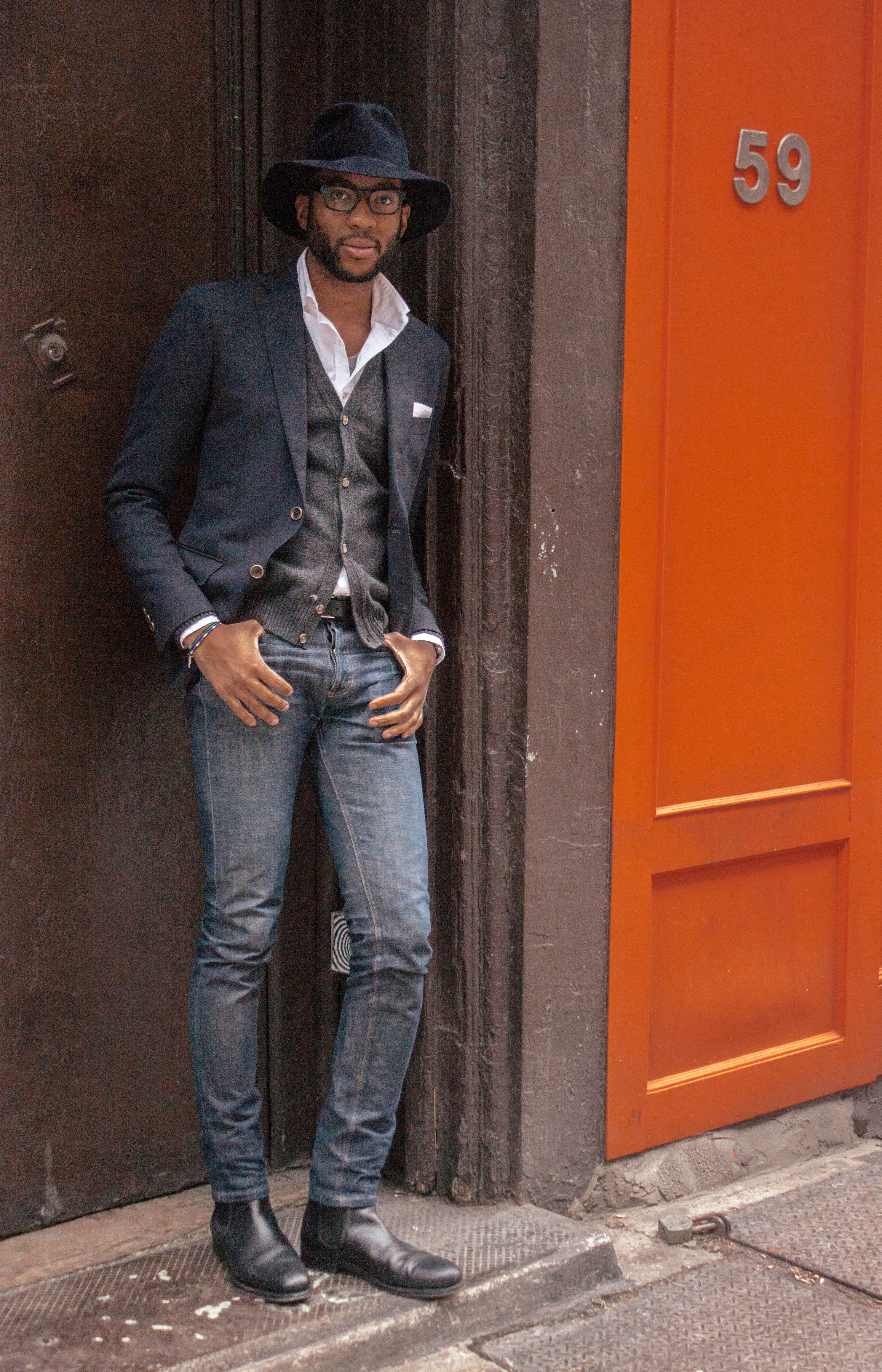 sweater: Ami | jeans: A.P.C. | hat: Stoffa
CB on casual hats:
"S-o-o-o, I wear a lot of hats. When you're in your twenties and your hairline starts to creep on back, nothing can save it but a razor (I'm looking at you, LeBron).
What I've found is hats are a lot easier to wear when you just own it. Make it your thing. Far too many guys over think hats. Everyone can be a "hat guy" if you take the time to find the right ones for you. They can make a mundane outfit – like navy blazer, white shirt and jeans – something a bit more."

Ready to upgrade your style?
Check out Style Girlfriend's online personal shopping service! You'll receive a customized shopping list with items that are right for your budget, body type, and personal style.
Our team will also help you figure out how to wear your new clothes with the things you already own.
You'll look and feel like the best, most stylish version of the awesome guy you already are!
Ready to seriously improve your closet and your confidence? Learn more!
***
Originally published February, 2015. Want more Real Guy Style on SG? Let us know! And check out other features here, here and here!