4 Reasons for Guys to Try White Bedding Today
Bring this hotel favorite home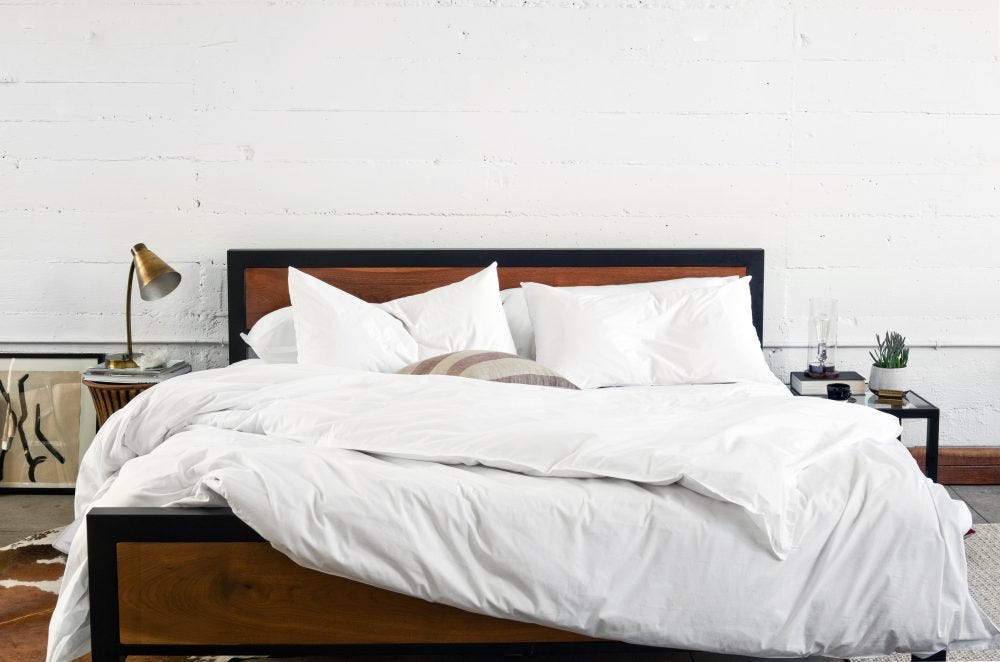 While I'm still getting settled in my new place (that I moved into all the way back in September *cough*), I've made one update that I'm really excited about.
On my bed, I made the switch to white bedding. Specifically, a new white linen duvet encasing my fluffy down-filled comforter and supima cotton sheets that feel cool and crisp when slipping in between them at night.
Is it a little more nerve wracking to drink a cup of tea in bed? Sure. Do I make sure to take my makeup off before hitting the pillow at the end of even the longest long day? You bet.
What is it about this bedroom look – a go-to in hotels around the world – that feels so fresh and modern, yet entirely classic?
Read on for our hot take on white bedding:
1. White bedding makes everything else in your bedroom look better (even you)
Don't get it twisted. As restful and calming as white bedding can appear, it also packs a punch in the design department, since the bed generally dominates the bedroom visually.
When you switch from a patterned or brightly-colored duvet and sheets to white bedding, you'll suddenly notice everything else in your bedroom stands out more than it used to. From bold accessories to neutral foundation pieces. Think: nightstand, painted walls, throw pillows – they all come to the forefront when your bed is bright white.
Ariel Kaye, founder and CEO of Parachute Home agrees, saying, "Keeping your interior elements in a white-on-white palette avoids a cluttered feel and allows luxe materials to really make a statement."
So go ahead and get bold on your newly-blank canvas, layering different patterns and textures, to achieve completely different looks. White contrasts nicely with stronger decor, like dark walls or a strongly colored bed frame. Or you can go subtle: my crisp blue polka dotted sheets lend just a pop of color that peeks out when the bed is made (which is..sometimes).
2. White bedding gets your brain ready for bed
You guys know I'm all about morning meditation these days. Not that I'm great at it; my mind tends to race at the speed of light. But in the same way that the practice of meditation helps you gradually train your brain to quiet down, an all-white bed lets your noggin know as soon as you enter the room, yep, it's time for bed (or at least a nap).
Steph MacDonald who founded the 100% made in the USA sheeting company Authenticity 50 with her husband says, "Stimulating, bold, and bright colors will keep you awake and energized, while white bedding immediately evokes a sense of calm, balance, and peace."
A breezy white bed ensures you'll feel more relaxed and at ease when it's time to turn out the lights, and your quality of sleep will be better, too.
3. White bedding is a great design compromise with the missus
Prefer paisley but your lady is looking for something a little more ruffled? White bedding is the perfect "meet in the middle" decor detente to keep the peace in the bedroom.
Laurel & Wolf Designer Nichole Gabriel says, "In the battle of the sexes, what better way to bring together masculine and feminine aesthetic then with white bedding's simplicity, purity and functional elegance? The no-frills, minimalist but utilitarian comfort is a good fit for a more traditional male point of view, while the delicacy of white appeals to a more feminine aesthetic."
White bedding constitutes an artistic blank slate that you and your significant other can shift as the mood strikes or as the seasons change, with the addition of pillows, throws or accent bedding.
4. White bedding always looks good
My mornings can be a bit hectic, but somehow even when I fail to make my bed with military corners (or, you know, at all), the whole area looks clean and inviting…despite its disheveled state. As in, your bed looks good even when you don't make your bed.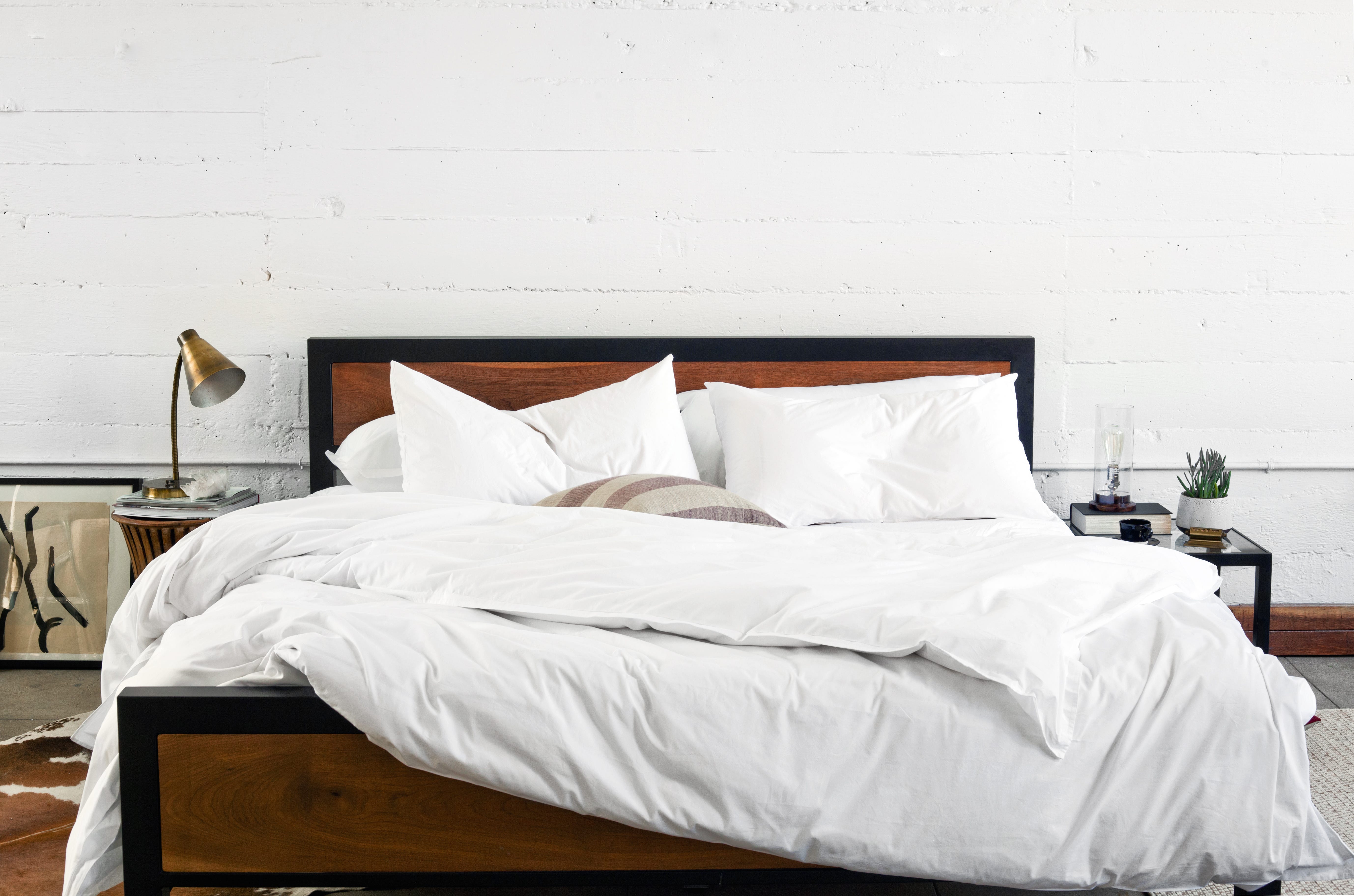 TELL ME:
WHAT'S ON YOUR BED RIGHT NOW (AND IS IT MADE)? 
Sign up for more of SG's favorite product finds and style hacks from the female POV