5 Days, 5 Ways: Colored Chinos
a merlot to pair with tees, not cheese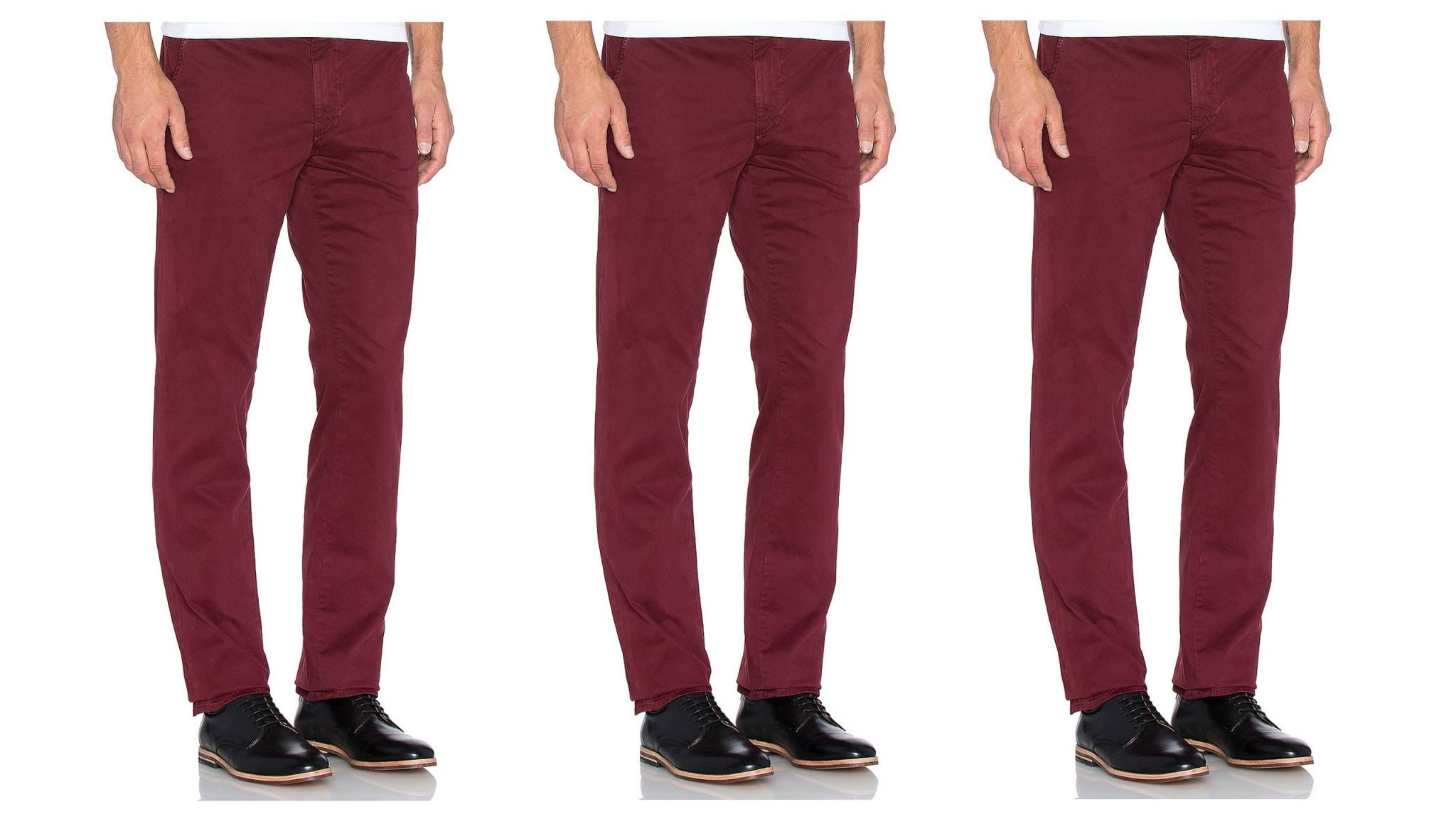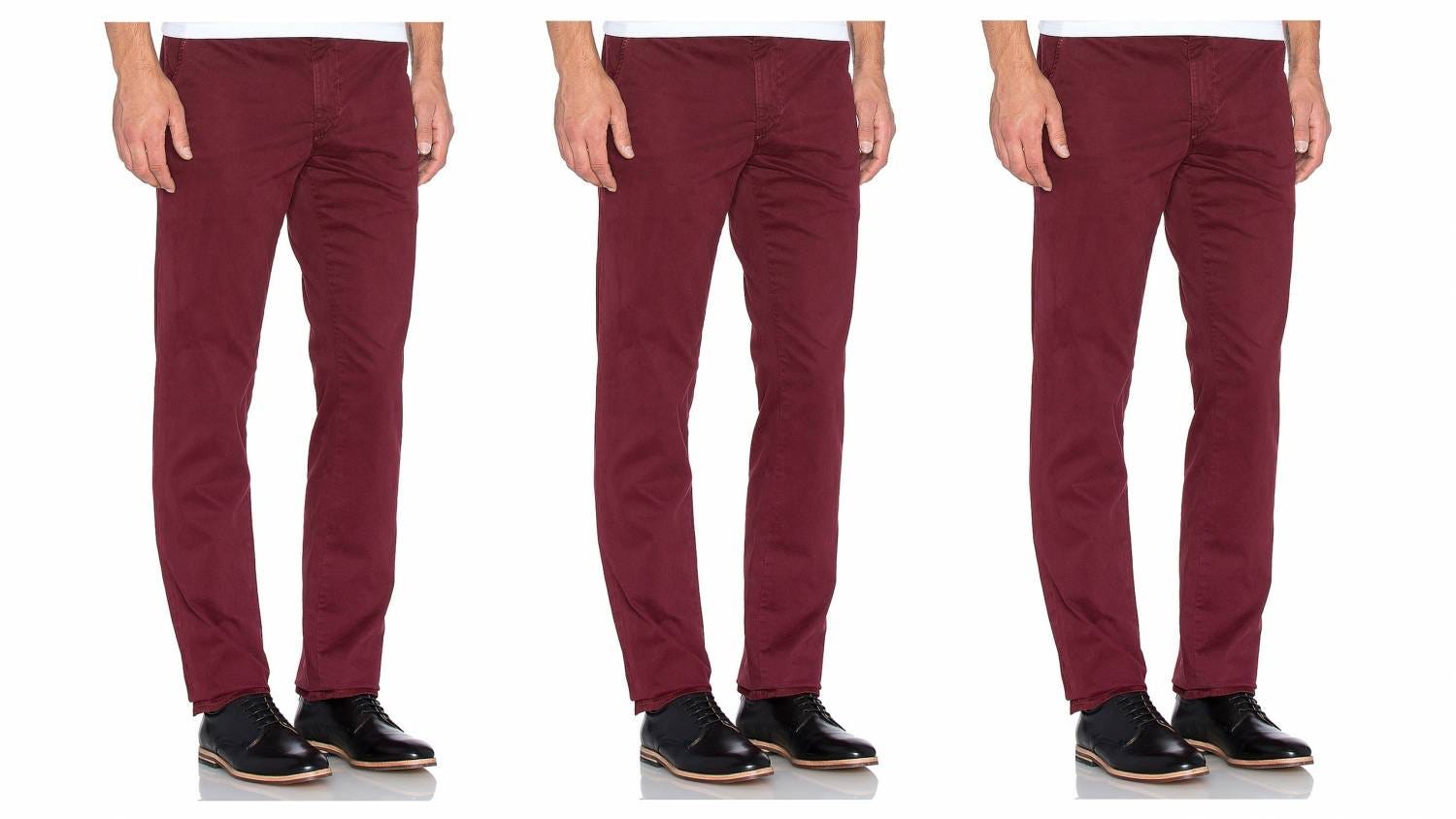 A closet is not complete without a pair of khaki-hued chinos, but a closet feels more complete with a colorful pair, too. Colored chinos adds visual interest in a more unexpected way than a bright shirt or a textured jacket. Dressed up or dressed down, a pair of colored chinos works year round with all of your favorite toppers.
THE COLORED CHINO: AG, $168
See 5 ways to wear colored chinos, below.
MONDAY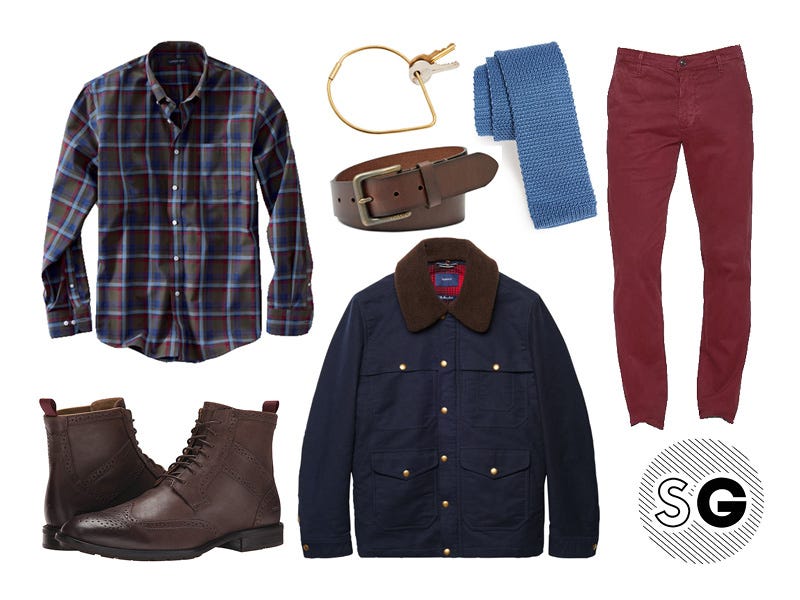 Jacket: Gant, $450 | Shirt: Land's End, $50 | Tie: Gitman, $115
Boots: Sebago, $185 | Belt: Fossil, $35 | Key Ring: Areaware, $16
Wear it Well: Pair equestrian inspired pieces with your go-to work styles for an elevated look in a casual workplace.
TUESDAY
Leather Jacket: Topman, $300 | Flannel: J.Crew, $80 | Tee: American Apparel, $18
Boots: Paul Smith, $297 | Sunglasses: Komono, $48 | Cuff: Giles & Brothers, $80
Wear it Well: Leave all your layers undone – the colored chinos keep it neat.
WEDNESDAY
Blazer: Frank & Oak, $165 | Shirt: Brooks Brothers, $70 | Tie: The Tie Bar, $19
Oxfords: Church's, $375 | Glasses: Steven Alan Optical, $195 | Briefcase: Jack Spade, $528
Wear it Well: Channel the changing colors of the leaves for an outfit that brings the feel of fall into the office.
THURSDAY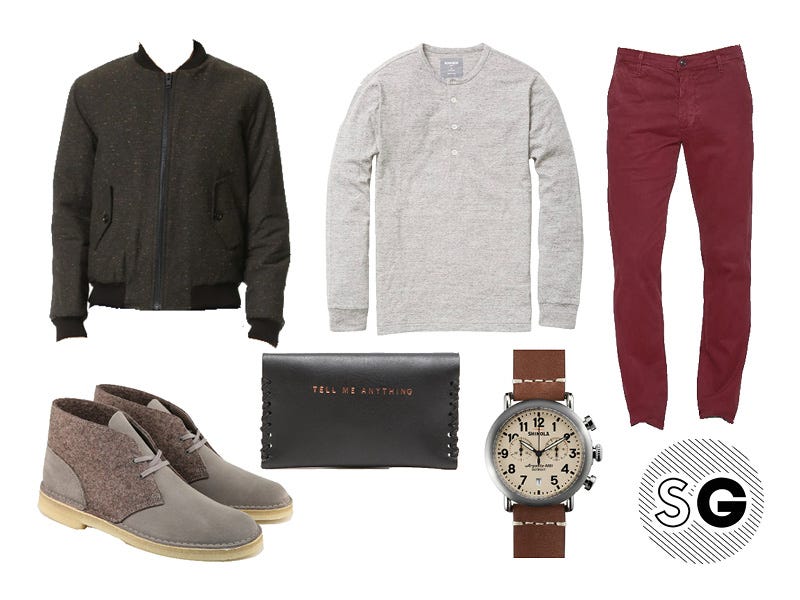 Bomber: United Stock Dry Goods, $440 | Henley: Bonobos, $68 | Chukkas: Clarks, $165
Watch: Shinola, $750 |  Wallet: Draught Dry Goods, $65
Wear it Well: Keep things cool by unbuttoning the top button of the henley but leave the jacket zipped halfway.
FRIDAY
Puffer Vest: Saturdays, $175 | Sweatshirt: Remi Relief, $190 | Chambray Shirt: L.L. Bean, $40
Boots: Waltzing Matilda, $290 | Sunglasses: Ray-Ban, $200 | Socks: Urban Outfitters, $8
Wear it Well: Layer the vest over the sweatshirt over the chambray, wear it apple picking, and shed the layers as you get hot.
TELL ME:
WHAT COLOR IS YOUR MOST WORN PAIR CHINOS?
Gabi

Meyers is a former intern, turned regular contributor at Style Girlfriend. She lives in Philadelphia and works as a personal stylist at Anthropologie. She likes to instagram dogs and other things at @gabi_meyers.
Want more maroon looks? See a few more ways to wear wine with a minimal sneaker, statement bomber and graphic tee.

Like a phoenix rising from the ashes, Gabi Meyers went from Team SG's first-ever intern to a trusted fashion editor and stylist. She currently lives in Chicago with a very cute dog.