Gen Z Gift Ideas for Him: A Definitive Holiday List
What he'd ask for if he'd written his list yet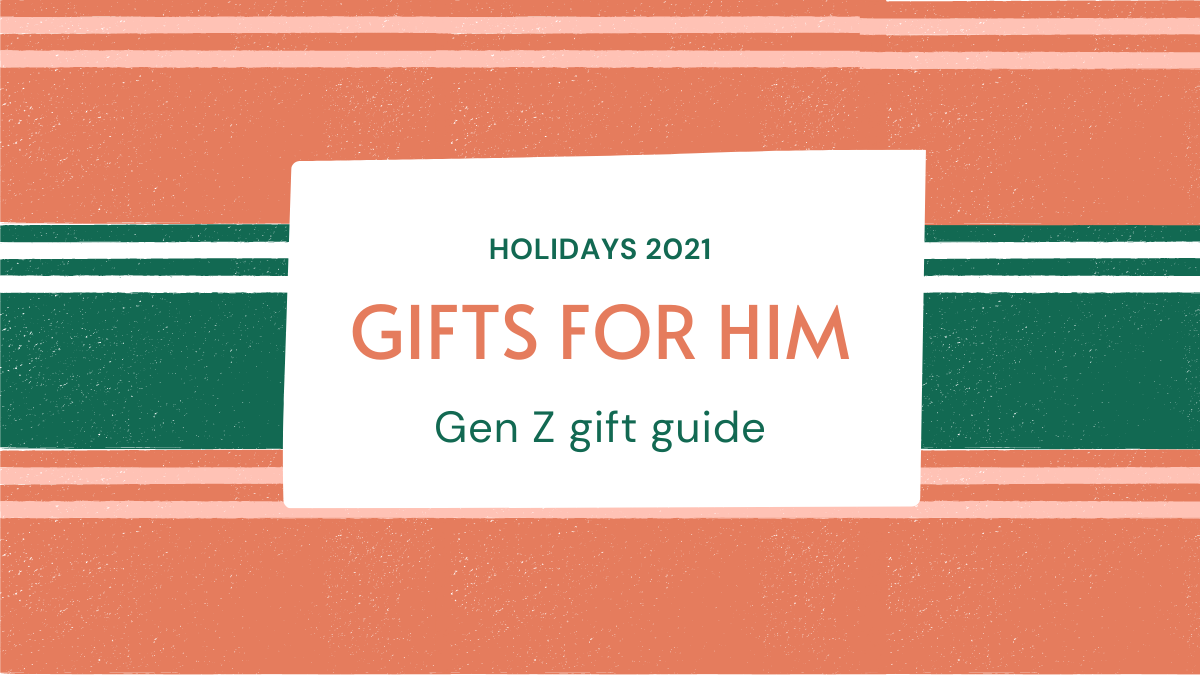 This year, we enlisted our intern to share holiday gift ideas for the Gen Z set because, for the most part, we are a team of rapidly aging millennials. These are her picks.
Where I live, it is brisk outside these days!
And although I would usually be grumbling about the frigid temperature, right now I just feel eager for the holidays. (Don't worry, I'll save my bitterness for January 1.)
It is the season of giving, and less discussed but equally festive…the season of getting!
So, go ahead and get in the mindset on what to give the wonderful women in your life.
But also? Start thinking about what to put on your own holiday wishlist! And since the Gen Z man is probably not airdropping you his list like I did to my boyfriend last night, I will step in with the assist.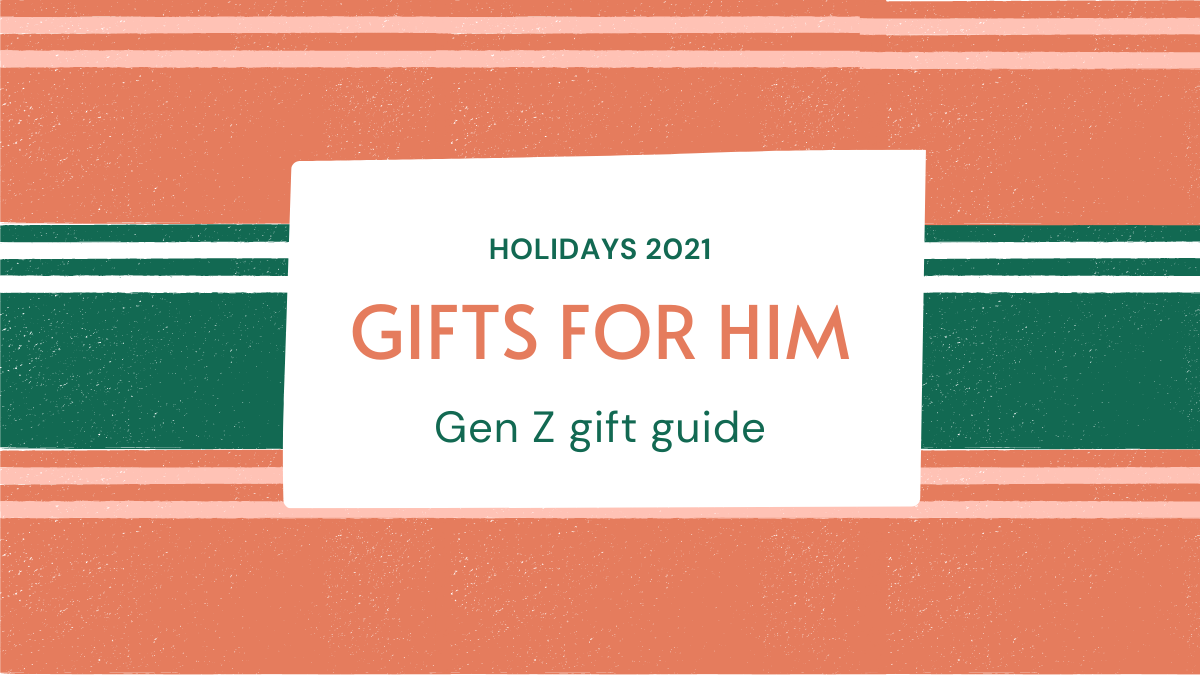 All items featured on Style Girlfriend are independently selected by our team. However, when you buy something through our retail links, we may earn an affiliate commission.
---
I present to you a totally comprehensive list as long as the Whos' in Whoville of what the Gen Z man should be asking for this holiday season based mostly on my TikTok feed.
Below, check out Gen Z gift ideas for him: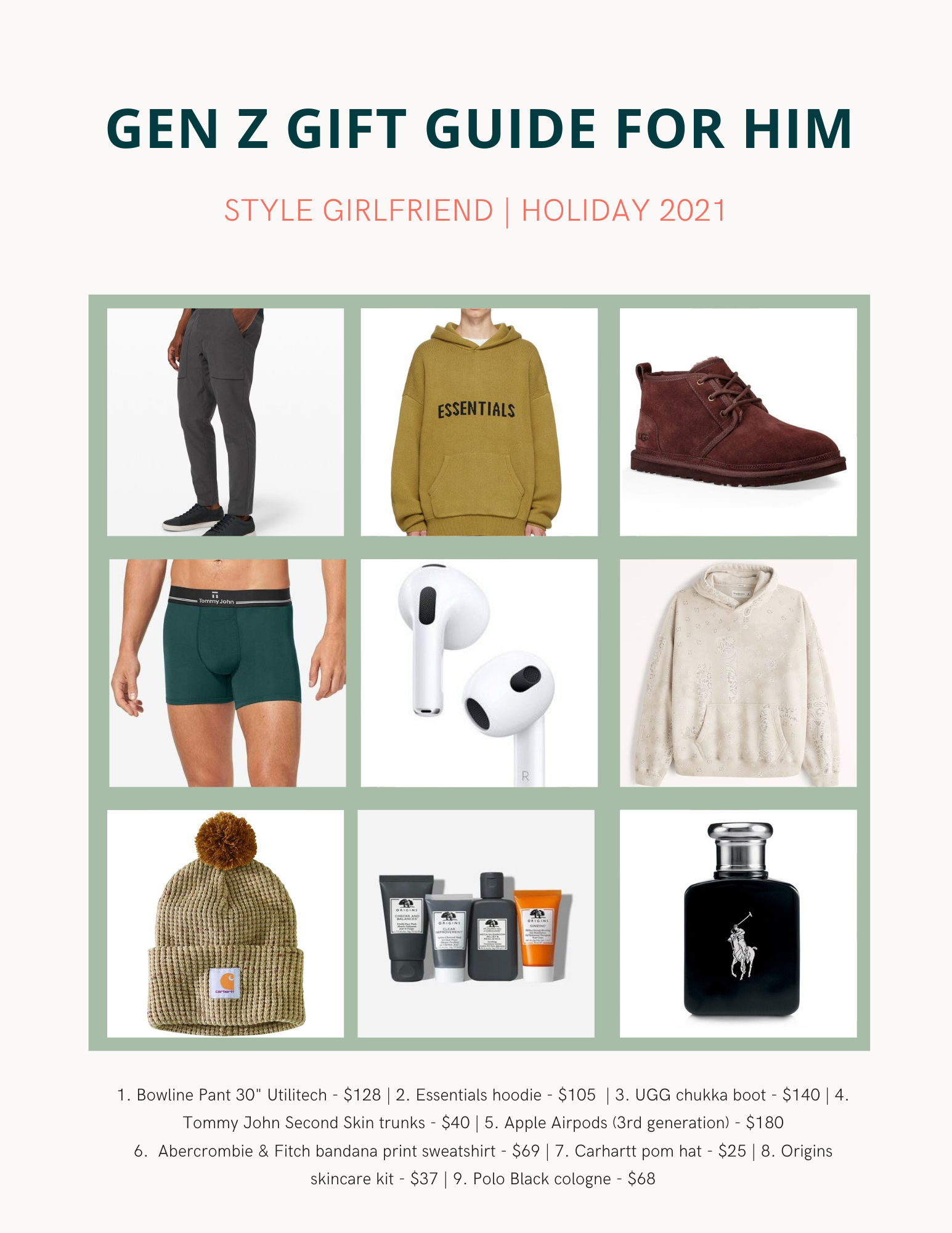 top row: left to right
1. Bowline pants, $128 — Let me tell you something about Gen Z. We expect everyone around us to own at least one thing from Lulu. Like these cool but still comfy pants!
2. Essentials hoodie, $105 — There is something so cozy about a sweater hoodie, and this one lets you flaunt the bougie "Essentials" brand.
3. Ugg chukka boot, $140 — For some reason every guy between the ages of 18 and 30 either owns a pair of these chunky, fuzzy contraptions or wishes they did. Do I think they are stylish… not really. But for some subconscious reason beyond me, every man I know feels like they NEED these.
So, who am I to get in their way?
middle row: left to right
4. Tommy John Second Skin trunks, $40 — You gotta wear them so, so why wouldn't you ask for the softest, comfiest pair (or three…or four) this holiday season? A luxury and a necessity bundled into one.
5. Apple Airpods, $180 — The next generation.
6. Abercrombie & Fitch bandana print sweatshirt, $69 — Do not sleep on the bandana pattern. It's basically a neutral, I swear.
bottom row: left to right
7. Carhartt pom hat, $25 — I love how a pom pom gives a holiday twist to a classic beanie.
Oh, and don't worry about looking tough. That's what the Carhartt logo is for.
8. Origins skincare kit, $27 — There's never a wrong time to start taking care of your skin. Or, I guess like, your fifties wouldn't be great. But better late than never!
9. Polo Black cologne, $68 — My boyfriend has been wearing this cologne since Freshman year of high school, and frankly, it is my favorite smell ever!
***