#GiftInColor:
Holiday Gift Ideas In Black & White
Vanessa Williams said to Save The Best For Last... Don't Miss Our Final Guide!
For this season's #giftincolor gift guide series on Style Girlfriend, we hand-selected more than 100 amazing holiday gift ideas for both guys and gals. Every Tuesday we've launched a brand new guide that's themed to a different color. Check out our past weeks featuring red, orange + yellow, green, light blue, indigo and metallics. Up today? Our final guide in Black & White.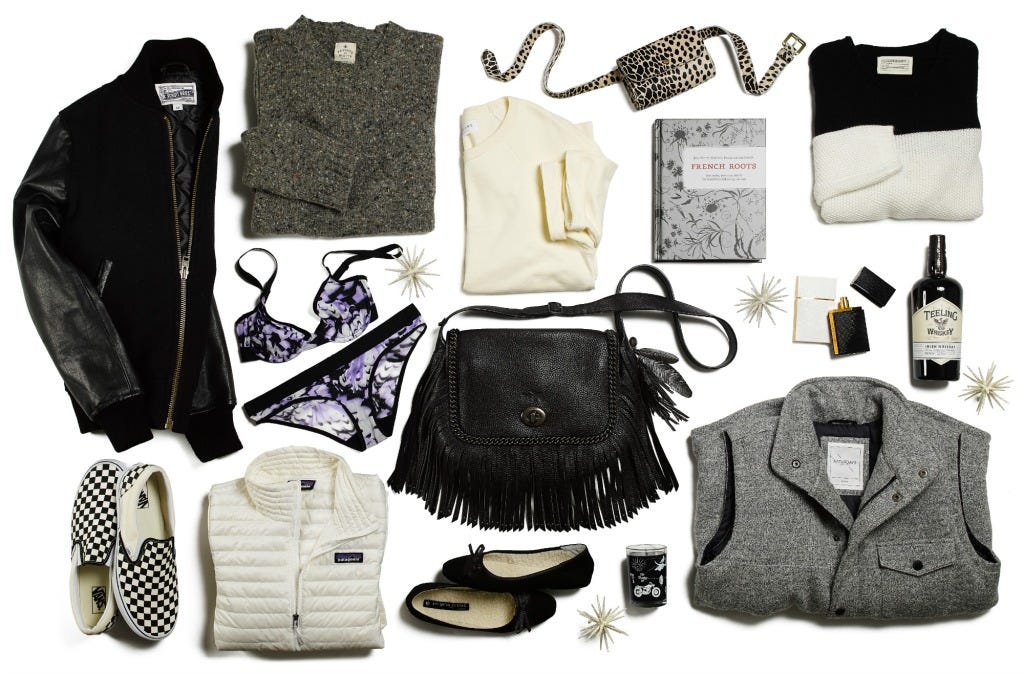 Leather varsity jacket, Schott | sweater, Private White VC | boyfriend sweatshirt, Everlane | calfhair bag, Anthropologie (similar)
cookbook, Ten Speed Press | sweater, Current/Elliott | Irish whiskey, Teeling | perfumes (Black and White), Elizabeth and James
down vest, Saturdays Surf NYC | candle, The Motley | bag, Coach | slippers, Jacques Levine | down shirt, Patagonia
lingerie (briefs and bra), Negative Underwear | sneakers, Vans
We made it!
It's hard to believe, but we're finally here: The last #GiftInColor holiday gift guide. After sampling just about every color in the rainbow, we're concluding with the most essential (non) colors in our sartorial vocabulary: black and white. And yes, a dash of gray too.
Cozy and cool are the two words that come to mind when we think of this guide—from Schott's killer wool-and-leather varsity jacket to Coach's so-hip-it-hurts fringe bag and Negative Underwear's sassy and sexy bra-and-briefs set. Extra cozy points go to Saturday's Surf NYC for their down vest lined in wool, and Patagonia's down shirt that's so thin and light you'll hardly believe just how warm it actually is.
Two of our favorite (little) gifts in this guide are ideal scented stocking stuffers. For the guys, this candle from The Motley burns a pleasing fragrance that's super subtle yet totally masculine. For the ladies on your list, you can't miss with Elizabeth and James' Nirvana perfumes—Black has notes of vanilla and sandalwood (a personal favorite), while White is a feminine blend of peonies and musk.
We hope you guys liked shopping our gift guides as much as we enjoyed putting them together! It was actually one of the biggest undertakings in the history of Style Girlfriend, and I couldn't have done it without the help of a very talented editor and photographer, awesome brands excited to be a part of the SG story, and countless messengers toting bags and bags (and bags) of products all over town.
Tell me:
Which #GiftInColor Guide was your favorite?
By Taylor Davies. Taylor is a fashion and menswear editor in New York City and occasional contributor to Style Girlfriend. She lives for croissants and swears by an Old Fashioned. You can find her blogging here and 'gramming here.
Need to jog your memory? Check out ALL the#giftincolor guides in shades of:
Red  |  Orange and Yellow  |  Green | Light Blue | Indigo | Metallics
Taylor Davies splits her time between NYC and Sun Valley. She loves writing about menswear, overpriced martinis in dimly lit hotel bars, and cross-country skiing. Not necessarily in that order.