When It Comes to The Ring, It's Not The Size of the Diamond That Counts
We've got 5 design tips guaranteed to make any engagement ring more impressive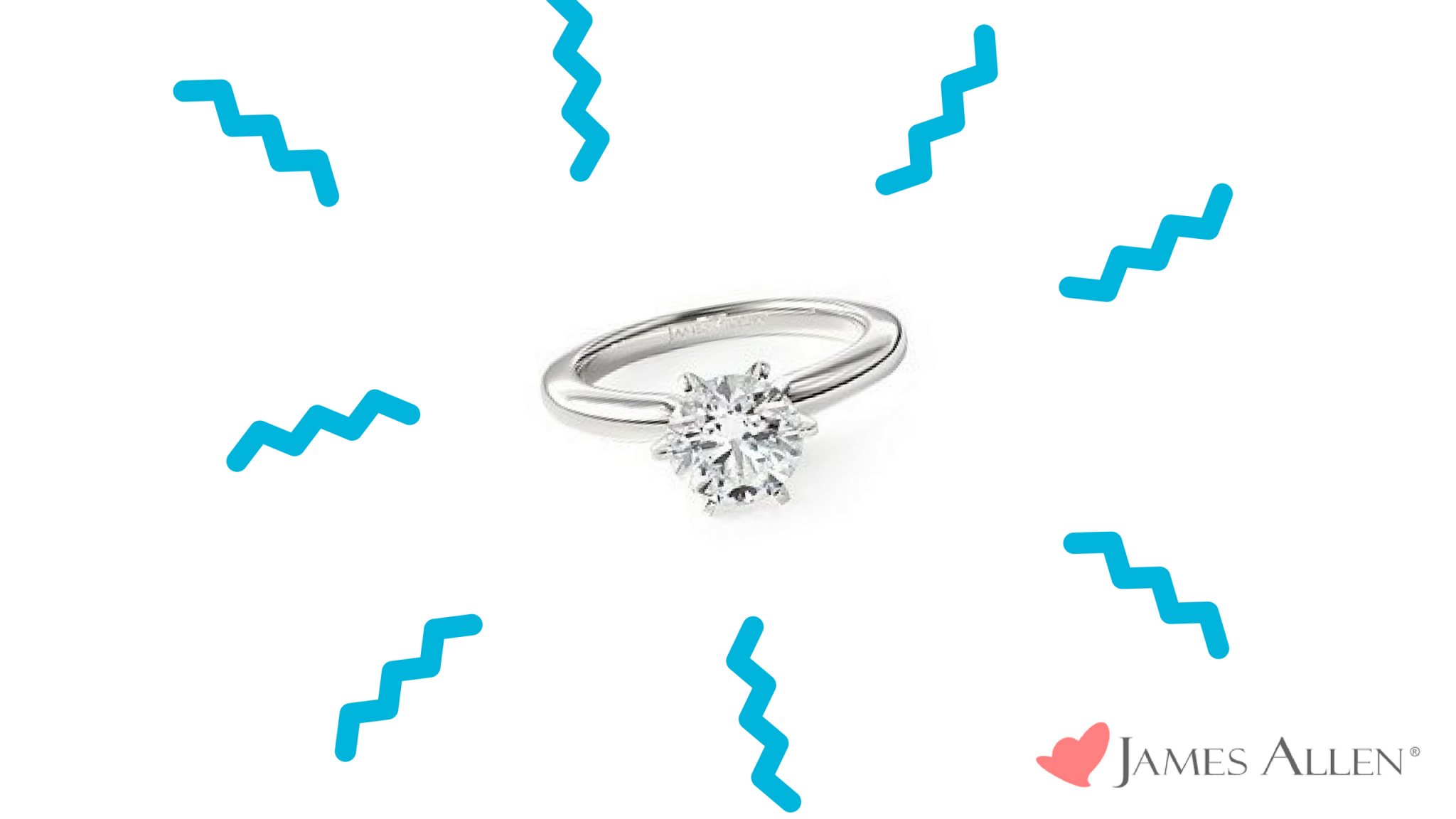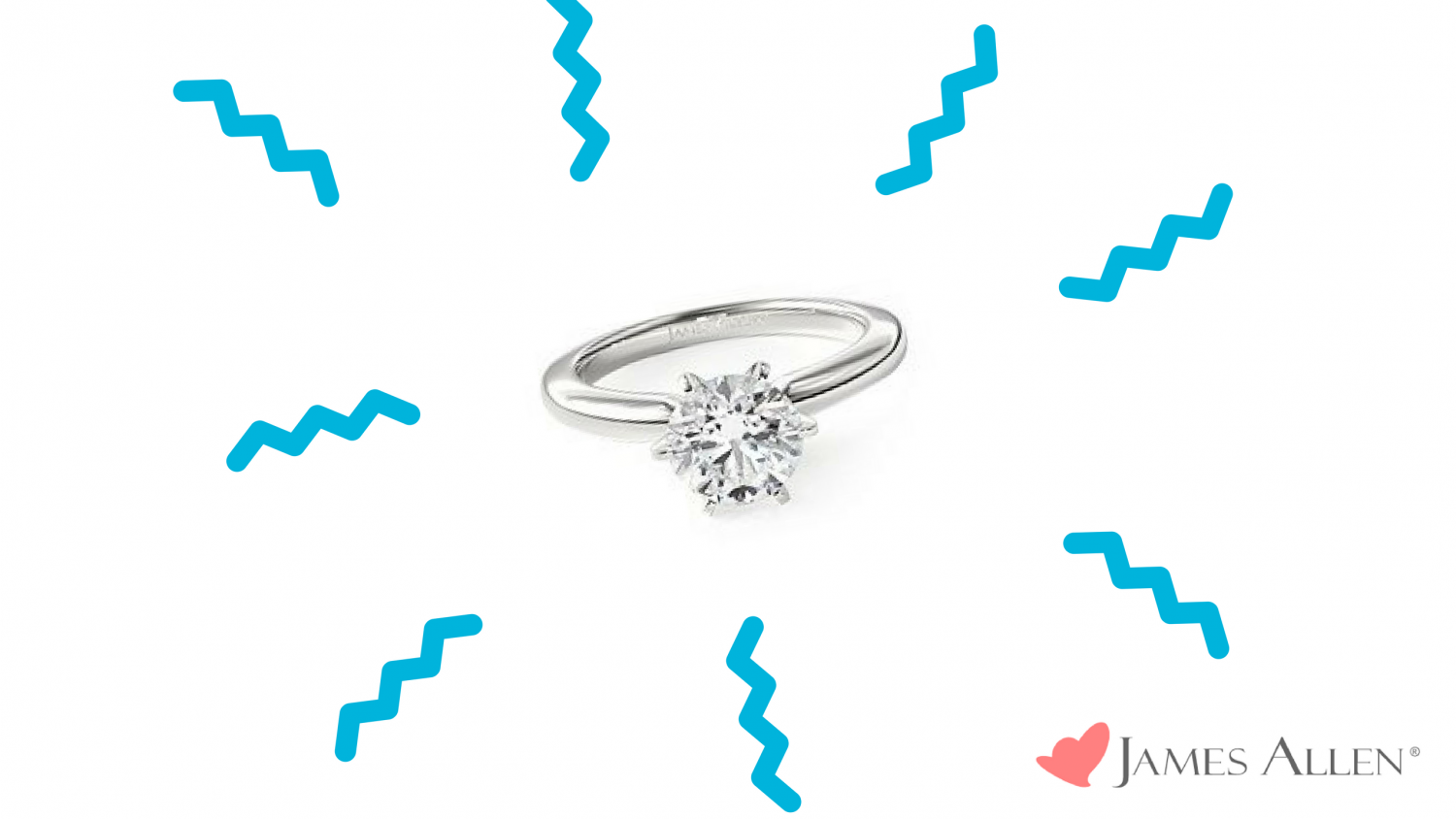 A weeklong series dedicated to everything guys need to know about getting engaged, from picking the perfect ring to planning the perfect proposal.
Once upon a time – long, long ago – Archduke Maximilian of Austria was promised to marry a woman called Mary of Burgundy. To mark the occasion, he commissioned the very first diamond engagement ring in recorded history. The year was 1477. Apparently, this Archduke guy was quite a trendsetter, because the custom caught on across the whole of Europe's nobility and aristocracy and centuries later, diamond rings are still the gold standard (wink, wink) of betrothal traditions.
The modern diamond engagement ring comes in almost innumerable designs, but there's one feature everyone can agree on: You want the diamond to take center stage. The great news is that the stone doesn't have to be "Kim and Kanye" levels of huge to look impressive. In fact, by incorporating some thoughtful design elements, any diamond ring size can appear bigger and more brilliant.
In partnership with the experts at James Allen, the fastest growing online retailer for diamonds and engagement rings, we're breaking down five ways you can increase the "wow factor" of your engagement ring.
1. Consider a "Halo" Setting or Side Stones
If you're buying a ring with one center diamond, you can make it look bigger by choosing a halo setting—which means the center stone is surrounded by smaller diamonds. (Like an angel's glowing halo, get it?) The ring of tiny stones gives an appearance of increased size and volume and takes the sparkle factor way up.
2. The Shape of the Diamond Matters
If you've been doing your research, you probably already know that diamonds come in a lot of different shapes. Like, a lot. Choosing the right one has a lot to do with understanding what your future betrothed will like best—but a diamond's shape can also influence how big it looks on her finger. For example, a "fancy" shaped stone, like pear, oval, or marquise cut, can appear larger than a round-cut stone of the same carat weight.
Do note that many women are selective about the shape of the diamond they want, and chances are high that your future fiancee has something in mind already. Meaning, if you can, have a conversation about those preferences before you start shopping for your ring.
3. Go with a Thinner Band… Or White Gold
A continuously narrow band or a band that gets slightly thinner as it gets closer to the center stone can also serve to make that stone appear larger. Thinner bands can also fit into the category of "dainty" jewelry—a style that is very on-trend at the moment and feels both fresh and ultra-feminine.
Another band hot tip to keep in mind is that white gold, which has a hue closely mirroring that of a diamond, can also make a smaller stone appear larger. White gold is actually a "gold alloy," which means it has a white metal in it too (usually nickel, manganese or palladium if you're curious). That mix puts it in the color family of platinum and sterling silver. White gold has major reflective power, so, regardless of the ring size, the overall effect will be brighter and more dramatic.
4. Get More Shine with Smaller Prongs
In jewelry speak, prongs are the small metal pieces that hold a stone in place. So yeah, they're important. If you want to make the center stone of you engagement ring look bigger without adding additional stones or changing the ring size, smaller prongs are key. Why? The smaller they are, the more of the diamond is exposed, which means more light can pass through it, creating a more brilliant appearance.
5. Cut. Is. King.
Have you learned "The Four C's" of diamonds yet? If you're considering buying a loose diamond or diamond engagement ring, they are especially important. JamesAllen.com's Diamond Display Technology allows you to get a full 360 degree view of every diamond they offer (over 150,000 certified conflict-free stones) so you know exactly what you're getting as you design your ring. Pretty brilliant, no? (Sorry, had to.)
Out of the four C's—that's carat, color, clarity and cut—cut has the greatest impact on sparkle and shine. The cut refers to how effectively the diamond returns light back to the eye. A well-cut diamond will appear very brilliant and "fiery," while a poorly cut diamond can appear dark and lifeless, regardless of its other characteristics. A bonus for paying close attention to this "C?" Not only do well-cut diamonds appear more brilliant, they also tend to appear larger than other diamonds of the same carat weight. Keep this in mind as you shop for your diamond or ring, because a smaller stone with a better cut grade can have even more of a "wow" factor than one with a higher carat weight. Don't feel like you can't compromise on one of these "C's" in order to find the right ring—the goal is to achieve a design that she loves and that, you know, pops!
And if that's all a little…overwhelming, James Allen's expert gemologists can help you find the perfect ring in your budget that your future fiancée's socks off.
***
We know that there's a lot of pressure on you when it comes to picking out an engagement ring. You want to impress your bride-to-be and get down on one knee with one that could even become a family heirloom someday.
Of course, remember that – at the end of the day – the size of the diamond isn't the most important element of engagement ring design. It's about finding or creating a beautiful, meaningful ring that fits your budget and achieves the exact look she wants. Which, if the above didn't make it clear enough, is easy to do!
TELL ME:
WHAT DO YOU DO WHEN YOUR TASTE AND BUDGET DON'T MATCH UP?
Brought to you in collaboration with James Allen. Thanks for supporting the brands that make Style Girlfriend possible!
Taylor Davies splits her time between NYC and Sun Valley. She loves writing about menswear, overpriced martinis in dimly lit hotel bars, and cross-country skiing. Not necessarily in that order.