How to Match Your Wedding Date
It's all about coordination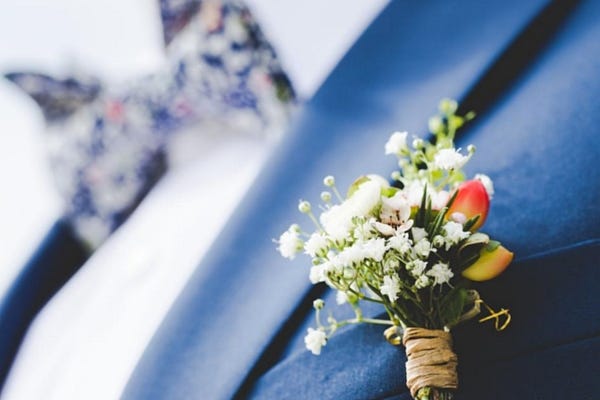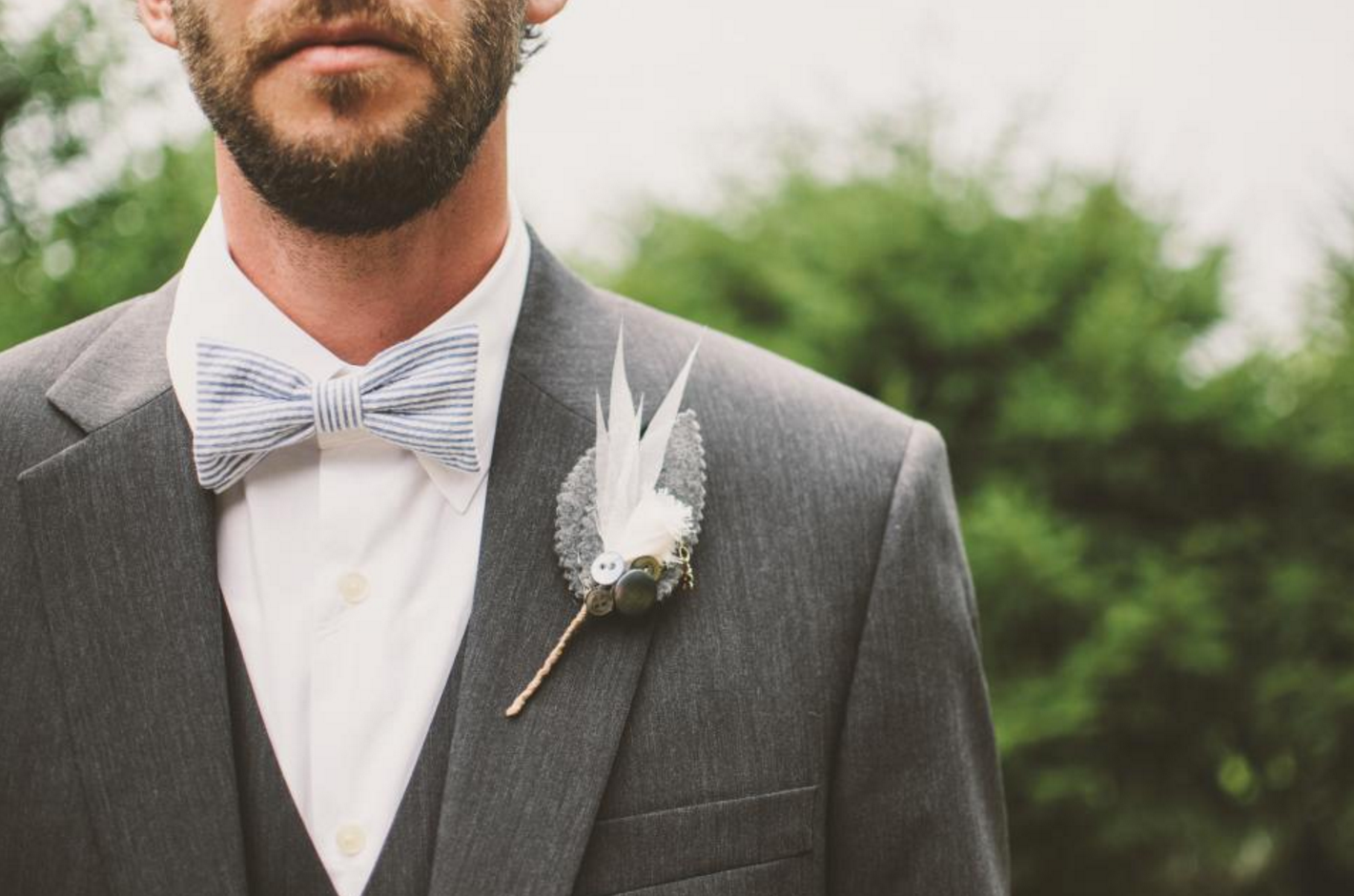 Remember in high school when your mother made you ask your prom date what color dress she was wearing ahead of time so you two could go to the flower section at the grocery store and pick out a wrist corsage to match?
If only the couple-centric fashion conundrums expired when your driver's license permit did.
With wedding season in full swing, there are more occasions that demand a style game plan with your significant other. So, should you two aim to match, and if so, do you know how to match your wedding date without looking like you're headed to prom? The good news: you're no longer a teen in a rented tux. The better news? You've got Style Girlfriend on the side to help you nail your wedding fashion game.
4 tips for how to match your wedding date:*
*As guest OR groom!
How to match your wedding date tip #1 
Don't aim for exact matching
Here's the big secret about looking good with your date at weddings…the goal isn't actually to match one another at all. "His and hers" looks are for Sonny and Cher. Not a grown-ass couple witnessing their friends or family enter holy matrimony, or getting hitched themselves.
So, what to do if you (or she) wants to look like a unit? Think coordination. If she's wearing a tangerine-colored dress, why not pick up on that orange in a pin-dot tie in peach? Or a patterned sock in citrus-y hues. For more on not-matchy matching, check out this article on the "squint technique." Here at SG HQ, we call this "Destiny's Child'ing." Think of the girl and boy band groups of the '90s; they didn't usually wear the exact same outfit, but you could tell they coordinated. That's what you're aiming for.
Remember, this isn't Dancing With the Stars. But by coordinating your looks, you'll send a subtle signal to everyone there that you're there together, which she'll like. Plus, the color coordination will look good in pictures.
A caveat…
Don't match the groomsmen! If you're not in the wedding, don't wear a suit that's the same color as the bridal party (if you can help it). It's easy enough to find out the wedding colors, and avoid them so the groomsmen and bridesmaids stand out.
This is also helpful for practical reasons. When the bride's great-uncle is looking for someone to help him off the dance floor after throwing out his hip doing the electric slide, he's going to look for an "on-duty" member of the bridal party. If you don't look like the rest of the group, you won't be asked
Bottom line: Don't overthink it. You're probably going to get lucky at the end of the last dance no matter what you wear this time.
How to match your wedding date tip #2 
Follow the dress code
There's no quicker way to look like your date and you arrived not just as separate parties but from separate planets than if you dress for what looks like two different weddings.
Yes, you love that tux you bought last summer, but if it's not a black tie wedding, don't wear it if your girl is in a sundress and sandals.
And vice-versa, if this thing is black tie "optional" but she's going all-in with a long gown, don't skimp on the level of formality.
The best way to ensure you're on the same style wavelength? Talk ahead of time about the dress code and how you both plan to interpret it. If either of you is unsure of the level of decorum expected, don't be afraid to reach out to the bride or groom for their take.
Oh, and how to follow the dress code?
In recent years, wedding invitations have arrived in the mail with more and more baffling dress code suggestions. From "Dressy Casual" to "Beachy Elegant," nonsensical attire mandates have left plenty of guys scratching their heads when looking in their closets.
Your best bet? Call up your friend getting married, and just ask him what his bride wants you to wear. Seriously. It does not need to be more complicated than this. The bride will appreciate your efforts to play by her rules on her big day, and you will be handsomely rewarded for your thoughtfulness. If you're unattached, expect glowing introductions to all her pretty single friends at the wedding. If you're already entwined, you'll score post-wedding bonus points as the guy friend she doesn't mind her husband abandoning her to join at poker night/fantasy draft day/etc.
Bottom line: Better safe than style-sorry when it comes to following the dress code on the invite.
How to match your wedding date tip #3
Don't be afraid to shine
Look, there's a good chance your date will be wearing something that quite literally sparkles (sequins and crystals and glitter, oh my!), so don't be afraid to throw some flava – yes, FLAVA – into your look.
That "out there" pocket square you never get to wear? The bright socks that are a little too much for the office? This is your chance. Take it!
// Shop stand-out accessories //
How to match your wedding date tip #4 
Have fun!
And of course, the most important way to coordinate with your wedding date? Agree ahead of time to have a great time. Summer wedding season can get hectic and expensive, but hey, if you've already RSVP'd for the salmon and the sirloin, you two might as well have a good time when you get there.
The couple that looks the best out on the dance floor is always – ALWAYS – the one that's having the best time. So get out there and dance the Cupid Shuffle, do shots with the bride's mom, and make a toast (a nice one) if the mic's being passed.
Bottom line: This is a party! Go on and dress like you're planning to have a good time.
***
Want some wedding style support?

If you're ready to upgrade your wedding party style but dread the thought of shopping for them…consider having Team SG shop for you! We'll create a customized shopping plan for your style, your budget, and your body type.
Ready to seriously improve your closet and your confidence? Give us a shout.
***