4 Men's Business Casual Outfits to Wear Back at the Office
Professional, Stylish, Comfortable, Done.
The prospect of putting together men's business casual outfits that deliver on comfort, style, utility, variety…well, some mornings it can feel like a Herculean task.
Questions arise like steam from the cup of coffee in your hand while you stare vacantly into your closet.
Questions like, "Can I dress business casual and still feel like me?"
And, "How do I upgrade my style without dipping into this month's mortgage funds?"
And maybe the most important question of them all:
"What does 'business casual' mean in 2023, anyways!?"
The amorphous office dress code's definition has changed plenty over the years. In the past, it might have meant a polo and pleated chinos or ::phew:: an untucked dress shirt with 5-pocket pants.
Today, business casual feels more fluid.
From the classic Oxford shirt + knit tie + tan chinos combo to a suit sans tie, there's a wider spectrum than ever of what looks good and feels appropriate at the office.
If one thing is clear, though, it's that what once worked on-the-clock can now work off-the-clock…and vice versa!
That's good—it means more clothes in your closet to wear more of the time!
Now, onto figuring out how to put it all together.
Here are 4 business casual outfits any guy would look great wearing:

Business Casual Outfit #1
Get the look:
SG Says: Here's the thing about pleated dress pants—they're back.
Sure, but the last time you wore pleats was to your middle school dance, but don't be deterred! This look is very cool again, and it's comfortable, too.
The turtleneck and sneakers offer a "cool professor" vibe that breaks up the monotony of any office, while upgrading your business casual wardrobe.
And YES, you sure as heck can wear pleated pants with a sport coat on top if that suits you (no pun intended). Just make sure
Punch the look up with sharp-as-can-be wingtip dress boots, or wear your best black dress shoes or boots if you're feeling fancy.
Think of this as the unexpected business casual look you need to keep in your back pocket when you want to shake things up.
Business Casual Outfit #2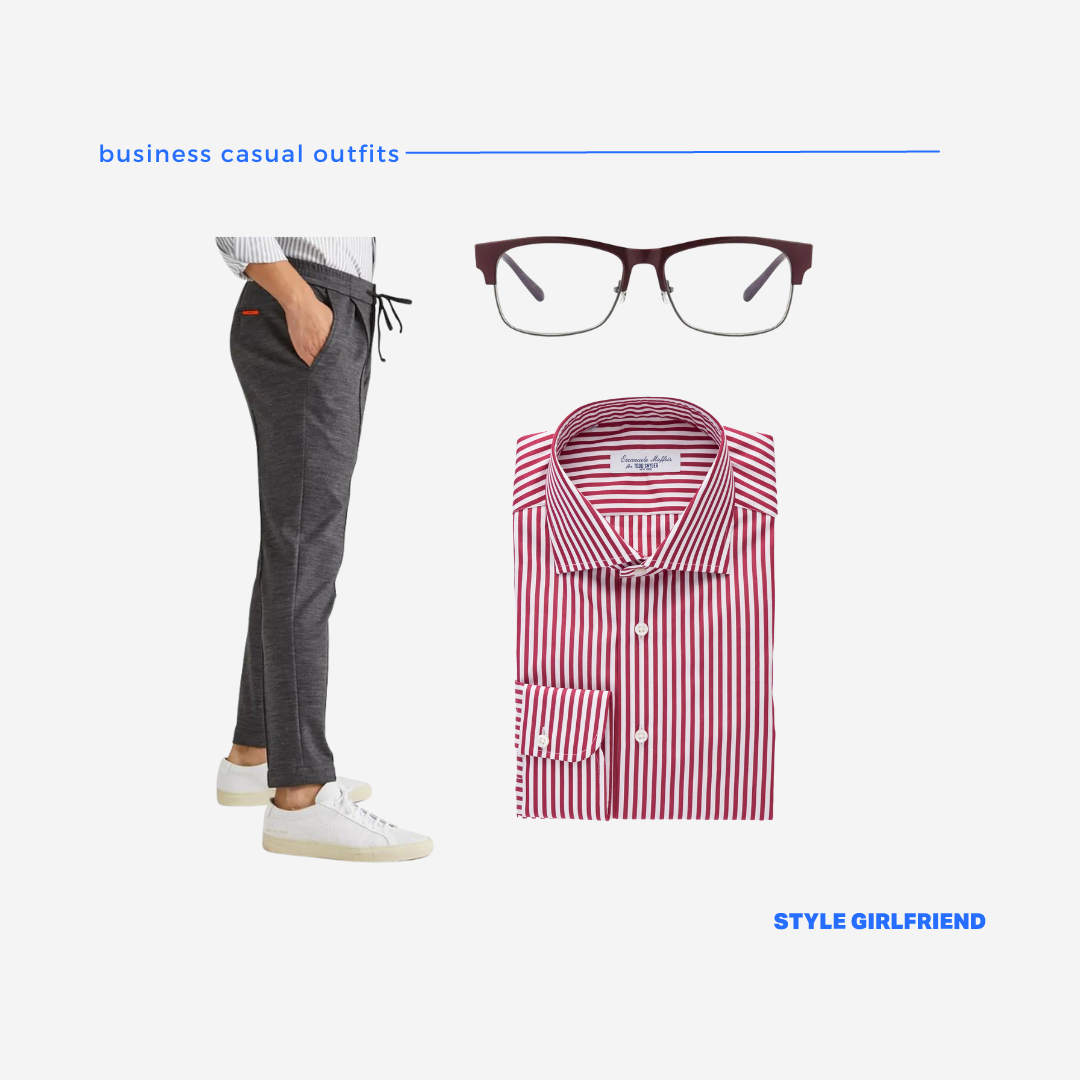 Get the look:
SG Says: Business casual can be casual so long as you don't look sloppy—which is why our team loves drawstring dress pants for guys.
This pair from Seneca hits all the right notes with a tapered fit and interior drawstring.
Think: incognito comfort, thanks to the pants' performance elements that help you feel like you're wearing sweatpants to your status meeting.
From there, roll the sleeves back on your dress shirt and and wear sneakers or loafers for a look that's crisp but not stuffy.
Business Casual Outfit #3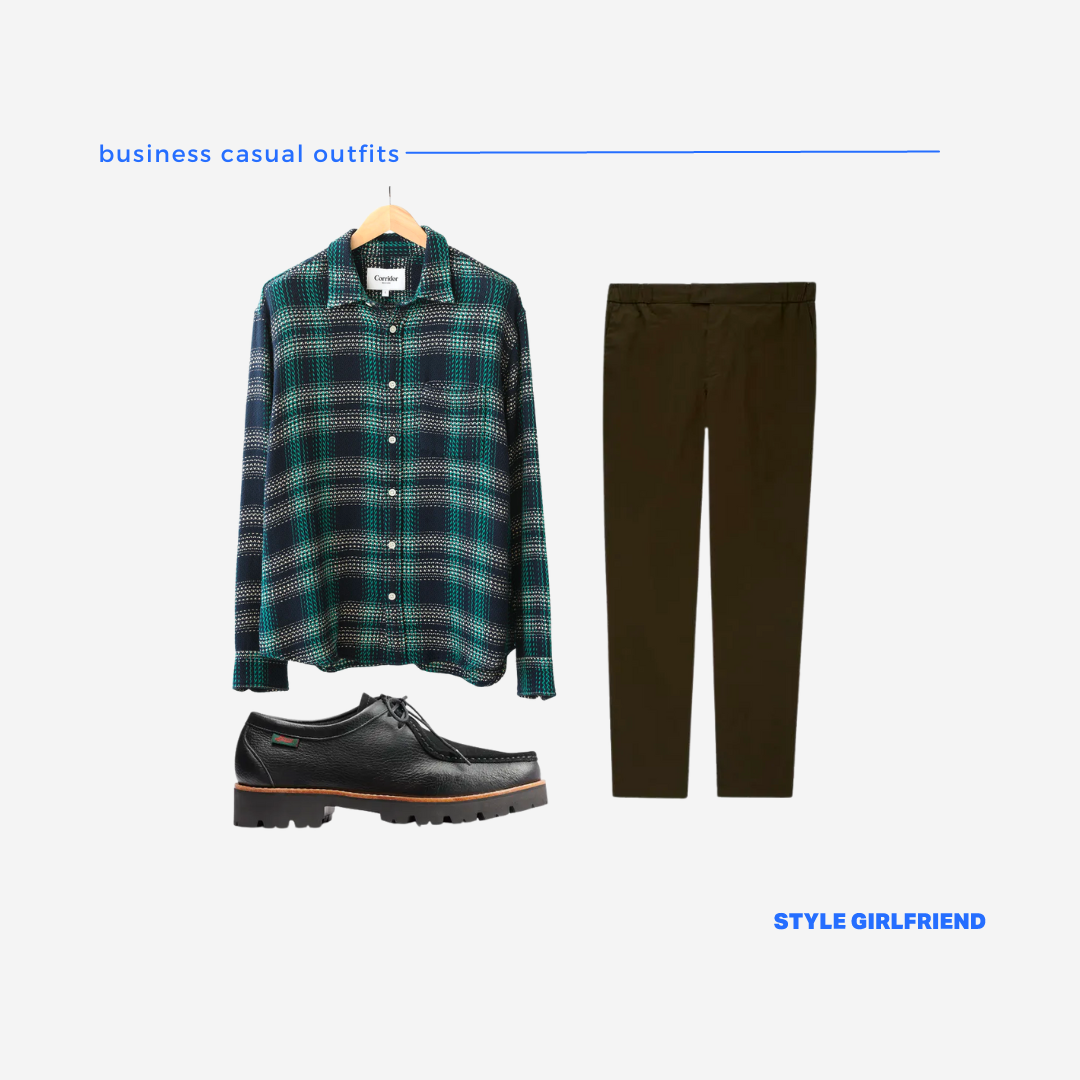 Get the look:
SG Says: Part of making business casual work for you is bringing "personal" back into personal style.
This plaid shirt from cool guy brand Corridor looks and feels one of a kind, not like a shirt every guy from accounting to marketing has in his closet.
Wear this outfit with a chunky moc to keep the look firmly in the "casual" territory of business casual.
Or, swap in more conservative lace-up dress shoes for a client meeting day.
Business Casual Outfit #4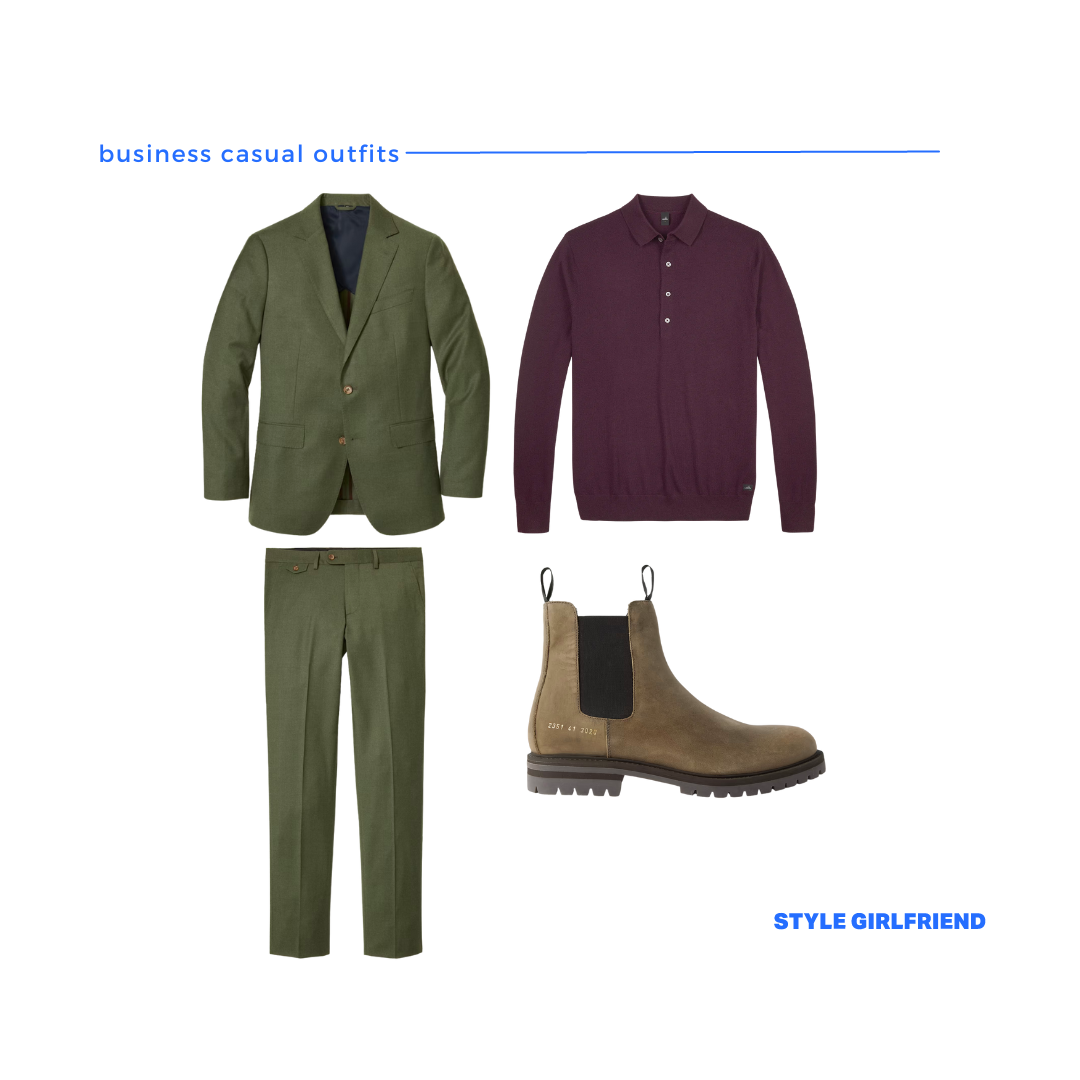 Get the look:
SG Says: Sure you've got plenty of options for a business casual look that don't involve a suit in 2023, but sometimes it's fun to throw it back!
Seriously, you can't go wrong with a beautiful wool suit worn in a way that feels totally modern and you. Like with a colorful knit polo and clompy suede boots, above.
Add and subtract layers as you please for the proper biz casual balance. Both a sleek vest and a classic denim jacket are reliable substitutes in place of the suit coat.