4 Men's Business Casual Outfits for the New Year
Professional, Stylish, Comfortable, Done.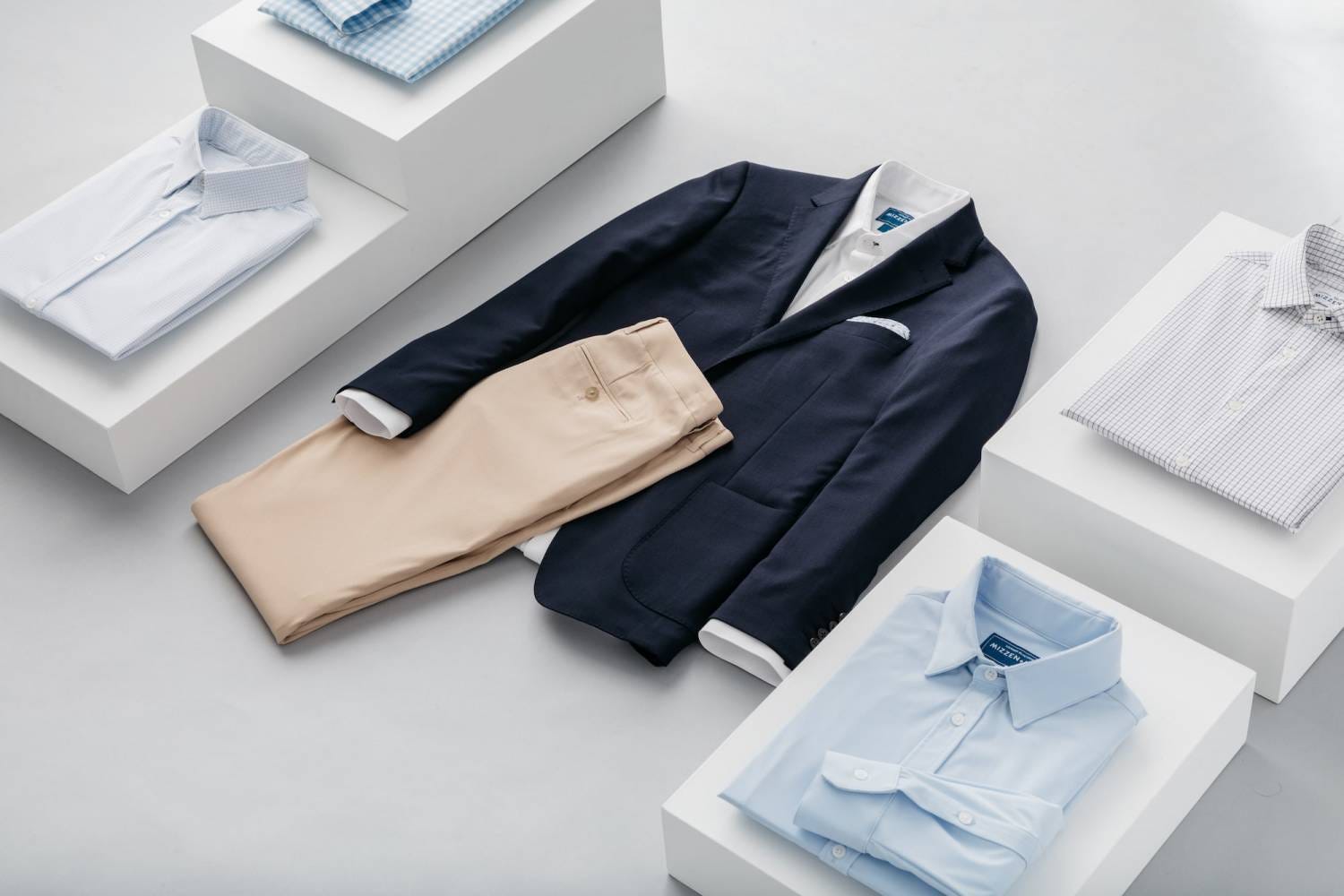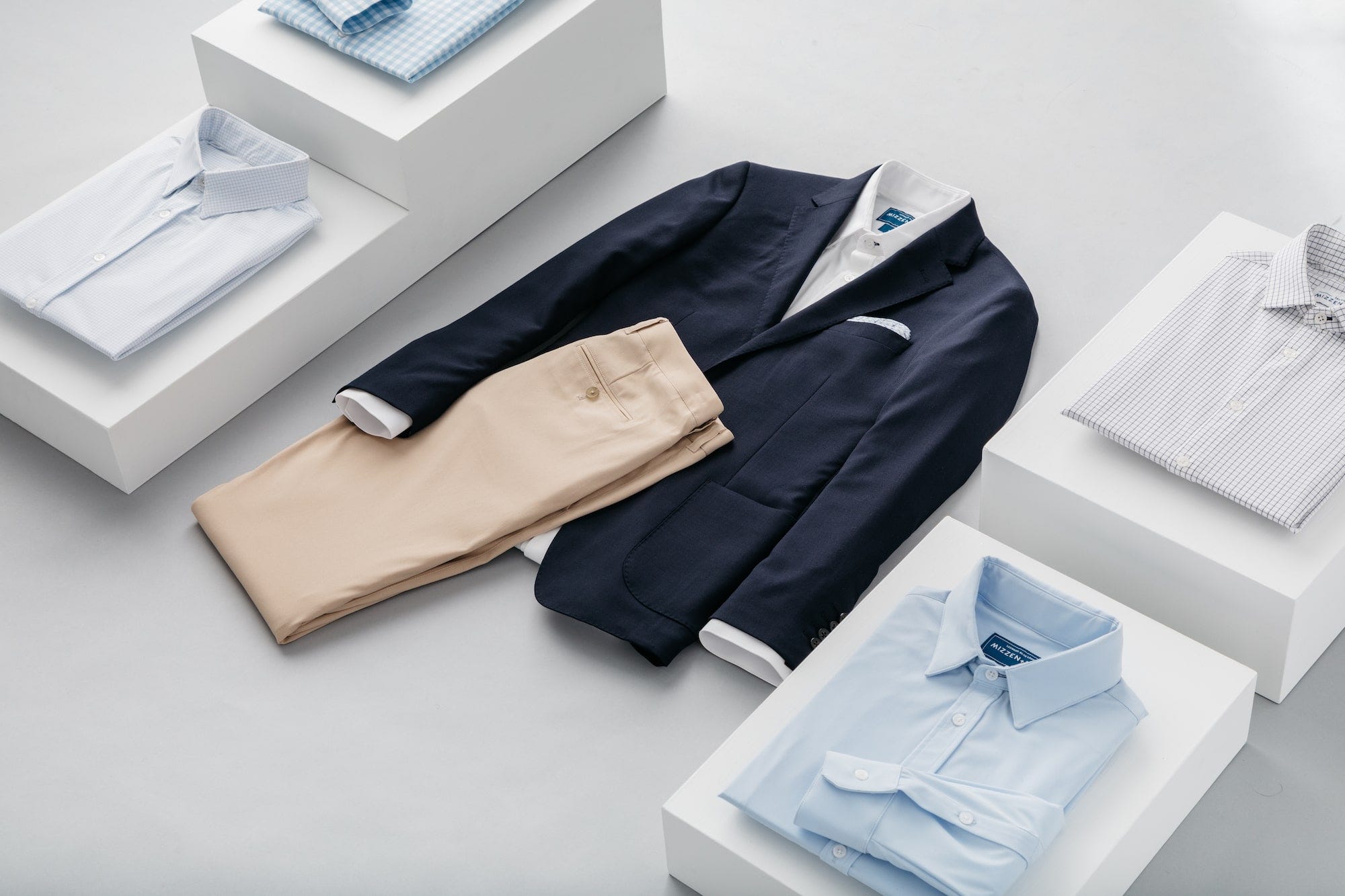 Presented by Mizzen+Main

Lock up "Best Dressed" at this year's holiday party early…

***
The prospect of putting together men's business casual outfits that deliver on comfort, style, utility, variety…well, some mornings it can feel like a Herculean task.
Questions arise like steam from the cup of coffee in your hand while you stare vacantly into your closet.
Questions like, "Can I dress business casual and still feel like me?" and "How do I upgrade my wardrobe without dipping into this month's car payment funds?" 

And maybe the most important question of them all:
"What does 'business casual' mean in 2020, anyways!?" 

The amorphous office dress code's definition has changed plenty over the years. In the past, it might have meant a polo and pleated chinos or ::phew:: an untucked dress shirt with 5-pocket pants. 

Today, business casual feels more fluid. Think: the famed (or is it infamous?) "tee-under-blazer" 'fit, for instance. Or a classic Oxford shirt + knit tie + tan chinos combo.

If one thing is clear, it's that what once worked on-the-clock can now work off-the-clock…and vice versa! That's good—more clothes in your closet to wear more of the time!
Now, onto figuring out how to put it all together.

So, where to start? In the spirit of No Jeans January, let's talk about chinos. Specifically: Mizzen+Main 's new chinos. The performance menswear company launched these bad boys just in time to amp up your wardrobe during our annual #SGapproved denim detox. So thoughtful, right?!

These pants are casual yet cool, polished yet versatile. And while they definitely look office-ready, they don't feel that way. That's because these chinos have a laundry list of benefits (quite literally, seeing as they're machine-washable), including 360-degree stretch and moisture-wicking capability. Oh, and did we mention they come in four sharp colors and retail at the ever-so-cool price of $125?
Meaning? No time like the present to amp up your men's business casual outfits wardrobe!

As for how to wear your chinos? Glad you asked.
Here are 4 business casual outfits to spark your sartorial imagination…

Look #1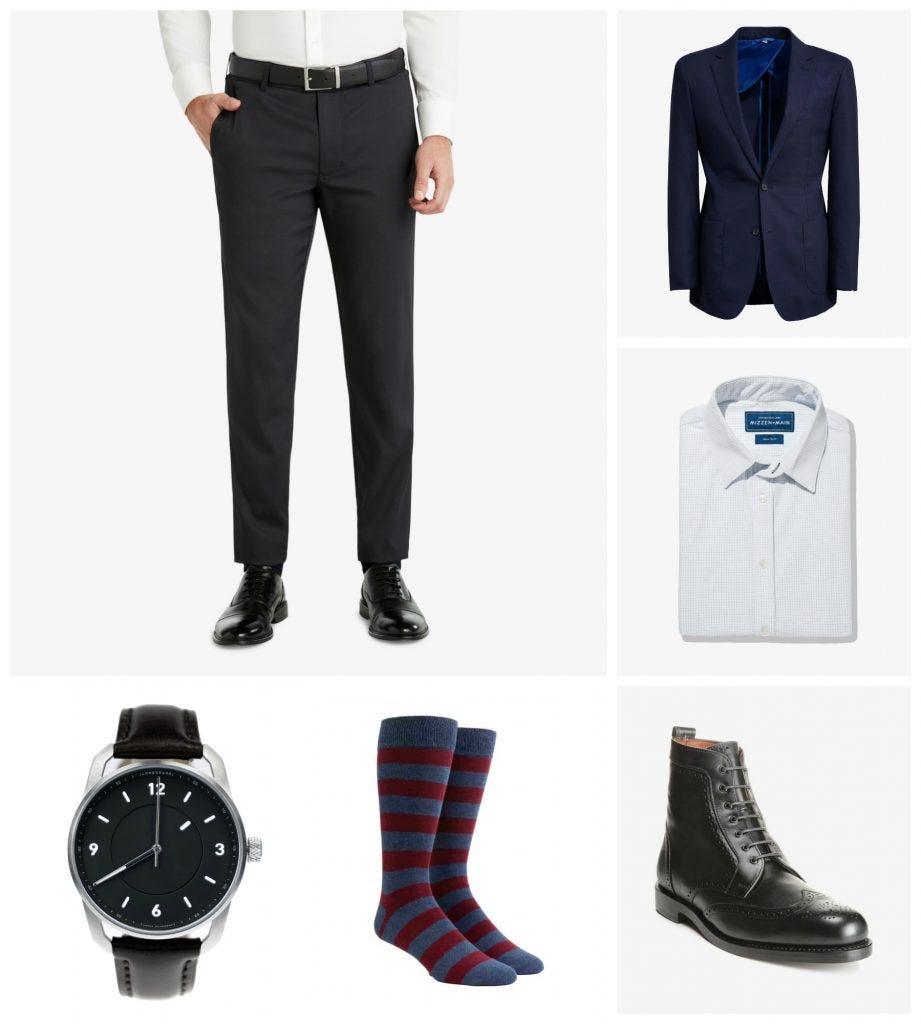 black chinos: Mizzen+Main | blazer: Mizzen+Main | shirt: Mizzen+Main
SG Says: Here's the thing about black chinos—they're unexpected, sure, but they're also underrated and worthy of consideration when it comes to upgrading your business casual wardrobe. 
And YES, you sure as heck can wear 'em with a crisp navy blazer. The color combo is nicely balanced out by a light blue mini-check dress shirt.
Punch the look up with sharp-as-can-be wingtip dress boots, or wear your best black dress shoes or boots if you're feeling fancy.
Think of this as the unexpected business casual look you need to keep in your back pocket when you want to shake things up.
Look #2
grey chinos: Mizzen+Main | shirt: Mizzen+Main
SG Says: Business casual should feel casual without looking sloppy—that's why you can get away with ditching the suit or sport coat, but keeping a more casual knit tie. From there, roll up those sleeves and add accessories as an accent. 
Mizzen's chinos tie the outfit together in a way that's crisp but not stuffy. Think: incognito comfort, thanks to those performance elements we talked about above, and the fact that these chinos come in both trim and athletic tapered fits.
The trim fit features a 15" leg opening and a slimmer finish, while the athletic tapered version features more room through the leg and sits at your natural waist.
Here's to more fits for more bodies in 2020!
Look #3
navy chinos: Mizzen+Main | shirt: Mizzen+Main | pullover: Mizzen+Main
SG Says: Navy chinos are a business casual staple for a reason y'all! Worn with a luxe, polished pullover and performance knit shirt, they're the perfect one-two punch for work. 
Wear this outfit with sneakers to keep the look firmly in the "casual" territory of business casual. Or, swap in lace-up dress shoes or boots for a client meeting day.
Look #4
khaki chinos: Mizzen+Main | shirt: Mizzen+Main | vest: Mizzen+Main
SG Says: Sure you've got plenty of options in No Jeans January for denim-free alternatives, from corduroy to joggers. But classic khaki chinos might top our list of "when you can't wear jeans" go-to's.
Seriously, you can't go wrong with wrinkle-resistant chinos that stand up to all-day wear (and, ahem, into happy hour). Add and subtract layers as you please for the proper biz casual balance. Both a sleek vest and a classic denim jacket are reliable substitutes in place of a sport coat or suit.
As for the best of the rest? Sharp leather chukka boots and a dependable watch really bring a look like this together.
***
We want to see your best men's business casual outfits! Head to Instagram and share your selfies using the hashtag #SGapproved