Outfit Inspiration: Summer Style in the City
Play hard, dress harder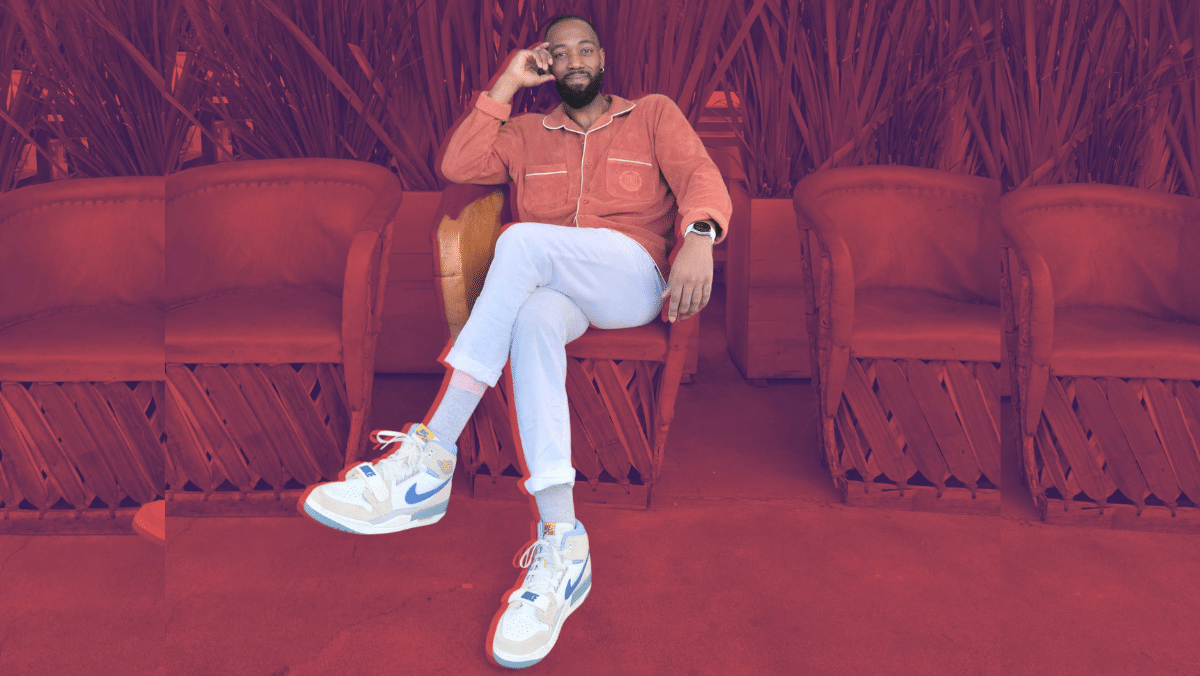 Check out a week's worth of men's street style summer outfits, in the latest installment of our "Real Guy Style" series on Style Girlfriend.
Team SG's Gabi Meyers first met Greg Wesh in high school, where the two quickly bonded over personal style that didn't quite fit in their sleepy Pennsylvania suburb.
The friends ran cross country together (no word on who holds the faster 5,000-meter record) and compared unique outfits for fun.
"I remember a field trip where he dressed up like Wesley Snipes in Blade," she told me.
Now, the two pals live cross country (Gabi in the Bay Area and Greg in New York City) and attempt to one-up the other's style from their respective IG feeds.
Below, five days of men's street style summer outfit inspiration from the ad agency account director:
Monday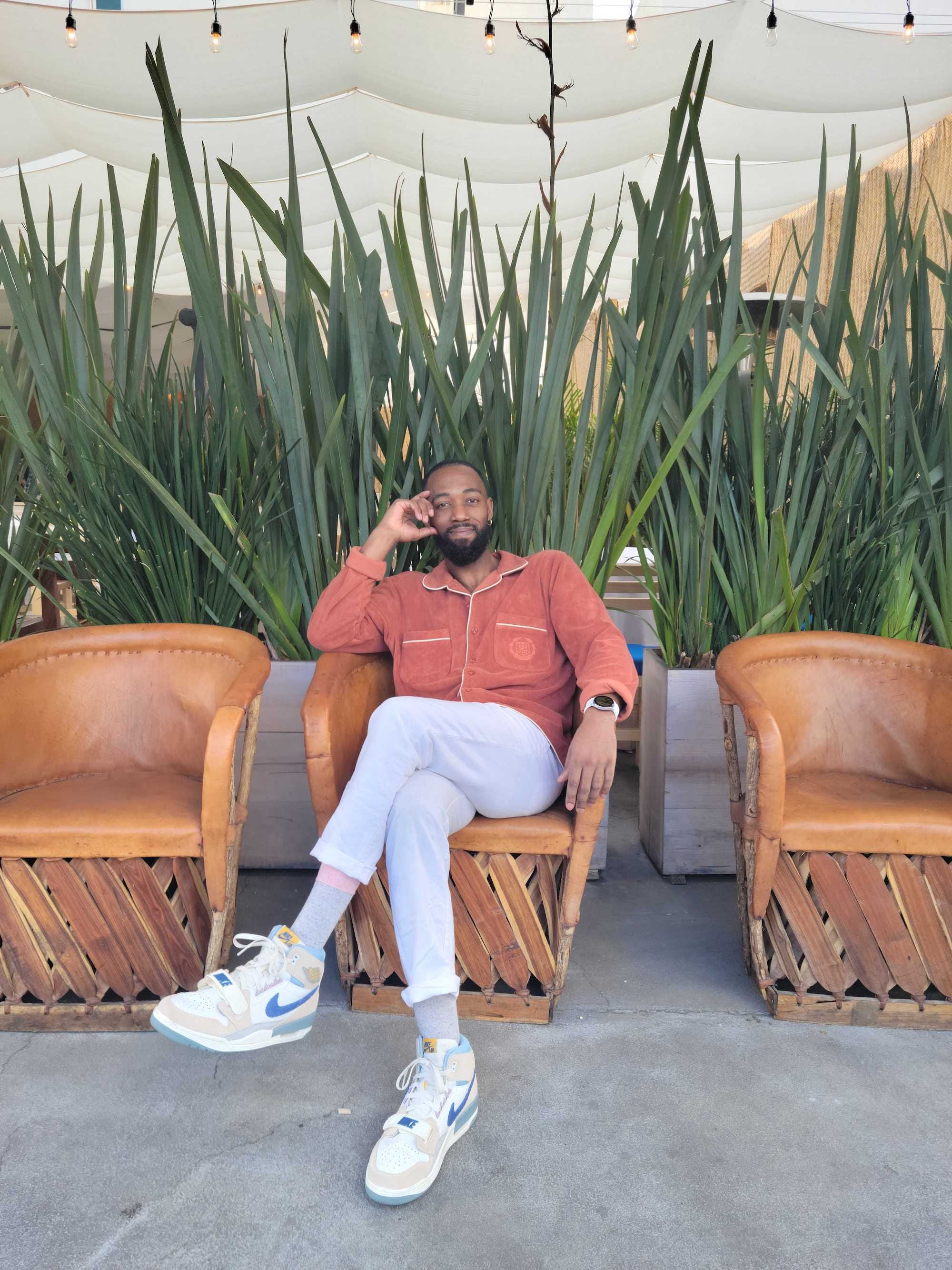 While I'm no stranger to color, I've become a big fan of a neutrals look over the past few years. That said, I still love small details like the crest on the shirt or the corduroy swoosh on my kicks (and can you tell I love corduroy?).
The shirt is from Russel Westbrook's new line Honor The Gift, basic linen trousers and Jordan Legacy 312s.
This was prior to a delicious seafood dinner in Mexico City during a work shoot. Was going for a more lowkey look as my getups generally get more "interesting" over the course of a shoot.
Tuesday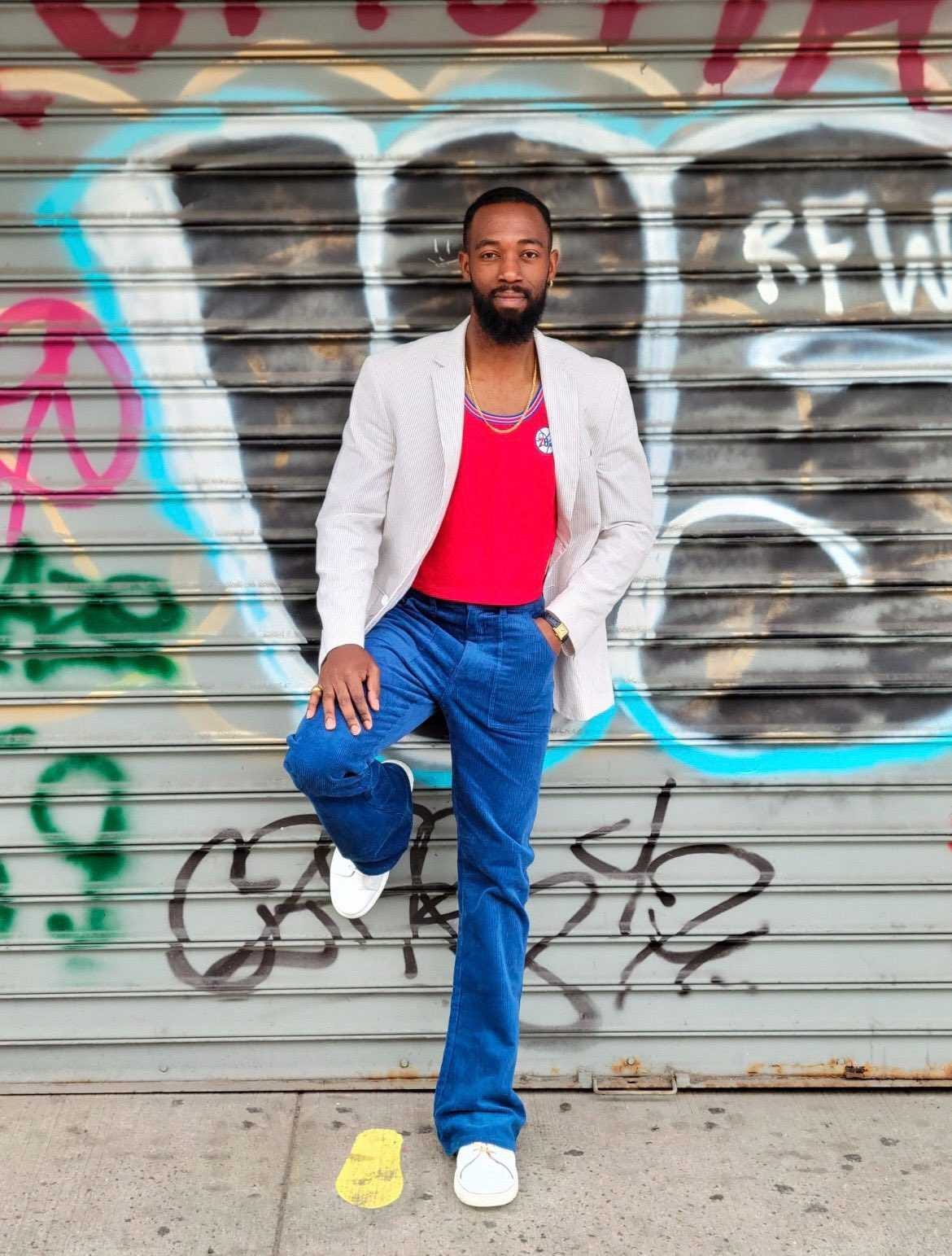 I'm very open to whatever when putting a 'fit together, which is how you end up with me wearing a thrifted Jos. A. Bank blazer, corduroy bell bottoms (from Hammies) and a cropped Sixers Mitchell & Ness Hardwood Classics pinny to a Sixers playoff game.
IMO, iconic items that you generally wouldn't see put together but, somehow, it works.
I really do only have one rule for fashion—the key to pulling it off is putting it on.
I might be onto something since we won the game…..but maybe not since we lost the series.
Wednesday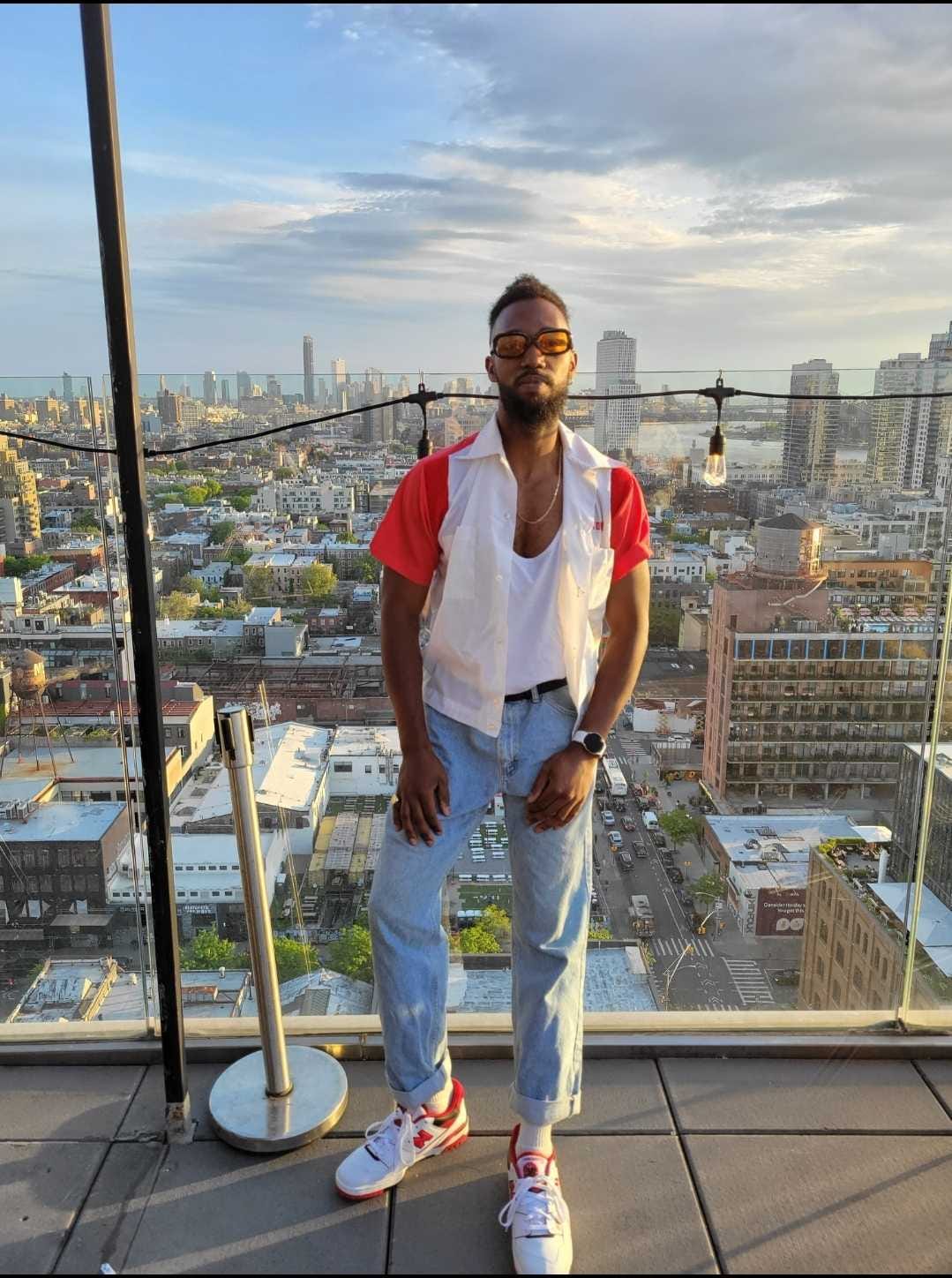 Was going for a kinda classic Americana look…minus the imperialism, racism, jingoism etc.
Am I going to a bowling league game? Perhaps going to work on a classic pickup with Sydney Sweeney (I wish)? Who knows—but a bowling shirt, tank top, washed out jeans, and some New Balances is flexible enough to do it all.
Or, in this case rooftop drinks.
Shirt is vintage thrifted in CDMX, thrifted Lee jeans, and New Balance 550s in the white and red colorway.
Thursday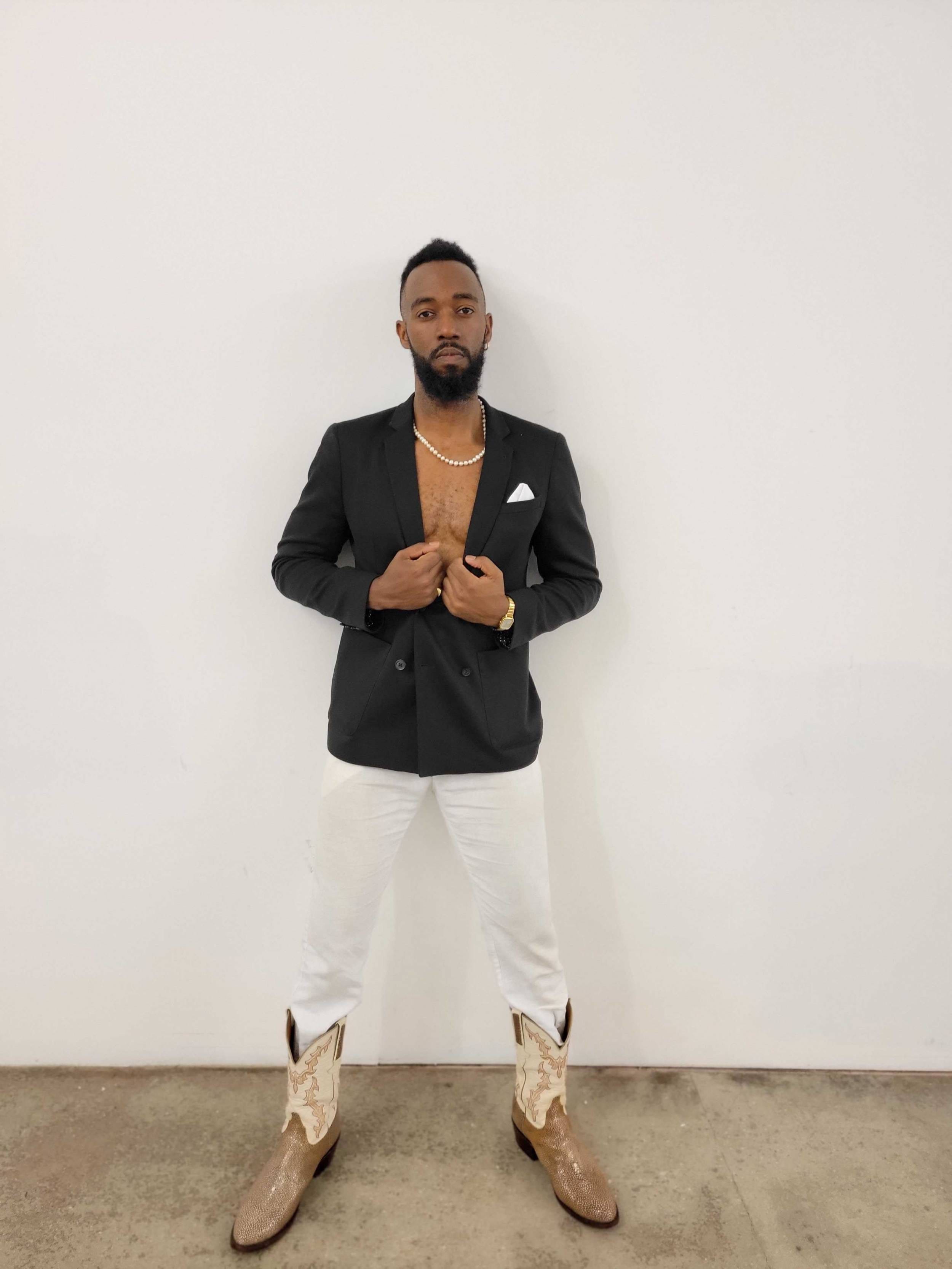 What do you do when you can't figure out what shirt to wear—turns out not wearing a shirt can be the answer.
Was headed to the agency I work at's yearly party and, due to decision paralysis, decided to put the "breast" in double-breasted.
When going the more outlandish route, I like to go relatively simple for the rest of the outfit. Maybe a few accent pieces.
In this case, we have pearls (they're not just for the girls and Harry Styles!), an ASOS double-breasted blazer, and Lucchese stingray cowboy boots (2nd hand ovbs).
All in all, I was aiming for elegant yet raunchy, and the look was a hit!
Friday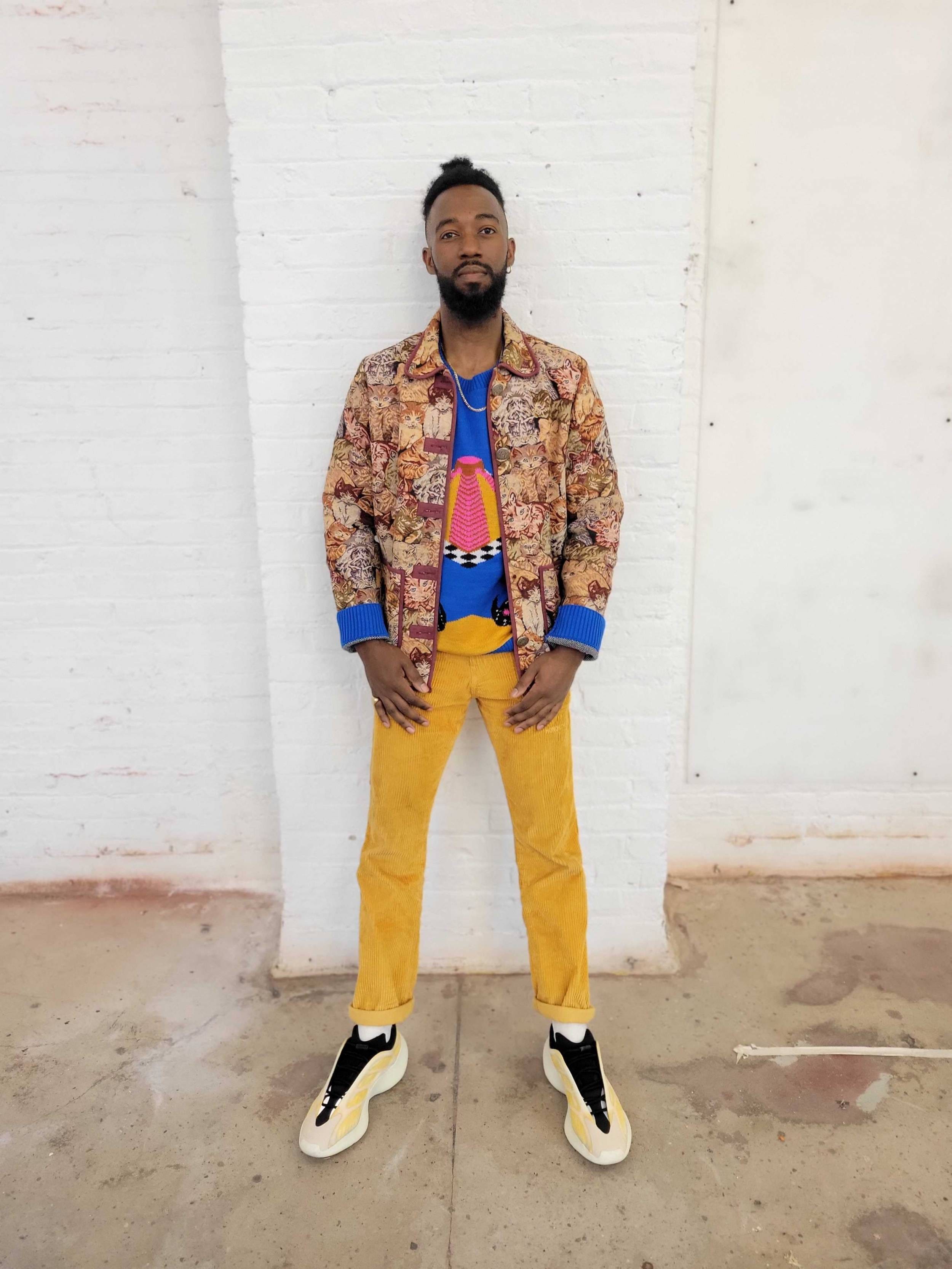 This day was picture day at my agency so I obviously was going to put something together. I love when things just work– like how the gold in my sweater perfectly aligns with my marigold pants.
My favorite piece here is the jacket, though. It belonged to someone one of my friends used to hook up with and he left it at her place so she passed it on to me.
I don't know how many jackets with unique embroidered cats are out there but, to me, it's one of a kind. Three cheers for love (?) found and love lost. Sweater is from Pay's. Pants are Honor The Gift. Shoes are Yeezy 700 V3s.
---
Greg's Style at a Glance
My style in three words
If it works!
First fashion memory
Wearing suits to church as a kid. Probably was my favorite part of church. That said– in hindsight the fits did not go as hard as I thought at the time, lol.
Favorite "splurge" clothing brand
Aimé Leon Dore. I just love everything they're doing right now. Unfortunately, it can be so hard to get a hold of their drops.
Favorite "steal" clothing brand
I actually like this brand that sells exclusively on ASOS (I know I know) called Collusion. They have a lot of interesting prints and I love pairing one of their affordable pieces to complement more high-end looks.
A man's personal style is important because…
Nothing groundbreaking here but a man's style is his cover letter. In a few milliseconds people get an idea of what's important to you, what your interests are, how you want people to see you and, sometimes, how you see yourself.
Your style can get you into a room, a conversation, a friend group, a relationship and most importantly– it can get you a cig from a rando outside a bar at 230am . Everything a man wears and does is his style and a man's style is everything.