Men's Wardrobe Essential: Navy Wool Cardigan
the layer of all layers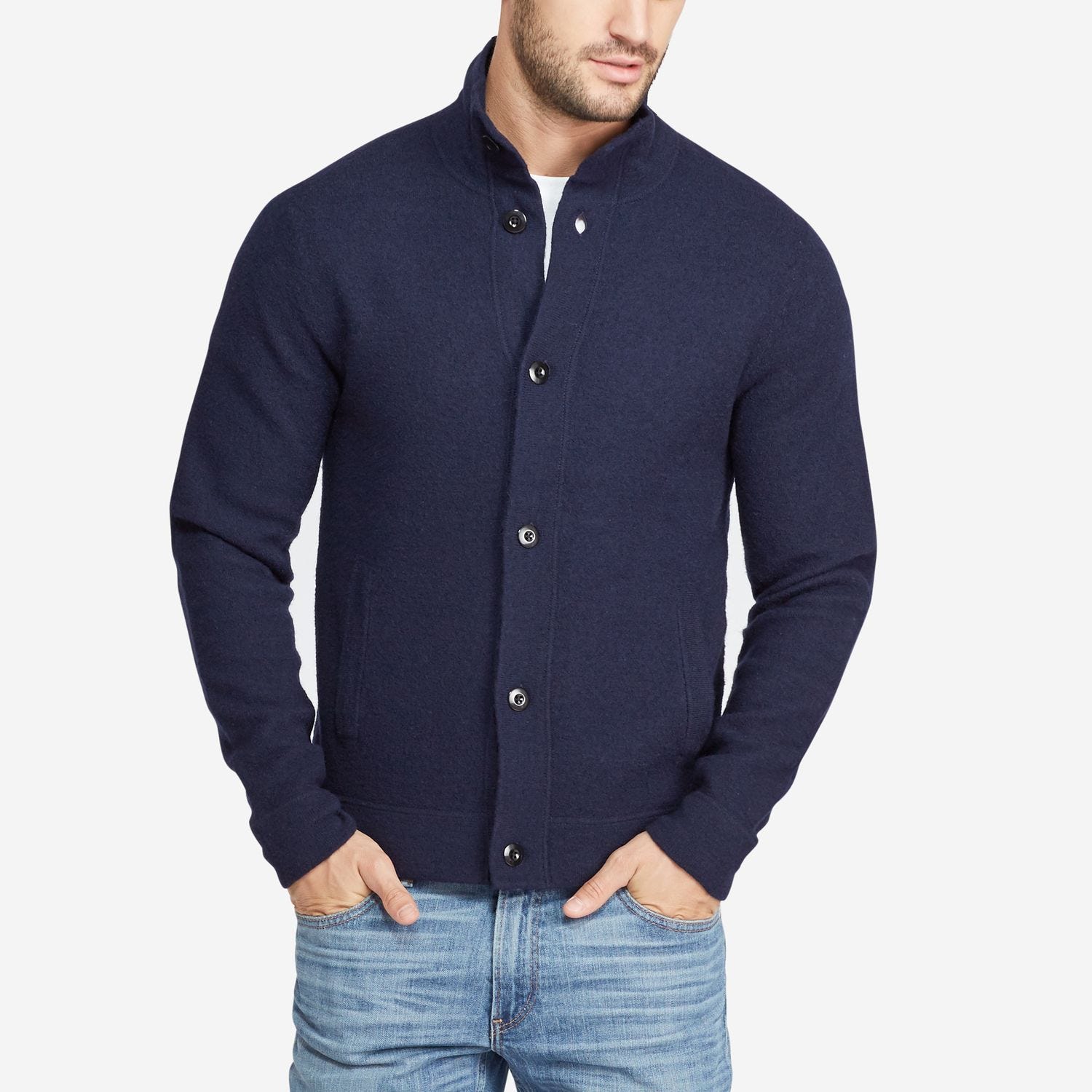 Layering can be tricky for a lot of guys. While it's a great way to elevate your style, trying to figure out if this color goes with that texture under this other layer can be frustrating. That's why a solid navy wool cardigan is a great way to dip your toe into the world of layering. It goes with literally everything in your closet and lends you a cozy bit of warmth as temperatures dip.
How to Wear It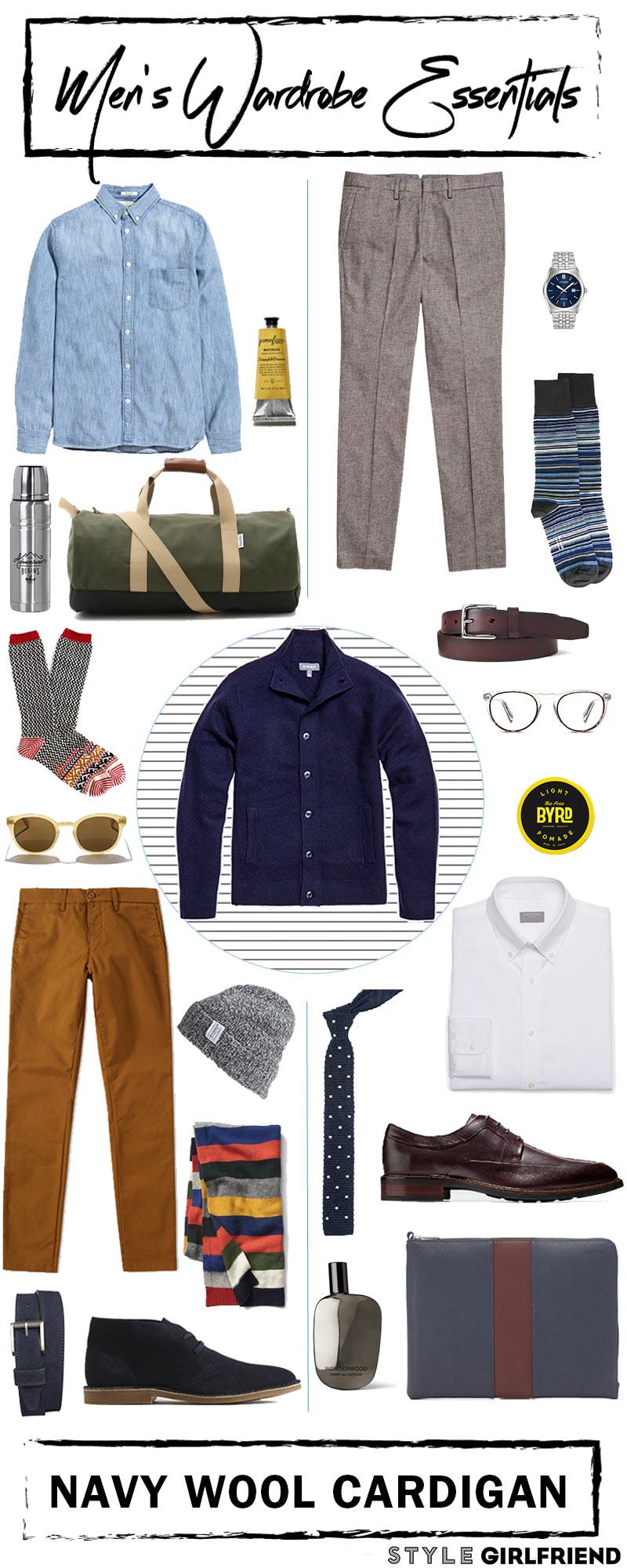 LEFT
Shirt: H&M, $30 | Chinos: Carhartt, $95 | Socks: Chup, $35
Chukkas: Jack Threads, $70 | Scarf: Gap, $27 | Belt: 1901, $50
Beanie: Barbour, $49 | Sunglasses: Saturdays NYC, $295 | Flask: Wild and Wolf, $25
Moisturizer: Triumph & Disaster, $50 | Duffel Bag: Owen and Fred, $115
RIGHT
Shirt: Club Monaco, $128 | Trousers: Bonobos, $138 | Tie: The Tie Bar, $25
Shoes: Cole Haan, $140 | Socks: Paul Smith, $30 | Gloves: Ugg, $95
Watch: Citizen, $250 | Belt: Banana Republic, $60 | Glasses: Warby Parker, $145
Hair cream: Byrd, $22 | Leather portfolio: Jack Spade, $198  | Cologne: Comme Des Garcons, $103
We cannot say this enough: WEAR A CARDIGAN WITH EVERYTHING. It goes with every outfit and only reinforces the tenor of the look.  Suit; check!  Jeans and a  t-shirt; double check!!  Chinos and an OCBD; triple check!!! If a look is dressy, it adds a little more class. If a look is casual, it adds a little more cool. The only piece that a navy cardigan doesn't pair well with is a sweatshirt, but they do very similar things. Once you find the navy cardigan that fits you best, you'll have a hard time not wearing it.
Why it's an essential
There are many materials a cardigan can come in, but your best option for this staple in cold weather is wool. Our favorite? Merino wool. It comes from merino sheep, bred specifically for their wool. It's the most commonly used textile in the world and is prized for its softness and versatility. A strain of merino wool is a small fraction of the size of a human hair, and is great for clothing worn close to the skin for a number of reasons.
First and foremost, merino wool is great at temperature regulation. It keeps the wearing warm without overheating and is naturally moisture wicking, pulling water away from the body if you begin to sweat. Merino wool, like most wools, also contains lanolin which has antibacterial properties, which keeps it from absorbing odors. Merino wool also comes in a range of weights, making it easier to find the right thickness for your climate and style. For the purposes of layering, stick to lighter weights. Something thin enough to be worn until a blazer, but not so sheer it's see-through.
Fit first
Fit can be tricky on cardigans because they need to be just big enough to go over another shirt, but thin enough to layer well under other pieces.
When looking for a cardigan, pay special attention to the sleeves and waist. Avoid cardigans with baggy sleeves as they give an unflattering bat-wing effect (nobody wants that). Look for cardigans with high armholes and slim sleeves. The weave of the wool gives it a natural stretch which will accommodate any well fitting shirt worn underneath. Search out a raglan/saddle shoulder (link to crewneck sweatshirt article), as this will make layering over the cardigan much easier.
Like the sleeves, the body of a well-fitting cardigan should be close but comfortable to the torso. As for the waist, the trick to keeping a cardigan from giving you serious visual-muffin top is actually in the bottom button. Like a vest/waistcoat, the bottom button of cardigans is to be left unbuttoned. This allows for a close fit on the torso with the appropriate drape around the hips.
TELL ME:
WHAT'S YOUR GO-TO CARDIGAN STYLE?