Shop Together or Surprise Her: Engagement Ring Shopping Etiquette
There's no right or wrong, just what's right for you two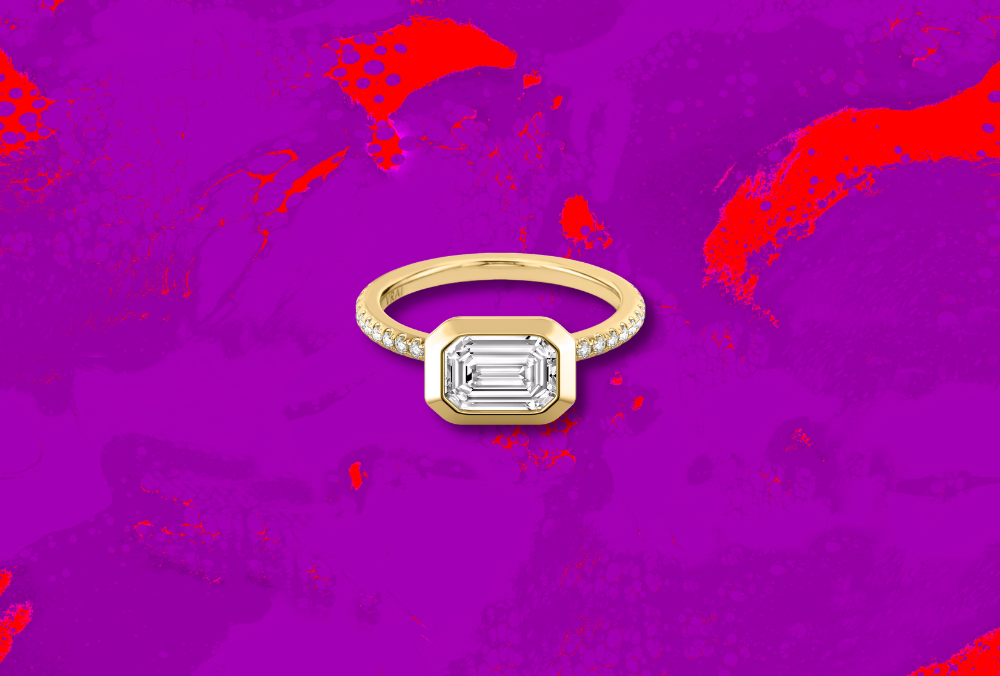 Engagement ring shopping etiquette. Shop together or surprise her? Let's discuss…
When I was younger, I always imagined that my future engagement would be a complete surprise from beginning to end.
Maybe I watched too many rom-coms like Breakfast at Tiffany's—they all had me convinced the proposal, with the world's best engagement ring, would come out of nowhere, after a big fight while we're standing in the rain wearing matching trench coats and looking for my cat (named Cat).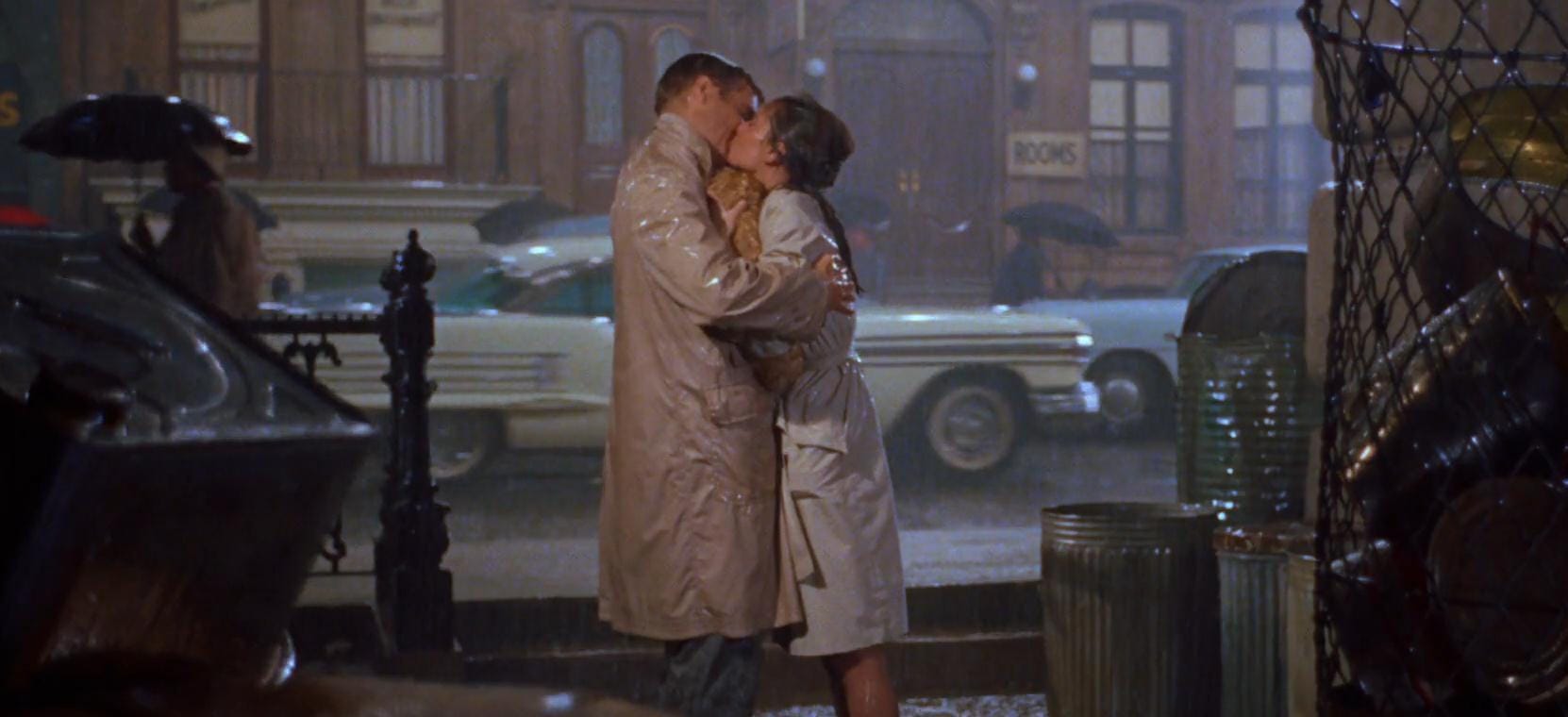 While I'm still obsessed with Audrey Hepburn and her hyper-romantic movie endings, I'm a bit more of a realist now. I know myself and my taste. So when it comes to engagement ring shopping etiquette, I'd actually prefer to shop with my guy for the perfect ring, as long as the proposal itself still has that rom-com level of surprise.
Every woman has her own dream of how you'll pop the question. And whether you find the ring together or surprise her with one she's never seen is a big part of that. There's no right or wrong way; it's about what your best gal wants.
So, I asked some real-life, marriage-minded women whether they wanted to pick out the ring with their betrothed or be surprised. Read on, and pay attention if any of these ladies sound like yours (you might learn something!)
Below, the two sides of engagement right shopping etiquette: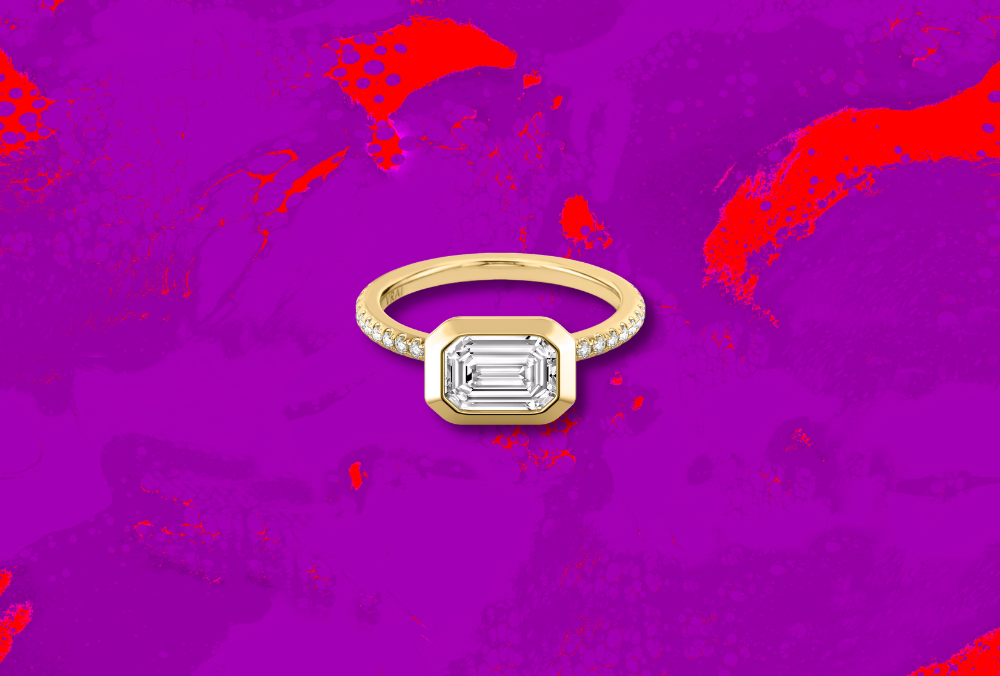 TEAM SHOP TOGETHER
First thing's first. Is it normal for couples to go engagement ring shopping together? Yes!
There are plenty of women out there who know what they want and are happy to make it easy for you to get on one knee with the perfect ring.
This bride-to-be is in for the romance of the proposal moment. But she's also aware that you might not know how to choose the exact ring she wants without a little help—and that's okay.
Not knowing a lot about rings or especially what style of ring your beloved might want is normal!
Let her take the lead if offered, and revel in the knowledge that she'll be doubly happy to get the perfect ring and her perfect guy.
"I used to think that I'd like to be surprised by the whole gesture, the ring and the engagement. But as I get older I care less about the hoopla. I'm pretty particular about my jewelry and I'd love a vintage-inspired design more than a big diamond. I love jewelry that tells a story. That gets tricky, so all in all, it would be sweet to be surprised by the engagement and then pick out the ring together. I mean that's what we do for the men, right? We pick out their wedding band together. (Equal rights!)
~ Hailey, 31
RELATED: What to Know Before You Shop
"I know exactly what kind of ring I want and so do all my friends. It's been saved on my phone since before I was serious with my boyfriend. While I love the 'idea' of a surprise, I love the idea of loving my ring more. 
~Jessica, 31
"Yeah, I really do not like to be surprised. I think the proposal can be just as romantic if I know what's in that little box or in his pocket. I care a lot about my jewelry and I am also kind of a control freak so definitely I want to choose the ring I wear. To tell you the truth, I would be cool with a pretty pavé eternity band until we could afford what I really want down the line (a princess cut with a rectangular baguette on each side!). I feel like the whole thing needs to be a shared experience, and the price and ring choice are included in that."
~ Caitlin, 30
"I don't trust my taste to not change drastically in the next year (or five!). I don't know exactly what I want, but I do know exactly what I don't want! Interestingly, I have no emotional attachment to diamonds. It's not my birthstone, it's not my favorite color, and I don't need one just because so many other women do. I'd rather have a ring set with a ruby or an emerald… Or a boulder opal or a fossil, even!
I definitely want some level of influence on the design. Like many women, I have a Pinterest board of ring inspiration and plenty of gal pals who could guide a guy in the right direction."
~ Gabi, 27
The takeaway?
There's no rule that says shopping for a ring together can't be just as romantic as surprising her with a ring you chose on your own. Engagement ring shopping etiquette is what you make of it!
Marriage is all about making decisions together. So why not begin your life together by choosing this symbol of your commitment as a couple? Cozy up on the couch and grab a laptop to browse rings, loose diamonds, and gemstones.
Pinterest makes it rill easy to save images and links together or separately of rings that represent your relationship (and bonus, no annoying in-store salespeople).
You can reference this inspo board when it's time to shop….and floor her with the big question later when she least expects it.
TEAM SURPRISE HER
Who usually picks out the engagement ring? The guy. So there's a good chance your partner is fine with you being in the driver's seat on this one.
Maybe she's a romantic, or traditional when it comes to these things.
Perhaps's she's let you know in no uncertain terms that you are in charge of the ring; she is in charge of having a manicure when you put it on her finger. This might feel like more pressure, but try to think of it as an honor. She's entrusted you with picking out of a symbol of your love that she'll treasure forever.
And don't worry – she's still dropping hints.
"Call me old-fashioned, but I love the idea of being surprised—not just with the proposal, but with the ring, too. Sure, I'll do my best to drop hints here and there about the style of ring I want, but asking for the ring you want feels a little bit like asking for the birthday present you want… It's a little tacky. The art is in the suggestion. Plus, at the end of the day, I'm marrying him, not the ring, right? So whatever he gets, I'm hoping I'm happy with!
~ Sophie, 28
"I've actually been married once before, and I got really stressed about wanting the perfect "everything" the first time around. I was leaving bridal magazines open on the kitchen table and even went so far as to "accidentally" text my soon-to-be-fiance a link to a ring, claiming I meant to send it to my sister. I drove myself crazy with the expectations, which had nothing to do with our compatibility as a couple. If I was going to do it all again, I'd let my boyfriend drive the proposal in every aspect, including the ring. I'd want the whole thing to feel more organic and romantic."
~ Beth, 36
"I just recently got engaged. I knew the basic look of the ring I wanted—an emerald-cut diamond solitaire—and had dropped a few hints to my guy whenever the subject of getting engaged came up. It seemed like he wanted a little direction but was basically determined to make the overall event a surprise, which he did! I had no idea it was coming or that he would actually pick up on my nudges about the ring style. Sure enough I was floored and the one he picked was even more stunning than I had dreamed."
~ Maria, 25
While it is true that she's marrying you not the ring, you still want her to love it, right? Be sure to look out for signs and hints your soon-to-be-fiance may be dropping along the way.
Perhaps it's a browser window left open on her computer. Perhaps it's a casual comment about a friend's ring.
If you keep your eyes and ears open you'll gain a serious appreciation for what Sophie calls, "The art of suggestion!" Or you know, you can try that whole sneaky Pinterest thing…
And if she insists she wants you to pick out the ring and she wants to be completely, utterly surprised? Either trust your gut… Or text one of the experts at James Allen who are around 24/7 to offer tips and advice.
Most women know what they want one way or the other, as you can see. Some of us want to be surprised by your choice. And some of us want to share the experience of choosing a ring with you.
Ultimately, when it comes to engagement ring shopping etiquette, neither path is more romantic than the other, and both are highly personal.
Just remember that there's no right or wrong way to get engaged—there's only what feels right for you as a couple.
Taylor Davies splits her time between NYC and Sun Valley. She loves writing about menswear, overpriced martinis in dimly lit hotel bars, and cross-country skiing. Not necessarily in that order.