4 Sandals for Men's Casual Summer Outfits
Variety is the spice of sandals life.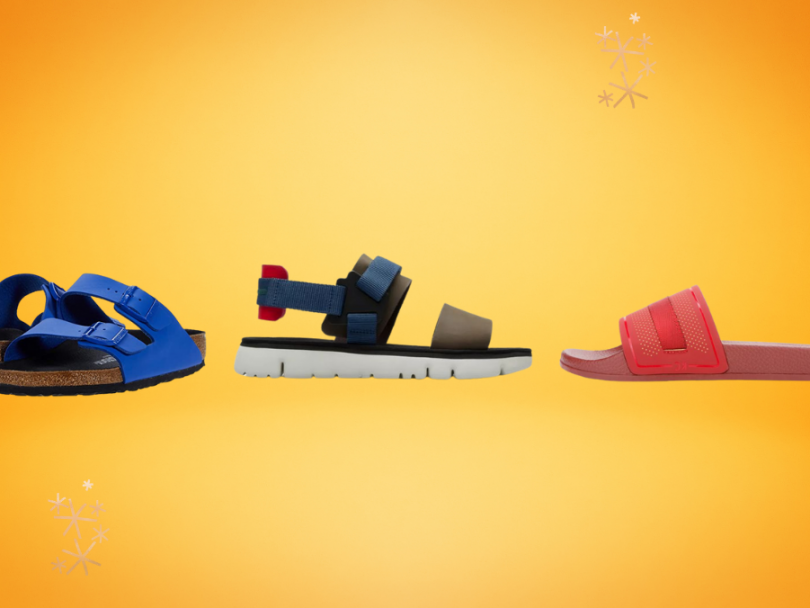 Let's set the scene. Maybe you're still working from home. Maybe you've finally given in to SG HQ clobbering you over the head with our love of Birkenstocks since this time last year. Bottom line? You're. Ready. For. Sandals.
Thankfully, there are plenty of stylish sandals for your toes to see some more sun this summer.
Believe it or not, men's sandals can be dressed up enough to wear with a button-front shirt, and make an off-duty more fashionable (not just functional).
So you're onboard with the idea of sandals, but you've got questions. Which sandals do I wear? And how do I wear them?
Also: What actually is a sandal?
This is important, so listen up. Sandals are way more than just flip flops and shower shoes!
Basically, sandals are defined as light, open shoes with straps or bands holding the sole to your foot.
Here's the good news. When it comes to sandals for men's casual summer outfits, you've got options.
Here's the better news. We're showing you our favorite men's outfits to wear with sandals this summer.
Below, check out 4 men's casual summer outfits with sandals:
Hiking Sandals
sandals: Camper | pants: NN07 | shirt: Abercrombie & Fitch | bracelet: Miansai
SG Says: When it comes to form meeting function in a summer shoe, there's not much better than a sandal you strap your feet into.
You get to wiggle your toes in the surf or the sand, while keeping the bottoms of your feet from the wear and tear of whatever you're walking over. And there's way less danger of rolling an ankle.
I love the sandals from Camper above, but obviously Teva is the OG when it comes to this style of hiking/go-everywhere sandal.
Don't be worried that they look too functional, though.
Yes, you can go super low-key in an all-black style, but you can also get funky (well, as funky as one gets with footwear) in bold colors and offbeat patterns.
Shop hiking sandals
Huarache sandals
sandals: Nisolo | shirt: Todd Snyder | necklace: Miansai | jeans: Abercrombie & Fitch
SG Says: This oh-so-cool sandal of Mexican heritage is another 2021 fave with Team SG.
The name "Huarache" derives from the Purépecha language term kwarachi, and directly translates into English as sandal (thank you Wikipedia!).
This style of sandal is perfect when you want your outfit to look and feel a bit more sophisticated and interesting. Think: a "James Bond on vacation" kind of vibe.
Shop huarache sandals
Slide sandals
sandals: Kenneth Cole | shirt: Missoni | sunglasses: Knockaround | pants: J.Crew
SG Says: Don't be afraid to wear a slide sandal away from the neighborhood pool.
With a solid color like the Kenneth Cole pair above, you can wear them the same way you would sneakers, with shorts or casual pants this summer.
Shop slide sandals
strap sandals
sandals: Birkenstock | t-shirt: Taylor Stitch | sweatshirt: Aimé Leon Dore | shorts: Fourlaps
SG Says: I love the idea of taking a pair of sandals that has hippie vibes, like Team SG's beloved Birkenstock sandals, and pairing it with an outfit that's super sporty.
It feels like something I would have loved on the cute stoner guy on the soccer team in high school. Stylish, in a not even trying kind of way.
Update the look for 2021 by skipping the hemp necklace and bloodshot eyes…
Shop strap sandals