Steal His Look: Jonah Hill
Dressing for a bigger build on or off the set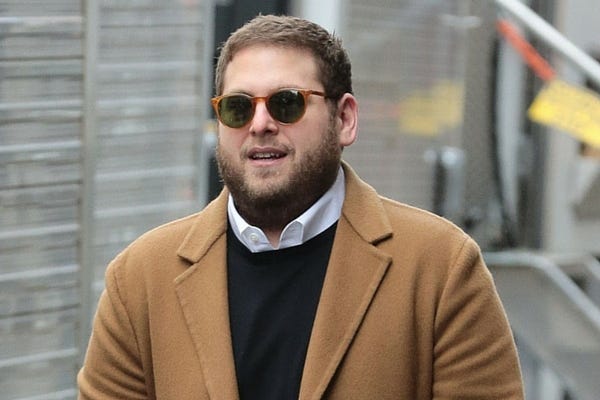 So maybe his latest appearance on SNL was – ahem – not our favorite, but we can't deny how sleek he looks in this finely tailored yet simple outfit. Coming out of his Wolf of Wallstreet and Moneyball run, it's nice to see Jonah Hill's look toned down and the focus turn to more classic styles – and a camel top coat is always a home run.
---
Get the most out of your wardrobe staples with five different looks
---
While smaller scales patterns are a flattering choice for any body type, you can't go wrong with layered solid pieces when dressing a bigger build. Fabric build up will add visual weight to your outfit, so keep to slim or straight leg chinos in a substantial fabric (a.k.a not linen) for the most streamlined effect. Chest to waist to sleeve ratio is key to properly fitting clothing on any frame and has an even more impact on larger builds. Keep your shirts, jackets, and sweaters snug to your body without pulling too tight on the garment while avoiding any billowy cuts that will add unnecessary fabric.
Take a few notes from Jonah Hill in this sleek look: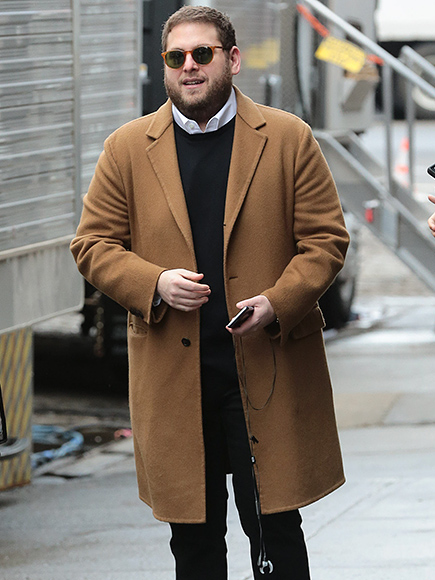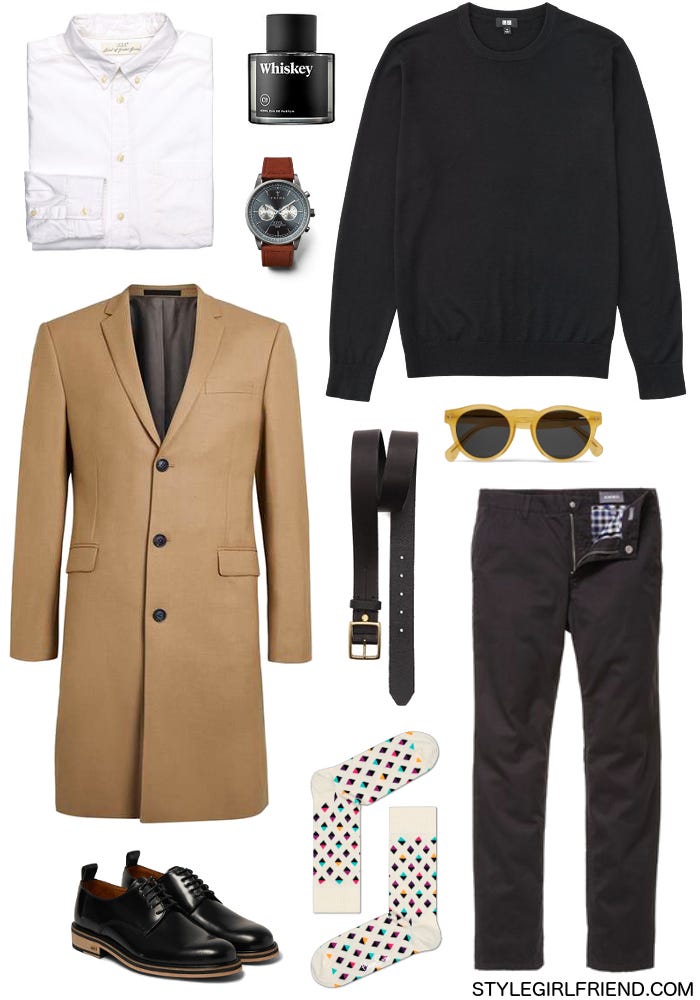 Shirt: H&M, $25 | Pants: Bonobos, $88 | Sweater: Uniqlo, $40
Coat: Topman, $250 | Socks: Happy Socks, $12 | Shoes: AMI, $530
Belt: Rag & Bone, $150 | Watch: Triwa, $295 | Cologne: Whiskey, $99
Sunglasses: Illesteva, $175
Wear it well:
Black is a universally flattering color, so if you're concerned about your build interfering with your style, you can't go wrong with a monochromatic black outfit.
The single row of buttons on this coat will draw the eye toward the middle of your body and give the illusion of a long, lean shape.
Make sure your clothes fit well – you don't want a pair of pants to be too snug, but if they hide your shape you'll appear bigger than you are. Find a good tailor and make them you're best friend.
Same with a certain brand or style that fits you well – once you find a brand that works for your body type, don't be afraid to stock up. Consistency isn't a bad thing here!
TELL ME:
HOW DO YOU DRESS FOR YOUR BODY TYPE?
Hey, let's make this thing Facebook official.