Real Guy Style: Business Analyst (and Menswear Blogger) Edwin Zee
On what makes a modern (and stylish) man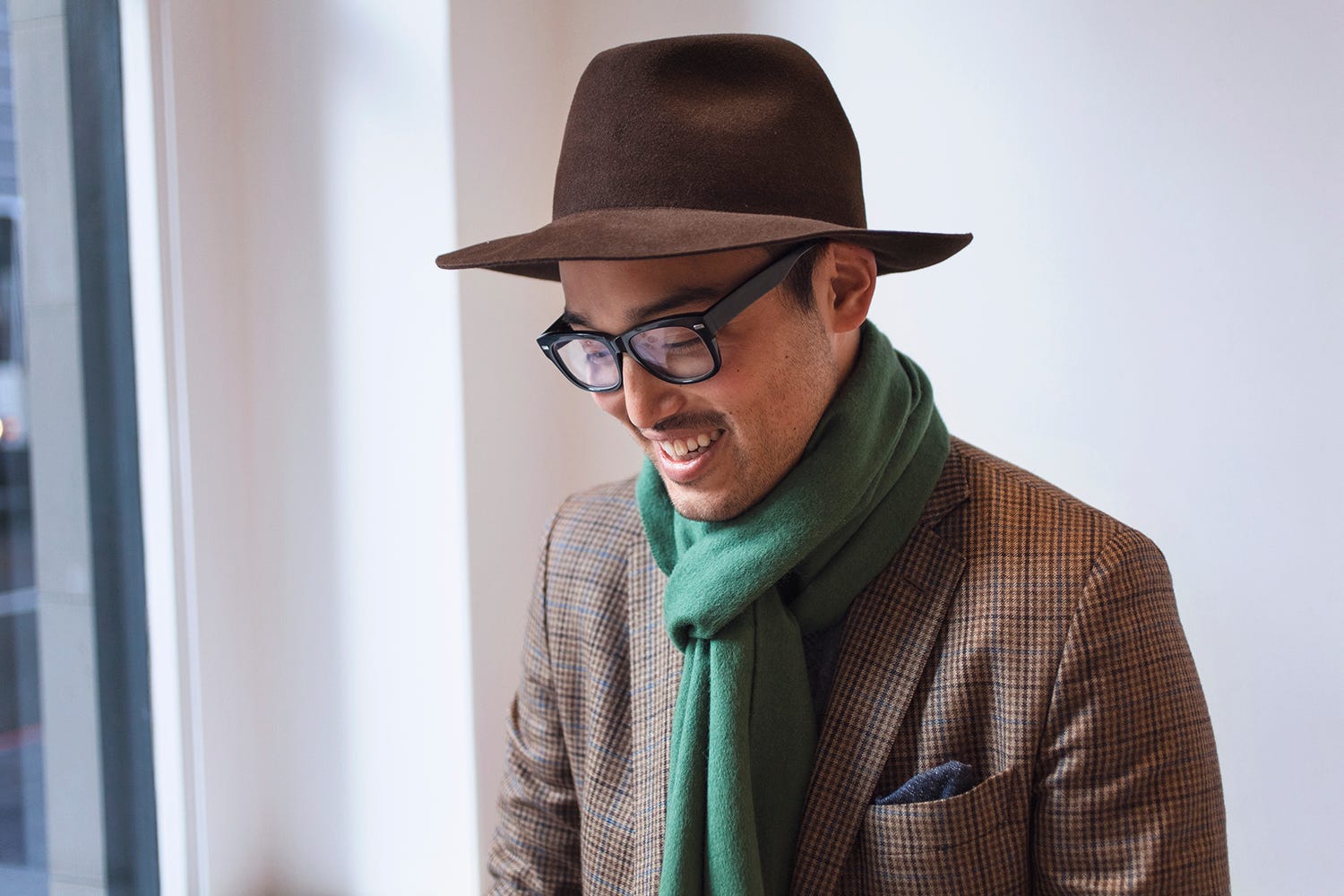 Presented by Kenneth Cole's bold fragrance for the modern man: MANKIND. Thanks for supporting the great brands that make Style Girlfriend possible!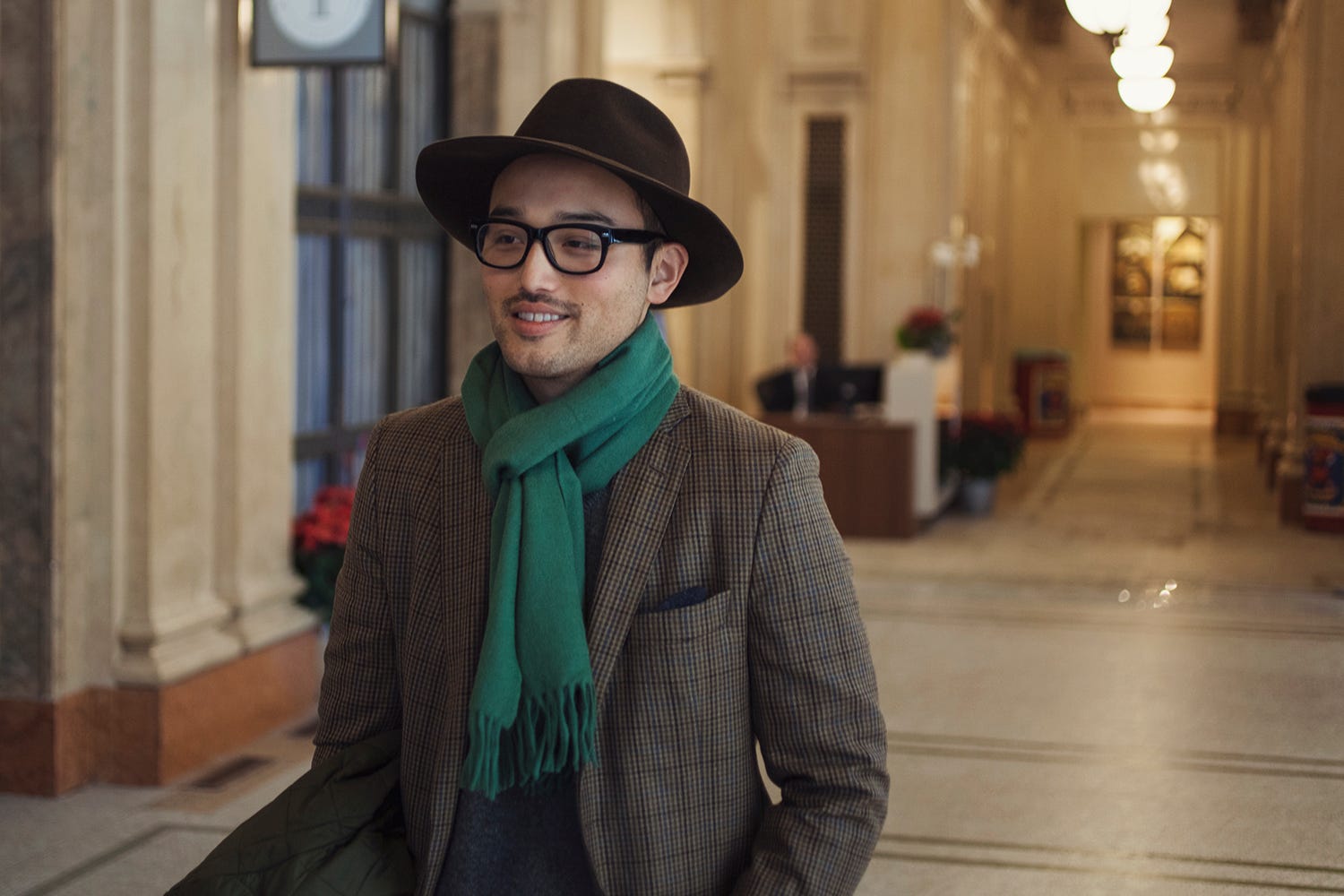 When describing his approach to style, Edwin Zee sums things up with a common saying: "You do you."
But Zee's style is anything but common.
The San Francisco-based analyst carries himself with a thoughtful, yet unassuming confidence – a confidence that makes him almost instantly likeable and easy to get to know. Zee "does him" crunching data at his desk at one of the world's most successful gaming companies (Nintendo…maybe you've heard of it?), performing on the improv stages of San Francisco, and adopting a style-positive stance in a sea of start-up "meh's."
Rather than a schlubby hoodie and scuffed sneakers – the un-official uniform of the Bay Area's startup culture – I find the sometimes-menswear blogger on a rainy morning drinking a Blue Bottle Americano, and wearing a sharp wool coat, knit sweater, and a well-worn Brooks Brothers oxford. A quilted Barbour jacket sits folded over his arm.
I'm instantly jealous of the umbrella he's holding, a basic black and wood number that looks like something you'd wish your grandfather had passed down to you – and quite possibly made himself. It's the kind of chilly, wet morning where a scarf and hat make sense, and Edwin is pulling his off effortlessly.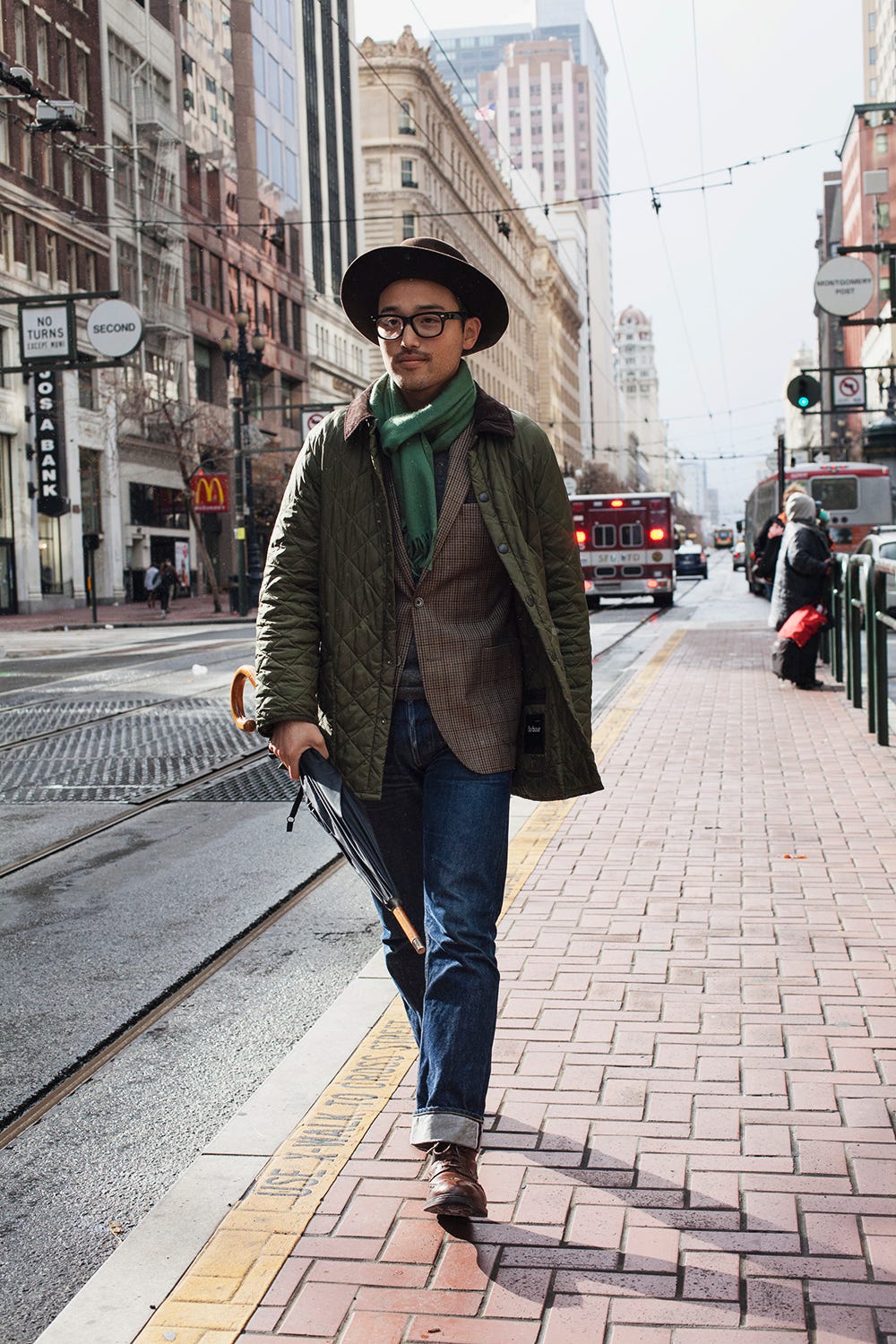 For Zee, style is about "finding clothes that you both feel comfortable in, and express who you are." It's because of this attitude that his more dressed-up vibe feels authentic even among the casual masses of northern California.
When asked if he considers himself the "modern man" Kenneth Cole MANKIND was created for, he agrees and shares his own definition. "Treat people with respect and compassion, take responsibility for your actions (both good and bad), and don't take yourself too seriously. But really, just don't be a d*ck." Words to live by, if there ever were any.
He's just moved from the city's Tenderloin neighborhood across the bay to Berkeley, and he and his wife are still unpacking. He donated much of what he owned, including a lot of clothes he had been holding on to that no longer fit into his lifestyle or aesthetic. Looking back, he counts the purge as an invaluable exercise, forcing him to consider what he really needed in his life.
This essentialism has bled into his approach to style and shopping.
"Now, I try to make a conscious effort to ask myself, 'Does this fit me? Is this something I'll wear five years from now?' And even, 'Is this something that will last for five years?'"
He admits that he might spend a little more money on clothes now, but if he knows that piece will really go the distance in his wardrobe, it's easier to justify the price. He's a business analyst, after all, so I trust his logic.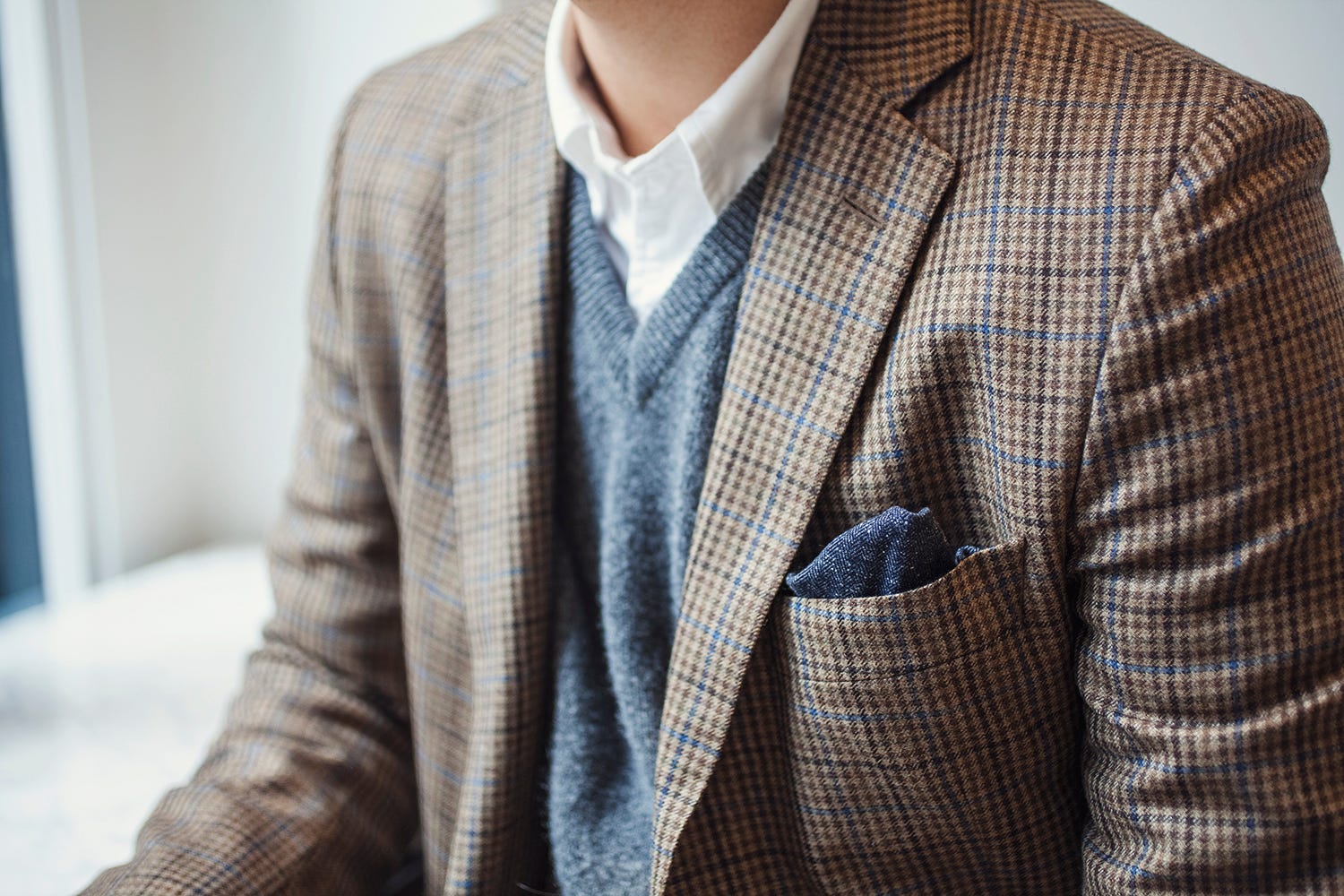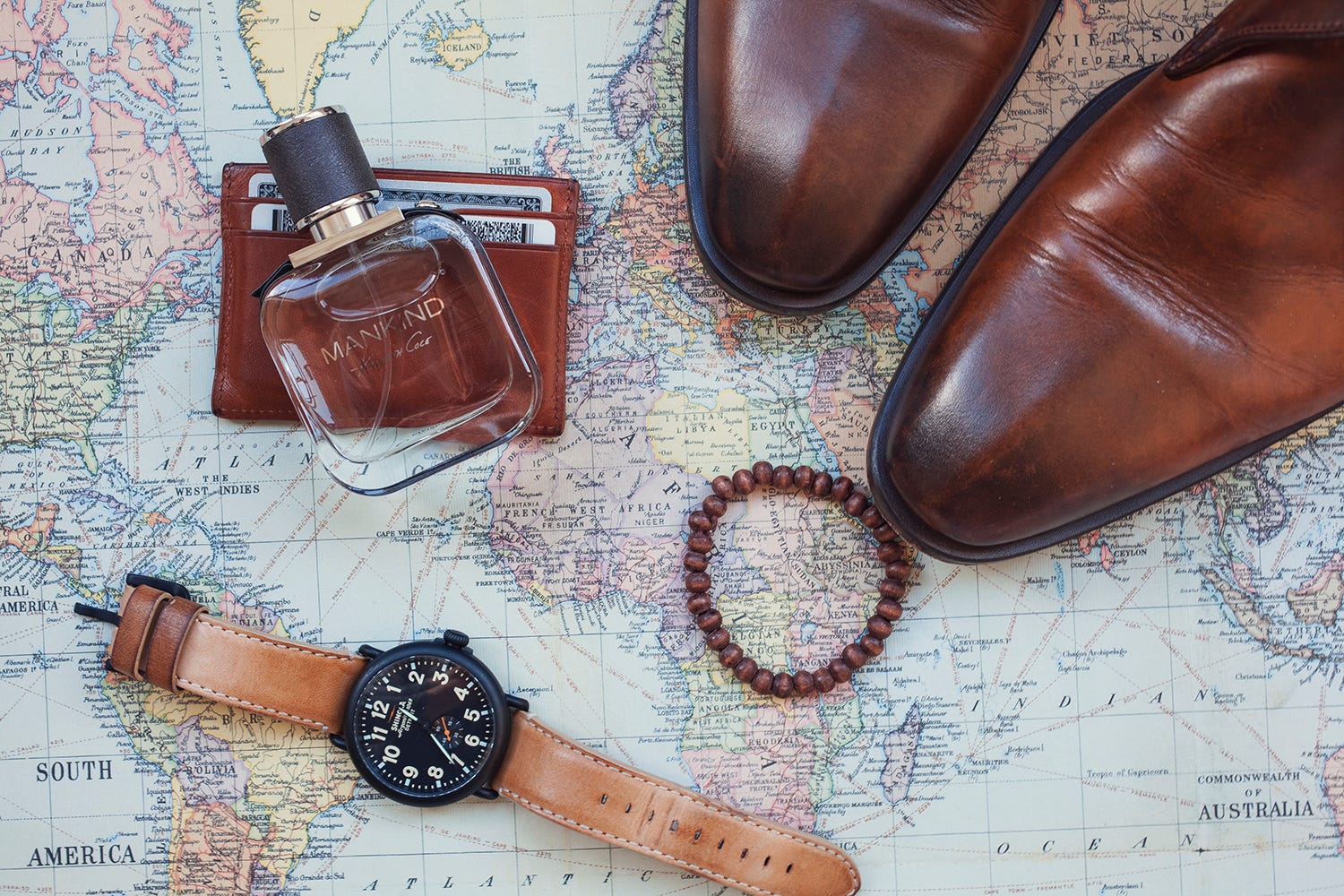 Edwin's Style Profile
My style in three words (or less!)
Don't forget pants.
My first "fashion" memory
When I graduated from high school, my dad gave me the white dinner jacket he got married in. At that age, I was rather careless with my clothes but this was something I felt I should treat with more respect. I ended up wearing it to my own wedding two months ago.
Ugly sweater parties: Suit up, or skip 'em?
If a party sounds fun and you want to go, just go. But just don't be that guy on his high horse that shows up in a suit or something else formal because he refuses to wear an ugly sweater based on something he read in GQ. Nobody likes that guy.
Holiday party outfit go-to:
Red tweed sports coat, grey flannel trousers, white OCBD, and black knit tie.
Favorite "splurge" clothing brand
I like spending more in my footwear, like Carmina and Crockett & Jones.
Favorite "steal" clothing brand
A man's personal style is important because…
Unless you're on a nude resort, clothes are generally mandatory, so you might as well look your best.
Shop the post:
[show_shopthepost_widget id="1277852″]
TELL ME:
WHAT PIECES HAVE YOU HELD ONTO THE LONGEST, AND WHEN DO YOU SHOP FOR CLASSIC PIECES OVER TRENDY STYLES?
Want more Style in Real Life? See how an Indiana distiller, film producer and new dad, NYC art director, and Midwest-based menswer designer live in style.