Style in Real Life: Adam Liebman
A serial start-up guy on style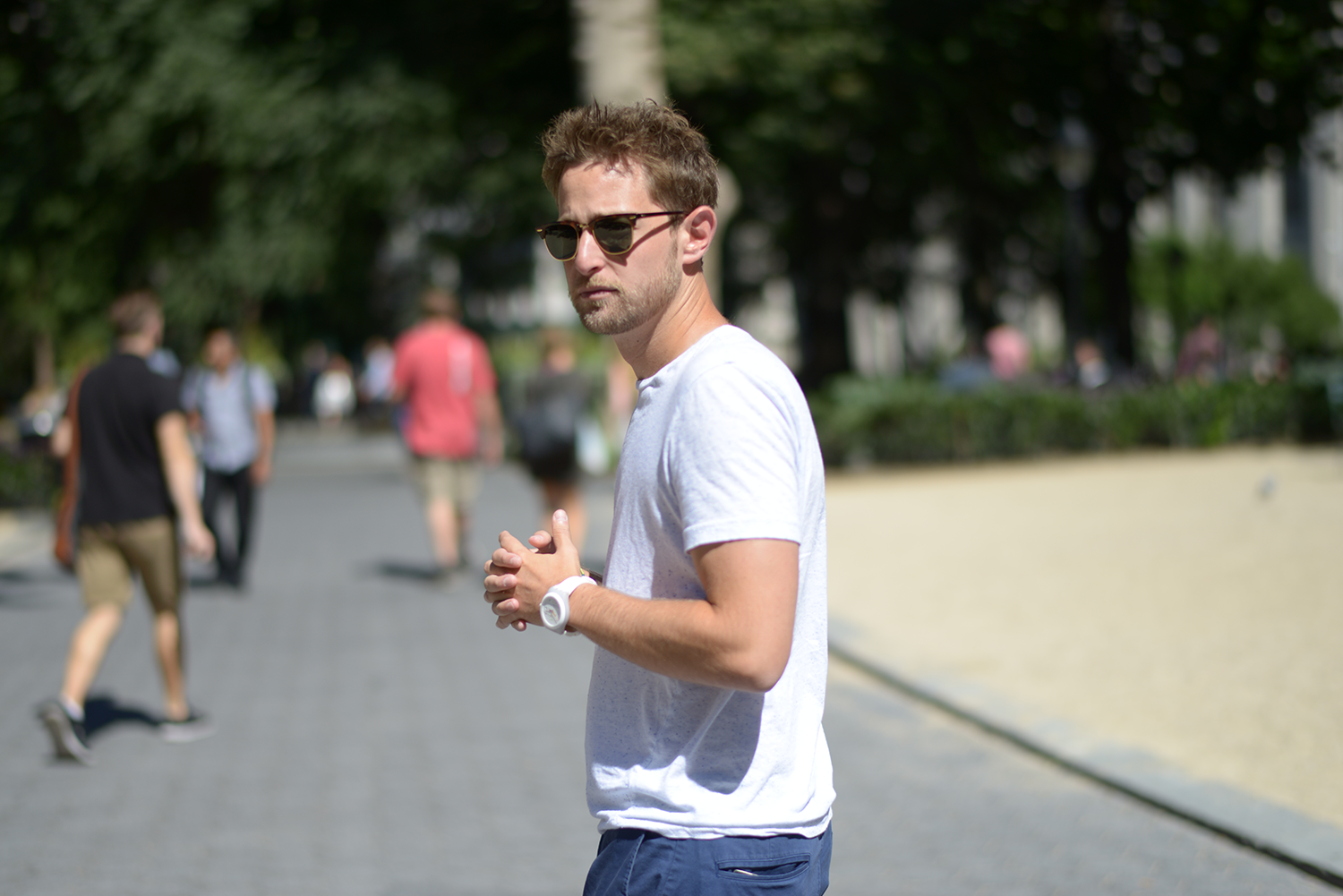 Adam Liebman is a jeans-and-t-shirt kind of guy, and he makes no apologies for it. Even after more than seven years in New York City, his professional life in the world of tech and startups has allowed him to maintain what might be the most appropriately low-key wardrobe on the island of Manhattan.
Like successful presidential candidates, Adam is the kind of guy you'd want to sit and have a drink with. As we post up for a couple of whiskeys in Columbus Circle (his, Bulleit on the rocks; mine, Four Roses and Cider), it's easy to see that his personality and his personal style are well aligned: both could be described as comfortable, purposeful and well, fun.
He jumps from topic to topic easily, rarely fumbling over his words, which makes sense when I learn that he once dreamed of becoming a sportscaster for ESPN. After studying broadcast journalism in college, though, he eventually found his calling in tech.
Adam just launched Squad, an app you might best describe as the swipe-happy, low-pressure lovechild of networking sites and dating apps that have come before it.
"We created Squad to provide a middle ground between those options," he explains. Romantic connections are certainly possible, but not necessarily the goal. Users join up with their friends to form a—you guessed it—squad, and then swipe left or right to match with other squads nearby. From there you have 24 hours to make plans and meet up in person.
"There is one thing I always notice," he offers when we start talking about what makes a potential match appealing on swipe-driven apps. "I like those Herve Leger dresses." When I commend his correct pronunciation, he laughs. "Well, when you say it phonetically, someone will correct you. I guess I'm learning!"
The conversation drifts to shoes, and we talk about how much they can reveal about a person. We touch on loafers, "pointy toe leopard things," and then he proclaims his love for a girl in Nike Air Max sneakers, but "sneels," not so much. At this point I had to stop him because I had no idea what he was talking about. "Sneels!" he repeats, as if to clarify. "You know, a sneaker heel." I had never heard the term before—and I'm a fashion writer. (I'm fairly certain most women call them a sneaker-wedge, in case you were curious.)
This sort of silly exchange about women's fashion actually reveals a lot about how Liebman, a newly minted founder and CEO of a tech company, relates to style. He knows enough, and he certainly doesn't take it too seriously. There's also a chance he's using a word that's totally cutting-edge, and that's why none of us has ever heard it before.
Below, Adam Liebman and his real life style: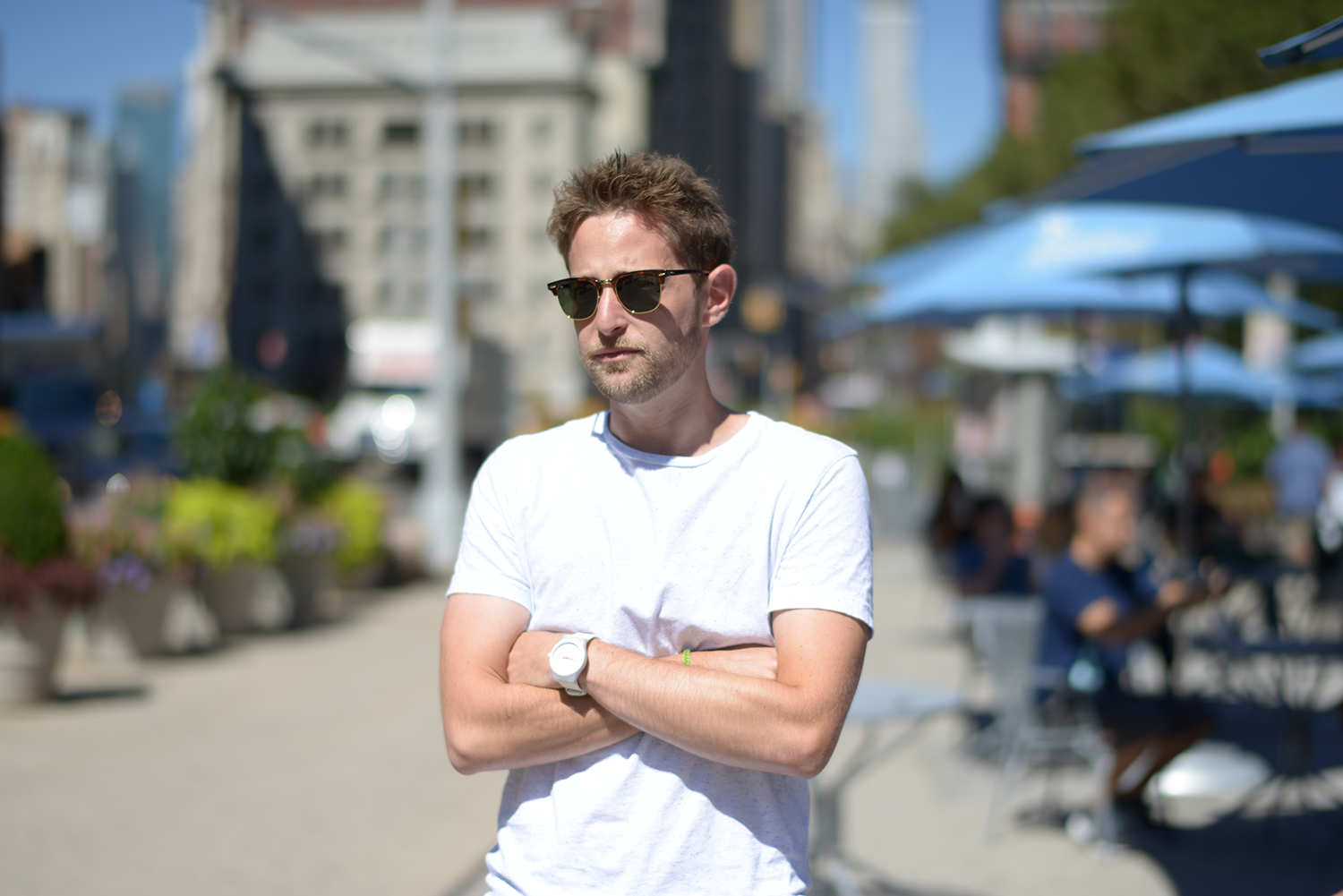 On his style evolution:
I do think I've learned some things along the way, especially being in New York for the past seven-plus years, watching very stylish people all the time. There's no style like style in New York.
When I first moved to the city, my job was at a technology startup, and you could kind of wear whatever you wanted. I was really into cargo shorts…there may or may not have been a lot of t-shirts from fraternity parties…I don't know. I basically kept showing up to work looking like I was in college, but in that environment, I fit in.
Once I started climbing the ladder at my company, I remember the president called me in. He said, "We've gotta do something about the way you dress." He gave me that cliche advice to "dress for the job you want, not the job you have." I went and bought every dress shirt at Express, and a lot of sweaters. From there, it evolved further, to Banana Republic and J. Crew.
On the importance of setting a tone:
Today, as CEO, I want to set a certain tone for my team, and be someone that they look up to. Most of the time it's nice jeans, a button down or even a nicer t-shirt. My go-to right now are Thomas Pink casual shirts, because they fit me really well and are easy to dress up or down.
On the brilliance of tailoring:
Unfortunately I didn't figure out how important tailoring was until a couple of years ago. For so long I thought you just bought jeans that fit your waist, and if they were too long…well, they were just too long. It's so amazing how much those little details change things—you can go from a schlub to "holy shit" just by making sure your jeans fit right.
The tech guy vs. the suit:
I own a couple of decent suits, but they're certainly not "nice." They're very all-purpose, grey and blue. However, I can't even tell you the last time I wore either of them, maybe at a rehearsal dinner. I try to never be in a situation where I need to be in a suit—unless it's a wedding and I'm in a tuxedo.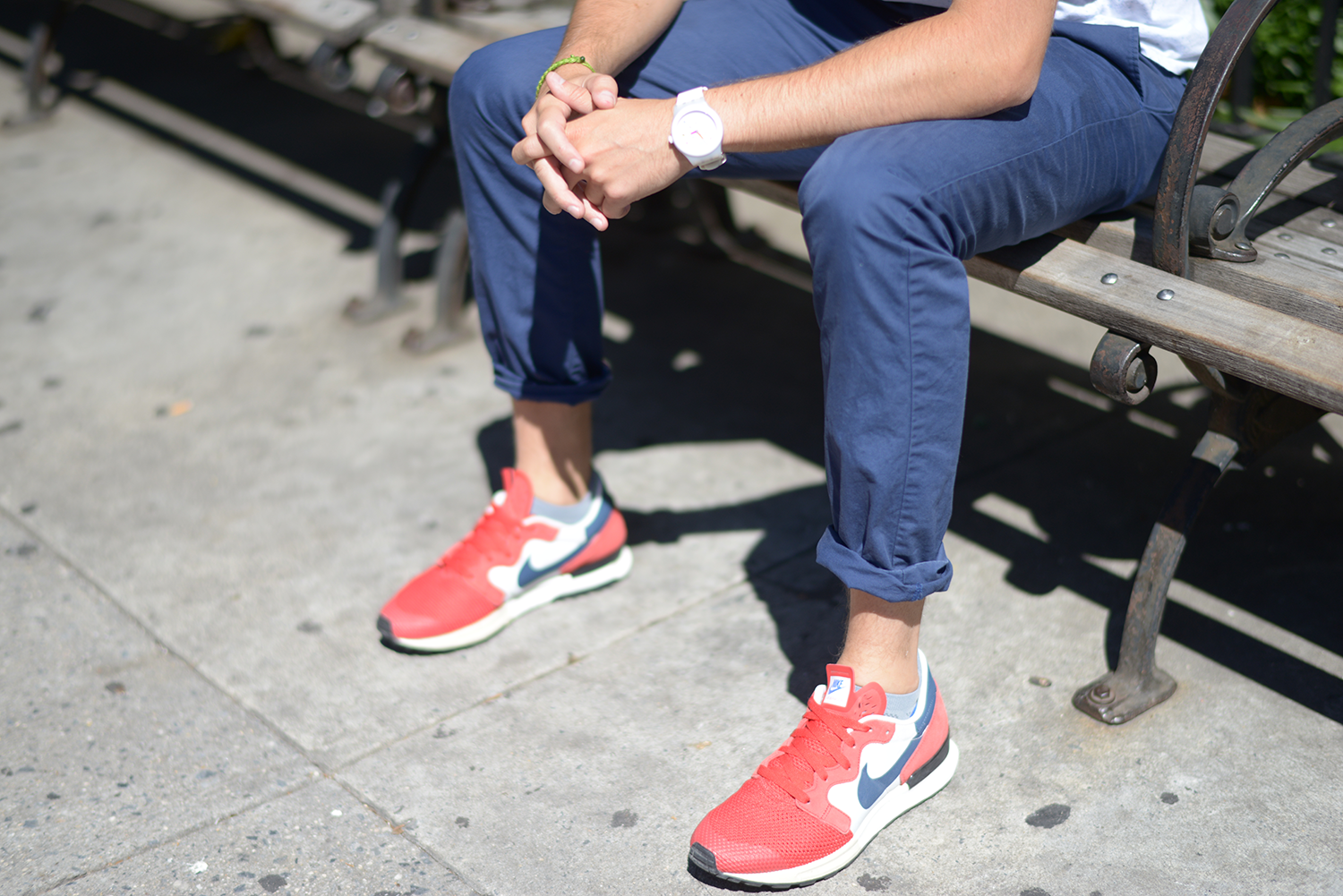 What's on his shopping list:
I honestly have trouble with online shopping; I need to see and try stuff in person Recently, I decided I needed a couple of pairs of better jeans, so I made a point to go out and find them. Usually I shop to fill a hole or upgrade something, unless it's sneakers—then I buy them more for fun.
When tech gets personal:
I love being on the bleeding edge of what's new; you just see so much. People dream so big your mind can hardly even comprehend. Being the founder of a technology company, I use it everyday both personally and professionally. It ranges from using Uber because I don't want to pay for a cab and get a more premium service to using Hype Machine to discover new music constantly.
Tech you can wear:
At one point, I owned a Fitbit, a Nike Fuel band and a Jawbone Up. I know that's embarrassing.I thought if I tracked everything, it would influence my behavior—spoiler alert, it didn't.
The other thing is that I love watches, and it's hard to wear them both at the same time, especially if you're wearing a cool leather strap Shinola, for example; that doesn't look great next to a Fitbit.
Working in tech, I did know at least a dozen people who owned Google Glass for a time. The problem there was that Glass wasn't cool, easy, or fun. The user experience was not good.
Wearables are in their infancy I think. I'm excited to see where they go from here.
Grooming under the influence:
I've had a beard for about a year now, and I don't know if I'll ever go back. It happened sort of by accident, I was dating a girl at the time and forgot to shave for a few days and she said, "I really like the scruff—keep it." I listened and I kept it, and suddenly was getting all kinds of unsolicited compliments. Frankly, I put this face together so that other people will find it appealing, so if this is what they're telling me, then I guess I have a beard now.
Dressing well in the Age of the Swipe:
In doing research for Squad, we asked women about how they evaluate a man in a first meeting (IRL or online), and really the first thing is just being a nice guy, being a human. The other thing they said was appearance though, absolutely—all the way down to the shoes.
What's I found refreshing though, is that the assessment isn't based on brand or price. No one is wondering if the clothes are expensive; they're evaluating for fit. It seems like women—and men, probably—are wondering, "Are you a person who cares enough to put themselves together in a presentable way? Because if you are, I'm going to assume some other things about you that might speak to the bigger picture."
Quick Hits
My style in three words (or less!)
Smart casual fun
Party outfit go-to
A button up and jeans. Throw on my Air Max sneakers with that and I'm good to go.
Favorite "splurge" clothing brand
Thomas Pink. Their casual shirts are the best. I can't help myself. 
Favorite "steal" clothing brand
J. Crew for their sweaters. They fit well, they last forever, and they're not too expensive.
A man's personal style is important because…
Dressing well shows the world—and women especially—that you care
My best fashion moment
My best fashion moment was right after I moved to New York. I showed up to a house party, and the host called me the best dressed person in the room. She loved my outfit, and that's when I knew you'd catch more flies with good fashion than you would with vinegar… or something like that.
Taylor Davies splits her time between NYC and Sun Valley. She loves writing about menswear, overpriced martinis in dimly lit hotel bars, and cross-country skiing. Not necessarily in that order.