5 Stylish Outfits for Your New WFH Routine…All On Sale
'Fits For All Your At-Home Adventures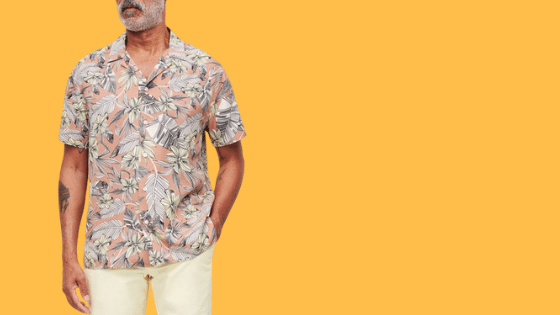 Presented in partnership with Bonobos and rewardStyle…thanks for supporting the brands that make Style Girlfriend possible!
Listen, the world looks a little…different right now. Working from home might be brand new for you, and Team SG wants to help make the transition as smooth as possible.
Productivity is all about headspace, and when you're able to separate your work hours from your off-the-clock downtime, it's easier to maintain some sense of normalcy. That's a worthy endeavor!
So while we're no health experts (obvs), here's what we can recommend with confidence: start each morning by putting on real clothes. Not the sweatpants you wore to bed. Not a T-shirt with spaghetti stains on it. Actual, grown up clothes.
Luckily, our friends at Bonobos are making that #SGapproved guidance so. much. easier. Because this year, they've launched their spring sale early. And guys, it's a good one. Think: 25% off sitewide at Bonobos.com.
I'm telling you, you're gonna find all the stylish stuff you need for WFH.
We're talking stylish sweaters. We're talking sophisticated yet uber-comfortable tailored joggers. We're talking pineapple-printed button-fronts and a whole bunch of need-'em-all-the-time essentials like underwear and socks.
Below, check out five WFH 'fits to get you through the foreseeable future:

1. The Everyday WFH Outfit
Sweater: $98 | Jeans: $98 | Tee: $48 | Socks: $10
Wear it well: Working from home means you want two things from your outfit: comfort and flexibility.
Team SG knows that you're not going to put on a suit every day just for the thrill of it. Even the most demanding boss isn't looking for that level of Zoom conference commitment to the office dress code.
Instead, stick to something realistic. In this case, jeans and a tee.
These Bonobos Travel Jeans are lightweight and stretchy – meaning, you'll never feel stiff as you move from the table to the couch and back again. Plus, they're dark enough to hide the snacks you will undoubtedly spill while working from said-couch.
…Though at 25% off, you might want to get them in multiple colors. Just sayin'…
Add a thin, breathable sweater that's easy to layer (especially useful if you don't control the thermostat in your home or apartment!).
2. Client Video Conference Outfit
Blazer: $400 | Chinos: $138 | Camp Collar Shirt: $88 | Derby Shoe: $248
Wear it well: There's no need to feel uncomfy—or unprofessional—on your next video conference call.
Thanks to Bonobos' ::chef's kiss:: elegant unconstructed blazers (which, psst, you can wear to future, rescheduled summer weddings, too), you can look the part of "professional businessman" with none of the work. Paired with this tropical short sleeve shirt, you'll feel as cool as you do comfortable.
And sure, you could go full Winnie the Pooh and go pants-free on these conference calls. But in case you need to reach for a pen mid-meeting, it's best to be safe. These navy chinos are sneaky-stretchy while looking damn good, even on Skype.
3. Putting Practice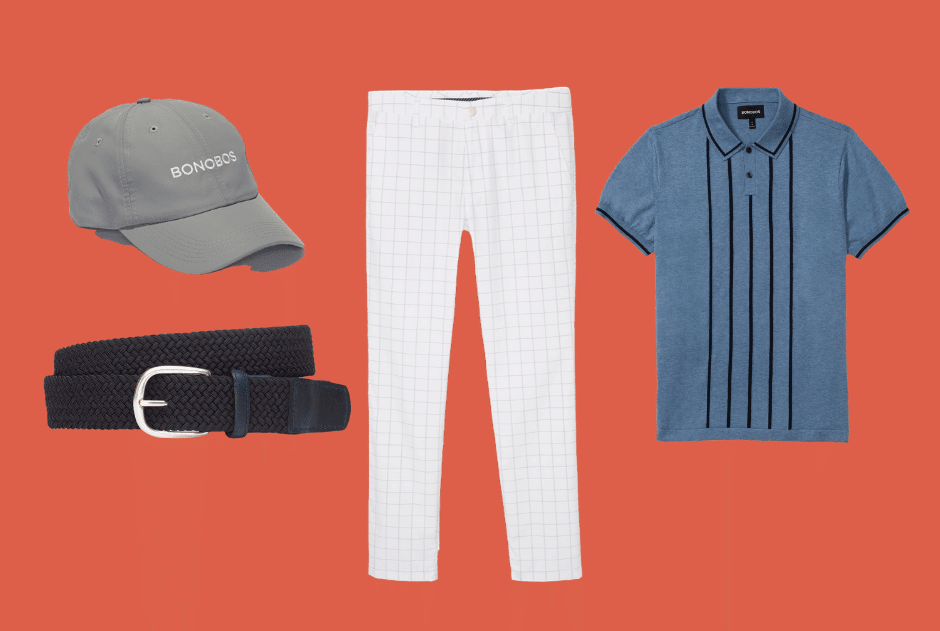 Sweater Polo: $88 | Golf Pants: $98 | Belt: $78 | Golf Hat: $35
Wear it well: Don't let your short game slide this spring, just because you can't get out for your regular weekly nine holes. Take preventive putting measures by practicing your swing in the living room or backyard during any workday downtime.
And yes, that includes dressing the pro shop-ready part.
Hey, gotta keep yourself to as normal a routine as possible, right?! That means cool printed pants, an eco-sweater polo, and a hat for sun protection…or just for hiding unwashed WFH hair.
You'll look and feel like you put in essential time on the green.
4. Backyard BBQ Break
Riviera Shirt: $78 | Chino Shorts: $78 | Tee: $25 | Underwear: $34
Wear it well: Don't let social distancing slow down your grill game this spring!
Even if it's just you and the immediate fam (which, okay, is exactly who it will be), dress the part of stylish grillmaster in chino shorts (there's even an athletic fit for those 'leg day' guys out there) and a fun, off-duty shirt.
Plus, fresh underwear. Always fresh underwear.
5. Poolside Work sesh
Swim Trunks: $78 | Graphic Tee: $48 | Terry Hoodie: $98
Wear it well: If you're lucky enough to have access to a backyard pool in warm weather, you'll want these trunks for any and all cannonball action. They're made with 85% recycled polyester, so you know; you're basically doing your part to save the world while wearing them.
And hey, even if you don't have a pool, consider them as an alternative to shorts when you get sick of everything else in your drawer!
We've got to amuse ourselves somehow during these trying times, right? Wear 'em with a cool graphic tee, or layered with a terry hoodie for those chillier nights.
So! Go shop Bonobos 25% off sitewide Spring Sale, then head to Instagram and show us your best WFH 'fits (seriously, we're desperate for some social connection during all this social distancing!) 
// SHOP THE STORY //

Christine has written for Esquire and Men's Health. She is currently pursuing her PhD at Columbia University.