Workout 101: Guys' Guide to Rowing
Frank Underwood's favorite fitness routine is back in fashion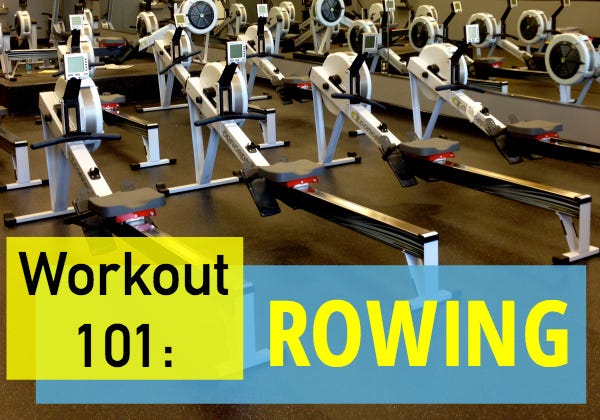 Presented by Ford
Here at SG HQ, we believe in going further and pushing yourself, be it stepping outside your style comfort zone or hitting that last set of squats at the gym. That's why we created the "Workout 101" series, providing the down low on all the latest fitness trends that will have you looking good and feeling good. Up next? Rowing.
If you've been in a gym, you've seen a rowing machine, also known as an ergometer. Most of the time, they're being used by a guy with a blank look in his eyes, a collegiate racing jersey on his body, and thighs the size of medium-sized tree trunks: There's a reason rowers are famous for their temperaments (long-suffering, slightly crazed) and their physiques (take the sport seriously, and it will repay you).
The problem, of course, is that using an erg isn't quite as straightforward as an elliptical or a treadmill, so until recently, this particular piece of equipment was generally one of the gym's least used. That's changing now, thanks to a new wave of "rowing gyms"—basically, boutique studios that are a lot like your nearest Spinning facility, except with rowing machines instead of bikes. Lots of other elements, though—the devoted clientele, the masochistic trainers, the slightly intimidating equipment—are otherwise present and accounted for.
Interested? Here's what you need to know before you go:
WHAT IT IS
Rowers have trained for ages on indoor rowing machines: Strap your feet in, grab the "paddle," and push back. (Rowers also know that despite how it looks from a distance, rowing massively taxes your legs, though it's a decent upper-body workout as well.) Generally they've done this solo, or in dusty, unused corners of their local gyms. That's begun to change with a new wave of rowing gyms, clearly inspired by Spinning—like Spinning, you'll do it in a group, and like Spinning, it can be super, super challenging. Like Spinning, you can expect to burn tons of calories, enjoy some extremely loud music, and develop a community of like-minded devotees (rowers tend to go that way). Also like Spinning, you can do most of this in the company of your own space—no one away from your Concept 2 will be able to see exactly how hard you're pushing yourself.
GUY-TO-GIRL RATIO
Pretty close to even, at least in the class setting.
CHOREOGRAPHY COMPLEXITY
Once you get the basics down—and trust me, there is some fiddle-y technique involved—it's fairly simple. The emphasis here is on high-velocity movements and cardiovascular output.
SHOWER-METER
Yes—do it right, and you should be dripping with sweat by the end of your 50-minute session.
HOW HARD IS IT, REALLY?
Outside of a class environment, a rowing machine's like a treadmill—it won't go faster than you force it to go. But if you're working at your max, rowing can provide a full-body workout that's hard to beat on any other piece of gym equipment. If you're looking for a change from Spinning, rowing should meet all your expectations in terms of a suitably challenging workout.
TELL ME:
HAVE YOU TRIED ROWING? WOULD YOU?
When you feel good, you look good. Check out our workout guides to TRX, Pilates, and Spin.