How to Wear Gray Jeans: Cool, Easy Outfits for Guys
They're grrray!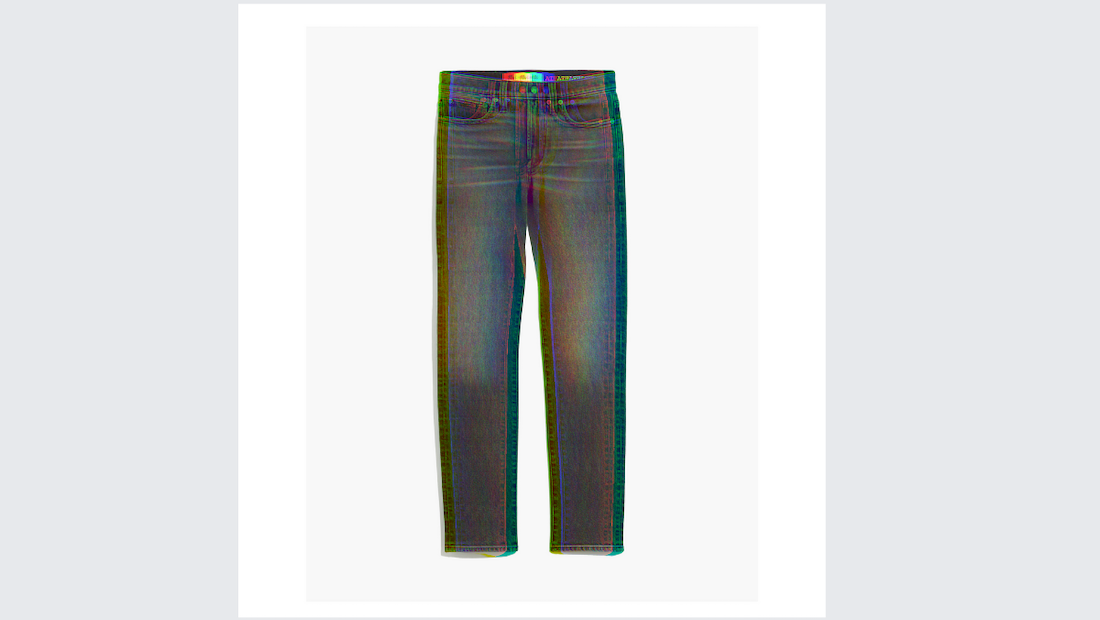 While blue jeans are a classic, they aren't quite right for every situation. Sometimes, you need a chino. Other times, the occasion calls for an actual trouser, and sometimes it's that you need a jean that's not blue. Black jeans are great, but gray jeans? That's a vibe.
Shop the jeans
To be clear, I'm not talking about those, bedazzled on the butt monstrosities that became popular in the age of Ed Hardy. It's 2022. We're past that.
Sophisticated, un-distressed gray jeans have an elevated quality that you just can't get with blue jeans. Consider them to be a great replacement for chinos in a casual workplace. And pssst, they work just as well out for a night on the town.
Below, 5 outfit ideas for how to wear gray jeans:
With a cozy sweater and fleece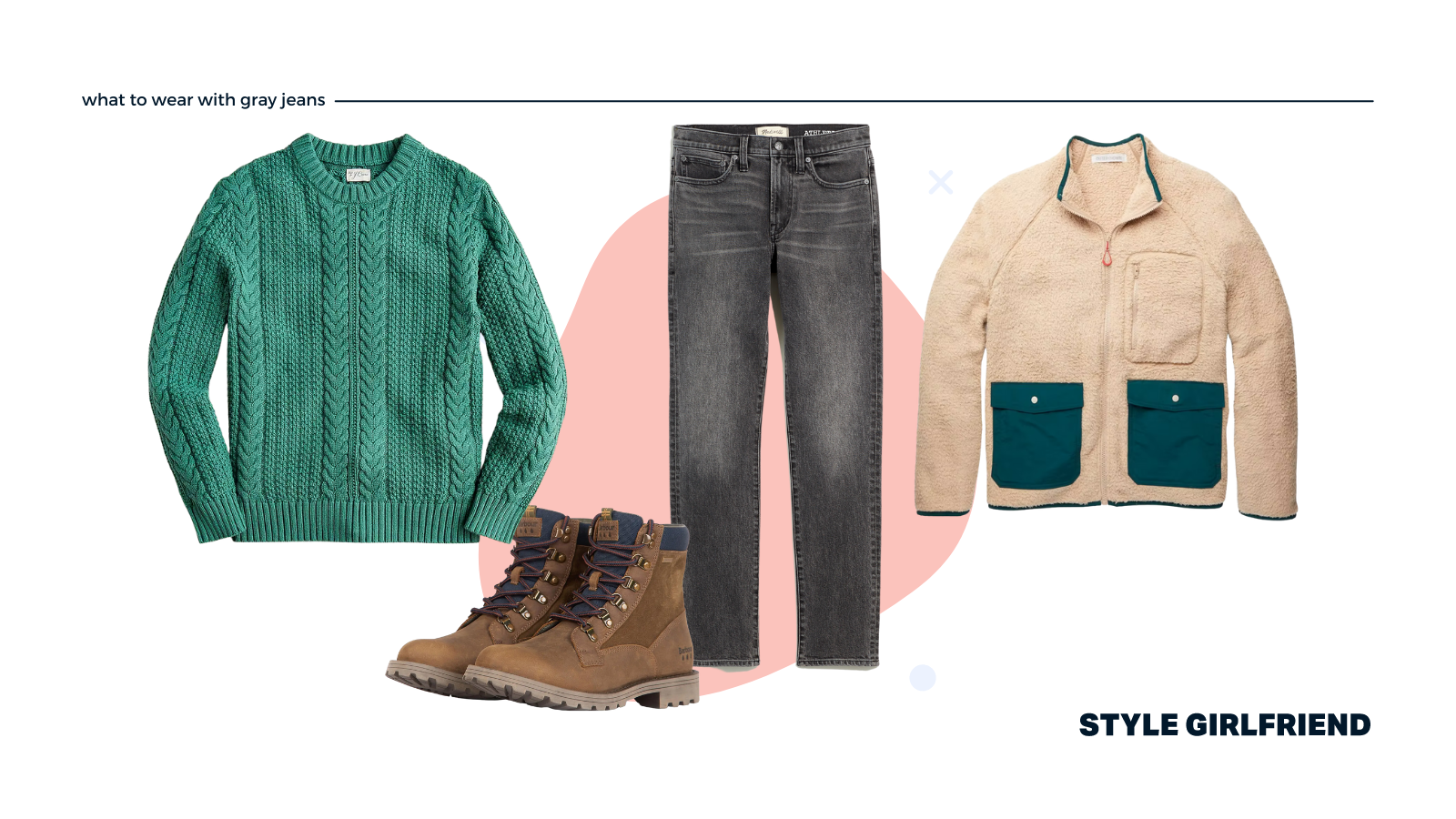 SG Says: It's the dead of winter, so go ahead and add some color to your outfit to fight off S.A.D.
This is an easy way to immediately make gray jeans feel less blah.
Shop the outfit:
With a henley and uggs (yes, really!)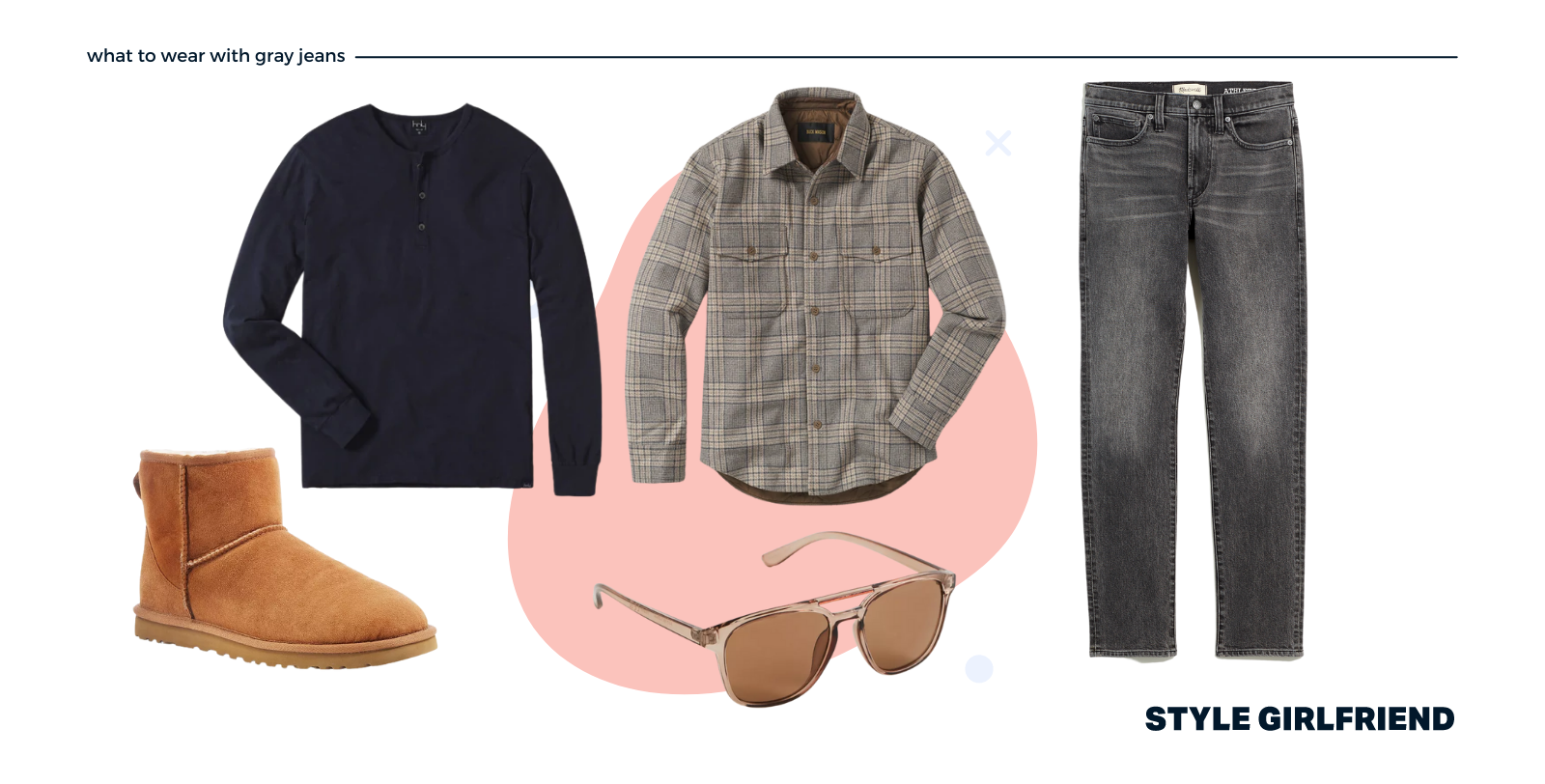 SG Says: It's true, Uggs are back, and this time, guys can get in on the cozy fashion fun.
Wear yours with other cozy pieces like a four-seasons long-sleeve henley and flannel shirt jacket.
Shop the outfit:
With a throwback 'fit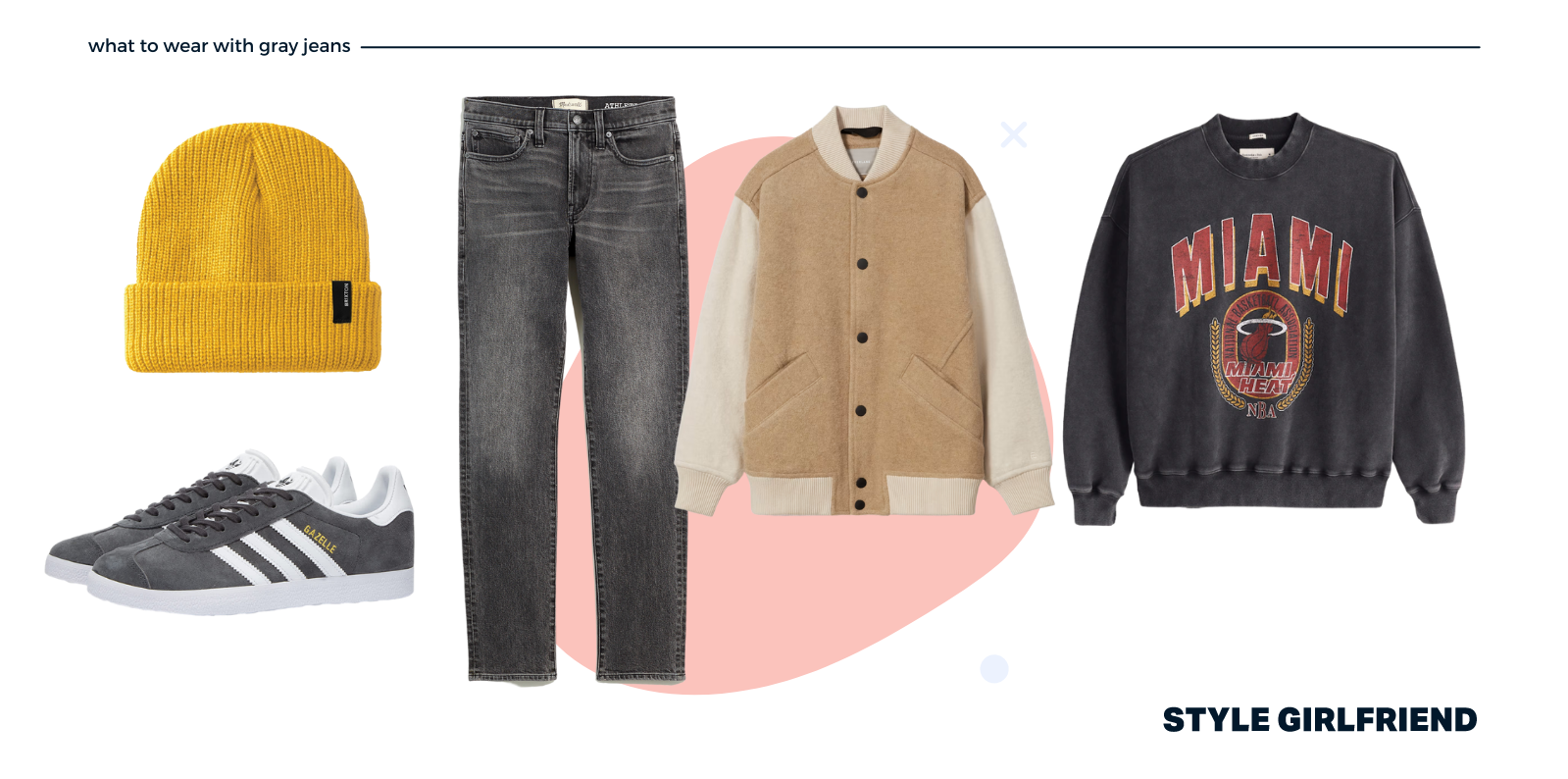 SG Says: I know it's faux-vintage, but I just love this sweatshirt from Abercrombie & Fitch.
It pairs well with the similarly "Maybe I was an athlete in high school, maybe I wasn't" vibes of this Everlane varsity-style bomber.
Shop the outfit:
In a high-low mix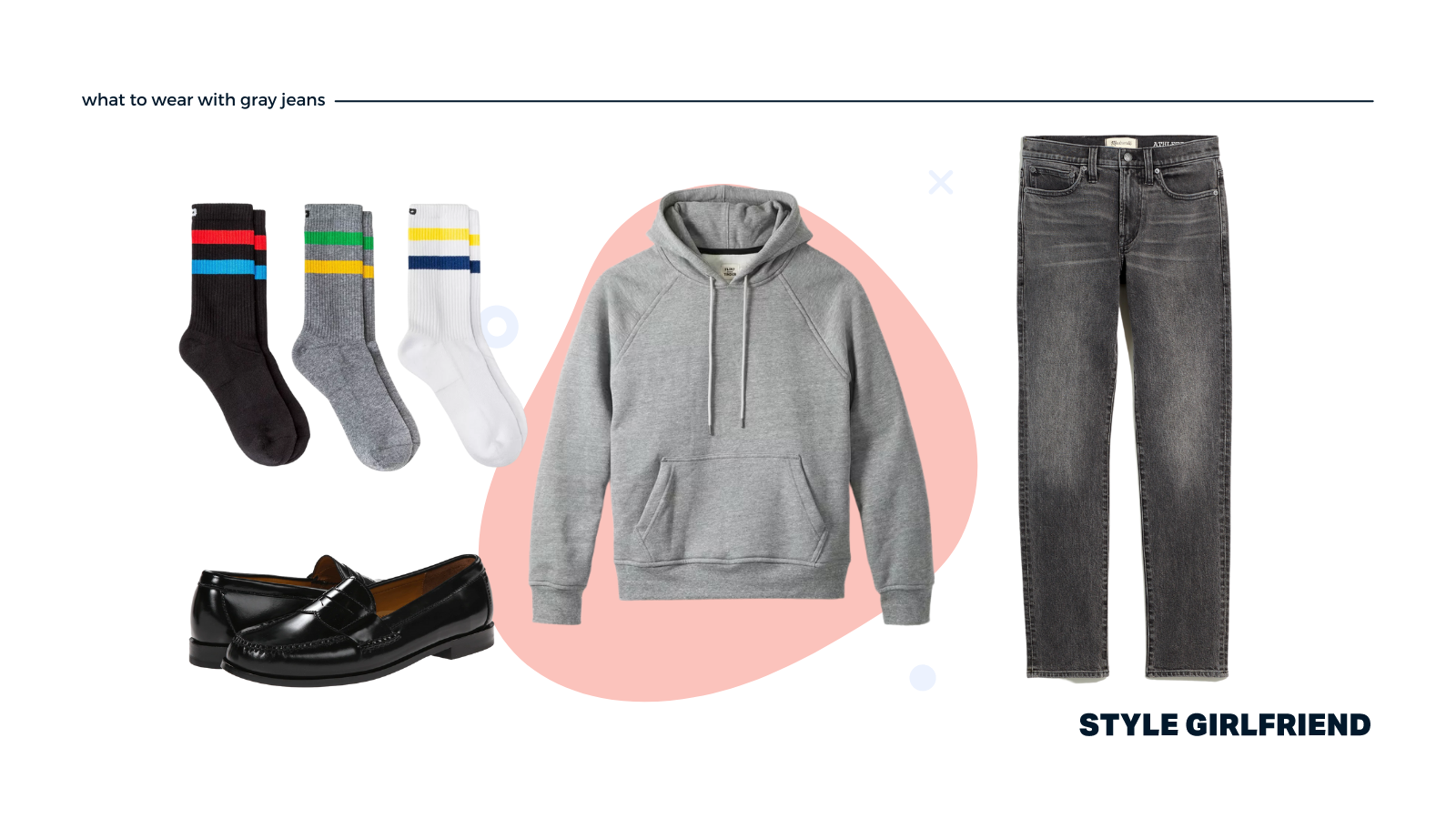 SG Says: An outfit so easy-breezy you could wear it three times in a week (one for every pair of socks, natch) and people still wouldn't catch on because you just. look. so. good.
RELATED: Why Penny Loafers Are A 2022 Trend
Shop the outfit:
A laid-back look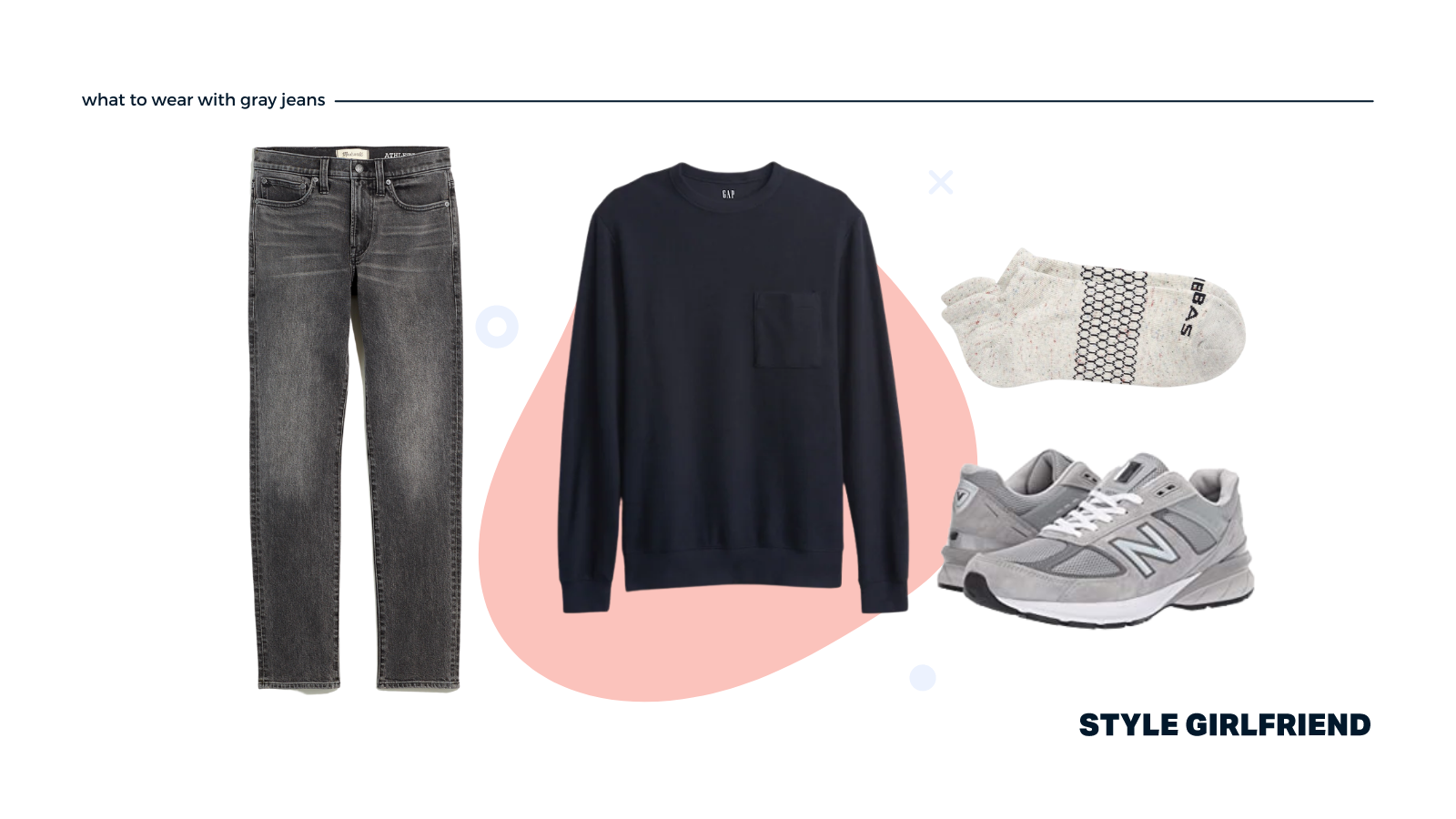 SG Says: Keeping things monochrome doesn't have to mean boring with an outfit this effortlessly cool.
When it comes to how to wear gray jeans, a simple top and classic sneakers make for a winning combination.
Shop the outfit:
---
Want more denim style inspo? Check out a month of casual jeans outfit ideas.

Like a phoenix rising from the ashes, Gabi Meyers went from Team SG's first-ever intern to a trusted fashion editor and stylist. She currently lives in Chicago with a very cute dog.