The Definitive List of Men's Fashion Trends to Try in 2022
A well-curated rundown.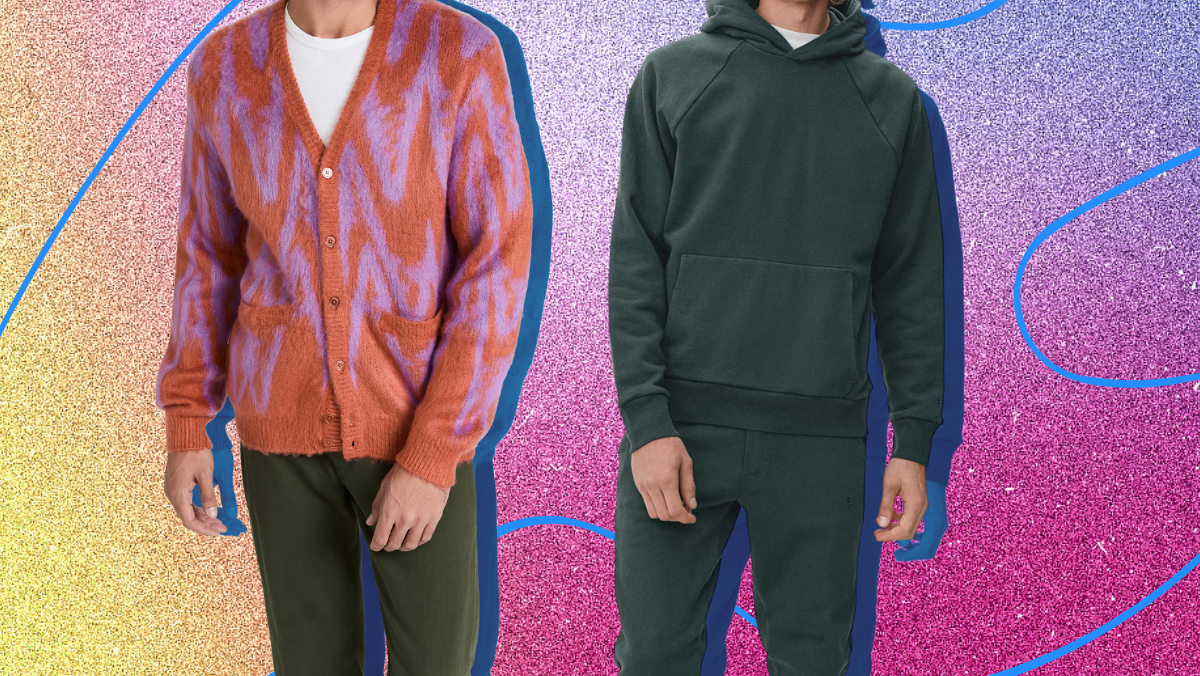 This is it. The definitive list. Don't go anywhere else to look because they'll just be copying us!
Because these are the best men's style essentials for guys to try in 2022.
The 2021 men's fashion trends veered towards the comfy cozy, and while we're all still leaning hard into the hygee vibe in 2022, we're also ever so slowly working our way back towards "real" clothes again.
Which is why this list includes men's fashion trends for staying at home AND leaving the house.
…From time to time, anyhow.
So, if you haven't scooped up one or more of the items on this list already, consider it a sign that it might be time to go shopping!
Interested in a specific trend? Click a link below to skip right to it:
---

Below, 7 men's wardrobe essentials for 2022:
1. black loafers
WHY IT'S A TREND: Who doesn't love a slip-on shoe?
Whether you've given into the siren song of a Birkenstock clog, or you just wish you could wear shower slides everywhere you go, you understand the appeal of a shoe you don't have to lace up.
In 2022, a pair of sturdy leather loafers are the "wear 'em everywhere" slip-on footwear you've been waiting for.
Even better? They look great with jeans, twill pants, and a flat-front trouser.
You could even get away with wearing them with shorts in a "off-duty Kennedy hanging at Hyannis Port" vibe.
WHERE YOU'VE SEEN THEM BEFORE: Loafers were all over our 31 Jeans Outfits for 2022 roundup.
PRICE: Loafers are the kind of shoe you're going to want to spend a little more on to ensure quality and style. The styles above hover above the $100 mark.
We also love a classic G.H. Bass Weejun loafer on guys, which ring up $135-145 depending on the style.
2. camel topcoat
WHY IT'S A TREND: Every winter we try to convince you guys to invest in a beautiful, luxurious, Robert Redford looking like a total smokeshow in The Way We Were-style camel topcoat.
So, okay, maybe it doesn't count as a men's fashion trend per se, but it is a wardrobe essential.
WHERE YOU'VE SEEN IT BEFORE: We couldn't resist adding a beautiful wool coat to our Millennial Guys' Style collection on SG's shop page this winter.
PRICE: Our team prefers a men's topcoat that falls at or below the knee for extra gravitas, and well, that's gonna cost you.
If you want to start with a less expensive coat, there are styles that hit higher above the knee that cost less, like this Club Monaco number.
3. extra cozy sweater
WHY IT'S A TREND: There's just something about fuzzy sweaters that feels right right now.
Whether you opt for alpaca, another knit, or even go full sherpa, the vibe you're going for is the same.
And that vibe is: Seth Rogen in his pottery studio, minus the blunt.
Or with it! Up to you, I guess.
WHERE YOU'VE SEEN IT BEFORE: Where you can find all our trendiest picks, of course—the College Guy Style picks on our Shop page.
4. Adidas Gazelle sneakers
WHY IT'S A TREND: Everything old is new again! Including your favorite middle school sneakers.
Update this throwback style by skipping the Starter jacket, and instead pairing these sneakers with a sophisticated topper like the camel coat above.
PRICE: Around $80, depending on the colorway you opt for.
WHERE YOU'VE SEEN IT BEFORE: If you subscribe to our monthly Style Report, you'll have spotted them in this month's roundup of outfits to wear right now.
5. elevated sweatsuit
WHY IT'S A TREND: Look, we might be in the middle of SG's Jeans January challenge coaxing you back into "real" clothes, but we can be reasonable. Sweats are still going to be a part of our lives for awhile.
So now is as good a time as any to upgrade your downtime wardrobe!
PRICE: $ – $$$
You could snap up the Old Navy set we were hyping at the holidays, or upgrade to something fancier.
Want to go full luxe loungewear? Opt for sweatsuits made from a fancier material than "just" cotton.
Our team loves Faherty's Legend sweater hoodie and sweatpants. Naadam's cashmere sets, too.
WHERE YOU'VE SEEN IT BEFORE: This roundup of the best sweatsuits for men
6. dad jeans
WHY IT'S A TREND: Look, we can't talk about 2022 men's fashion trends without talking about dad jeans.
Before you can ask, YES you can pull them off. No, you don't have to be in high school to wear them. This Spy article on the denim trend has some great styling tips to try.
WHERE YOU'VE SEEN IT BEFORE: In our roundup of the best jeans to add to your closet in 2022 that we curated for Jeans January, of course!
7. high top sneakers
WHY IT'S A TREND: Another footwear fashion trend!
High top sneakers are just cool right now. You can flash all the ankle you want in your loafers; these shoes are for covering 'em up.
RELATED: 3 Ways to Wear High Top Sneakers
WHERE YOU'VE SEEN IT BEFORE: On Giannis in this list of 31 outfit ideas to wear with jeans this month.
PRICE: $85
---
FROM THE ARCHIVES > Check out SG's list of the top 2021's men's fashion trends