I'm a Men's Personal Stylist: These are My 4 Favorite Sneakers to Recommend to Clients 
Sneakerhead status not required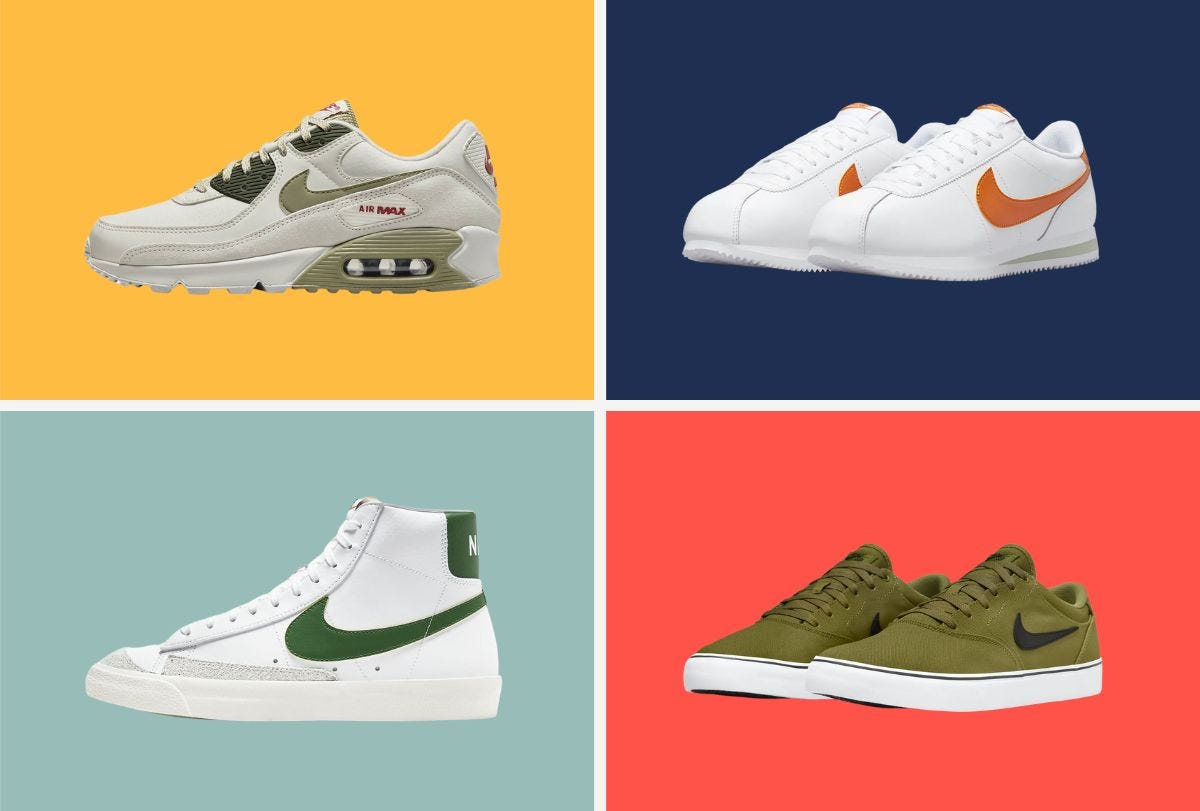 No man's wardrobe is complete without the perfect casual sneaker. Now, I'm not a sneakerhead, and neither are most of my clients, so I know that finding the right everyday sneaker for guys is an art, not a science.

Because we all want our go-to footwear to be just right!
After all, these sneakers should make you feel equal parts comfortable and confident as you step out into the world. You'll know you've found the right pair when it looks just as good running to the grocery store in joggers as it does heading out on date night.
There are plenty of sneakers that can support both your arches and your style, but weeding through endless options to find "the one" (or I guess, the two) can be daunting. So I'm sharing my four favorite Nike sneakers to recommend to styling clients. They're all #SGapproved and I know women love to see men in these styles and colorways.
The best part? No lining up outside the store, or waiting by your computer to snag the latest drop.
For the "cool dad"
You can't go wrong with the Nike SB Chron 2 Canvas, a plimsoll sneaker. This classic shoe has been around since the 1890s, meaning it's got staying power. Defined by its canvas uppers and flat rubber sole, the minimal design lets you be extra flexible with your style.
I like the green, which feels modern and trendy without trying too hard. The all-white style is another foolproof choice if you don't yet have that color covered in your footwear arsenal.
How to Wear Them
Styling Tip: Don't be afraid to dress up your sneakers with a pair of trousers and a knit polo for a casual office or date night with the missus. The denim jacket on top keeps things from feeling too fussy.
For pushing out of your comfort zone (slightly)
I love recommending clients adopt a high top like the Nike Blazer Mid '77 into their everyday wardrobe.
With more space to play with print and color, this basketball sneaker silhouette is an easy way to squeeze a little more of your personality into uniform-like jeans and tee outfits. This sneaker has been on-trend for a few years now, so you can feel comfortable trying the style without worrying it's going away anytime soon.
Pssst: If a high top still feels like "too much," consider the Nike Killshot 2, which offers a similar look with a lower profile.
How to Wear Them
Styling Tip: I tell my clients to go with whatever color they have the most of in their closet for their Blazers, as pairing your outfit to your shoe always looks sharp.
The bright green swoosh on these Blazers guarantees go-to compliments when you wear them with anything else green, like this slick bomber.
If Athleisure is Your Anthem
There are different iterations of the iconic Air Max, but when it comes to clients, I find myself recommending the Air Max 90 over and over again. With so many colorways to choose from and a comfortable fit defined by a waffle outsole and visible Nike Air cushioning, it's rare I work with a guy who wouldn't benefit from a pair sitting by his door.
How to Wear Them
Styling Tip: Opt for a looser fit pant to balance out this sturdy shoe. And while I'm totally onboard with visible socks most of the time, I still like a no-show sock with this sneaker style.
If you'd use "playful" to describe your style
I can't explain it, but Nike Cortez look fast—maybe because they were originally a running shoe?
Some of the coolest clients I've worked with (which is all of them, tbh) have repurchased this style over and over again. Probably because these sneakers look just as good with standard issue grey sweatpants as they do with pleated trousers or straight-leg blue jeans.
How to Wear Them
sneakers | sweater | puffer | pants
Styling Tip: The bright orange in the iconic swoop of this Nike sneaker adds some much-needed, citrus-burst energy to a cold weather outfit that's perfect for a day of holiday shopping.
Each product is hand-selected by our editors because we think you'll love it. If you buy something through our link, we may earn a commission from the retailer. Thanks for supporting the brands that make Style Girlfriend possible!

Like a phoenix rising from the ashes, Gabi Meyers went from Team SG's first-ever intern to a trusted fashion editor and stylist. She currently lives in Chicago with a very cute dog.