Decor Decoded: Styling Bookshelves Like a Pro
Basics behind better shelves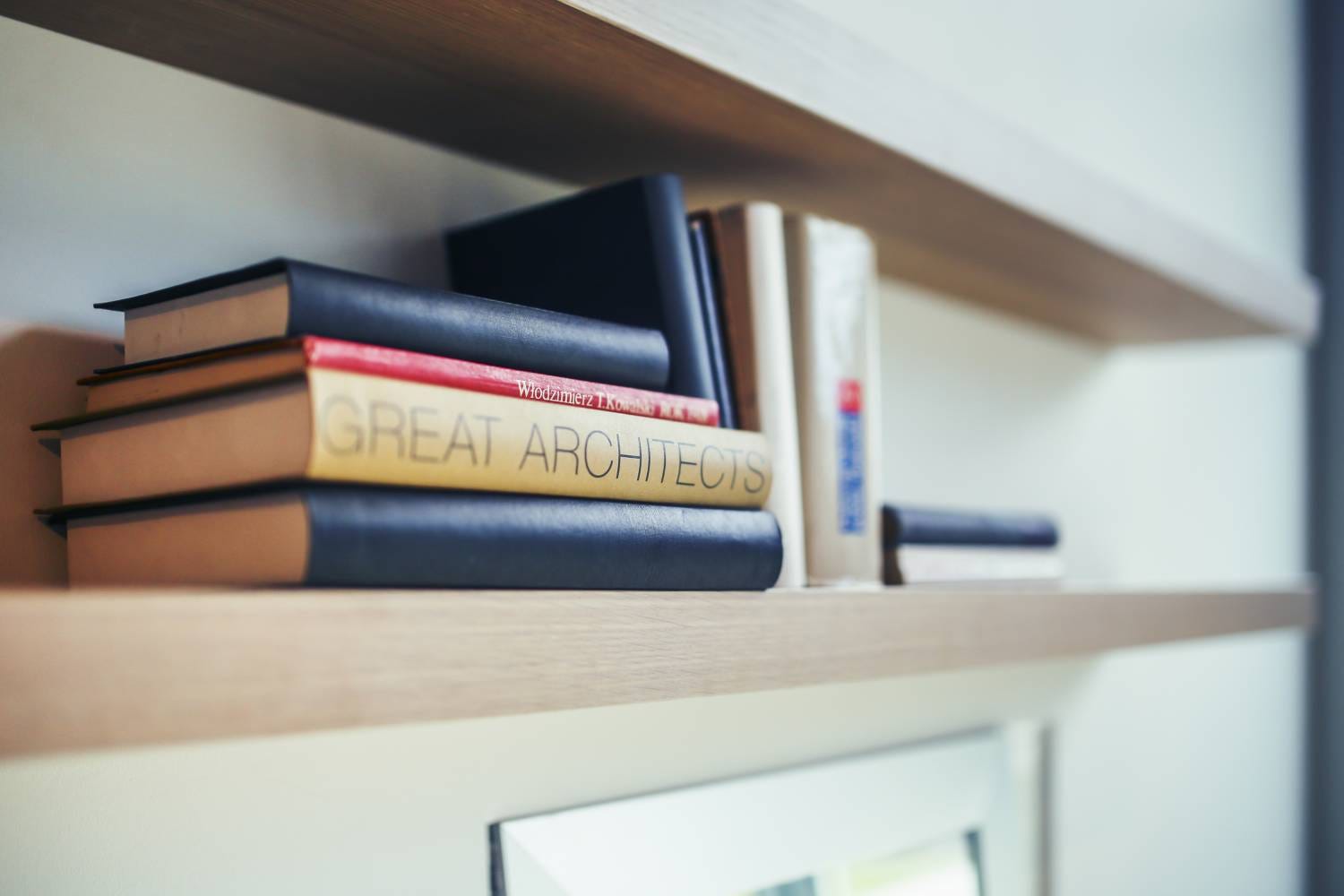 Bookshelves should be the easiest part of your home's decor, right?  Their purpose is right there in the name – they just…shelve your books! Simple as that.
So how do stylists get the bookshelves you see in magazines and decor sites to look so polished, layered, and cool?  You can steal their designer secrets. Let's break it down; here's how to take your shelves from simple storage to showpiece.   
Below, styling bookshelves made simple:
Think of shape and color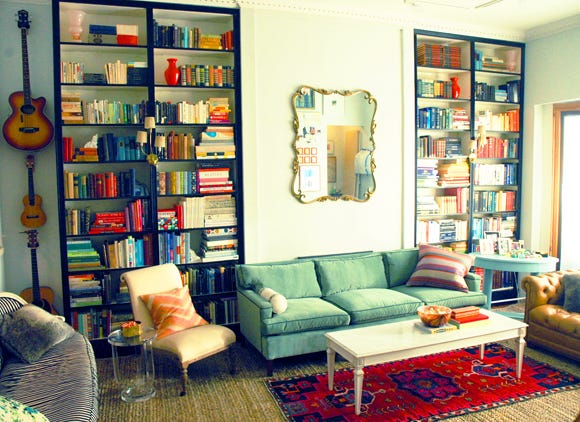 Of course your goal is simply to have a place to set your books when you're not reading them, but since your shelf is a large visible piece in your room, you might as well make 'em look great while you're at it. 
Start with the books themselves. You've probably got a mishmash of sizes and colors; consider how you can arrange them so they look cohesive, not chaotic. You can group books by shade for a color-blocked effect, or by ascending or descending size. 
Another option: change books' orientation so some are shelved upright, while others are stacked horizontally in piles. Any way you want to break up the large swath of surface area and give it some pattern and texture is fine by us.   
As soon as you start thinking about your books as objects with aesthetic value (in addition to their intellectual perks!), experimenting with their placement will get a lot easier and more fun. 
Think outside the book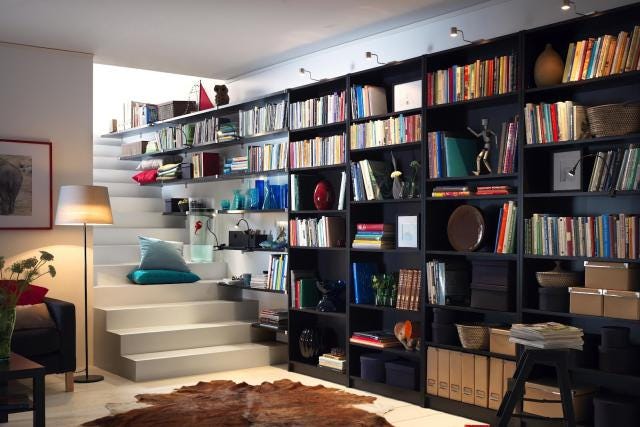 Your shelves can – and should! – hold a variety of other objects along with your books. Once you have your book collection set out in an interesting arrangement, look for empty areas or gaps that you can fill with other sorts of decor. The key here is to provide some contrast to the texture of the books. This can be anything from framed photos to decorative vases to plants – always a winner for adding texture. 
If many of your books look similar (like a set of encyclopedias or lots of small paperbacks), mix things up with items that have either extra smooth or extra rough texture and plenty of color.  If you don't want to spend any extra time or money shopping for new tchotchkes, try sourcing a few things from other areas of your home. Intersperse items with personal meaning among your books wherever you want some extra interest, as the eye tends to drift to those spots first.
Think 3-D
You're probably pretty impressed with yourself right about now (and rightfully so). Your shelf is looking snazzier than ever and maybe you even found some books you still need to read. What else could I possibly be about to tell you to do? 
Time to think – ahem – outside the box.
You've conquered your shelves, but if you still want to take it up a notch, then it's time to think about the wall behind your shelf and the air in front of it. Yes, that's right. You can even decorate the front of your bookshelf by hanging a framed piece of art right on the front of it (it looks surprisingly cool).  Or, if you have wide or deep swaths of wall showing between your shelves, you can add some interest there.  Art is always a right choice, or, consider adding some color in the form of wall paint. If your shelf has a backing, try painting only the back panel so you get a peak of color between your shelved objects and books. If your shelf is open to the wall, try painting a colorful square on the wall itself! Paint is easily undone and inexpensive so you really have nothing to lose. Can't deal with the thought of a big painting project but love the idea of adding color? Take it easy on yourself and paint only the front edge of your shelves for a little pop without all the work. It's so easy, you don't even need to empty your shelves (although you will need to dust).
TELL ME:
HOW DO SHOW OFF YOUR BOOK COLLECTION OR ADD WALL ART TO YOUR HOME?