Shopping Roundup: The Best Chinos for Guys
No Jeans January: Chinos Week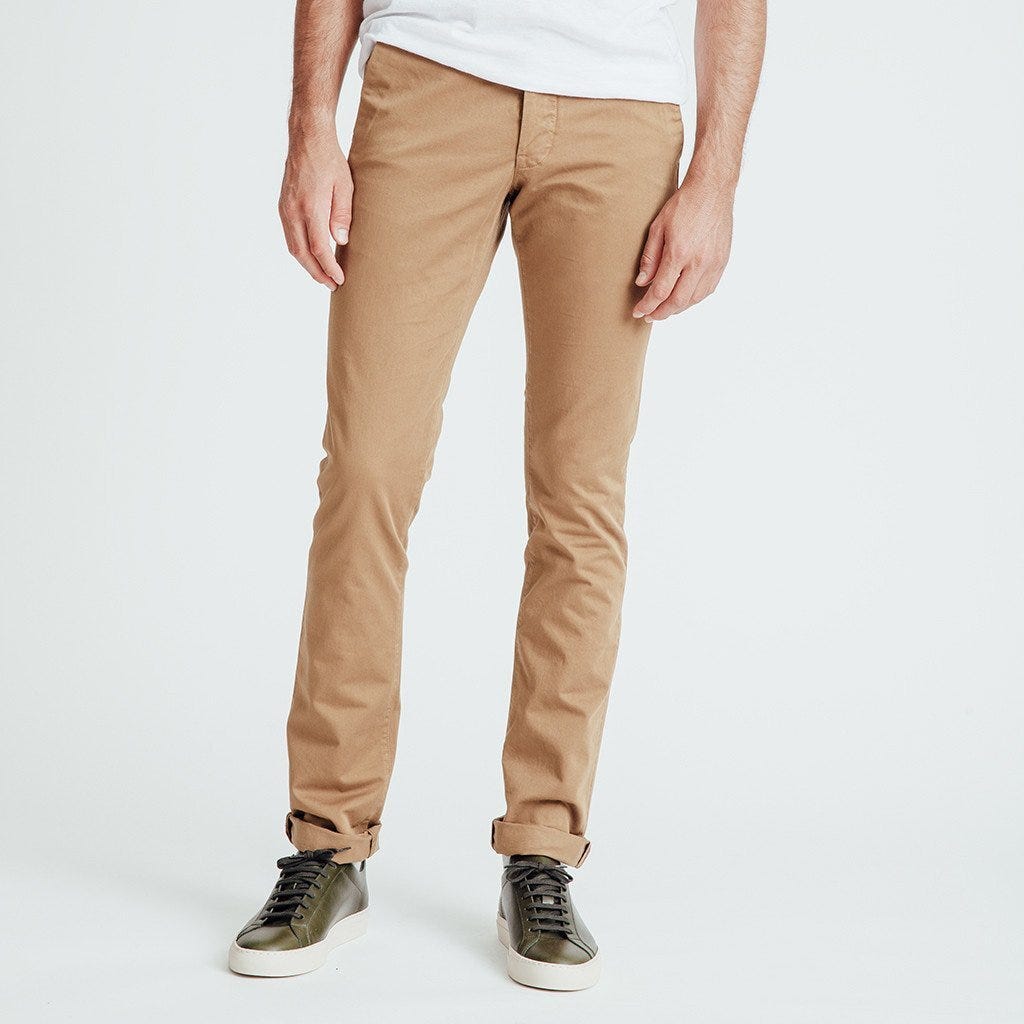 Take Style Girlfriend's "No Jeans January" challenge! Go denim-free all month long to discover new ways to wear the clothes you already own (like how to wear chinos dressed up and down), and learn what your wardrobe may be missing…

The best chinos for guys are the ones that make you feel your most confident, handsome, get on with your bad self, lookin' like a million bucks when you look in the mirror pair. Unfortunately (or fortunately, if you just lo-o-o-o-ve shopping?), that means you'll need to try on a few pairs before finding the style and color that looks best on you.
We've helped the shopping process along by sharing Team SG's favorite pairs, at a few different price points.
BELOW, THE BEST CHINOS FOR GUYS AT EVERY BUDGET:
top row, far right – Bonobos, $98 – The Bonobos "Weekday Warrior" is a staple of any guy's wardrobe. Coming in at just under $100, this pair is for any guy who wants his pants to last a little longer, and maybe look a little more polished for work. Plus, they come in about a jillion colors, so once you find the right fit for you, the world is your flat-front, machine washable oyster.
second row, far left – Todd Snyder, $150 – Look, is a cargo pocket chino an absolute must for your wardrobe? Of course not. But if you have all the neutrals covered, and want to do something a little more interesting without jumping right to a joggers style, this is a good middle step in terms of getting outside your chino comfort zone. The pockets on these aren't bulky, so they're more of a feature, rather than the focal point.
third row, middle – Reiss, $210 – The tab front on this Reiss pair makes whatever you're wearing look more formal overall.
bottom row, left – Unis, $119 – I'm not afraid to play favorites, which is why I'm not afraid to tell you that Unis makes my favorite chinos for guys – the Gio Skinny – bar none. And I'm not alone; GQ loves 'em, too!
If you ever find yourself in NYC, stop by their store on Elizabeth Street for great service from a friendly (if intimidatingly cool) staff. They'll also help with on-site alterations, so you're sure to nail the fit before even stepping out of the store.
bottom row, right – sold out! (similar: Paige, $132) – While I agree that joggers are not right for every guy, I do believe that every guy ought to give them a shot. Especially if he has skinny ankles. Especially if he likes to wear cool sneakers. Don't knock it 'til you've tried it…and let a female shopping with you weigh in.
TELL ME:
WHAT CHINOS WILL YOU ADD TO YOUR WARDROBE NEXT?
>> Check out all of our No Jeans January wardrobe inspiration here