The Best Men's Plaid Shirts for Fall and Winter
It's a plaid, plaid, plaid, plaid world

Forget the changing color of the leaves on the trees, or the sudden appearance of pumpkins on every porch you pass. How do you really know fall has arrived? The return of plaid in men's wardrobes, and lots of it.
But here's the thing. It's easy to default to "sloppy" or put more diplomatically "cozy" outfits when wearing plaid, but don't box this admittedly boxy pattern in!
Plaid can go with you back to the office, or layered into an uber-stylish date night look. Most important to remember?
Plaid doesn't automatically mean flannel.
Bottom line? Once the temperature hits "light jacket" on the thermometer, it's time to bust out all iterations of this autumn staple.
Below, check out the best men's plaid shirts in 2021:
Best casual plaid shirt on a budget
American Eagle Outfitters, $50
SG SAYS: Are we supposed to just call this AE now? I honestly cannot keep up.
But this shirt is billed as "super soft flannel," and hoo boy does it deliver.
Best casual plaid shirt splurge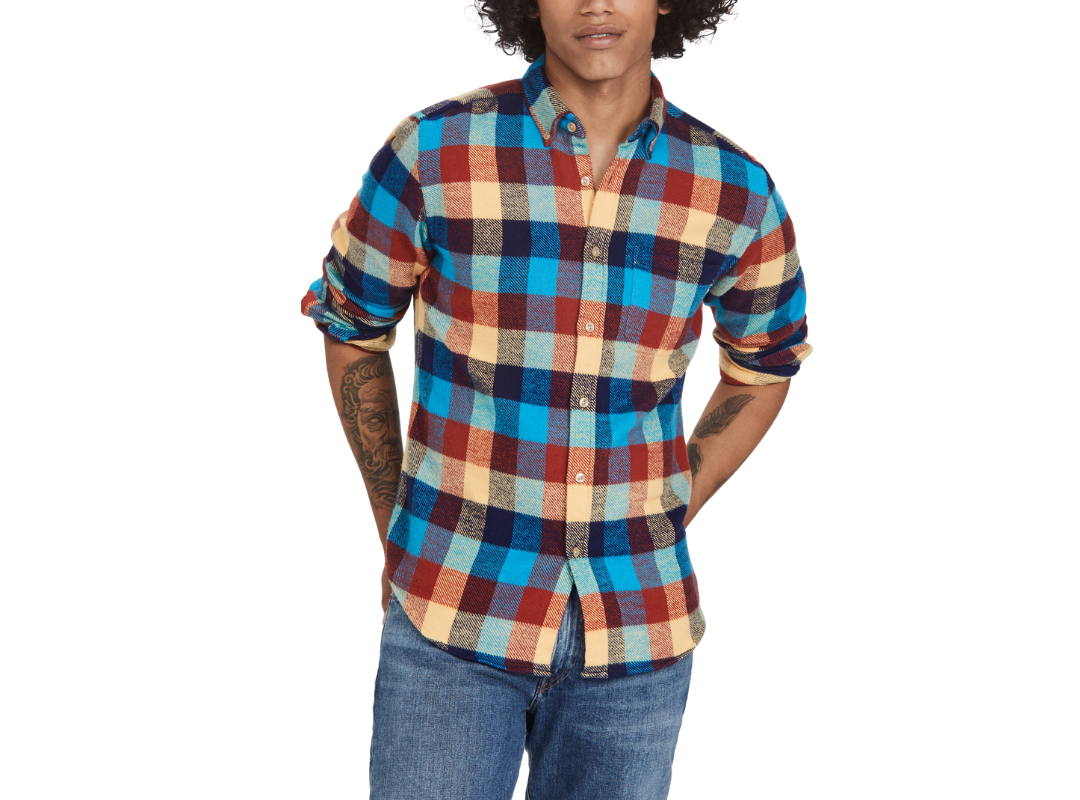 SG SAYS: This bright, multi-colored plaid flannel shirt from Portuguese Flannel feels like an unexpected burst of sunlight on a dreary day.
Wear it on the mornings before Daylight Savings hit…you know, the ones where you have to leave the house before the sun is even up.
Best plaid dress shirt
SG SAYS: See, plaid doesn't equal flannel! This subtly textured twill is beautifully smooth and lightweight—almost like a broadcloth, but with a bit more substance and durability.
The brown and royal blue color combination feels work-appropriate, and gives off an ironically normcore vibe, which I love. Definitely strikes a more stylish tone than your average business casual plaid.
Bottom line? Plaids don't just come in itchy, burly lumberjack wool and flannel. A crisp, cotton dress shirt in the pattern looks right at home with a full suit (check out exhibit A from Jason Sudeikis) or under a sport coat.
Best plaid shirt jacket (aka shacket)
SG SAYS: Call it a work shirt, shacket, or overshirt, just call it up in your wardrobe rotation.
Technically this shirt from the (totally stellar) L.L. Bean & Todd Snyder collab is made of chamois cloth, not flannel.
What's the difference, you ask?
Honestly, not much. Chamois fabric is softer than flannel (score!) but also more durable. Hence, its use in overshirts…and its generally heftier price tag than a standard flannel shirt.
3 tips for wearing plaid this fall and winter
1) Dress it up or down
I've worn my plaid shirts with ripped jeans one day, a high-waisted skirt the next, and a pair of black leggings the day after that.
No, I don't expect you to wear yours with the same looks…what I'm saying is, plaid is versatile!
Guys have the opportunity to dress plaid up for work, adding some always-appreciated visual interest to an otherwise staid casual corporate uniform. And yes, you can wear plaid with jeans or chinos on the weekend.
Consider plaid to be cold weather's cousin to gingham.
It's just such a workhorse—what else in your wardrobe goes from hay rides to the office and onto date night so seamlessly?
2) Consider all the colors in your plaid for pairing
Depending on the plaid shirt or shirt jacket that you're wearing, you may find three, four, or more distinctive colors to riff off of in your outfit.
Maybe a predominantly green plaid has a stripe of yellow that you can play off of in a sport coat's pocket square. Or a red/purple/brown shirt that goes perfectly with an orange pin dot knit tie.
How to know you're getting it right? Just keep it in the same color family.
Cool colors go with cool colors; warm, autumnal colors are happiest with each other—and you're good to go. Check out how creative—yet totally pulled together—Andy Cohen looks here.
3) Aim for flattering, not frumpy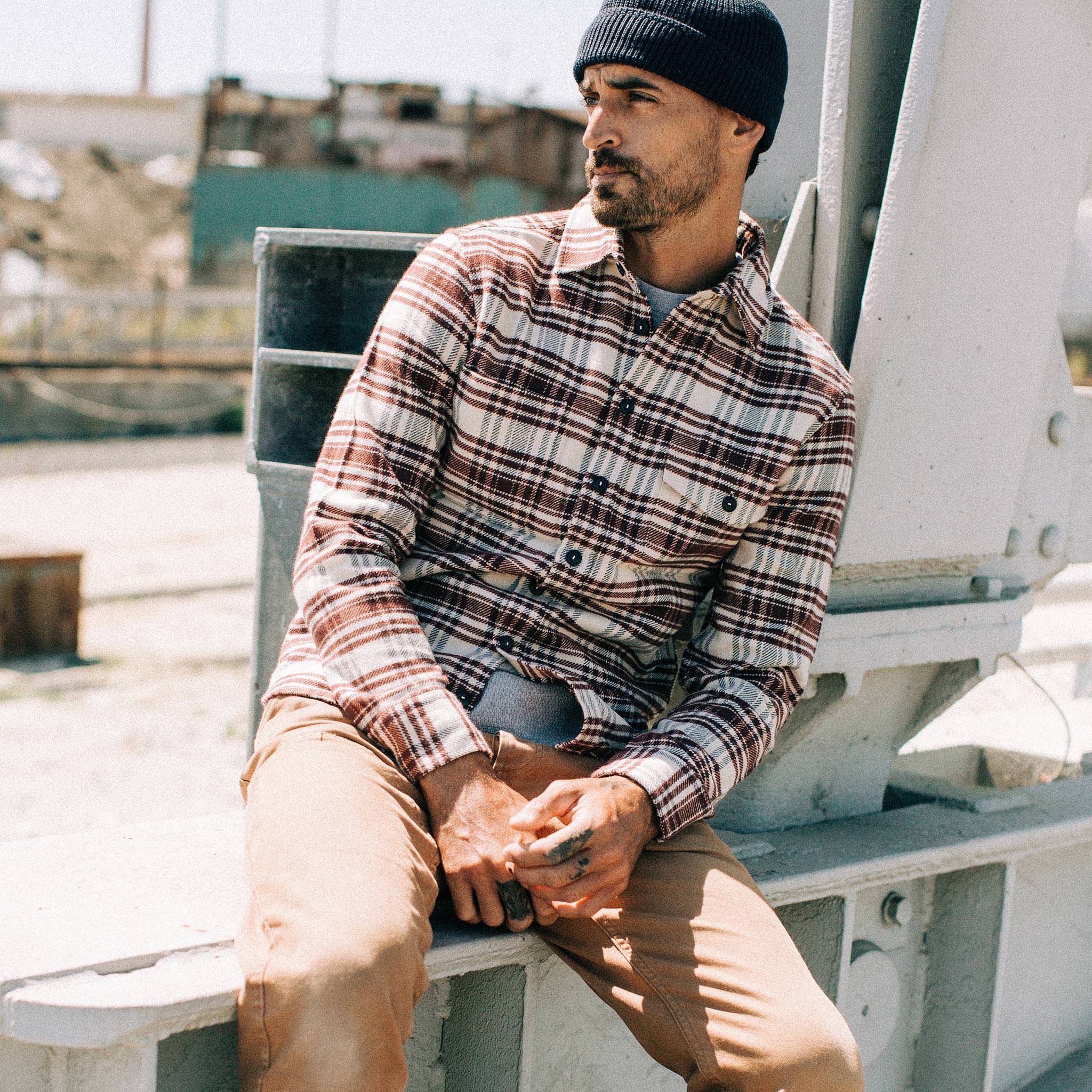 What I've learned in my plaid-ventures (eh?) is to create a look that says "I woke up like this" Beyonce-voice vibe with your plaid.
Opt for shirts that skim your torso, not billow out from it.
When wearing jeans, go with a French tuck, so just the front of the shirt into where the button closes for a look that's breezy but still figure-conscious.
Remember, you're going for good-looking, not grunge.
Of course, there's nothing wrong with leaving your flaps flying on the weekends, but to be sure you're pulling off your plaid properly from Monday to Friday, keep those tails tucked.
---
Want more style support? Check out Team SG's favorite light jackets for fall.