How to Ace Campus Romance 101: 5 College Dating Tips to Know
Good advice for college guys (and beyond, tbh)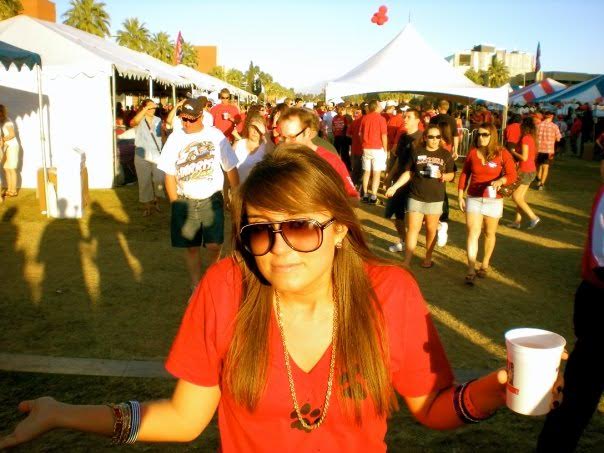 Picture this: It's 2004 and your girl Taylor has just pledged Kappa Kappa Gamma as a college freshman. To welcome the new class of members, the University of Arizona water polo team throws us a pool party.
As soon as I walk into the courtyard behind the house, I lock eyes with a tall, well-tanned blonde relaxing atop a pool floaty. He was the hottest guy I had ever seen in real life. And I knew in that moment that these would be the best four years of my life.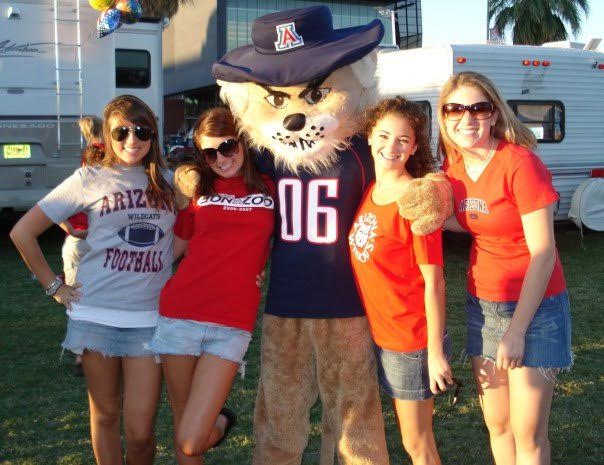 Ross The Water Polo Player and I dated for a few months, just as I was getting my footing as a student. He'd meet me outside my dorm (in basketball shorts and flip flops, le sigh) and walk me to class while holding my hand. I brought my books to the rec center pool so I could "study" while watching him practice. I brought him to my sorority's first date party of the semester. He threw a kegger at his house for my birthday.
We broke up just before Thanksgiving break. I was crushed.
Yung Taylor learned a lot that semester—how to make my meal points last, which library stayed open the latest, and why dating in college can be hard. Namely, because the whole experience is like walking a tightrope between adolescence and maturity. You sway precariously from feeling so grown up (No curfew! Sleepovers! Access to cheap beer!) and so young (Classes! No money! Extra long twin beds!).
So how do you find the balance?
How do you date like a man when you still sort of kinda feel like just a kid?
Don't fret! I'm here to be your new study buddy. I talked to a bunch of intelligent, funny, and actively dating females—both co-eds and recent grads—to get the scoop on college dating. I've got tips on how you can rise to the top of your class and totally crush Campus Romance 101.
There are no classes but believe me—there will be tests.
1. TRY BEING FRIENDS FIRST.
You know what I miss most about dating in college? How easy it was to meet people.
Walking down the hall in the dorms. Joining a club sport. The Greek system. Classes. The library! Do you need me to go on?
The best part of all these potential chance meetings is that they're so low pressure. The college campus, where the same people gather every day, lets relationships evolve at their own pace. Friends, classmates, study buddies — one of the women who plays a role in your everyday life just might turn out to be your college sweetheart.
"I met my boyfriend through a mutual friend," said Kendal Couch, who recently graduated from a small school in North Carolina. "He lived in the building next to me our sophomore year. I think I met most guys that I would want to date in class or small parties since you can get to know someone better," she added.
Colette Cacciatore, a University of Georgia sophomore, agrees. "It's nice to get to know guys in class or in a casual setting, so there's no pressure on either end."
2. DON'T RELY ON APPS… YET.
My most pressing question for the ladies I spoke with about college dating tips was one of method: What about dating apps? They're basically essential for single old fogies like me, but do you gals use them too?
The answers were mixed, but they mostly agreed that apps like Bumble, Hinge, and Tinder were used mostly as a joke—or at best for hookups.
Katie Dixon, a senior at UNC Chapel Hill put it like this: "Some of my girl friends are on Bumble, though they mainly use it here for fun and rarely go on dates with any of the matches."
Colette noted that most of the people she knows don't use them super-seriously, tending to swipe through Tinder or Bumble just to be silly when they're with friends.
Listen—it's your prerogative if you want to expand your dating horizons with apps, especially if you're in a city with a ton of colleges, like Boston or Los Angeles. However, with so many IRL "meet cute" opportunities right on campus—and the knowledge that your peers aren't taking them very seriously—what's the rush?
3. TEXTING IS AN ACCEPTABLE WAY TO ASK A GIRL OUT, BUT IN-PERSON IS BETTER.
"Ideally I'd love for a guy to ask me out in person and then follow up with a text," Katie says. "But usually a text is the go-to form of communication."
Hand to god, I'm 31 years old, and I feel the exact same way. The sense of safe distance that comes with texting is a crutch we all rely on, even if we shouldn't.
Need more convincing that asking her out in person will set you apart? Colette told me that while texting is the norm, being asked out in person is always best. And while Kendal's boyfriend asked her out via text (because he was too nervous to do it IRL), she said guys should "definitely" do it face-to-face if they want to make a memorable impression…and up their odds of getting a, "Yes, let's!" reply.
Asking a woman on a date in person—right to her face, using words coming out of your mouth—takes guts. It takes confidence. And you can do it. Just take a deep breath, look her right in the eyes, smile and invite her to do something fun with you.
And lastly, be specific. Amanda Albee, former team SG intern and a senior at UGA, noted that a specific plan of action goes a long way. Think: "I'd love to take you to X on Tuesday at Y o'clock," rather than "We should grab food sometime maybe."
4. SMALL EFFORTS GO A LONG WAY WHEN YOU'RE GETTING DRESSED.
You didn't sign up for College Romance 101 to get merely a passing grade, did you? No. You want to bring your "A" game and put your fellow students to shame (in a nice way, of course).
First thing's first—look better than your peers. Hard stop. There's no reason that, even on a college budget, your student style can't stand out.
Remember: you have classmates who wear pajamas to class and hoodies to parties. If you can take literally one step up from that, you're already above average.
All the smart and savvy ladies I spoke with said they like to see their dates wearing a great pair of jeans (or chinos!) and a button-down shirt. It's that simple!
"I like a guy to put a little effort into what he's wearing but not over-think it," said Katie. Colette echoed her sentiment saying that guys "can't go wrong" in that combination. And Amanda wants the same with the caveat of absolutely no "athletic shorts, flip-flops, or fraternity t-shirts."
Since you're way past wearing athletic shorts and that t-shirt you got at orientation anywhere but the gym—be sure to upgrade your style. Yes, even as an undergrad. Whether you're preppy and traditional, trendy, or "undeclared" in your aesthetic, you've got plenty of affordable options out there.
// Shop #SGapproved college style picks//
5. LITTLE THINGS CAN MAKE A BIG IMPACT.
I'm just going to come out and say it: don't be too cool to show you care. Young men especially seem to struggle with small acts of kindness, like check-ins and compliments. I think it's because they worry that sharing emotion or making an effort translates to vulnerability and a lack of cool. Take it from me, though: nothing in the world is cooler or more meaningful than being a bit vulnerable.
Actually… Don't take it from me, I'm an old fart that's long since graduated. Let's hand things back over to my finger-on-the-pulse, college-age experts to explain just how meaningful little efforts and expressions of genuine emotion can be.
"Just a quick 'How's your day going?' Or being the one to come up with fun activities or things to do instead of just asking, 'Wanna hang?' It shows that they care and are interested in the quality of time spent with you over just the quantity." – Amanda
"I really appreciate random acts like getting you flowers when you're sad. Basically, doing small things to show you that they like you!" – Kendal
"I love when a guy is passionate about something and wants to share that passion with you. The more open a guy is, the better. I've been known to get sucked into mind games, so it's refreshing when a guy is just honest with how he feels. And again, guys that have true passions and find ways to talk about them always capture my attention. I feel like some guys are too afraid to show that they care about things other than sports and beer (cliche but true). But that being said, don't forget to be interested in what I have to say too, a good repartee is essential." – Katie
***
So, there you have it!
A complete study guide to Campus Romance 101, complete with cited sources and hot college dating tips for excelling far past your peers.
The good news is, this advice isn't the kind of thing that you'll toss out with your textbooks and notes come graduation day. These college dating tips are laying the foundation for you to absolutely knock the socks off of the women you meet in "the real world."
TELL ME:
WHAT WOULD YOU ADD TO THIS LIST?
> Want more straight talk from Team SG on dating and relationships? You got it
Taylor Davies splits her time between NYC and Sun Valley. She loves writing about menswear, overpriced martinis in dimly lit hotel bars, and cross-country skiing. Not necessarily in that order.