Spring Golf Style for Guys
Look your best from the course to the clubhouse and beyond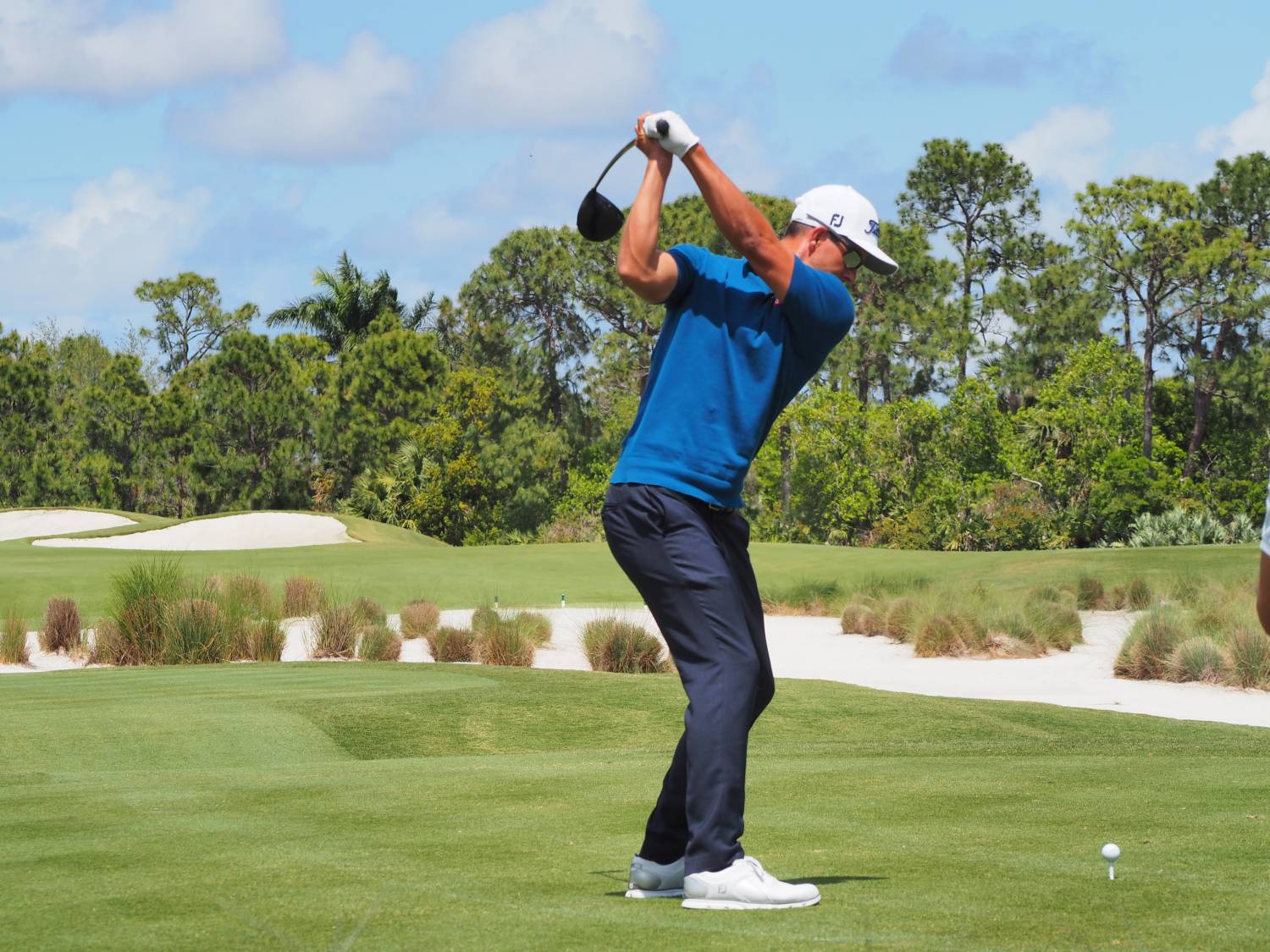 Our Spring Style Guide is presented in partnership with Uniqlo USA
Last February, my favorite cousin invited me to join her on a long weekend getaway to The Bahamas. Specifically, to Atlantis—famed filming location of my favorite Olsen Twins movie, Holiday In The Sun. And what a holiday it was! We swam with dolphins, rode a lot of waterslides, and, for some reason, we took a golf lesson.
Before that fateful afternoon, my familiarity with golf was pretty much limited to putt-putt dates and trolling for guys at the Chelsea Piers driving range. (Yes, women really do this—whacking away at balls without keeping score is fun, and the male/female ratio is always in our favor.)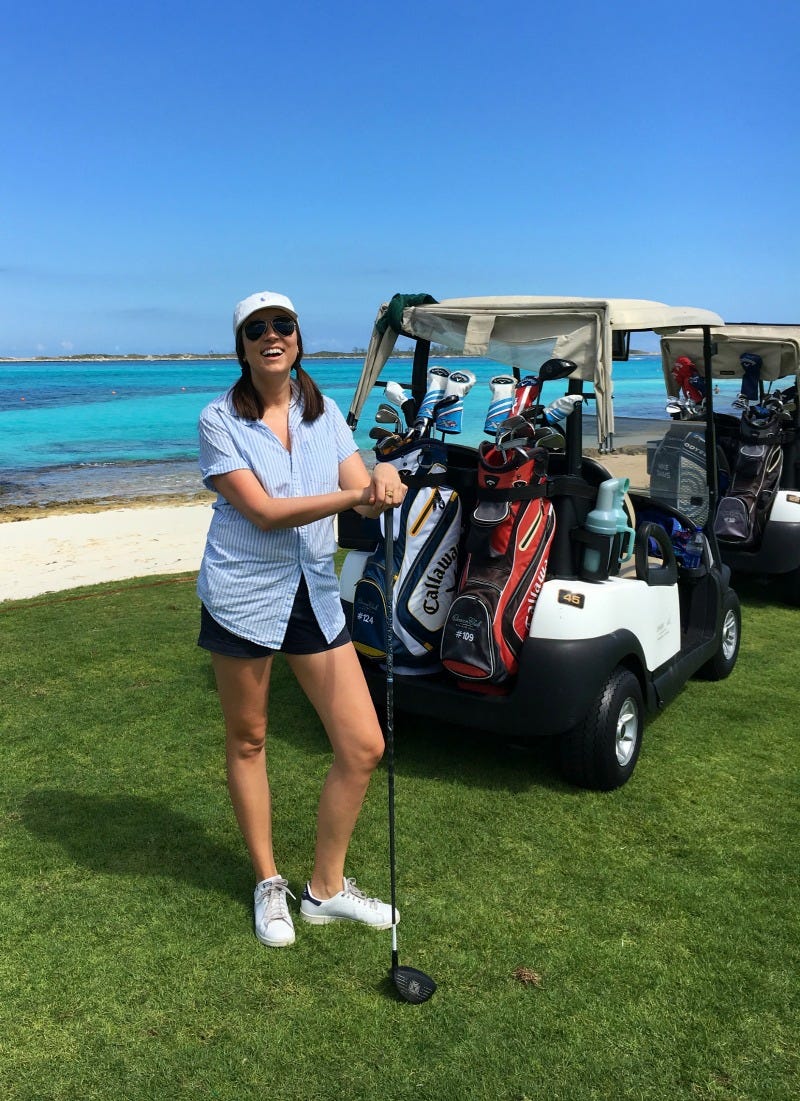 I'd never met a golf pro, but I thought I had a pretty good idea of what to expect: Pleated khakis that balloon out in all the wrong places, garishly colored polos, and a sweat-stained visor.
Our pro, John turned out to be an angel in cleats—perfectly teed up (ahem) in a 'fit featuring almost blindingly white shoes, a fitted pale yellow polo tucked into a pair of thigh-grazing navy shorts, and a resort-branded baseball cap. He was handsome and young and from Canada, but, okay, that is beside the point.
The man looked dressed. To play golf?
Apparently years of familiarity with Tiger Woods couldn't change my mental image of golf attire as favoring function over fashion, but two hours with John and suddenly I've seen the performance fabric light. So if that's all it took for me, golf novice-slash-fashion expert, to realize golf and style could and should play nicely together—all you actual golfers out there for sure have no excuse.
Thanks to moisture-wicking, ultra-stretchy fabrics designed to look like office attire but feel like a goddang dream, it is entirely possible to play through (I did it again?) an entire day of coffee meetings, office hours, classes and even a date in clothing created for the fairway.
Uniqlo must have anticipated my golf style-can-look-good epiphany when they brought on Australian golfer Adam Scott to help develop the new Kando pant. Made of a highly breathable, stretch fabric around the waist (important for the golf swing) they feel comfortable and light even in intense heat, and look good both on and off the course.
To get your golf style on par for spring (that was close, right?), check out these tips and tricks for looking your best from the course to the clubhouse… And beyond!
5 Ways Spring Golf Style for Guys Can Improve, On and Off the Links
1. Look for pants and shorts with more movement.
First thing's first: There's no point in looking like an ace on the links if you can't at least try to play like one, too. And in order to play well, you've gotta be able to move well.
Spoiler alert: Baggy isn't the answer here. Instead, opt for stretchy, quick-drying performance trousers like the Kando soft touch pants and shorts.
These bad boys are crisp and slightly formal in appearance, so you can wear them to work, disappear for a quick nine at lunch, and be back at your desk without tipping off the boss. As Scott says, "Labeling golf clothes [as golf-specific] is restrictive." Plus, the quick-drying, incredibly lightweight fabric of the Kando means you'll be comfortable no matter what else you do with your day.
2. Shield your eyes—in style.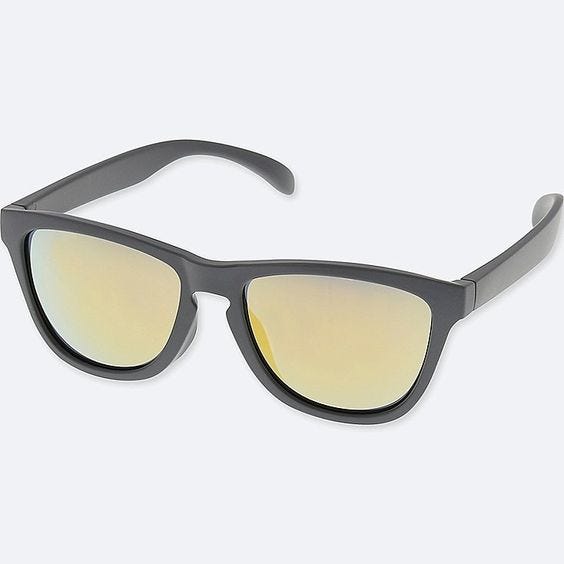 I'm no expert, but I've heard that it's helpful to be able to see what you're doing when you're hitting a ball the size of a large strawberry towards a hole roughly the size of an Eggo waffle at least 250 yards away (and much, much further, depending on the par). Unless you're planning on going pro, your favorite everyday sunglasses will probably do the trick; just be sure they don't slide down your nose when you're teeing off.
Even for more avid, dedicated golfers, you don't have to go all-in on a pair of shield glasses like this is the freakin' Tour de France. A pair of lightweight, durable sport sunglasses with a flattering Wayfarer frame will do the trick.
3. Upgrade from your typical polo shirt.
This season, Uniqlo has adjusted the shoulder and armhole fit of their dry pique polo to allow for easier movement and a sleeker fit. The DRY fabric technology will keep you, yes, dry, through all 18 holes, and minor sewing updates to the seams and placket from last season's cut ensure a smooth, flattering look. My favorite thing about these practical, player-ready polos, though? The seasonal colors and prints—including swiss dots (subtle elegance!), anchors (nautical prep!) and orcas (pandas of the sea!) printed onto shades of salmon pink, navy, red and grey.
4. Embrace fun colors and prints on the course.
Uniqlo, left to right: 1 | 2 | 3 
If you ask me, one of the best things about individual sports like golf is that you can wear whatever you want…within the dress codes that apply on various courses, of course. Blame it on years of unflattering soccer team uniforms, but room for individuality in competition thrills me.
As such, I see no reason to stick to neutrals and "safe" colors when you tee off. Soft yellow, pastel pink, sapphire blue, deep green… If you don't know what looks best on you, just ask your mom which color "really brings out your eyes." Trust me, she'll know.
And how about having a little fun with your accessories? There's no shortage of fun, printed and colorful socks in durable, moisture-wicking yarns that are comfortable enough for a bit of sport (including Uniqlo, naturally). So go ahead—let a peek of ankle whimsy show under those chinos! Try tiny sailboats! Or argyle! Or stripes!
5. For dinner at the clubhouse, just add a blazer.
Adam Scott x Uniqlo Kando jacket, $60
When Armie Hammer retired his tracksuits, it reminded me: athleisure isn't appropriate all the time. Indeed, at golf courses and country clubs around the globe, conservative dress codes are still the norm. For evenings, many require gentlemen (such as yourself!) to wear a blazer and collared shirt. 
The Kando jacket from Uniqlo—which comes in classic colors like navy, khaki and grey—is made with the same DRY fabric as their polos. Boom—you're instantly classed up and, thanks to the addition of Airdots fabric, you've got "anti-microbial and anti-odor functionality" so you don't, y'know, stink up the joint after a particularly grueling game. The club elders will thank you, I promise.
***
Ultimately, my favorite thing about golf style is that it's basically just style—with better fabric.
Going to the office? Wear your favorite golf polo. Taking a girl to dinner and dancing? Rock those "performance trousers" with a button up shirt and brogues. Meeting your parents for brunch? Those festive socks and "clubhouse" blazer are calling your name! I'm not exactly saying you should wear your golf attire everywhere you go, but I'm also not not saying that…
TELL ME:
WHAT'S THE MOST MULTI-FUNCTIONAL PIECE IN YOUR CLOSET?
Thanks to Uniqlo, and to you, our readers for supporting the brands that make Style Girlfriend possible!