Golf Style Upgrades Every Guy Needs to Make
Look your best from the course to the clubhouse and beyond
This winter, my favorite cousin invited me to join her on a long weekend getaway to The Bahamas. Specifically, to Atlantis—famed filming location of my favorite Olsen Twins movie, Holiday In The Sun.
And what a holiday it was! We swam with dolphins, rode a lot of waterslides, and, for some reason, we took a golf lesson.
Before that fateful afternoon, my familiarity with golf was pretty much limited to mini golf dates and trolling for guys at the Chelsea Piers driving range. (Yes, women really do this—whacking away at balls without keeping score is fun, and the male/female ratio is always in our favor.)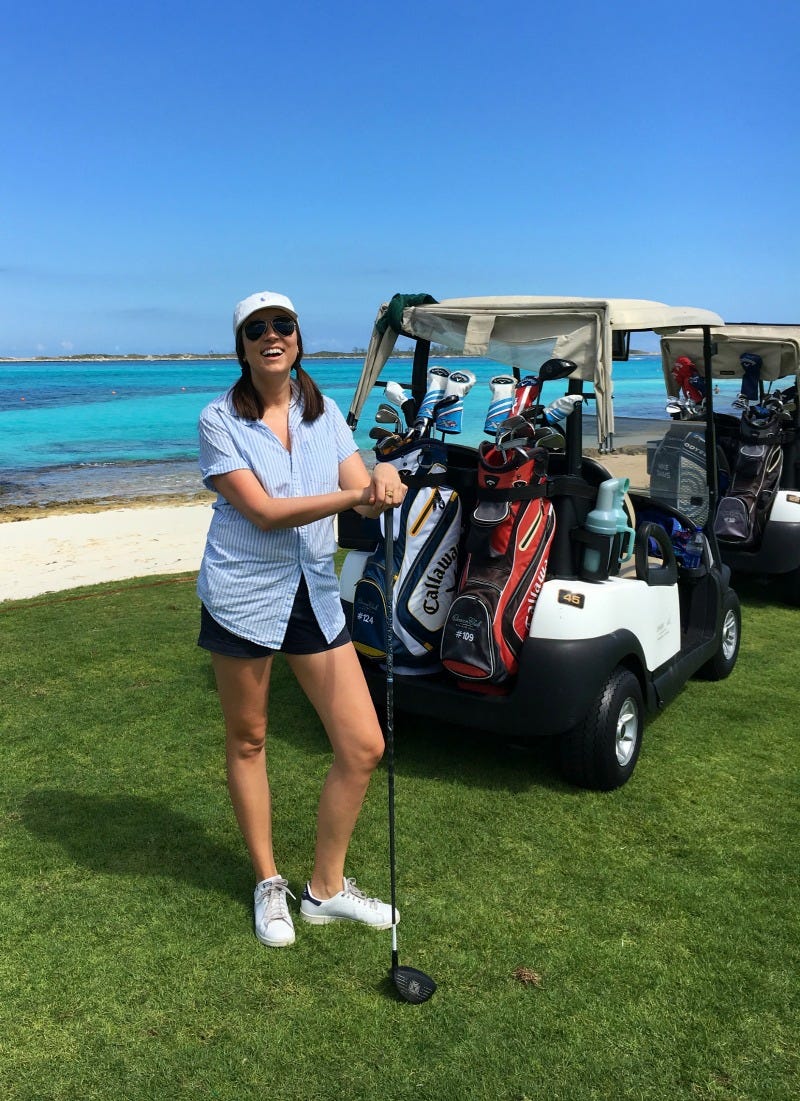 I'd never met a golf pro, but I thought I had a pretty good idea of what to expect: Pleated khakis that balloon out in all the wrong places, garishly colored polos, and a sweat-stained visor.
John, our pro, turned out to be an angel in cleats—perfectly teed up (ahem) in a 'fit featuring almost blindingly white shoes, a fitted pale yellow polo tucked into a pair of thigh-grazing navy shorts, and a resort-branded baseball cap.
He was handsome and young and from Canada, but, okay, that is beside the point.
The man was dressed.
Apparently years of familiarity with Tiger Woods couldn't change my mental image of golf attire as favoring function over fashion, but two hours with John and suddenly I've seen the performance fabric light.
So if that's all it took for me, a golf novice-slash-fashion expert, to realize golf and style could and should play nicely together—all you actual golfers out there for sure have no excuse.
Thanks to moisture-wicking, ultra-stretchy fabrics designed to look like office attire but feel like a goddang dream, it is entirely possible to play through (I did it again?) an entire day of coffee meetings, office hours, classes and even a date in clothing created for the fairway.
Thankfully, several brands have anticipated my golf style-can-look-good epiphany. There are great, highly breathable, stretch fabrics that feel comfortable and light even in intense heat, and look good both on and off the course.
To get your golf style on par for spring (that was close, right?), check out these tips and tricks for looking your best from the course to the clubhouse… And beyond!
5 Tips on Spring Golf Style for Guys
1. Look for pants and shorts with more movement.
First thing's first: There's no point in looking like an ace on the links if you can't at least try to play like one, too. And in order to play well, you've gotta be able to move well.
Spoiler alert: Baggy isn't the answer here. Instead, opt for stretchy, quick-drying performance bottoms like the Malbon shorts above.
These bad boys are crisp and slightly formal in appearance, while the elastic waist says, "Let's have some fun."
RELATED: The Most Stylish Golf Brands for Men in 2022
Plus, the quick-drying, incredibly lightweight fabric means you'll be comfortable no matter what else you do with your day.
Shop more #SGapproved pants and shorts:
2. Shield your eyes—in style.
I'm no expert, but I've heard that it's helpful to be able to see what you're doing when you're hitting a ball the size of a large strawberry towards a hole roughly the size of an Eggo waffle at least 250 yards away (and much, much further, depending on the par).
Unless you're planning on going pro, your favorite everyday sunglasses will probably do the trick. Just be sure they don't slide down your nose when you're teeing off.
Even for more avid, dedicated golfers, you don't have to go all-in on a pair of shield glasses. A pair of lightweight, durable sport sunglasses with a flattering frame will do the trick.
Shop more #SGapproved shades:
3. Upgrade from your typical polo shirt.
It's so easy to wear a boring, run-of-the-mill polo shirt on the golf course. I get it, I really do.
But it's worth finding a style that really works for you. This G/Fore style (a cool collab with Mr Porter) will keep you dry through all 18 holes, while the side slits ensure a smooth, flattering look when tucked in.
Shop more #SGapproved polo shirts:
4. Embrace fun colors and prints on the course.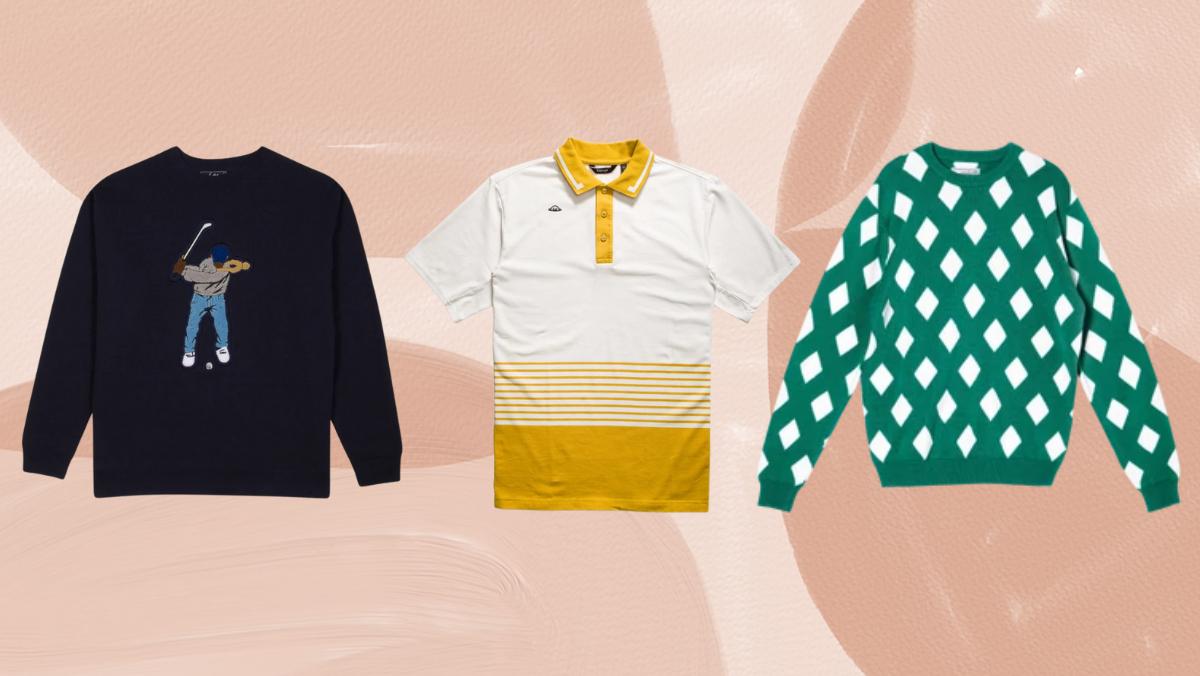 Shop, left to right:
If you ask me, one of the best things about individual sports like golf is that you can wear whatever you want…within the dress codes that apply on various courses, of course. Blame it on years of unflattering soccer team uniforms, but room for individuality in competition thrills me.
As such, I see no reason to stick to neutrals and "safe" colors when you tee off.
When it comes to golf style for guys, the sky's the limit!
Soft yellow, pastel pink, sapphire blue, deep green… If you don't know what looks best on you, just ask your mom which color "really brings out your eyes." Trust me, she'll know.
And how about having a little fun with your accessories? There's no shortage of fun, printed and colorful socks in durable, moisture-wicking yarns that are comfortable enough for a bit of sport.
So go ahead—let a peek of ankle whimsy show under those chinos!
5. Rethink what's "appropriate."
Sure, athleisure isn't appropriate everywhere, but we're talking about golf. You can and should wear clothes that help you perform your best AND help you look and feel your best.
The Montauk joggers from Greyson are the biggest game changer we've seen for guys who want to wear a technical pant without running afoul of course marshals.
The pants come in classic colors like navy, khaki and grey, and are made with the same performanace fabric as you would expect from a leg day workout outfit for the gym.
***
Ultimately, my favorite thing about golf style is that it's basically just style—with better fabric.
Going to the office? Wear your favorite golf polo.
Taking a girl to dinner and dancing? Rock a pair of "performance trousers" with a button up shirt and brogues.
Meeting your parents for brunch? Stylish shorts and a sturdy pullover are calling your name!
Look, I'm not exactly saying you should wear your golf attire everywhere you go, but I'm also not not saying that…
Taylor Davies splits her time between NYC and Sun Valley. She loves writing about menswear, overpriced martinis in dimly lit hotel bars, and cross-country skiing. Not necessarily in that order.