Are You a Huberman Husband?
With a Swiftie Spouse Rising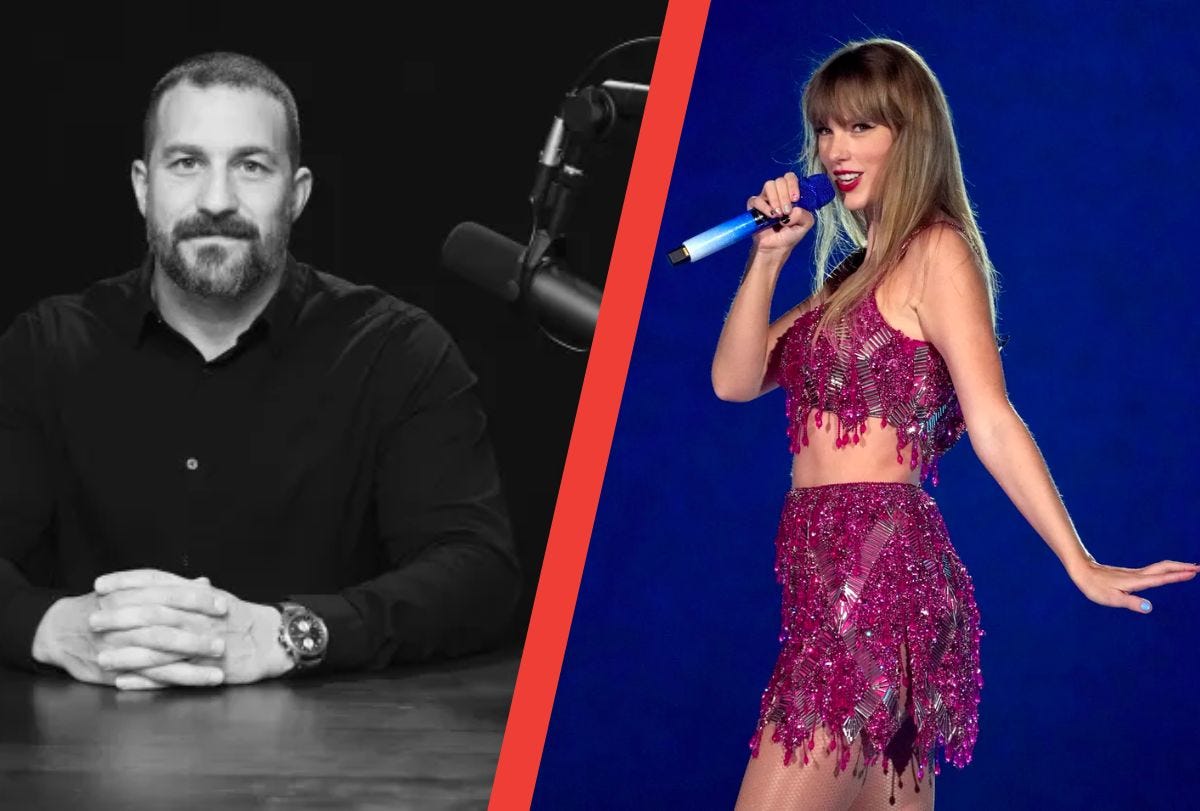 Discussing the Huberman husband TikTok trend, and the growing popularity of Taylor Swift among men…
I have discovered a new phenomenon on my favorite place to do scientific research: TikTok. 
Recently, women have been popping up on the app to share changes to their daily routine that they've adopted since their husbands started listening to the Huberman Lab podcast. 
Hosted by Andrew Huberman, Ph.D., a neuroscientist and tenured professor at Stanford School of Medicine, weekly episodes focus on science-based tools for improving everyday life. Past episodes have covered topics ranging from how to improve your vision to the benefits and risks of ketamine.
Unlike Joe "But I'm a Man" Rogan, who seems to think speaking with confidence is the same thing as obtaining a medical license after years and years of rigorous study, Huberman shares scientific data with his listeners, not subjective opinions passed off as the former.
The 90-minute-plus episodes aren't spent with host and guest smoking weed and philosophizing; they're spent dispensing medical findings in almost mind-numbing detail about iterative improvements you can make in your day-to-day life.
Think: how magnesium reacts with the body and when to take it.
I will admit that I subscribed, listened to two episodes—one on optimizing sleep and the other on caffeine intake—and realized I'd never implement any of Huberman's suggestions unless I took notes like I was in a college lecture hall. 
So I unsubscribed.
But! I'm so happy that Huberman husband content is trending on TikTok now because these women are summarizing in 30 seconds what it takes their husband hours of listening (and reading transcripts? Taking notes? How are they capturing this information? I listen to podcasts at the gym and on the subway. I can't take notes there!) to retain.
What I love even more than the information (hello, I am absolutely trying mouth tape)?
How good-natured the Huberman Husband TikTok trend feels. 
These women aren't belittling their husbands, saying "He replaced his bedside lamp's bulb with a red light…what a quack!"
Or, "Now my husband gets outside for 20 minutes of sunshine before looking at his phone in the mornings; can you believe it?"
These women are saying, "He did the leg work, now we're making these changes together."
They're grateful, and supportive! It's sweet.
It reminds me actually, of all the men attending Taylor Swift's Eras tour this spring and summer alongside their wives and girlfriends.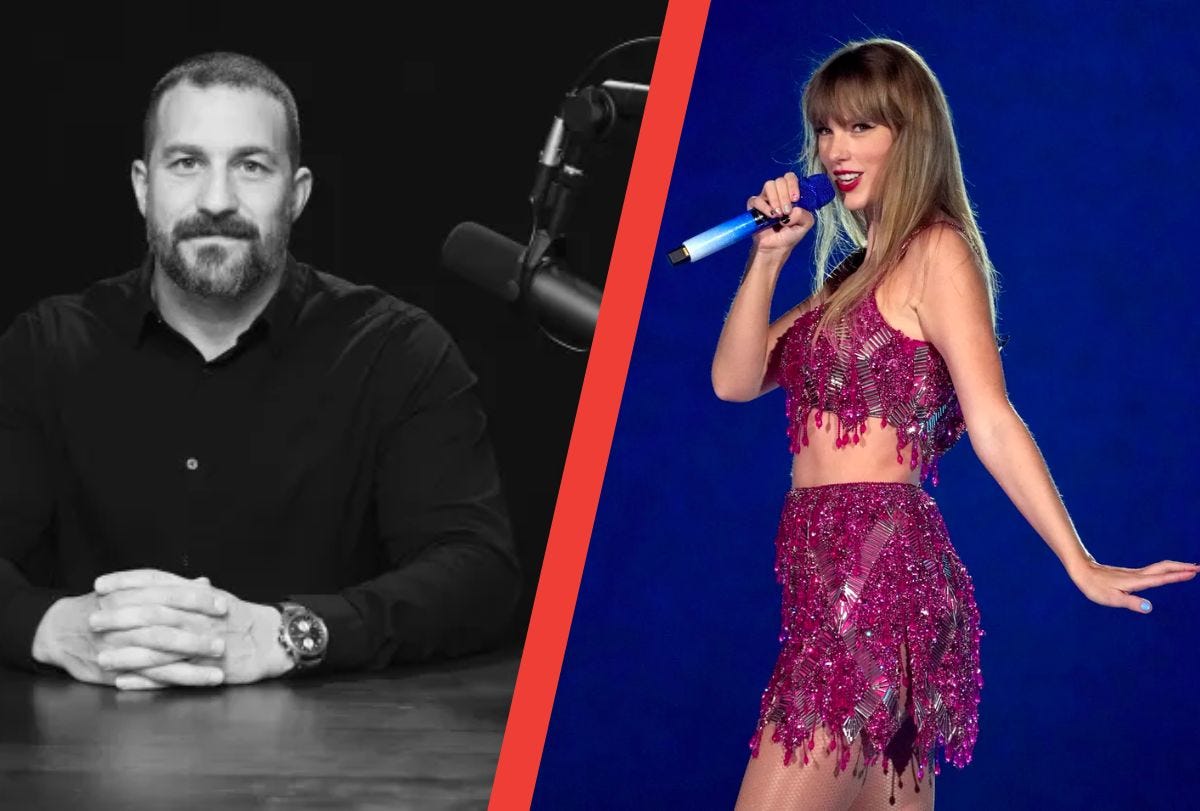 Understanding the Swift-aissance
This sudden change of collective heart feels overdue and jarring all at once.
I keep imagining men across the country opening their mailboxes to find a permission slip, co-signed by Joe Biden and Aaron Dessner, freeing men to finally, openly enjoy Taylor Swift.
This fantastic podcast from The Ringer cataloging all of Swift's albums suggests that the addition of dad rock icons The National and Bon Iver to the songwriting equation is what won men over.
And sure, Folklore and Evermore are absolute banger albums, but I've seen video of too many men screaming the chorus from "Cruel Summer" at the top of their lungs in stadiums across the country to think that's all there is to it. 
Instead, here's my hopeful analysis:
Men and women are starting to respect one another's interests without feeling the need to shit on them in a gendered way.
Wives and girlfriends can appreciate the fantasy sports-level of detail their significant others put into supplement tracking and life hack optimizations.
And for men's part, if it took their wives navigating the Ticketmaster gauntlet like an American Ninja Warrior to get them to a Taylor Swift concert so they can belt out the 10 minute version of "All Too Well?"
Well then, great! 
The tl;dr? If we could all indulge each other's interests and take them a little more seriously, to me, that feels like progress.
---
More Men's Lifestyle Stories: