5 Men's Performance Pants Outfits to Wear in 2023
Look good, feel comfortable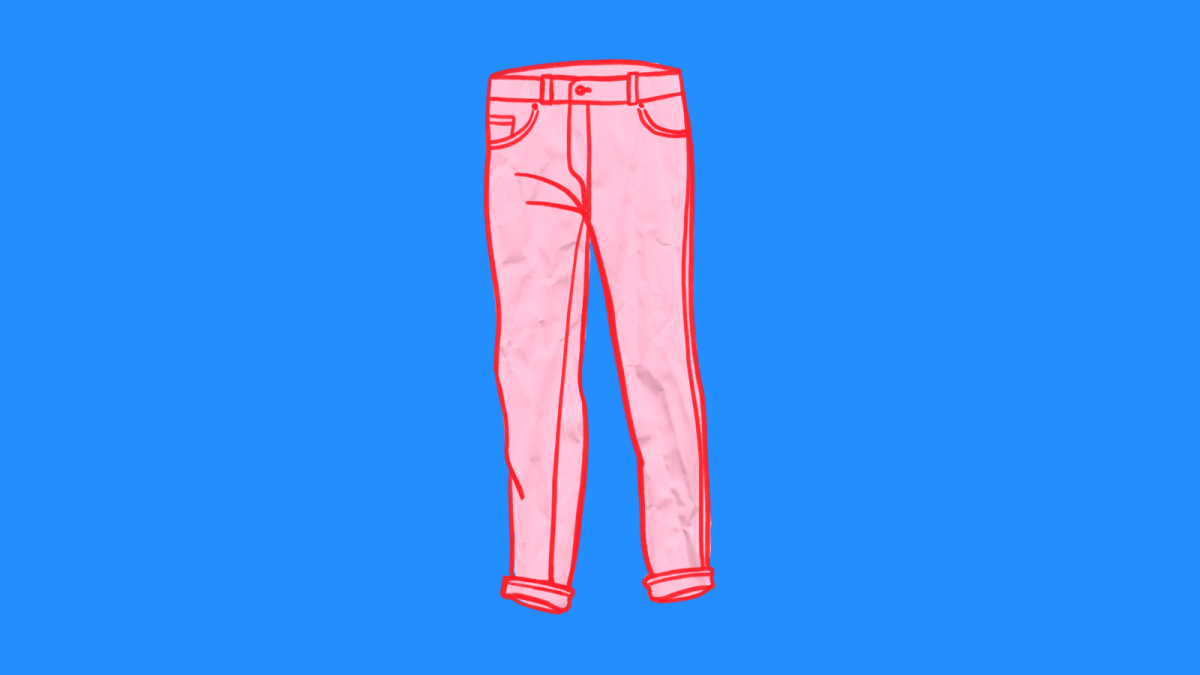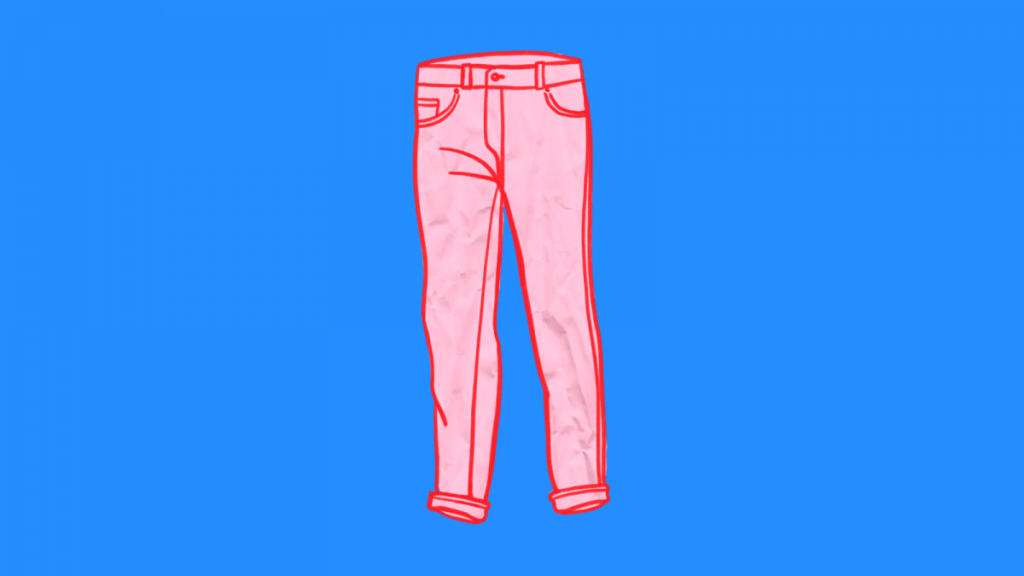 Men's performance pants—travel pants, tech pants, whatever you want to call them—might just be for guys what leggings are for us ladies.
Consider the facts: You reach for them when you don't want to wear "real" pants. They move with your body thanks to NASA-level stretch fabric. You've discovered that they pair well with…pretty much everything in your wardrobe.
Oh, and your butt looks great in them. #facts
A favorite around SG HQ? The Passage Pant from Olivers Apparel.
Cut like a pair of 5-pocket jeans, and made from a blend of cotton and stretch fabric, you'll find yourself reaching for these pants again and again.
Even the oft-curmudgeonly Redd community loves this pant. And that's saying something.
The fit of men's performance pants
Expect a pair of performance pants like the Passage Pant to fit close to your body (if you get them in your proper size, that is).
Think: slim, but not skinny.
Not only that, the way they feel when you first pull them on? Well, that's how they'll fit every time. That's because performance fabric doesn't shrink, and doesn't require multiple washes to "break in" the way jeans do.
(Want even more detail? This review by men's style blogger Alex Kwa helpfully breaks down the style's fit and feel.)
What men's performance pants are made of
Oh, just stain fighting, wrinkle resistant, no shrink, no fade fabric.
So, basically…magic.
The four-way stretch means you'll never feel like you're going to bust out of your pants when you take the steps two at a time.
What colors Olivers' Passage Pants come in
Okay, don't get freaked out, but the Olivers Passage Pant comes in 12 colors.
Honestly? It's almost too many.
Thankfully, they're basically all neutrals. Think: navy, black, brown, lighter brown, tan, grey, lighter grey…okay, you get the idea.
Meaning, you can wear pretty much any pair with pretty much everything in your closet right now. Easy, right?
Want to know what to wear with yours? Scroll on.
Check out 5 men's performance pants outfits:
Monday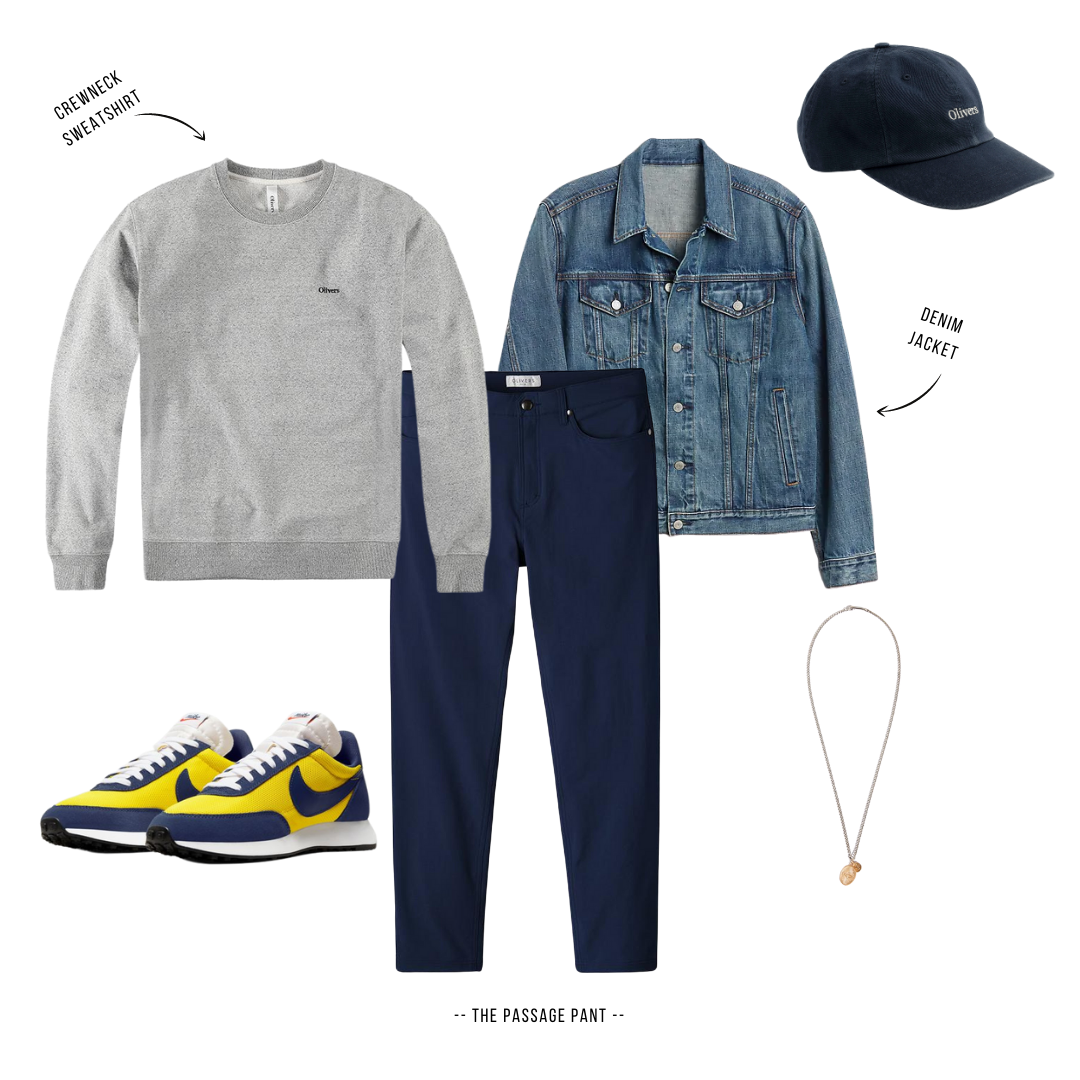 pants | sweatshirt | hat
SG Says: Hello 2021 uniform! Our whole team loves this simple, yet stylish look anchored by the navy Passage Pant.
A tailored sweatshirt topped by a broken-in denim jacket will look great on Zoom (and maybe..fingers crossed..in person) at a casual office or on campus.
The accessories—colorful sneakers, dad hat, and subtle jewelry—take the outfit from just okay to totally juicy.
Tuesday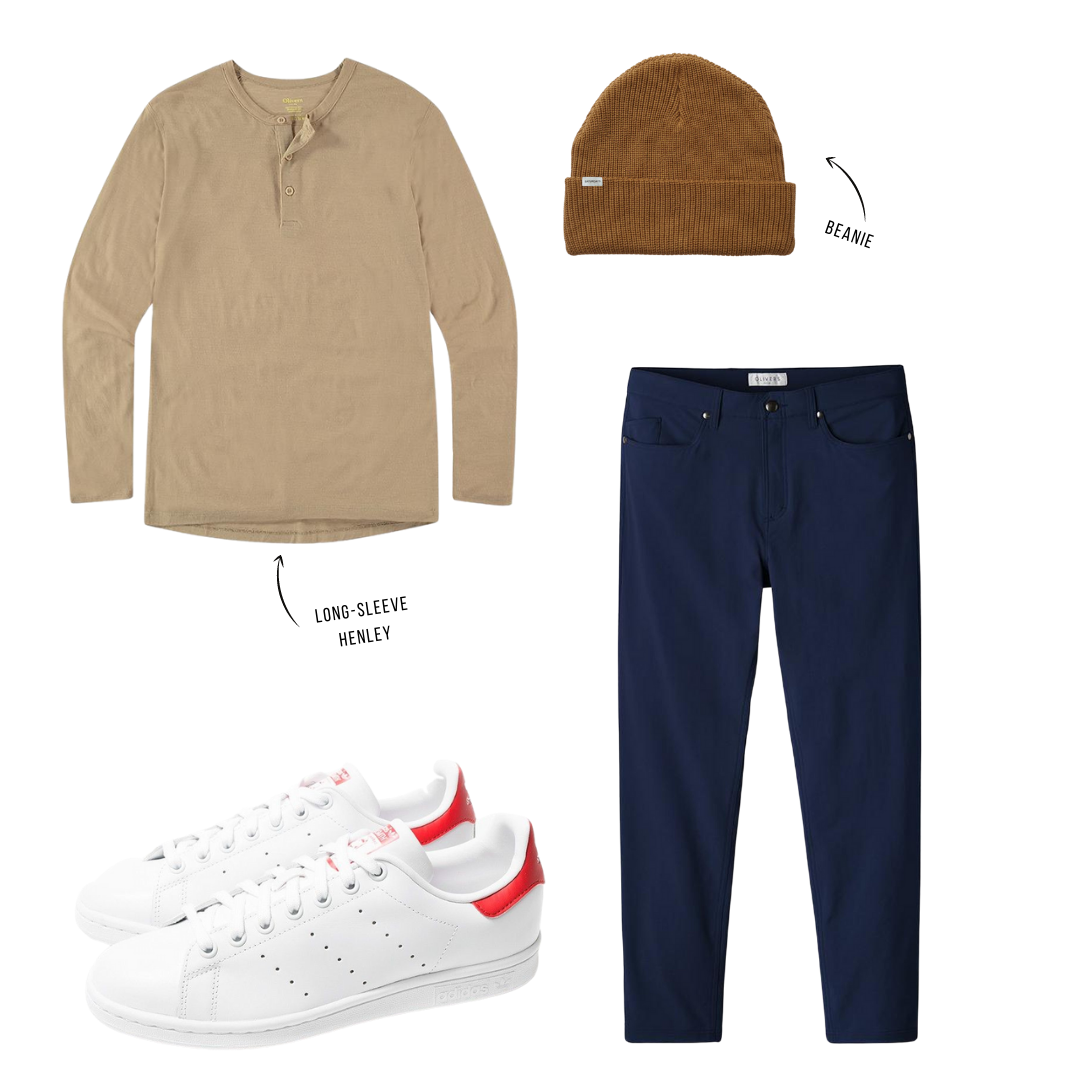 SG Says: Why yes, we will be wearing henleys in 2021. Please make a note.
I love the mix of browns in this outfit, while the pop of red in the sneakers punches up the overall effect.
Wednesday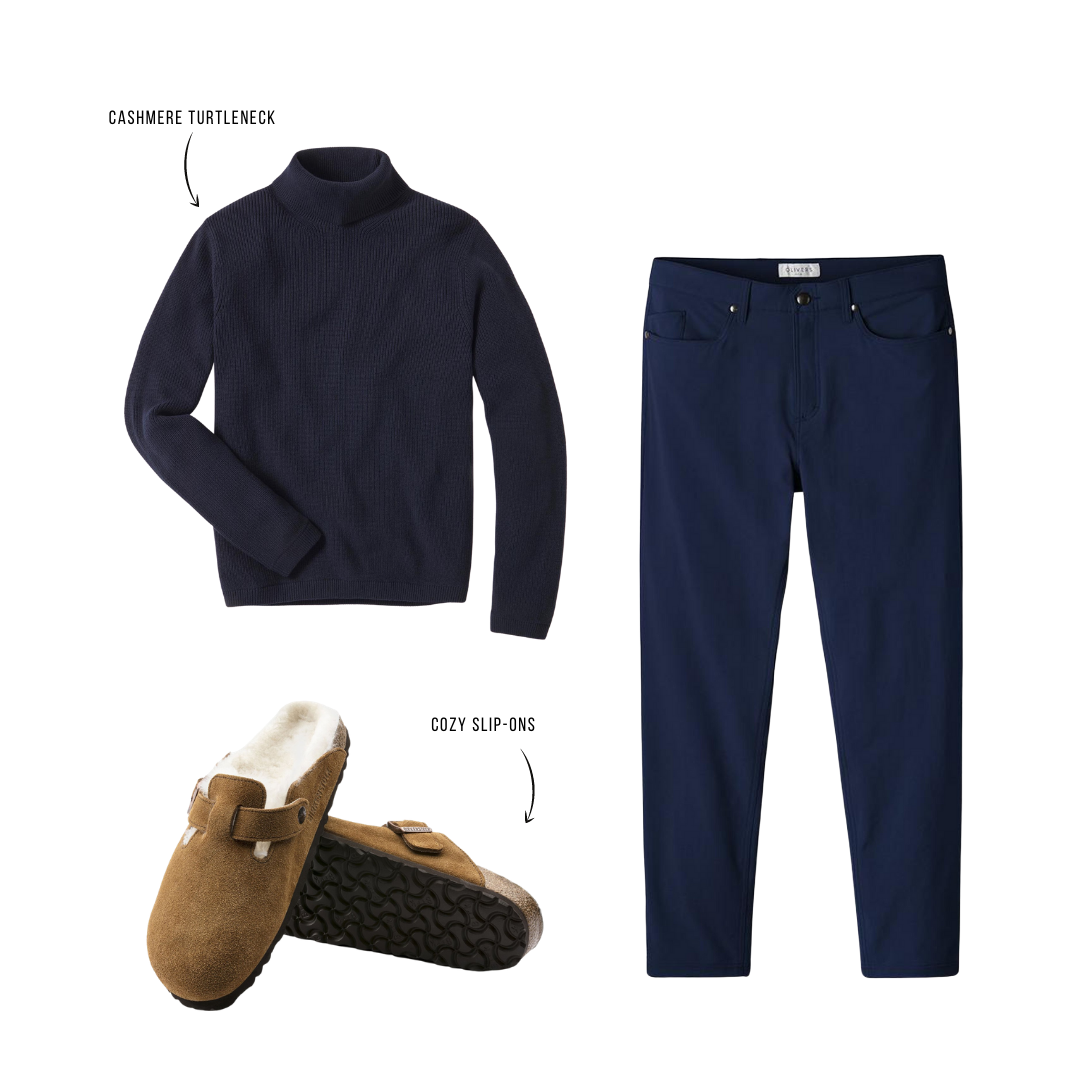 SG Says: Turtleneck? Check. Shearling-lined slip-ons? Check.
This is "big presentation at work" meets "at-home date night" chic.
Want to know more about dressing in one color head to toe? Check out our guide to color matching.
Thursday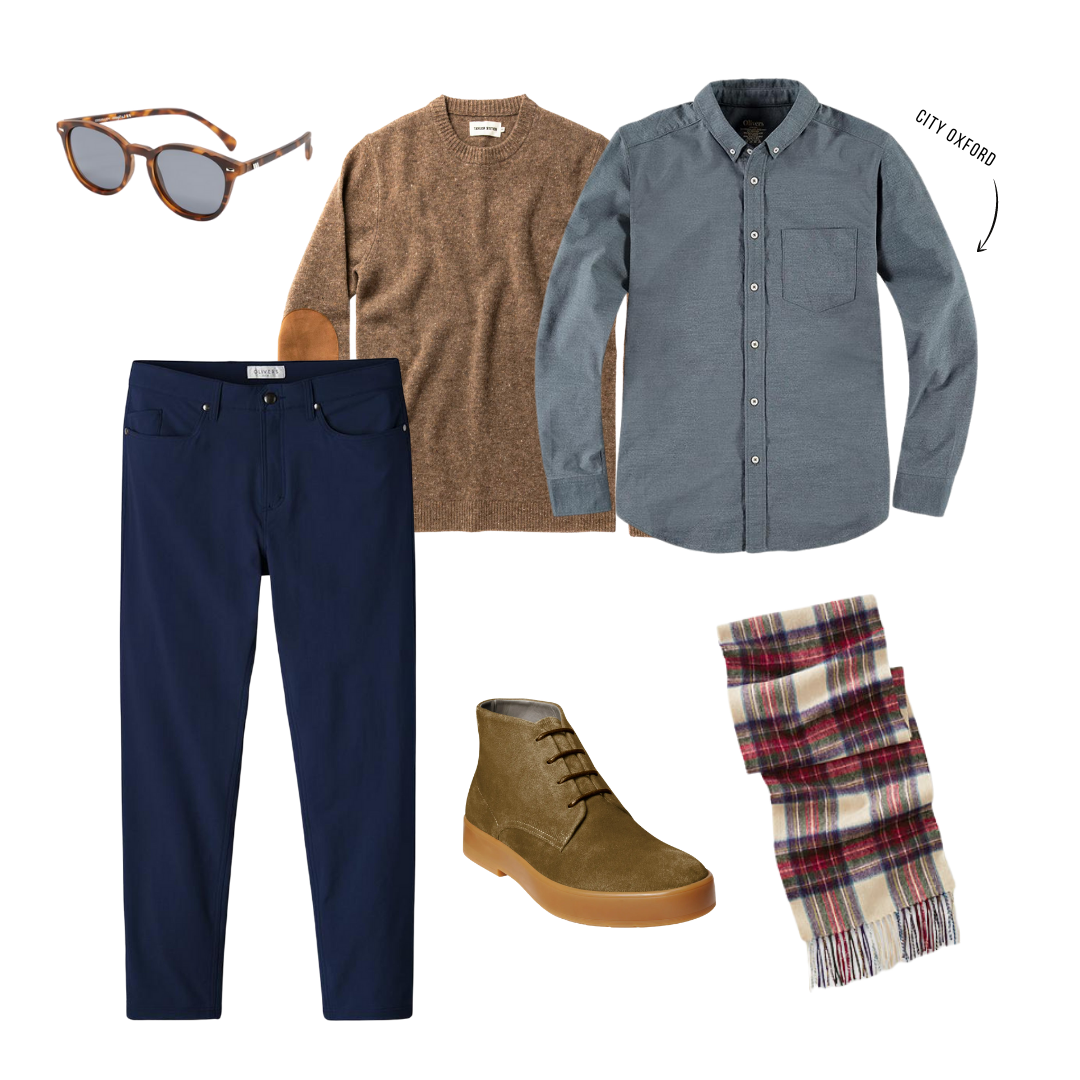 SG Says: A strong contender for 2021 wardrobe essential (in addition to the Passage Pant) is Olivers' new City Oxford shirt. A lightweight, breathable button-down that will stretch with you and wick moisture.
Wear it to work. Wear it on the weekend. Wear it when you can't remember if it's a workday or the weekend.
Friday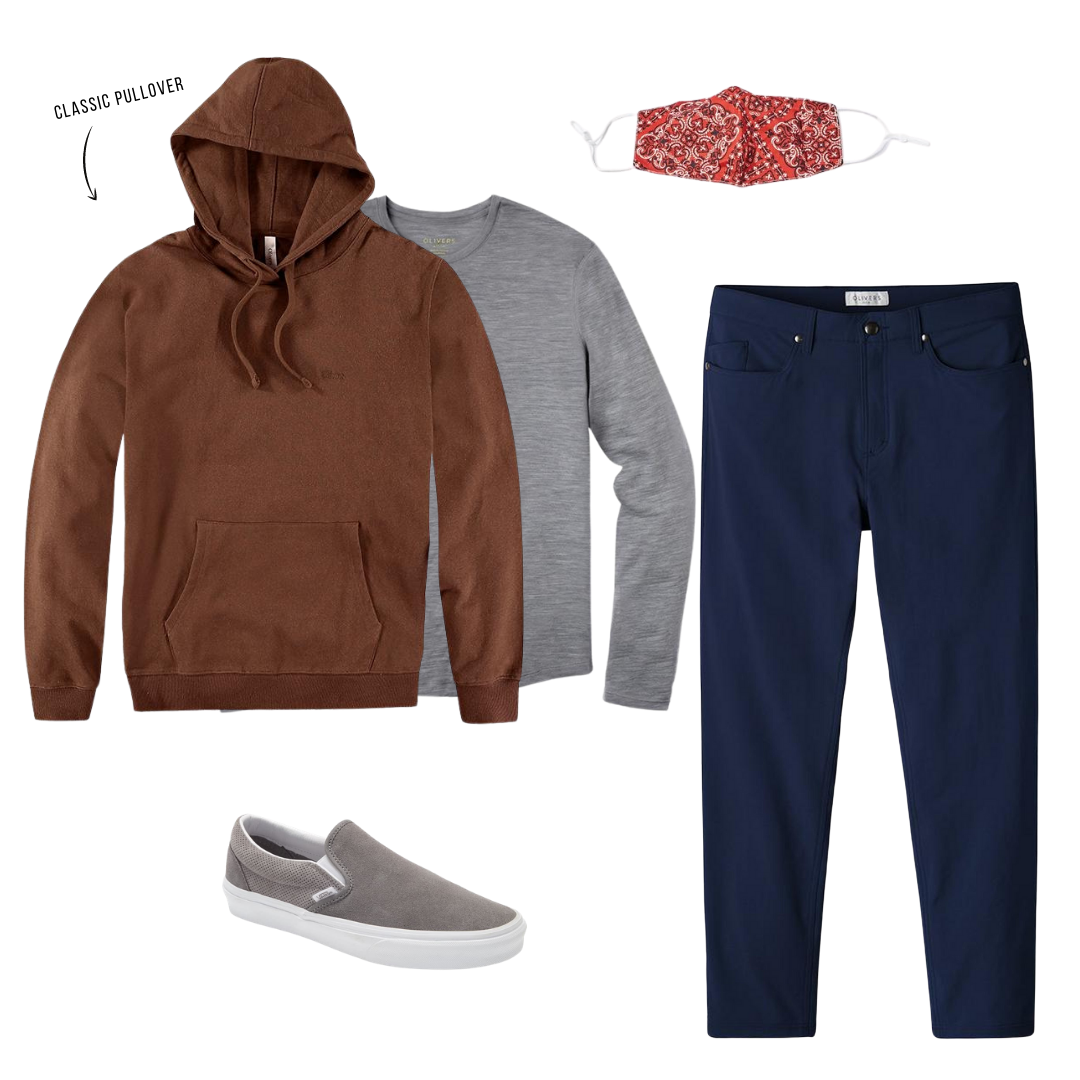 hoodie sweatshirt | long-sleeve tee | pants
SG Says: Wouldn't this outfit look SO GOOD with a long camel topcoat thrown over it?
The secret to making casual clothes look…dare we say it…sophisticated is all in the construction.
High-quality fabrics, top-notch tailoring, and a slim silhouette will instantly elevate a basic outfit like the one above.

Your turn! Have you snapped yourself in any men's performance pants outfits? Let us know on Twitter or Instagram.
***
And finally, thank you for supporting brands like Olivers that make Style Girlfriend possible!