How to Sleep Better: 6 Tips to Look and Feel Good in the Morning
Solve Your Biggest Nighttime Rest Roadblocks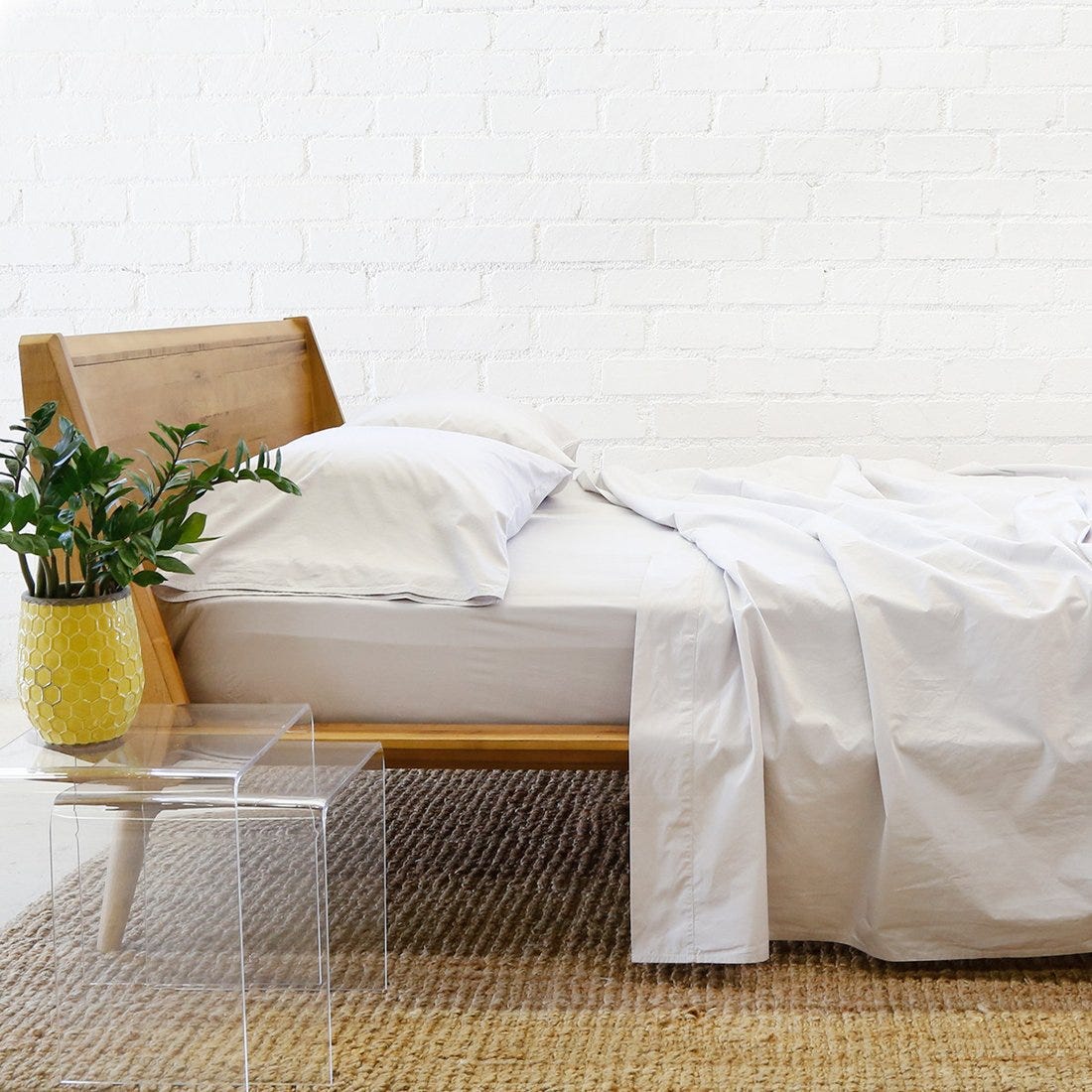 Daylight savings messed me up, guys. Sure, it's great to wake up in the morning without the help of your alarm (because, y'know, there's light streaming through the windows at 5:59am), but then I'm wiped before dinner. Then suddenly I get a second wind around nine and end up binging the second season of Making a Murderer until after midnight. That's why I'm on a mission to figure out how to sleep better.
Treating your body and mind to a restful night is the best way to ensure you look and feel your best the next day, because I don't need to tell you that no one looks good rocking under-eye circles. So, what's holding you back from getting a solid eight…okay, six to eight hours? It could be one of these sneaky culprits. Thankfully, once you know what's getting in the way of your good night's sleep, it's easy to fix.
Below, six tips on how to sleep better:

1. Your space isn't set up for sleep
Some sleep problems are easy to identify—you know when you're being kept up by an annoying noise or a too-bright room. But there are also a few less obvious factors that could be contributing to a night spent staring at the ceiling. What are they?
First things first: your body is not a machine that you can switch off on a whim (though wouldn't that be nice?), so consider the amount of light you're exposing your eyes to while winding down for the night. Since darkness is what signals your brain that it's time to get tired,try to avoid bright light before you get into bed. 
Like, well before bed. Sleep researcher Dan Pardi suggests, "In the evening, prepare for sleep by turning off unnecessary lights around your home and also installing dimmer switches on all your lights. Starting a few hours out from bedtime, start dimming your lights every hour."
What about noise?
Whether you're bothered by sirens on the busy street outside your window, or by your loud-mouthed family in the next room, block it out with some simple drugstore earplugs. They can work wonders, and at a few bucks a pack, well worth the investment.
Not enough? Take the next step with a sound machine. My savior in noisy NYC is a sound conditioner like the Dohm noise machine. It doesn't make me feel like I'm in a frog-infested rainforest or terrify me with a crack of thunder in the middle of a rainstorm track. Instead, it manages to blend any outside noise into a calm and soothing whirring that makes me drowsy as soon as I flip it on each night. 
Noise and light issues sorted but you're still awake? Answer me this: how's your temperature? Studies suggest that we sleep better in colder conditions (and can even stimulate your metabolism but we'll get that another time), so feel free to lower that thermostat.
Not arctic temperatures, of course, but about 1-2 degrees cooler than your typical house temperature. So what's the cool-but-not-too-cold sweet spot? Research reported in Time Magazine says setting your thermostat to 65 provides the optimal sleep setting.
Picking the right sheets help, too! Loomstead founder Sam Leiaghat says, "Linen and Bamboo are both conducive to a good night's sleep because they are breathable. The fabric adjusts to your body temperature so you can stay warm in the winter and cool in the summer."
Takeaway: Trust your senses. Lighting, sound, and temperature will absolutely affect a good night's sleep.
Sleep Fix: Dim your lights leading up to bedtime until completely off, muffle noise with ear plugs or a trusty sound machine, and crank down your thermostat.

2. Your schedule is working against you
Between work or school, family and your social life, you're super busy. I get it. But don't forget that your waking hours need to be grounded in good nighttime habits to keep you looking and feeling your best.
You already know those late nights aren't doing you any favors (although isn't that sort of the point?), but a few sleep-be-damned nights out on the town aren't really such a big deal. 
The real roadblock to getting consistently good sleep is your overall erratic routine. If you're up at 6am some mornings but make up for it by sleeping until noon on the weekends, you can't exactly blame your body for not knowing how the heck it should feel half the time. 
Do yourself a favor and try to stick to a rough sleep schedule. Getting to bed and waking up at around the same time most days gets you into a groove that will pay off by helping you fall asleep faster and making it easier to wake up in the morning.
Takeaway: An unreliable sleep schedule caused by an erratic routine will confuse your sleep cycle throughout the week.
Sleep Fix: Find a (rough) schedule that works…and stick to it.
3. You're not sleeping in a grown-up bed
Tough love time: if you're crawling into a mattress on the floor, have bedsprings that squeal every time you roll over, or sleep in ANY situation involving superhero sheets, it's time for an upgrade.
Every man needs a real bed frame, clean, stylish bedding, and a 

comfortable mattress.

Because guys, let's get real: if you want to at least look like you know what you're doing when you get between the sheets, why wouldn't you start with the actual, you know, sheets?

Don't worry. It's not about spending a ton of cash you just don't have. When it comes to bed frames, there's plenty of new direct-to-consumer companies making interesting furniture at prices that won't inspire cartoon eyeball bulges, like Article and Floyd. And don't sleep (lol) on sites like Wayfair, Overstock, and AllModern for great deals on tasteful bed frames and headboards, either.

As for your bedding, sheets and duvets with simple designs in neutral colors will go the distance. There's even cool direct-to-consumer brands now, like Parachute Home and Buffy, so you can upgrade essentials without breaking the bank.

Sleep expert Pardi also turned us on to the innovative world of mattress toppers designed to revitalize–rather than replace–a mattress that's not working for you anymore. This one from Airweave uses Japanese technology to create a topper that's breathable, soft, and evenly disperses body pressure.

Oh, and if you're relying on an overhead light in your bedroom, stop. Stop today. Add some bedside lamps – or even better, sconces! – and never look back.

Takeaway: The happier your are in your bedroom, the better you'll sleep. The better you sleep, the better you'll do everything else in your life. A couple of easy upgrades might just drastically improve your luck in the bedroom and beyond. Sounds like a no brainer to me. 

Sleep Fix: Imagine how you want to feel in your room and let that feeling guide your design. Cozy? Romantic? Relaxing? Choose bedding and lighting that helps you get there.
// Upgrade your bedroom lighting //
4. Your body is buzzing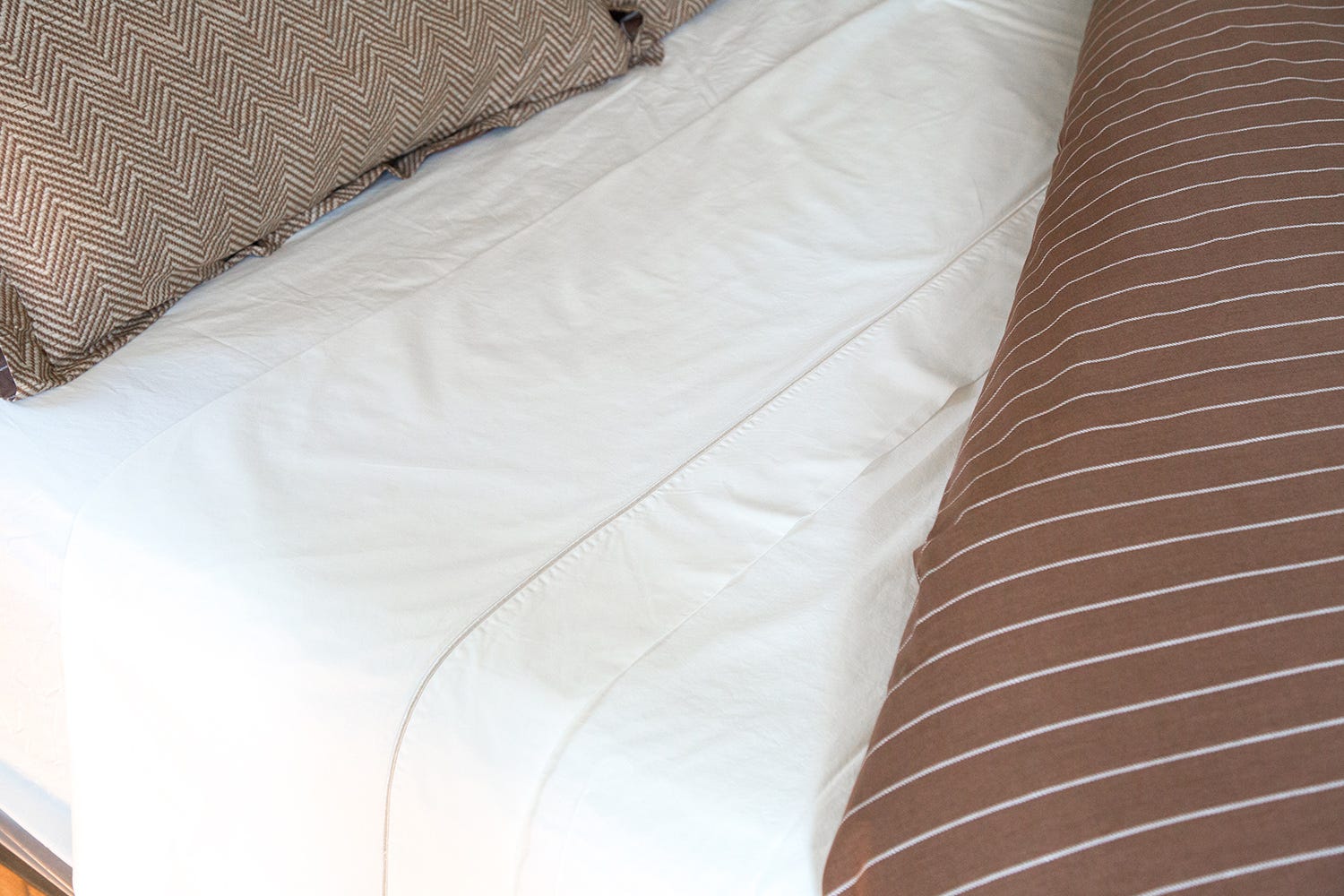 If you still wake up feeling drained, consider what an external factors might be to blame – like too much late afternoon coffee or an overly-potent nightcap. Psychology Today reports a recent study showing that ingesting caffeine (their subjects took a pill; you're probably reaching for a double espresso) even as many as six hours before bedtime significantly reduced both the quantity and quality of the participant's sleep. Sounds like that after-lunch latte gets a pass, but if it's getting closer to evening, do yourself a favor and switch to decaf.
And sorry, but the same goes for alcohol.
Even though a drink (or two, or three) may make you pass out fall asleep, it won't be good quality sleep. Sleep expert Pardi explains, "Alcohol is a depressant, so it can help you fall asleep, but when this depressant metabolizes out of your system, it can wake you up or can make your sleep lighter.
Meaning? Just like everything else you do while buzzed, you're probably not doing it as well as you think you are.
So the eight hours of sleep you got last night might actually feel like only five hours. What to do instead? If you're going to drink, and still want to have a great day the next day, drink early, then stop. Alcohol burns off at a rate of about one standard drink per hour, so work backwards and aim to have all the alcohol out of your system by the time your head hits the pillow." 
New rule: everyone to the bar by 7pm. Who's with me?!
Takeaway: Ingesting caffeine or alcohol late afternoon to early evening will effect the quality (and quantity) of your sleeping hours – so be wary of your intake if you want to wake up refreshed.
Sleep Fix: If mid-afternoon coffee or a post-dinner nightcap is on your agenda, start early and stop early. 
5. You can't quiet your mind
Maybe you have all the right sleep ingredients assembled – your room is cool and quiet, you're sticking to a set schedule, your bed would woo a Bond girl, and you're carefully avoiding stimulants – but you just can't turn off your whirring mind.  Sound familiar? Decompressing is, of course, easier said than done, but the process really is an essential ingredient to a good night's sleep. 
Just like your body needs to rest, your mind needs a nightly break, too. Worrying about what happened at work yesterday or your packed schedule tomorrow is not doing you any favors. You'll be at a significant disadvantage in that morning standup meeting if you're exhausted and chugging a venti cold brew just to get through the agenda. 
So how do you get rid of those thoughts when heading to bed…or at least put them on hold?
If you had a bad day and it's bothering you, address it! 
Maybe you're like me and you lie sleeplessly in bed making mental to-do lists. In Captain Obvious news, the moment I started actually writing those tasks down on a pad next to my bed was the night I was able to fall asleep without feeling like I had to hold all that information in my mind (turns out, that's NOT relaxing). 
Instead of trying and failing to pretend nothing is wrong, tackling an issue head-on, even if you don't figure out a solution to the problem right that instant, can go a long way toward letting it go before your head hits the pillow. If you're the talky type, hash it out with your partner or call a friend. Prefer action? Think about ways you can prevent problems like that from arising next time.
Finally, consider meditation.
Practicing a calm yet focused task like mentally counting down or mindfully relaxing each muscle in order to clear your mind and relax your body can significantly help you settle down before your head hits the pillow. A simple meditation track could save you hours of tossing and turning and you can get one right on your phone. 
Try apps like Headspace, Omvana, or Happy Not Perfect with their easy-to-follow guided meditations. 
Takeaway: Making space in your brain is just as important as making a cozy sleeping environment because relaxing your mind from the day's worries is integral to relaxing your body and dozing off into a great slumber.
Sleep Fix: Say it with me…decompress. Talk it out, write it out, and meditate your way to a calm mental state.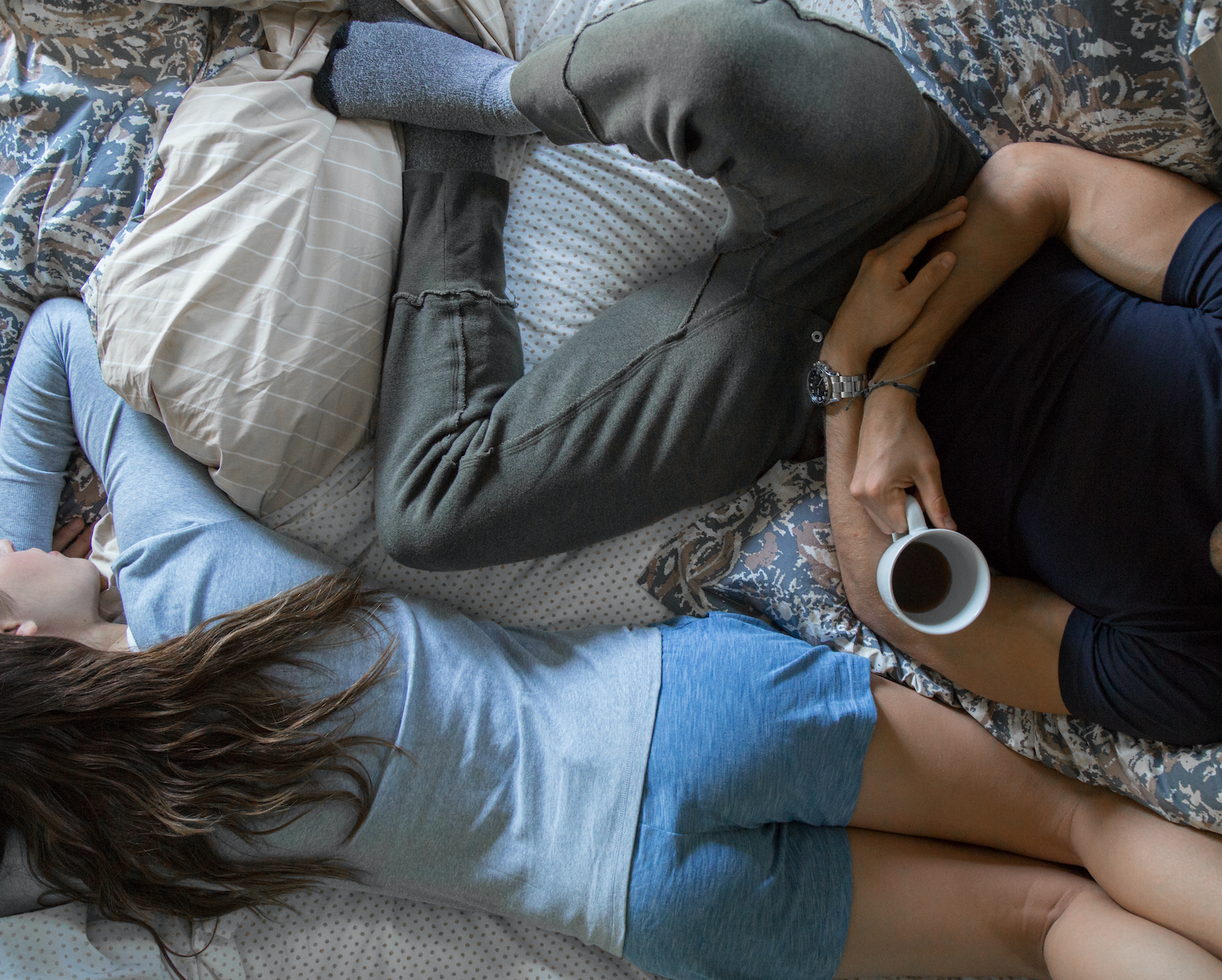 6. You're sharing your bed (and it's killing you)
Got a drooling, furry friend hogging the bed? If your sleep is interrupted over and over by a pet, it's time to reclaim your territory once and for all. Thread Experiment's Shugar agrees. "Get your pet out of your bed. Unlike humans, pets rarely understand the concept of giving a person their space. In fact, they often act in the opposite way. The more of your space they take up, the worse your sleep will be."
If your problem is more of the human variety, things get a little more delicate.

 
After all, you can't exactly banish your misbehaving partner to cuddle a body pillow on the floor. If this is you, know that you're not alone. Many couples have trouble co-existing through their REM cycles (25% even admit to sleeping separately), but there are lots of things you can do to get along better in bed. 
First, make sure you have enough space. If you need to invest in a bigger bed to sleep happy, do it. Don't worry, mattress shopping isn't the chore it used to be. The last few years have given us so many cool, innovative mattress companies – brands like Casper, Leesa, Tuft & Needle, and Airweave (we mentioned their mattress topper before..they make mattresses now too, and they're divine).
Meaning? It's a great time to be in the market for a new mattress, so take advantage. You'll not only be prioritizing your sleep but also your relationship! 
If snoring is the problem, use some of your noise solutions (you already got those all set from above, right?) and do your best to realize your partner isn't annoying you on purpose (even though it can certainly seem that way at 3am). After all, the best way to deal with sleep incompatibility is by working together, so show your partner as much patience as you can muster.
Takeaway: Share you bed with care. If pets are taking over, it may be time to claim your own space. More of a partner problem? Invest in a bigger bed and recognize your sleeping preferences so you can adjust.
Sleep Fix: Seize the consumer-friendly mattress industry! From a multitude of affordable, hi-tech bedding options, you and your partner can certainly find a size and type of mattress that's conducive to both sleep preferences.
TELL ME:
HOW DO YOU NAIL A GOOD NIGHT'S SLEEP ON THE REGULAR?
Read more #SGapproved home tips here, here, and here. 
(feature image: Loomstead)