Travel in Style: What to Wear On Spring Break
Dude. Bruh. You're better than flip-flops and tank tops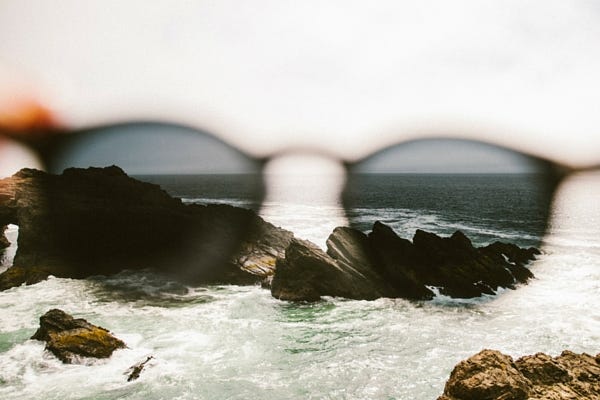 Ah, spring break. A look back at the many, many photos from the disposable cameras I used in college reveals everything you need to know about this co-ed rite of passage. I wore a lot of very large plastic sunglasses with towel dresses (It was the early aughts, okay? Let me live) at all-inclusive hotels with names like "The Getaway Club."
Oh, and I thought that posing in full-on duck face was really cute.
And in the end, that's what spring break is all about, right? You just wanna go somewhere cool, drink too many sugary cocktails, take a bunch of photos with your friends, and live to tell your grandkids the tale later.
Of course, if you're a regular SG reader, you also want to look good while you're at it.
So I'm sure we can all agree that the following are probably best left out your luggage (and uh, your closet entirely): 
baggy board shorts your mom bought you circa middle school
straw fedoras
and please, for the love of Daytona Beach, leave the 'I cut it myself for the gym' tank tops at home.
What you need is a no-fuss, all-fun, crazy-comfortable vacation wardrobe you won't be embarrassed about when you're trolling your Instagram feed from earth's colony on Mars ten years from now.
Think: fun colors, slim cuts, and breathable fabrics are all you need to achieve next-level spring break style. Bring on the girls, bring on the 'grams, let's do this. Air horn! Group high-five! Cannonball!
And since I know you'd rather spend $25 on a round of drinks than a checked suitcase, let's make sure everything you pack in that carry-on pulls its weight.
Guys, here's what to wear on spring break: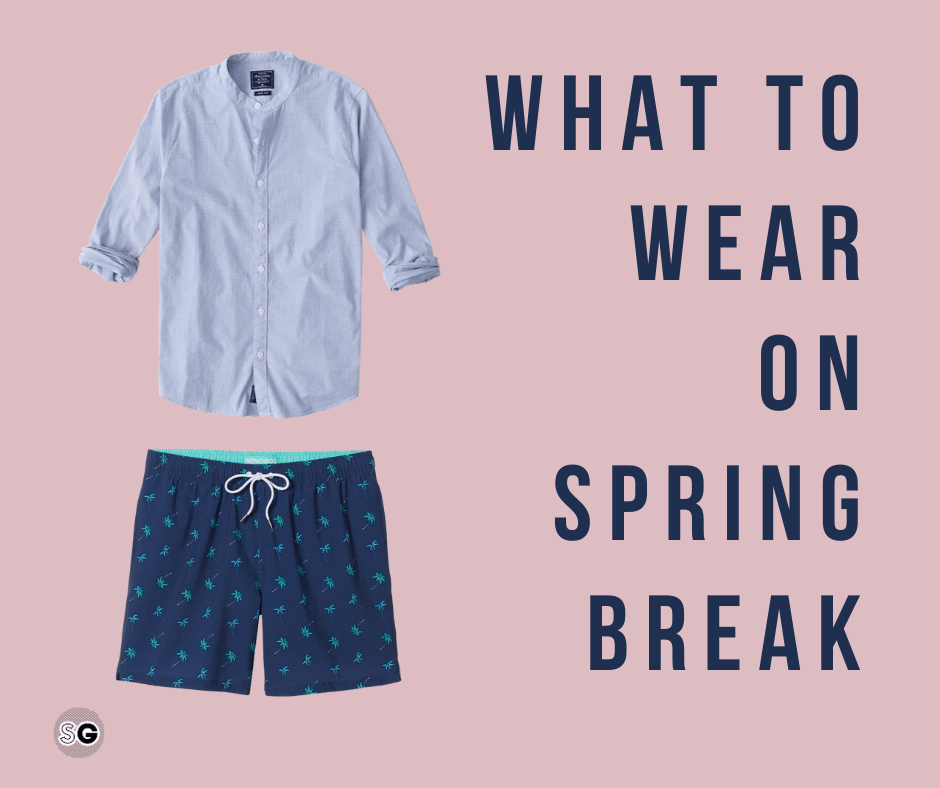 Outfit #1 Beach Outings & Taco Hunts with the Boys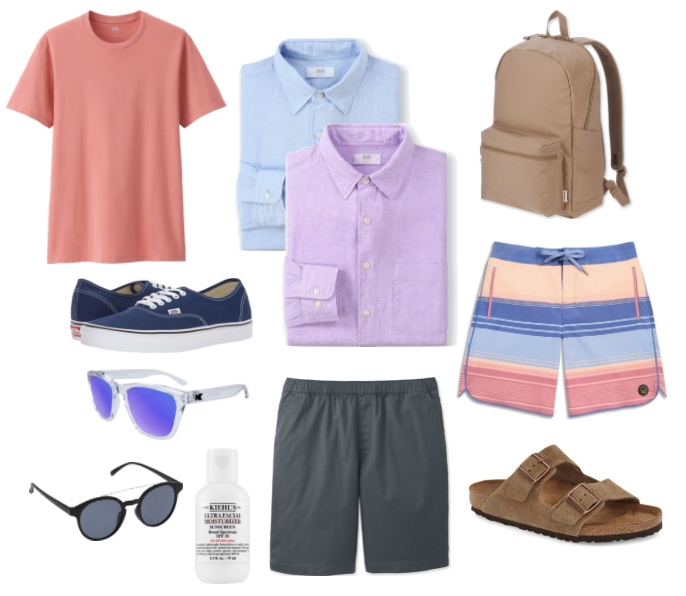 What to wear on spring break during the day
For beach days, a breathable, bright, super-soft cotton t-shirt makes the perfect companion to a pair of colorful, retro-inspired swim trunks.
Top things off with reflective polarized shades (that – bonus! – look great in pics for social media) plus some SPF on your face—and you're all set.
When you venture into town in search of tacos and tchotchkes, trade your trunks for a pair of comfy shorts and a breezy—as in, you can literally feel the breeze on your skin while you're wearing it—linen shirt.
Go for a cool color like faded ocean blue or lavender. Yes, I said lavender!
This hue may have a traditionally feminine rep, but in a masculine form like a button-up shirt or bicep-revealing t-shirt, pale purple is suddenly very sexy. And with a bit of a tan? It's Italian chef kiss good.
As far as shoes, a pair of classic sneaks or dare I say it, a pair of man sandals, work for both scenarios.
I promise you: graduating from rubber flip-flops will change the whole game.
Outfit #2 Dance Floors, Crowded Bars & Night Moves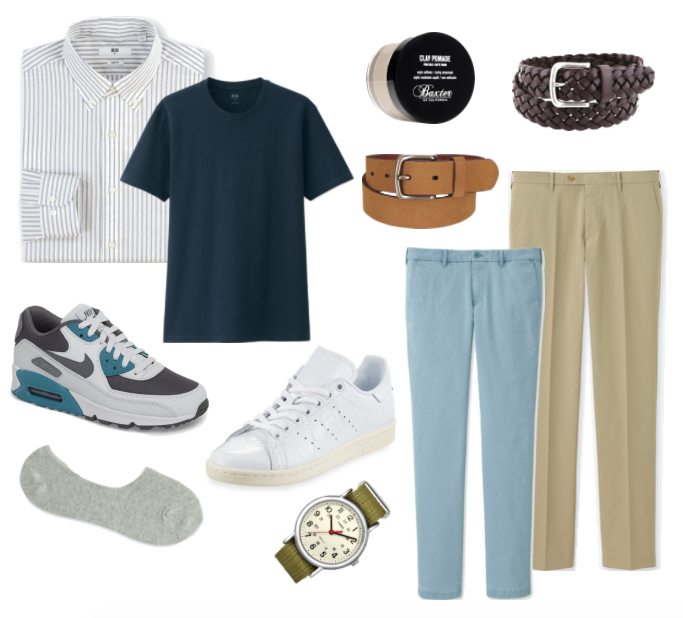 What to wear on spring break at night
When the sun goes down on whichever sandy beach you're spending the week, get ready to take yet another leap with your 'fits.
First up? Pants.
As in, not shorts.
I know, I know.
"Spring break is casual, Taylor!"
But even if da clubs and bars where you're headed don't have a dress code, you'll set yourself apart in some super lightweight, dance floor-worthy chinos.
Look for pants that are stretchy, quick-drying, and comfortable. They'll be perfect for busting out those sweet, sweet moves all night long while still maintaining your chill.
My hot tip for dressing down long pants on vacay? Try a casual, not-too-crisp cuff by rolling the hem a few times and adding your favorite kicks (with no-show socks, natch).
Up top, there's really no need to reinvent the wheel. A patterned button-up shirt is perfect for night moves that call for bottle service, and you can keep it low-key by just tucking in the front.
What if the only plan is to bar hop or chill by the hotel pool? Throw on a simple, soft crew neck t-shirt in a rich color. Finish either nighttime look by adding a belt, and running a little pomade through your hair.
***
So, why all this effort when you're on vacation?
Because, my guy, it's really not that much effort, and the ROI is huge. That's "Return On Investment," for those of you not studying Econ. Translation? These small tweaks will have you looking exactly 900% better than all the bozo bros at Señor Frog's slamming Tequila Poppers in neon tanks—and women will notice.
Suddenly you feel a bit cooler, a bit more confident. Women will love this confidence. And you know what happens when you get confidence, cocktails, women, and beachy sunsets all together in the same place?
Magic, that's what. Spring break
magic
.
So do it—dress a little better this spring break, I dare you. Do it for me. Do it for you. Do it for the girls. Do it for the 'gram.


Want help sorting out your vacation wardrobe before your next trip? Team SG can put together a personalized shopping list with outfit ideas just for you. Learn more here.
Taylor Davies splits her time between NYC and Sun Valley. She loves writing about menswear, overpriced martinis in dimly lit hotel bars, and cross-country skiing. Not necessarily in that order.