A Guy's Guide to Wearing White in Summer
Lighten up.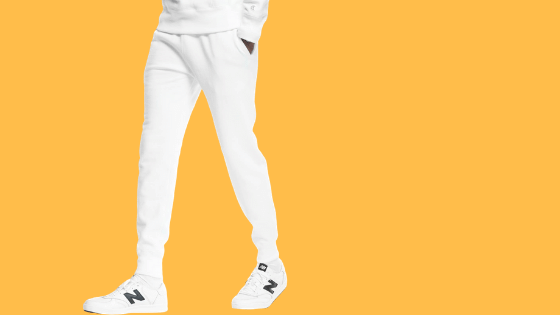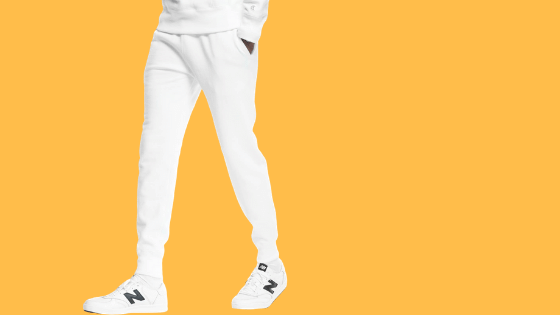 In summer, there's two ways to stay cool with your wardrobe.
First up?
Wear less! Think: shorter shorts and sock-free footwear.
And second: lightening up.
That means thinner fabrics, and also lighter colors.
The best light summer color to wear? White, obvs.
White jeans have already gotten the 5 Days 5 Ways treatment, but why stop there? That's why Team SG pulled together a whole bunch of outfit ideas so you can wear more white this summer.
Below, 7 ideas for guys on how to wear white this summer: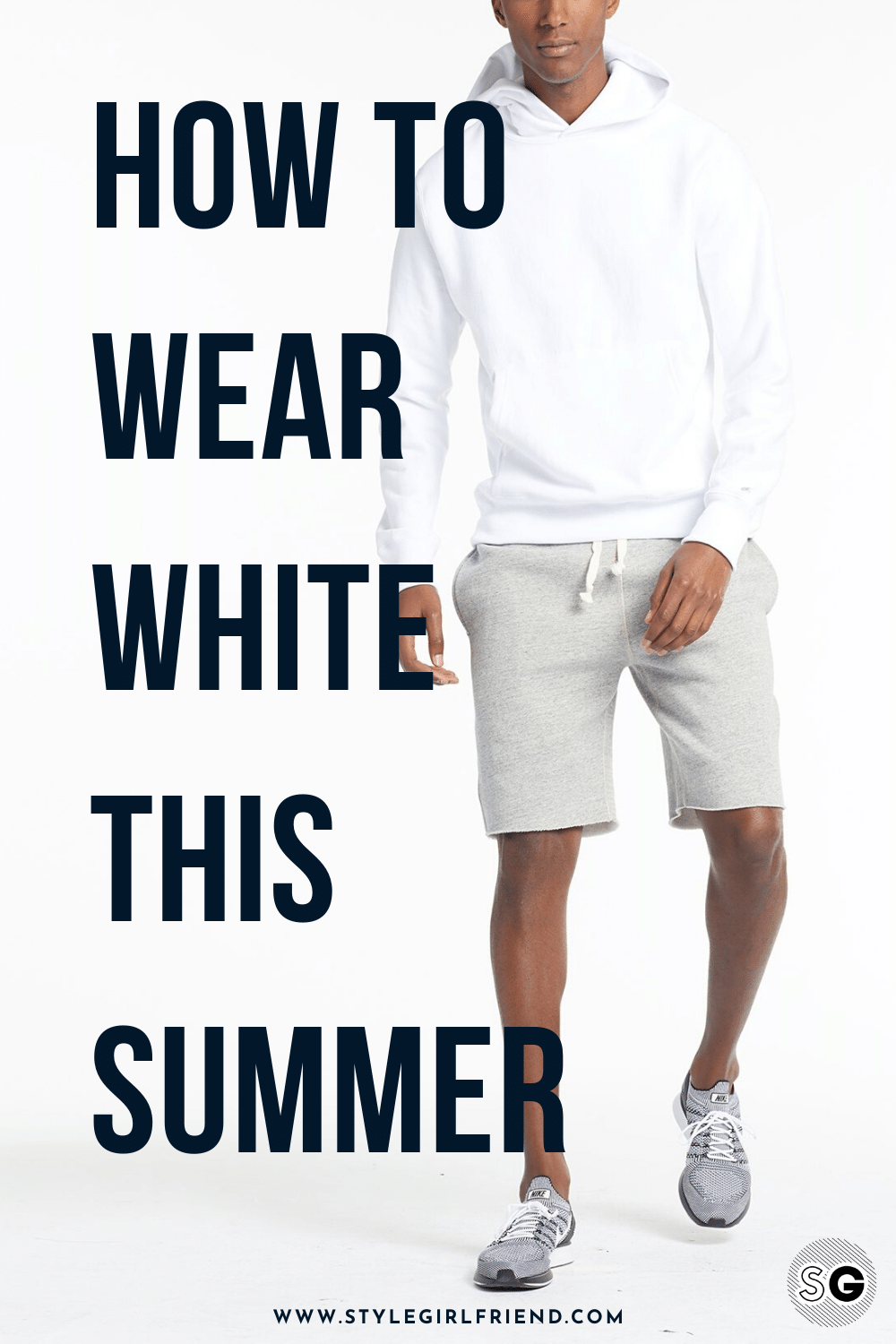 1) Wear white jeans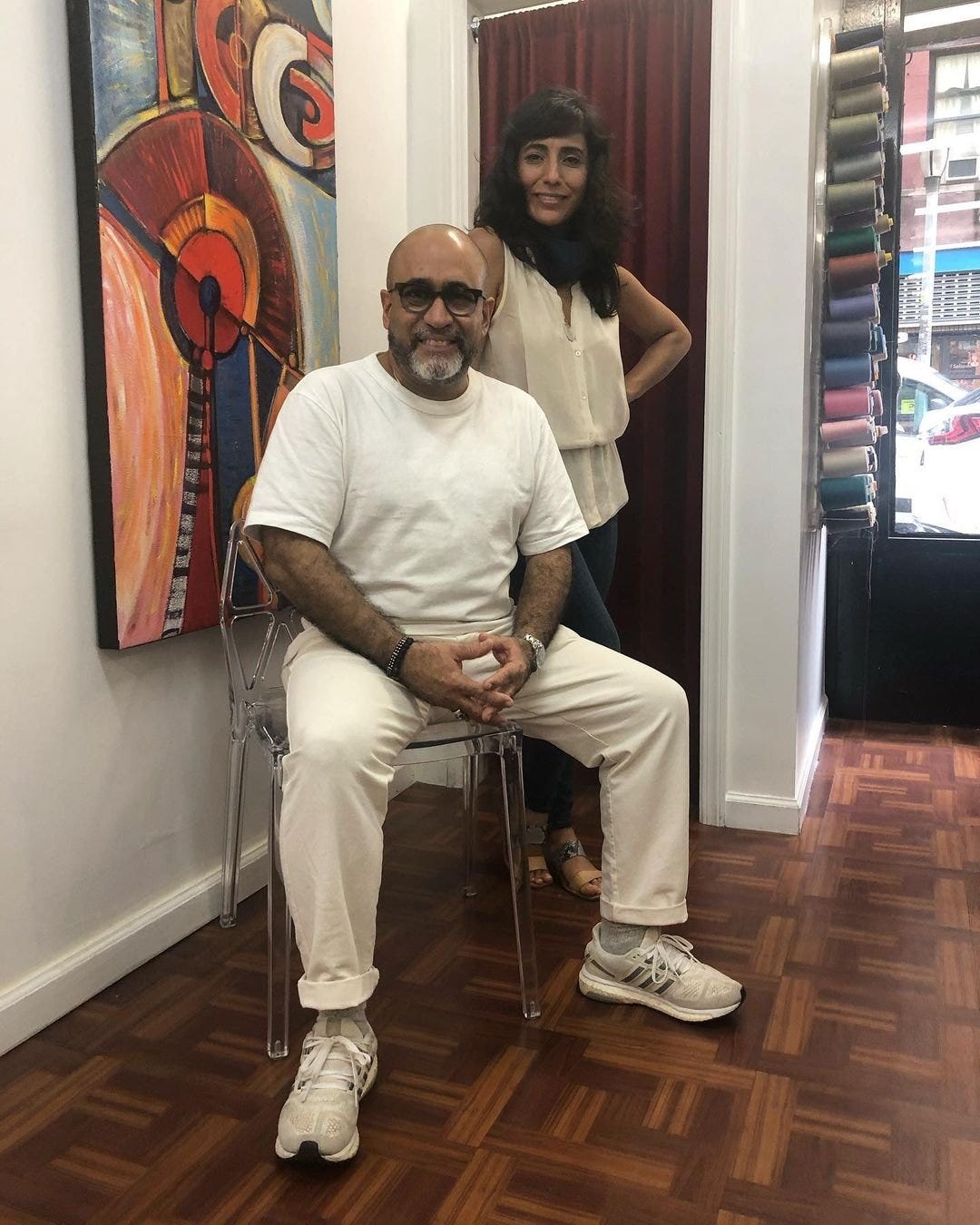 SG Says: We've talked on SG about how white jeans are a great way to break into wearing white in the summer. But I know they can still feel intimidating.
Which is why I love this shot that Articles of Style's Westley Dimagiba snapped at The Tailoring Room, a New York institution (iykyk!). Franklin, the owner, looks totally comfortable AND totally cool in cuffed jeans, a simple white t-shirt, and some solid dad sneakers.
Go for a pair like Franklin's in a sturdier fabric, and don't try anything too fancy with the rest of your outfit…at least to start. A t-shirt and sneakers will look elevated when worn with white jeans.
So, hopefully, you won't feel like you've been dropped into a 90s boy band music video.
Not quite feeling a blinding-white hue? Go for a pair in an off-white shade to turn down the volume.
>> check out five ways to wear white jeans
Shop white jeans:
2) Wear white athleisure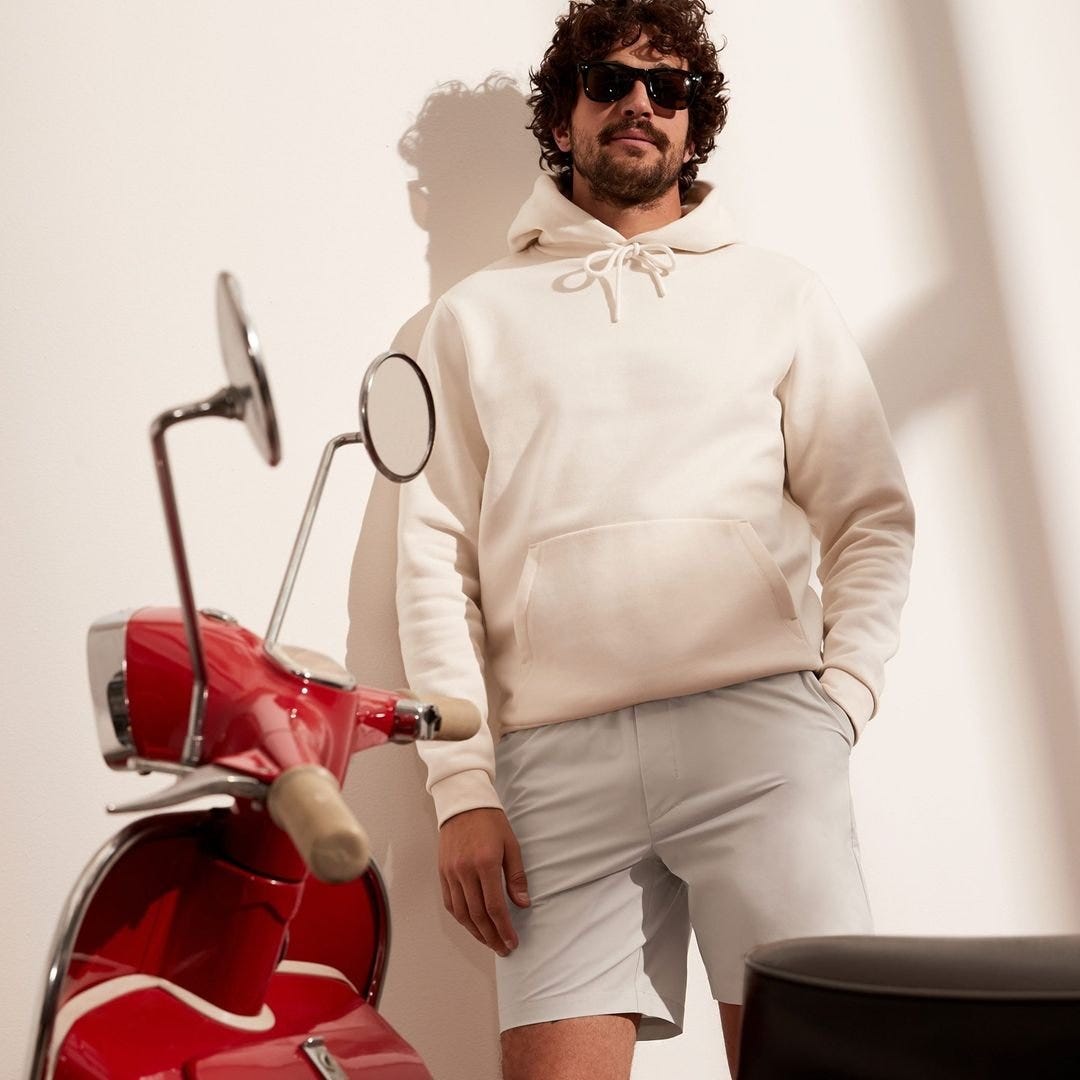 SG Says: Okay this outfit from Banana Republic's Instagram account might not be pure white (it could be the lighting from the Vespa, but the sweatshirt seems a bit pink-ish?), but we're counting it!
The light, washed-out hues of both the hoodie and the performance shorts suggests lazy summer days, lived stylishly. Take notes!
As for how to tie the hoodie strings so they'll stay in a neat bow like the model above? Head to TikTok. There's a weird amount of tutorials on there for this kind of thing.
Shop white athleisure styles:
3) Dress up your whites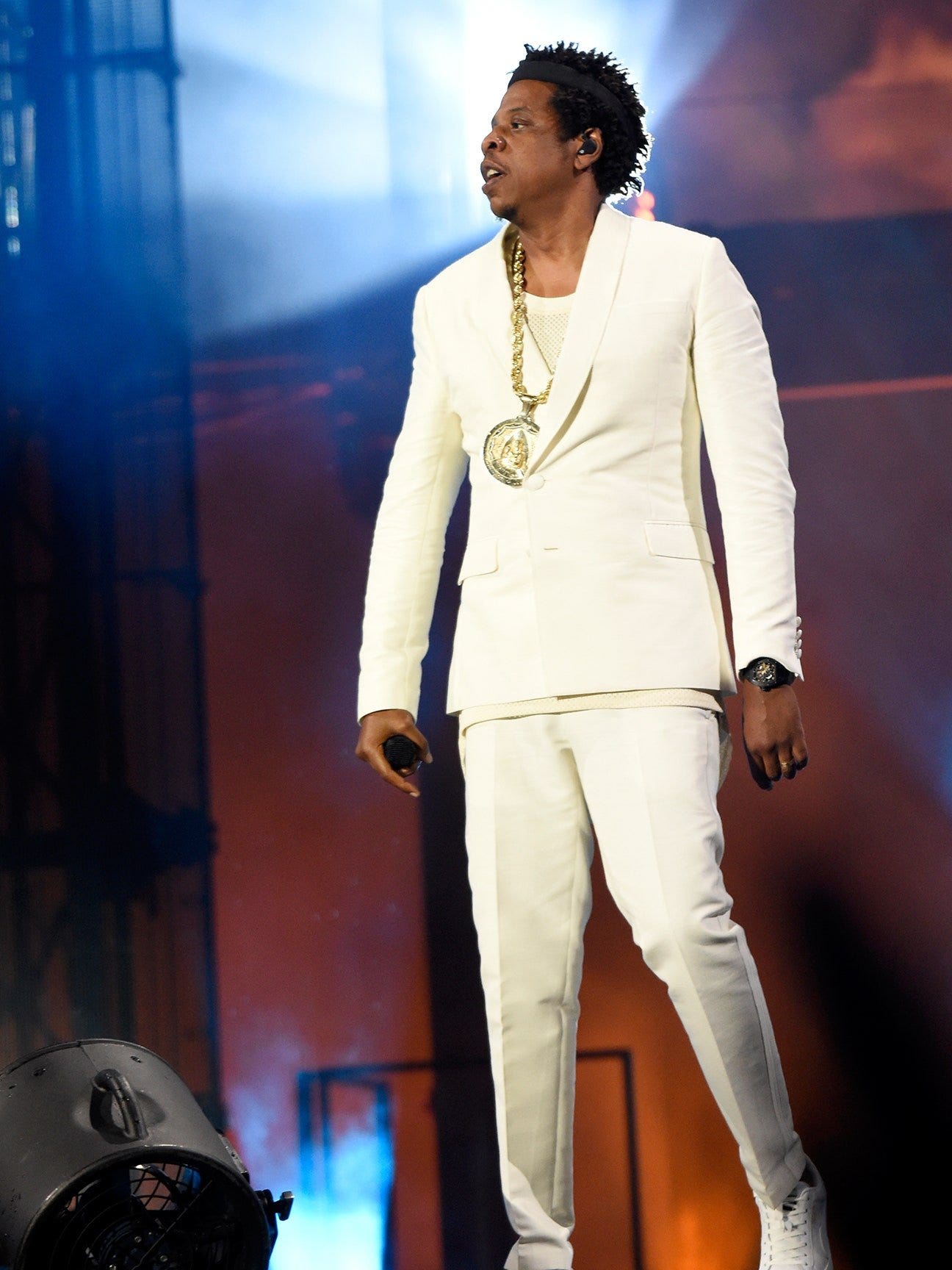 SG Says: How to wear white this summer? In a suit!
Well maybe not WHITE-white, but certainly stone. Cream, let's call it.
This look will be great for all the rescheduled events you've got on your calendar this summer.
Think you can't rock an all-white suit quite like Jay Z? Swap out your sneakers for loafers, and the t-shirt for a linen button-down.
4) Wear white-on-white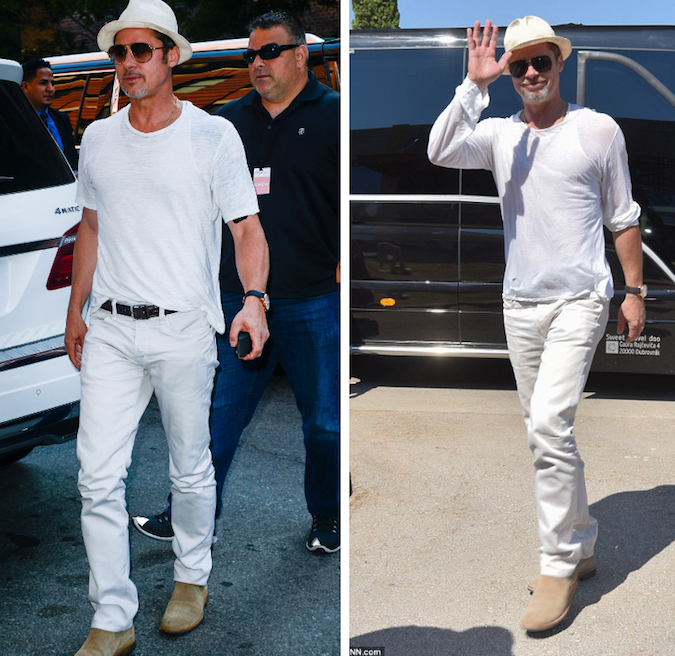 SG Says: Brad Pitt loves him a head to toe white look.
See the two pictures above? Not the same outfit! On the left he's wearing short sleeves, and on the right, long sleeves. He just loves white that much.
You can pull off the same vibe with a lightweight t-shirt (sleeve length up to you) and your now-trusty white or off-white jeans.
The nice thing about wearing one color head to toe is that the whole point is the different pieces don't quite match. That's what keeps it from looking like a uniform.
Instead, go for clothes in slightly different tones and textures for a 'most interesting man in the world' vibe.
5) Break up your whites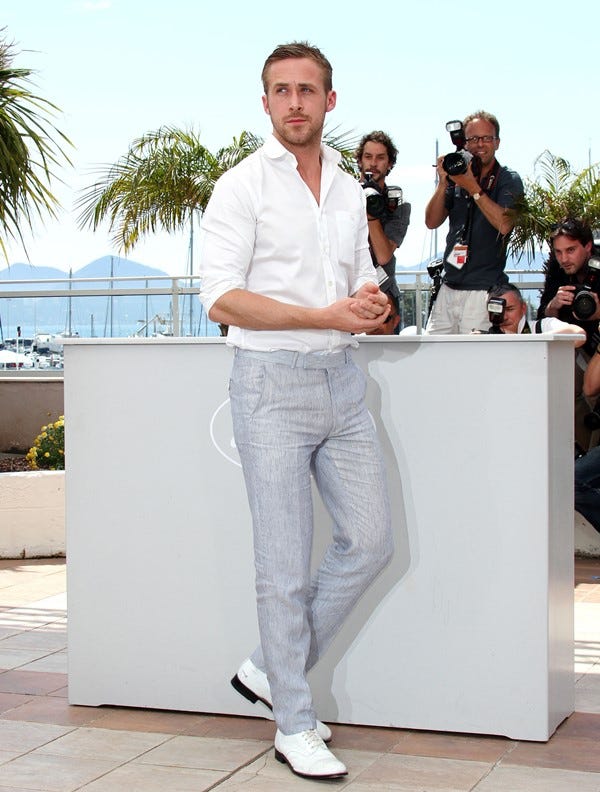 SG Says: A breezy white dress shirt — and white dress shoes! — looks great on the French Riviera, sure, but you can pull off this Gosling-approved look without attending the Cannes Film Festival (pretty sure it's canceled anyway this year).
And like the Gos, you can always ground your whites with a neutral item like grey or navy pants.
But don't think neutrals are your only option. Try a bright red polo shirt with white jeans, for instance. Or colorful sneakers with an otherwise all-white outfit.
6) Wear your white with stripes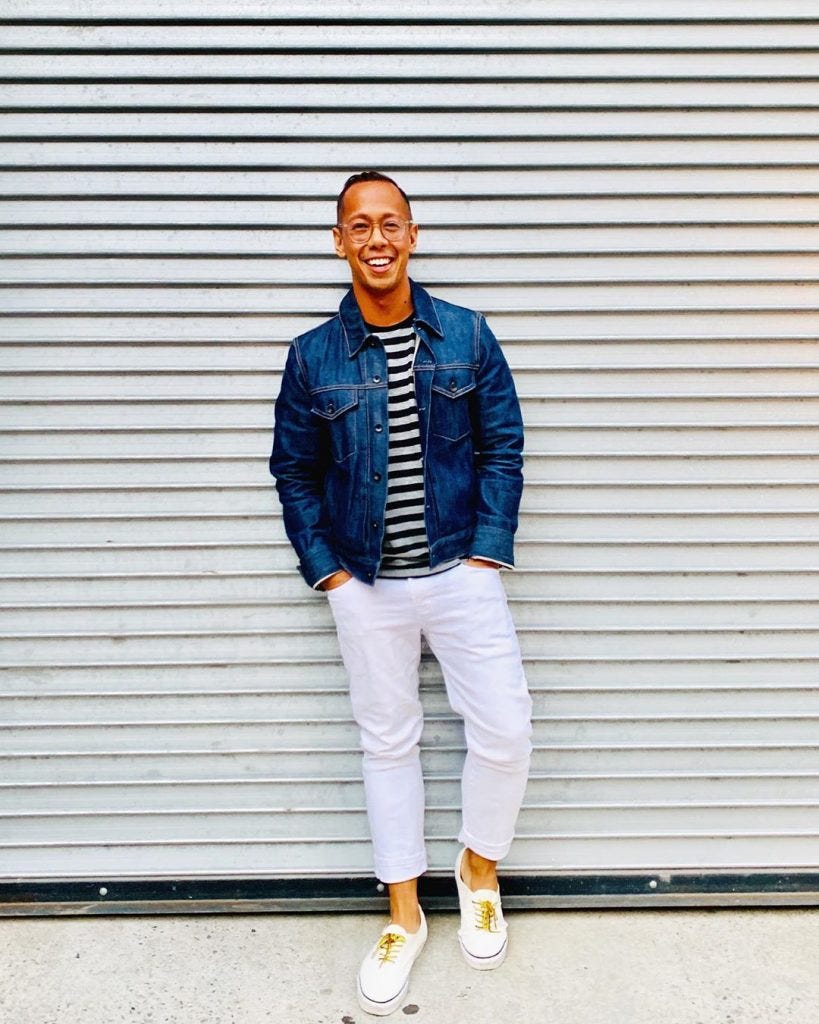 SG Says: Okay, okay, we kind of already showed an outfit like this above, but that's because white with stripes looks so. damn. good.
RELATED: 3 Ways to Wear Stripes
A nautical vibe in the summer just feels right. Cuff the ankles on your pants (jeans or stonewash chinos are perfect), throw on some boat shoes or canvas sneakers, and your favorite striped shirt.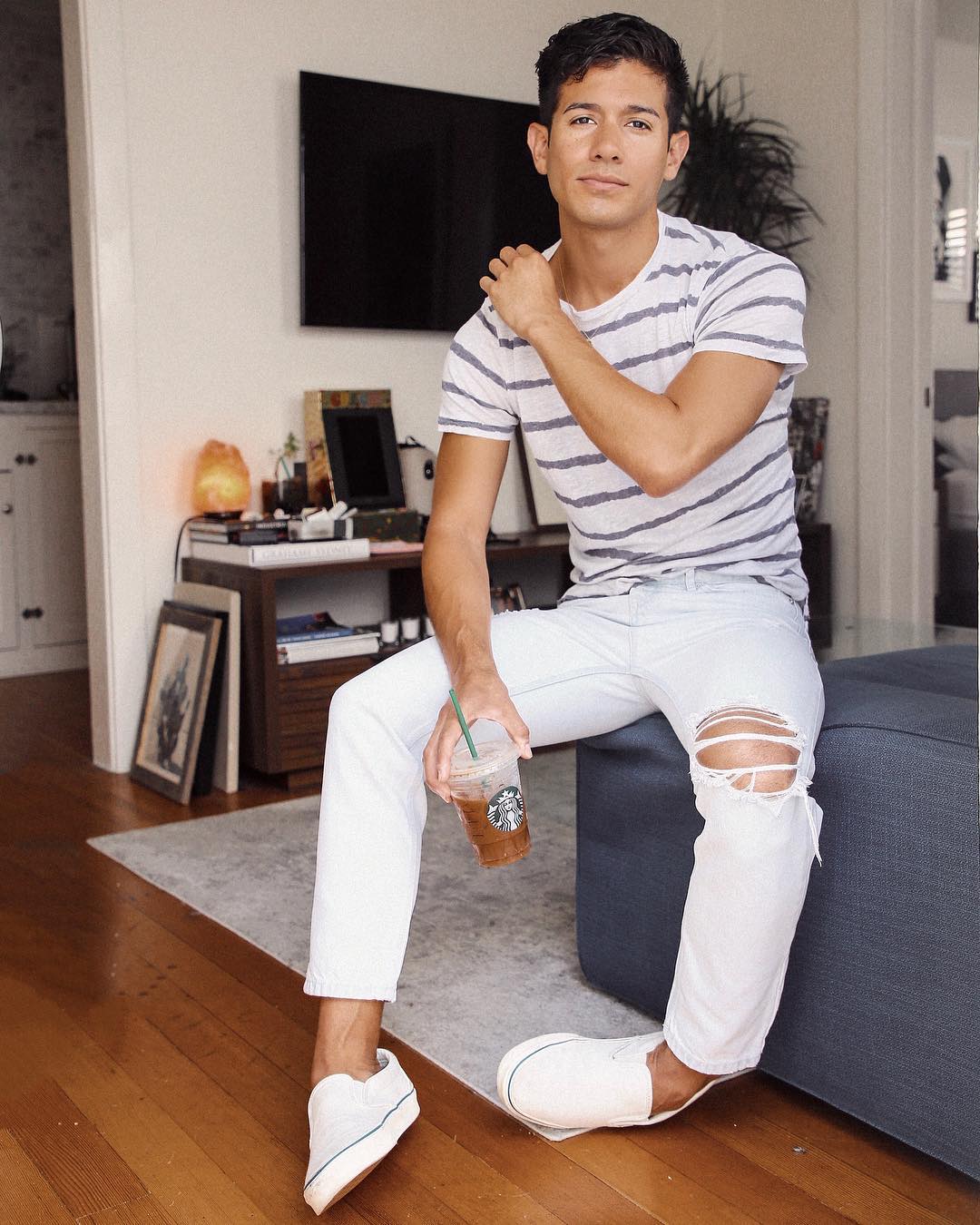 You'll look breezy and stylish (like style blogger Saul Rasco, above) not like a lost and landlocked sailor.
We promise.
Shop striped tops:
7) Keep it sporty in sweatshorts
SG Says: Dunno what it is, but there's just something about a man in a sweatshorts.
Which are totally cool again, btw!
Just check out Todd Snyder, Abercrombie & Fitch, and Reigning Champ.
Wear yours with pops of color, like Bieber; or keep things neutral head to toe like Drake.

A few styling tips for wearing white this summer
When dressing up, go with brown accessories. Not black. The whole vibe will feel less aggressive.
Drink and eat safe. If you're nervous about wearing white for reasons that have nothing to do with fashion, stick to light-colored liquids and maybe pass on the red wine. We're sure you'll be fine, but why press your luck?
Shop #SGapproved Summer Whites: