How to Shave Your Head for the First Time
From the best razor to shave your head, to how to maintain a bald head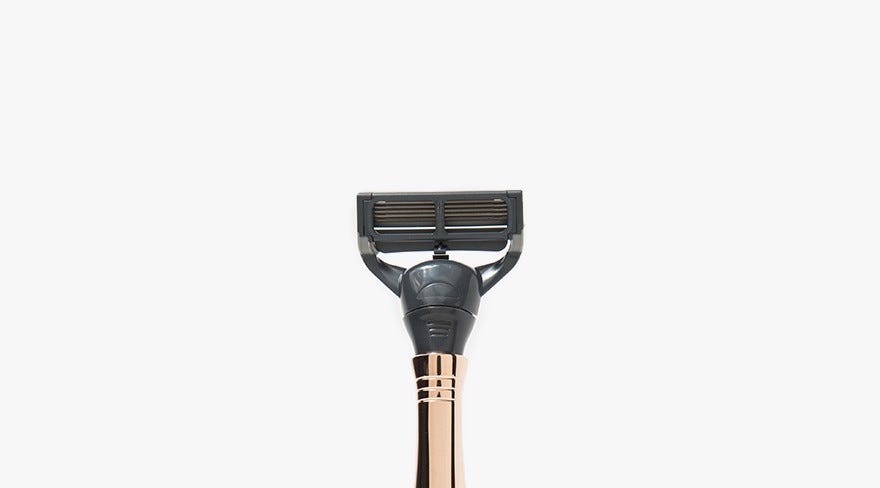 Shaving your head for the first time? Then you want to feel confident that you've got the right products to use, and process to follow.
In the face of thinning hair or a balding scalp, figuring out how to shave your head bald for the first time can feel scary but important to reclaiming your confidence. So read this before picking up the razor!

Style Girlfriend reader Zeke asks:
I'm 28 with hardly any hair left on top, and when I see an awesome outfit on your site (or elsewhere), I often find myself saying, "That looks great… but I'm going bald."
That may just sound like insecurity talking, but I guess I'm just unsure whether things like glasses, hats, facial hair, or even general style are accentuating the fact that my hair is going.
Are there any guidelines out there for how a bald guy can adapt his style, or should the rules for someone like me be just the same as any other guy? Thanks!
First of all, Zeke, I salute you.
There's no exact time to shave your head when you're going bald, but hanging on to a few strands of hair is rarely a great look.
It takes confidence to truly commit to a hair-free head, and I'll share some tips on shaving your head for the first time below.
But first I want to say, you're in good company!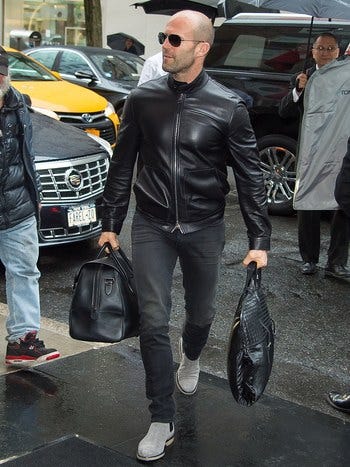 A few very sexy movie stars rocking clean domes come immediately to mind, like Jason Statham and SG Madness 2023 winner Stanley Tucci.
Of course, I can't help but think about how many other guys are out there going through this but dealing with it alone.
Guys who have the same question but are too embarrassed or ashamed to ask the question at all.
Because I bet a lot of guys wonder what a woman's attitude is towards a bald or balding guy – especially one in the prime of his dating years.
Whether it's the first thing we notice. Whether it gets in the way of attraction. If it's the first thing we tell our girlfriends when describing you. "He's nice, but…he's bald."
Well, good news:
It's not. It doesn't. And it isn't.
But I get it!
Without drawing total equivalency, because I don't assume to know what it must feel like to be a young guy who's lost his hair, but please know that us ladies get waylaid by insecurities, too.
All the time.
If I looked at women's fashion magazines and told myself I couldn't pull a look off because I wasn't as thin or tall as the model, well…I'd be spending a lot less on clothes, because I'd be walking around naked constantly.
More good news?
The style rules are the same for bald guys as for anyone else.
Do you think The Rock wears neutrals on top so as not to draw attention to his dome? No chance. He wears whatever the hell he wants because he's The Rock and can do no wrong.
Since we're among friends here, I'm going to level with you. And I'm trying not to worry about coming off as superficial because Style Girlfriend is all about the value of putting effort into your appearance, so I'd say the ship has sailed on sometimes coming off superficial.
And that is, that if you're going to embrace a bald head, make sure you're fit and dressed well.
That's right. If you are bald and in shape and wearing a killer outfit, a woman will look at you and see YOU.
If you are bald with bad posture and dressed like you're trying to hide in plain sight, a woman is more likely to look at you and see a guy who appears to have given up.
But if you're here, you're as far from giving up as…some athlete who doesn't give up. I don't know, guys. Sports aren't really my thing.
Another don't?
Don't try to distract from your glistening dome by going obnoxiously flashy with your look.
No rhinestone studded shirts, no crushed velvet blazers, no peacock-feathered fedoras.
Really, no peacocking in general, guys.
And that goes for every guy, not just the ones who have shaved their head bald!
That just means, go with what we've been saying here at SG all along.
Dark rinse, straight leg jeans. Nice shoes instead of whatever you mow the lawn in. Buying clothes that fit your frame and flatter your body.
As for your own dome, Zeke…I say shave it!
That's right, own the look!
You don't have to buzz it totally bald necessarily, but keep it close as you feel comfortable with.
Don't hide it under hats unless that's 1) the only way you feel comfortable and/or 2) your job allows for constant hat wearing.
Kenny Chesney, for example can get away with wearing some kind of hat over his totally bare head all the time because, well, he's a music superstar.
That occupation, of course, is not quite the norm (such a tough economy these days and all, you know).
As such, it's probably in your interest to figure out a way to come to peace with your pate because, unless you're about to go on a stadium tour, the omnipresent ten gallon hat is probably not a viable option.
Hopefully, knowing that this woman doesn't mind helps. At least a little.
***
If you're ready for shaving your head for the first time, learn how to make the most out of this game-changing leap.
From the best razor for shaving your head to what direction to shave in, here's what you need to know if you're considering shaving your head bald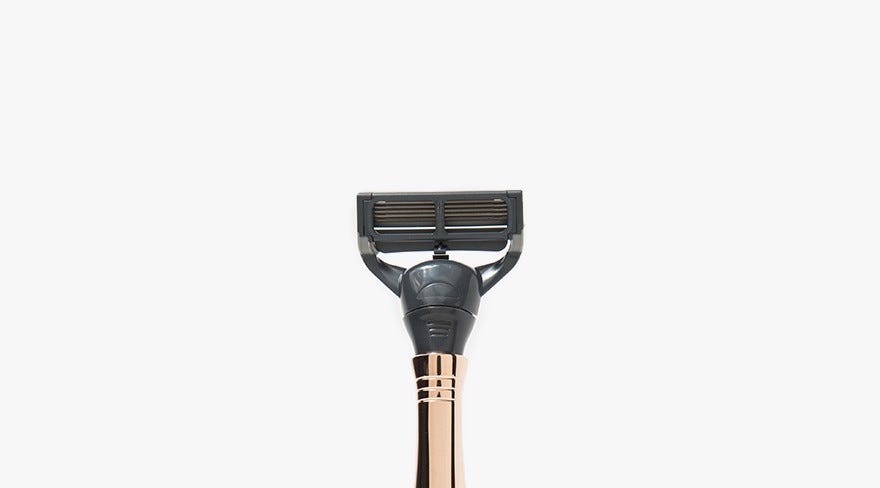 1. Buy the best razor for shaving your head
Your head is precious cargo and you want to buy a razor that takes care of it.
Meaning? Skip the drugstore razors and splurge on something like a safety razor that you can swap the blades out in.
When it comes to razors for shaving your head, The Art of Shaving has a great selection that will stand the test of time and look chic on your bathroom sink, as does Bevel.
If the thought of taking a literal blade to your scalp doesn't seem appealing, don't be afraid to explore electric options like the classic Wahl options.
2. Know when to shave your head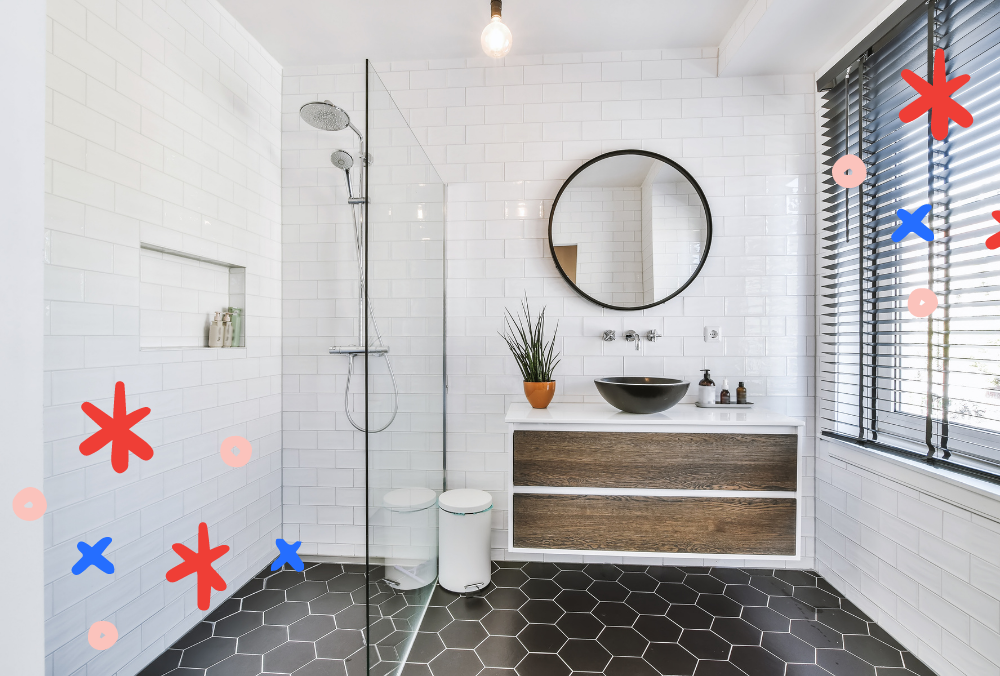 Advances in blade technology have helped smooth the way for your shave, but you still want to help things along where you can.
RELATED: Guys, It's Time to Try the "Everything Shower"
Your hair will be at its softest after you step out of the shower, meaning you'll need to use less pressure to get the job done—lessening the chance of razor burn and noticeable cuts.
3. Use a shave gel (not cream)
The right shave gel offers a make-or-break moment: Choose well, and you'll reduce your chances for razor burn and improve the quality of your shave.
A clear, unscented shave gel will feel best for sensitive skin and allow you to see where you're headed.
4. Get a good view
Make sure you're working in good lighting with mirrors aplenty.
A knick on your face doesn't feel great, and it's not any better on the top of your dome.
How to shave your head
A basic grooming tenet that plenty of people (including us ladies!) forget: always shave in the direction hair grows—not against it, even though that sometimes feels particularly satisfying.
Going against the natural order of things can lead to razor burn.
Develop a shaving schedule
Even short hairs on your head block sunlight. For the pale-skinned among you, you will want to avoid shaving the day after getting a lot of sun.
Otherwise you're looking at a tan neck and a spectacularly pale scalp.
Invest in moisturizer with SPF, or a separate sunscreen
As for how to maintain a bald head? A good moisturizer is a key part of beating dry skin on your scalp.
Shaving your head for the first time means you have a whole new region to keep safe from the sun.
And protecting yourself from UV rays is important all over your body.
Look for a product that does double-duty, for one-and-done hydration and skin protection, like this one from CeraVe.
You still need to wash your hair
You might have thought you were done with shampoo and conditioner.
Not so fast.
These products are specifically formulated to be more moisturizing for your scalp than standard soap, which can be drying.
Meaning? Shampoo every time you shower, and condition at least 2-3 times a week, following with a pre-shave gel to prep the skin before your big shave.
I know it seems weird, but trust me.
Keep your scalp extra-hydrated in extra-dry weather
Argan or tea tree oil can offer extra-moisturizing properties during dry, inclement weather.
Basically all winter long.
Treat dryness fast
Slipped up and feeling the burn anyway? Razor burn on the scalp can be painful for up to a week. Whatever you do, don't scratch. That can lead to infection and even more headache.
Instead, treat razor burn with a topical hydrocortisone, and don't shave again until your skin is no longer irritated.
Use Sunscreen!
Every morning.
Scalp, ears, neck, face.
Look for a scalp-specific sunblock, which is formulated not to run into your eyes, which can be annoying. I love the Supergoop sunscreen, though I've heard Trader Joe's makes a great dupe for less.
Hold your (shaved) head high
Once you've committed to shaving your head for the first time, own it! Don't hide your light under a bushel—or in this case, a fedora or baseball cap.
At least, not all the time.
Remember those action heroes we talked about before? They always get the girl in the end, so channel their movie star confidence with pride!
// Shop #SGapproved grooming picks //
Taylor Davies splits her time between NYC and Sun Valley. She loves writing about menswear, overpriced martinis in dimly lit hotel bars, and cross-country skiing. Not necessarily in that order.